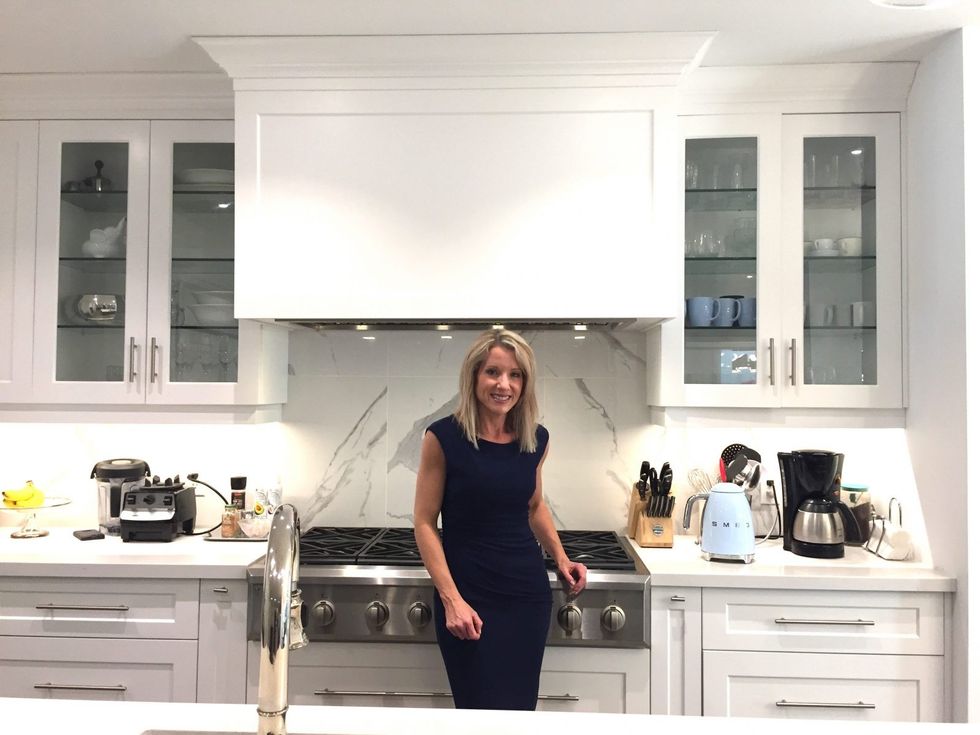 (Photo courtesy of Dana Levenson)
Dana Levenson is known for her TV presence, but her home life is her greatest gift.
---
When the popular CTV Toronto figure and Kevin Green decided to move in together, after nearly six years of dating, they faced a major hurdle: finding a home for their blended family.
A family that includes five children, at the time, ranging in age from nine to 17.
Toronto Storeys went behind the scenes and shared the first part of Levenson's and Green's journey with you, back when they were creating a space large enough to accommodate their modern family. And today, that space has become their home.
Considering Dana Levenson's story is one of our most-read stories of all time, we had to catch up with her to find out what life is like now that her family's dream home has finally become a reality.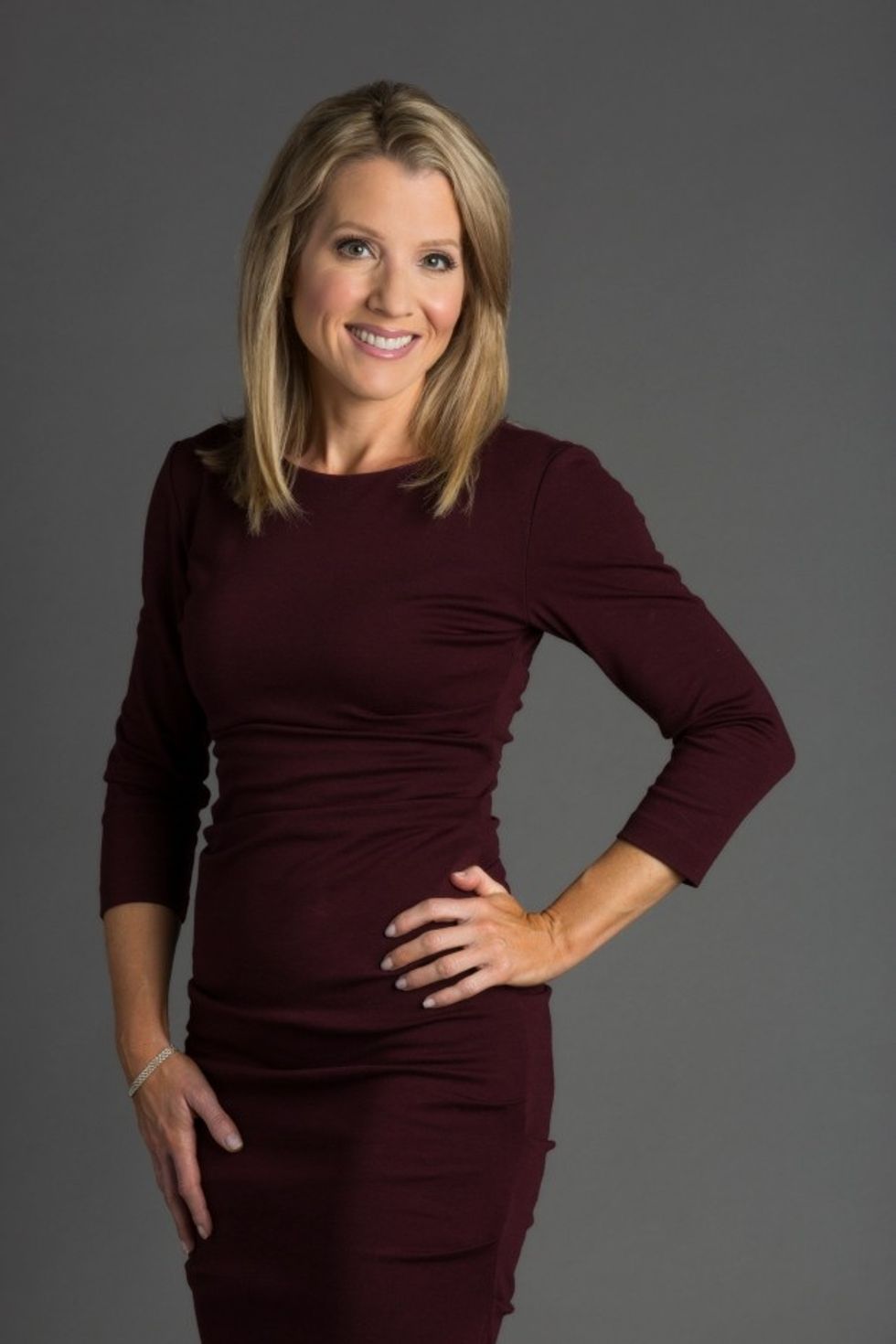 Dana Levenson (Photo courtesy of CTV Toronto)
How much appreciation do you have for your home after living in a rental for so long?
There are no words of appreciation to describe how grateful we are to be in our home. We are so over-the-top elated and over the moon.
We were in our rental from October 2017 to October 2018. But we really still can't believe that this is our home.
Before we get into your new home, tell us your secret to surviving with seven bodies to so few bathrooms and three bedrooms.
There were three bathrooms, but only one on the top floor. The master bedroom didn't have an en-suite. It really wasn't so challenging.
Everyone had their privacy and the only time it was an issue was in the morning.
So I created a plan before we moved into the rental to avoid chaos in the third-floor washroom in the mornings. I waited until everyone was out of the house — at school — and when Kevin was at work. That's when it was my turn to get ready in the morning.
And that worked really well.
So, have a plan.
(And it really wasn't too bad in the weekend when everyone comes and goes.)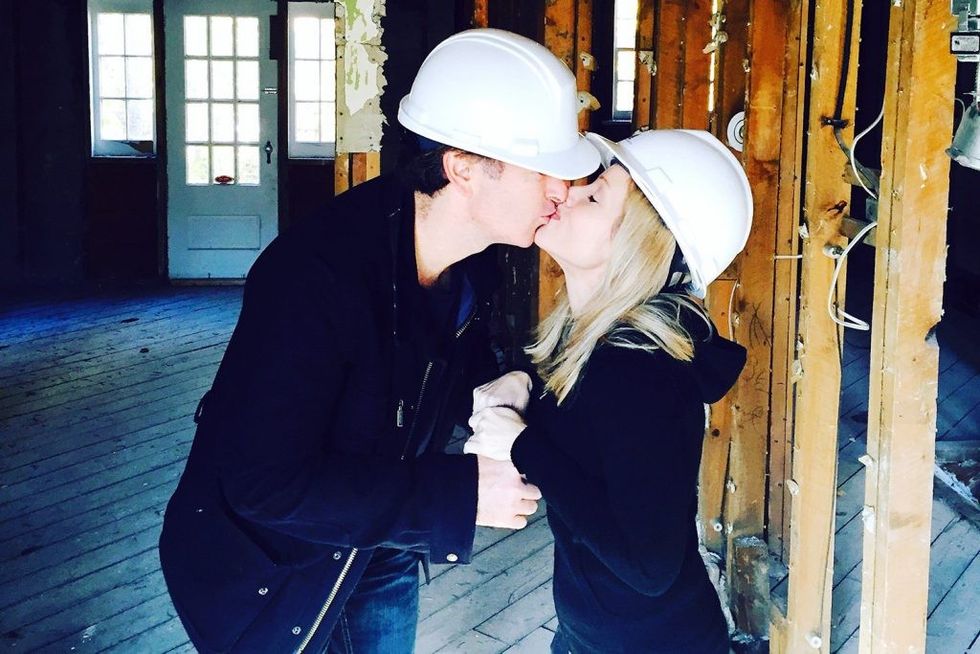 Dana Levenson and Kevin Green ... Creating their new nest. (Photo courtesy of Dana Levenson)
What was the most challenging part about the transition — and how did you tackle those challenges?
There was no real challenge to going home.
We were on cloud nine and could not believe this is our home. We still say it weekly.
There weren't any challenges except for unpacking, but we did so much decluttering before the move that there wasn't too much. Everything feels so fresh.
The only thing that was new was a constant flow of kids. Kids coming and going. Plus they range in age and so there was a flow of all these different ages and stages of kids. The kids are so excited to come home.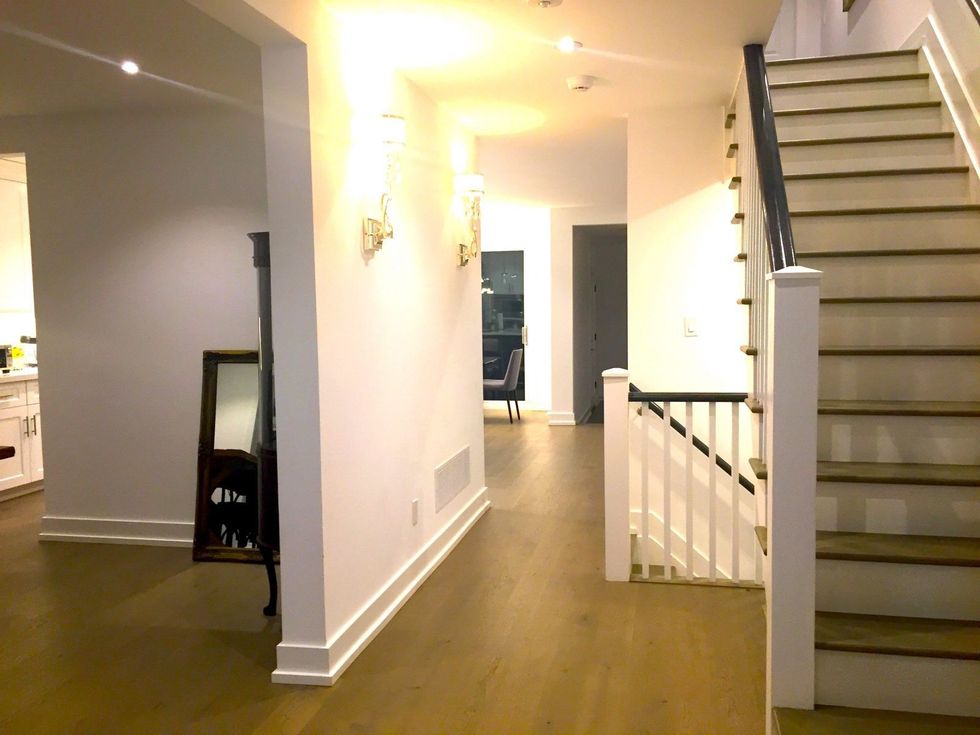 (Photo courtesy of Dana Levenson)
Describe your new home.
Not fancy. Just functional. But fabulous.
The house itself is brand new with a five washrooms, seven bedrooms, and a brand new kitchen.
But, we decided to keep some of our furniture. It was much more economical to do so. And there are pieces that neither of us wanted to part with, so we found a place for everything that is important to us.
For example, we each have antique pieces from our grandparents/parents. We both wanted to include a bit of our respective families' histories in our new home — that was important to us for all of the kids to have.
The buffet in the dining room is from my grandparents. The armoire in our bedroom is from Kevin's father.
There's tons of sunlight, which I love. There's a skylight in the third floor, which brings magnificent sunlight in. The back of the house is all windows, so the mornings are just magical.
And we painted the whole house white because it felt so fresh.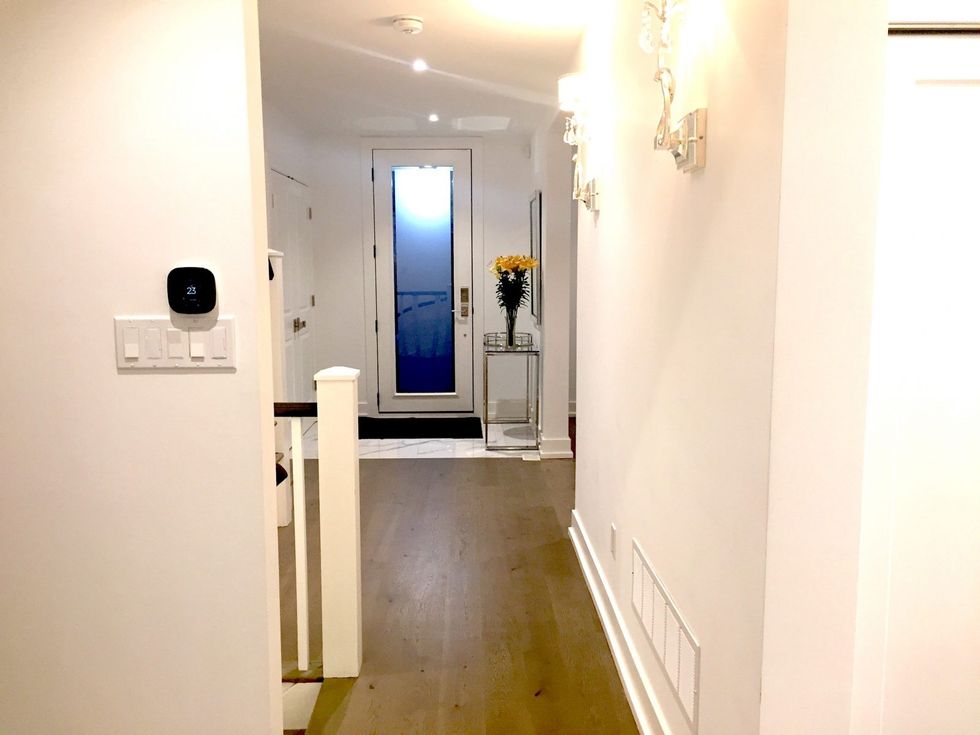 (Photo courtesy of Dana Levenson)
How did the first day in your new home feel — especially with all those bathrooms?
The first weekend we were home I thought we were at a hotel.
I woke up in the morning that first day wondering where I was. It just hadn't sunk in.
Whenever I walked into my bathroom, I thought it was someone else's. Now we have five bathrooms so it's pretty nice. Nobody has to worry about finding a bathroom.
Explain the importance of each child having his or her own space in the new home.
So important. Because they range in age from 11 to 19.
The first thing we said at the beginning of this was that we need a design that each child has their own space. They didn't have to share — and had their own sense of home. It was Number 1 on our list. It was just the most important thing.
They're all so happy and settled in their own spaces. The kids are mostly teens and so they needed space for their own things and to get organized. There's also a sense of security that comes with privacy, especially when you're a teen.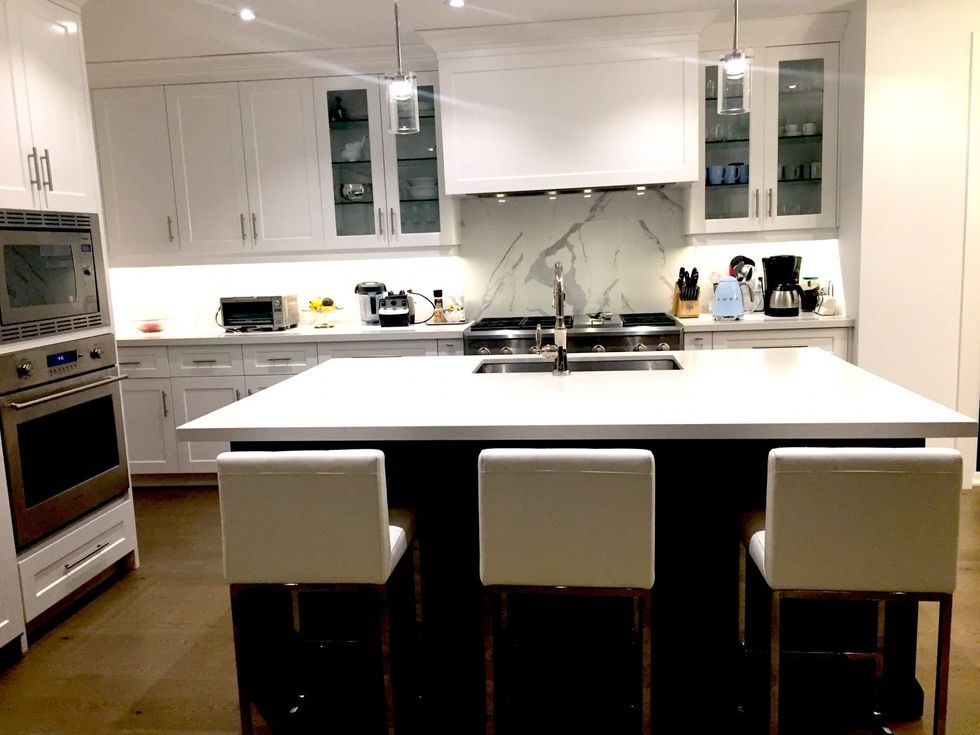 (Photo courtesy of Dana Levenson)
How much input did kids get when it came to their spaces?
Every single one of them basically had everything to do with their rooms.
From the colour of the walls, to the bedding, to the furniture, they all had input. My little one I helped a bit, but the older kids picked everything.
The bedrooms should be a reflection of them. And that's what they each got to do.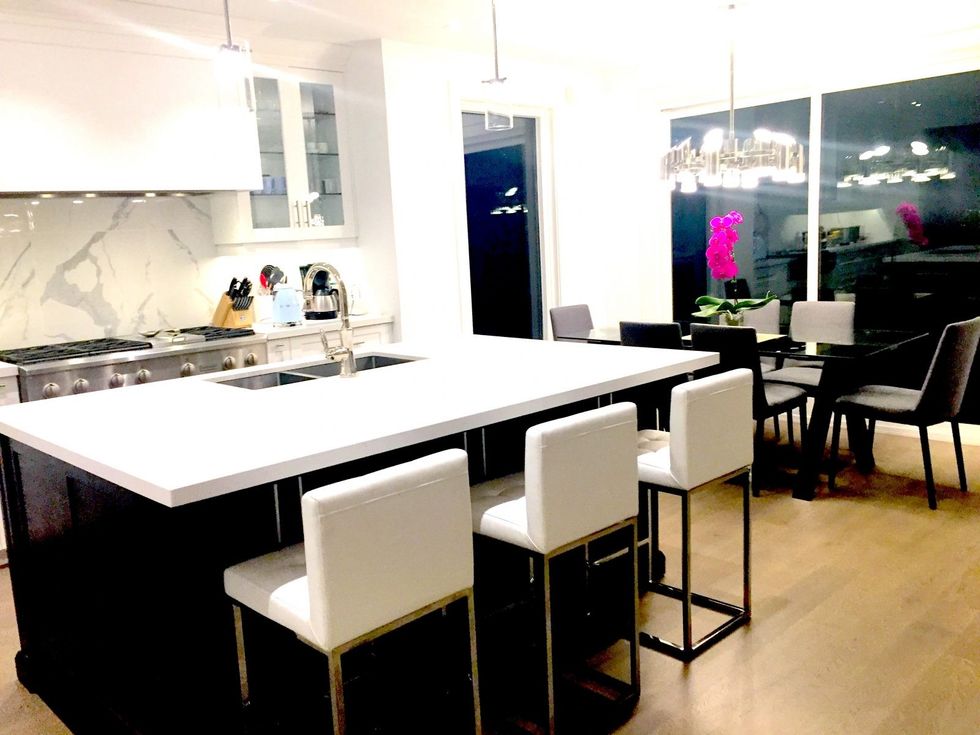 (Photo courtesy of Dana Levenson)
We know you were looking forward to your walk-in closet. Now that you're finally home, what are your favourite features of the home?
My favourite part of the house: For sure the mudroom, it is every mother's dream.
My favourite feature is that the kids come in through this room and everybody has their own cubby and shelf and spot for bags, equipment, jackets, hats, sunglasses. No one can say they can't find something when it's just always in their own spot. That's the most functional feature.
But I would say my most favourite space is the kitchen and living space. We're always all together and I love that.
If someone's cooking or the kids are at the table, even though it's off the kitchen area, it's still open and you feel like part of a dynamic. It's sensational because everybody always feels included.
Then really, the bedroom is part of the addition and it's more than a bedroom. The whole back of the house is a master suite: A bedroom, a bathroom, two walk-in closets, and an anteroom. It feels very private.
When you have five kids at any given time — plus their friends — there's still a quieter more romantic part of the house. It's very dreamy.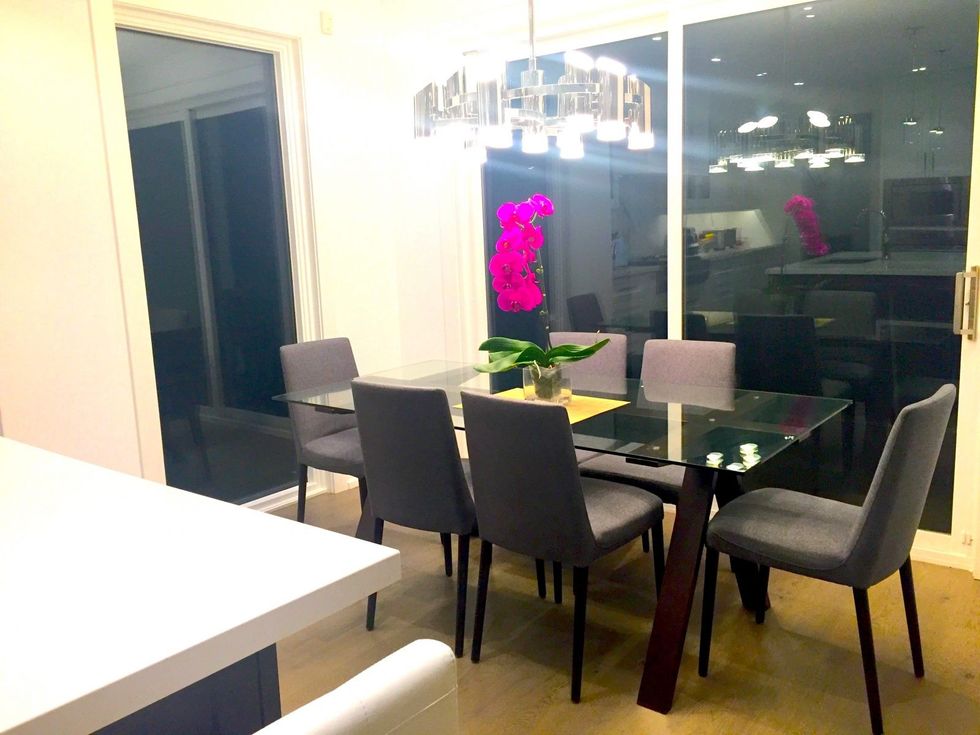 (Photo courtesy of Dana Levenson)
You wanted a home filled with family and love. How do you feel this new home has impacted your family dynamic?
It's exactly that. It's filled with so much. It's brand new but feels like it's filled with so much love.
There's a constant flow of people. We have an open-door policy so there's always people coming over. It was always my dream to have a home like that.
It's very inclusive and important for our kids to know everyone is always welcome. We've all gotten much closer. We're a tight-knit crew.
If your house walls could talk, what would they say about your family?
That's funny. I don't know what they would say. It's a super happy, loving, environment. It always has been. But with space there's a happiness in the air all the time. And you feel it as soon as you enter.
There's a lot of joy in the house.
Many people would assume with your TV presence that you lead a glamourous life. Why don't you take us through some of your more unglamourous moments at home that people wouldn't expect.
I'm always mom! But, especially at home.
High heels come off, slippers are on my feet, and cozy clothes are a must.
There's homework, bedtime routines, unpacking groceries, chores.
When I'm home, I have no TV presence. When we're home we're family and that always comes first. When I get home from work, the phone goes away and we have family dinner, whether there are two kids, four kids, or one kid. Then we clean up and often we watch a little TV or we finish homework, if it's not already done.
This time of year we'll go for a walk or a bike ride.
Dinner, decompress, talk about our days, eat really yummy food.
It's family.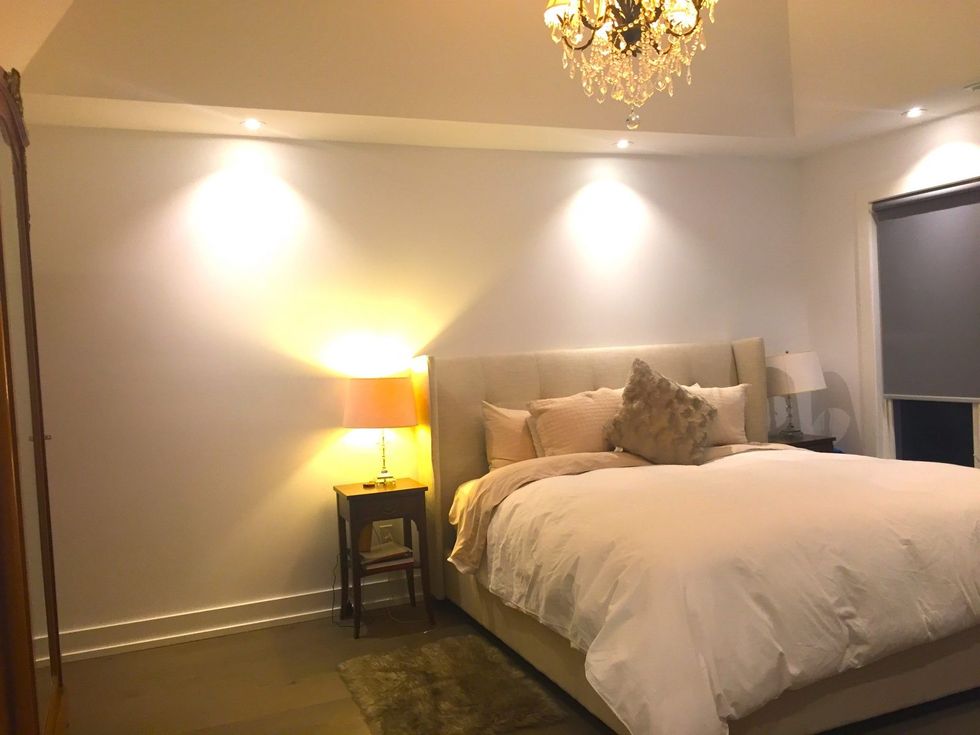 (Photo courtesy of Dana Levenson)
What's the biggest lesson this blended family-home building experience has taught you?
Each child of a blended family needs to have a voice and they need to be heard. Their opinions and feelings matter the most.
Building a new home was not the most important aspect of this experience; rather, it was about creating a space where all of us could be together comfortably.
Levenson and Green ... A happy ending ... And a to be continued ... (Photo courtesy of Dana Levenson)
What advice would you give to modern families to help get through these transitions?
Have patience. And as parents, you need to be the leaders in this change for your family.
Prioritise what is important and surrender to the process.
At the beginning, it will feel like forever before you can move back home. But, in reality, it is just a blink of an eye. And before you know it, you'll see it's not the contents or the paint colour that defines your home; it's the people who live inside it.
Transitions can be hard for everyone, but change is good — especially when there is a happy ending.
Last question: Do you have a hiding spot in your house where you can get away from it all? Don't worry. We won't tell your family.
I hide in my closet. I do. There's a pocket door and I hide in that closet all the time.
I put creature comforts in there: some cozy things, and it's my little woman-cave. It's very pretty and it's all mine. No one goes in there but me!
It's not fancy, but it's super fabulous.
Industry Profiles