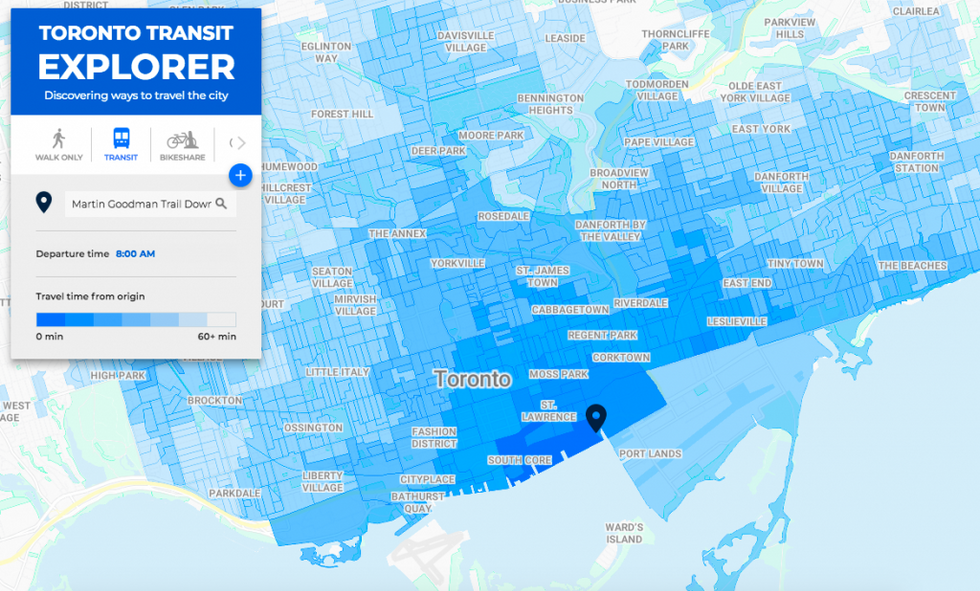 (All images courtesy of Sidewalk Labs)
A large city is only as good as its transportation.
---
We bike to work, subway downtown, or walk to the grocery store. So the more efficiently you can travel, the more productive — and relaxed you can be.
Well, first Sidewalks Labs gave us OldTO: The map that allows you to go back in time in Toronto. Efficiently travelling through our history is fun. But what our present and future?
What if we could combine all the different modes of transportation to find the best way to get anywhere in the city?
Now, Sidewalk Labs allows you to do just that with the Toronto Transit Explorer. And it's available to everyone to explore the most efficient ways to move through the city.
There are multiple ways to use the software, each offering its own advantage.
Use Multiple Modes Of Transportation Within One Route
Toronto Transit Explorer uses public data feeds from 13 transit agencies throughout the Greater Toronto Area to deliver travel times, service schedules, and wheelchair accessibility.
Data comes from Toronto's Open Data Catalogue. This gathers bike-share trips, allows users to combine biking (or bike-sharing) and transit options, for the optimal route to your destination.
It even allows you to personalize bike rides, depending on your average speed (ranging from 10 to 30 kilometers per hour).
Now, rather than limiting yourself to one mode of transport — a bike route, walk route, or transit route — as you would with other navigation apps, this allows for a fully-customized route. It can also combine bike-share programs with streetcars and subways.
Find The Best Mode Of Transportation Across Toronto
Now, you may have a perfected route to work, but the Toronto Transit Explore also allows you new ways of, well, exploring the city.
By setting a pin or address into the map, you can see a colour-coded map. It explains how accessible each mode of transportation is around that address.
In the example below, areas in green are quicker to access by bike-share, while those in blue are quicker by transit. Areas in yellow are the same using either mode.
This way you can examine each area for the best mode of transportation.
Looking for a new apartment? Check out how easy transit can be around that neighbourhood.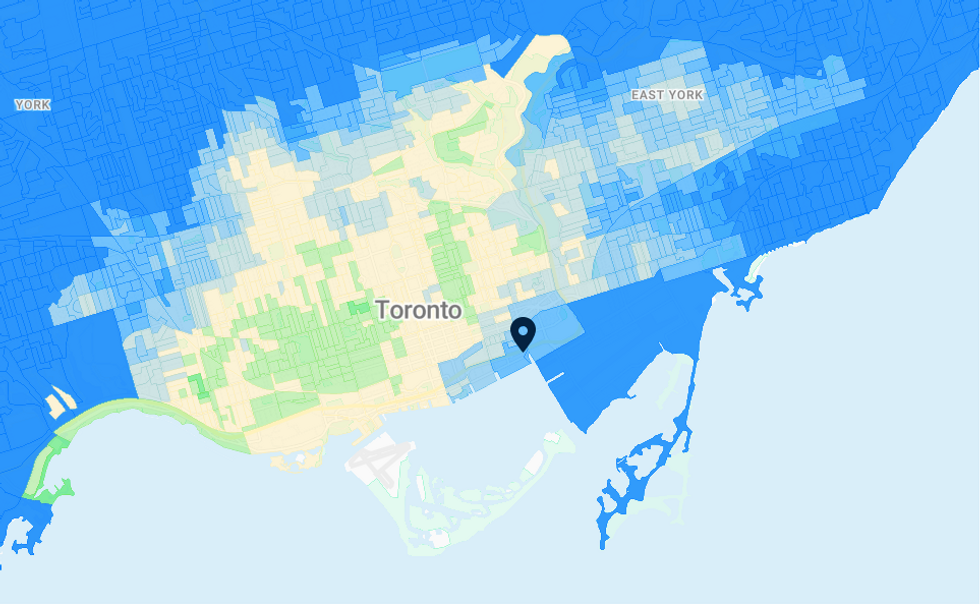 Find The Best Mode For Your Route
Toronto Transit Explorer can compare how long it takes to make the same trip using different modes. You can choose a destination by clicking on the map.
Let's consider a trip from 307 Lake Shore to Evergreen Brick Works. By transit alone, that trip could take nearly 45 minutes. But if you ride a bike, you can get there in half the time.
Where does it go from here?
Sidewalk Labs hopes to expand the program to show potential impacts changes to transit would have.
For example, it explains Quayside transit options, "For Toronto, we hope to demonstrate how transit access from Quayside can expand if we worked with the city to extend streetcar service to Queens Quay East."
Transit is always a hot-button issue. The Explorer could certainly come in handy to develop the best transit options across the city.
(Eglinton Rail, anyone?)
Want to play with the Toronto Transit Explorer?
Here you go. EXPLORE! Safe travels.
And now you can go prove to everyone you were right when you said biking to brunch was faster than the streetcar ...
Community