People immediately ask questions when they hear I live on Toronto Island.
The first is usually, "Who lives there?" Then, because they know it's a relatively inconvenient place to live, "...and why?" If there's a third question, it's always the same: "How do I get myself a place?"
---
Somewhere between 600 and 700 people, cats, dogs, raccoons and a growing number of coyotes live on Toronto Island, in 262 wood-frame homes that sit on two islands: Wards and Algonquin.
The homes on Wards Island are cheek-by-jowl, originally built on tent sites dating back to the early 1900s.
Homes on Algonquin Island were built in the 1930s on larger lots. The community takes up a small portion of the eastern end of the 15-island, 825-acre Toronto Island Park — a 12-minute ferry ride from downtown Toronto.
All kinds of people live here: teachers and lawyers, carpenters and firemen, plumbers and university professors. We have a particularly large number of artists and writers, two nurses, no doctor. We also have our fair share of retired people.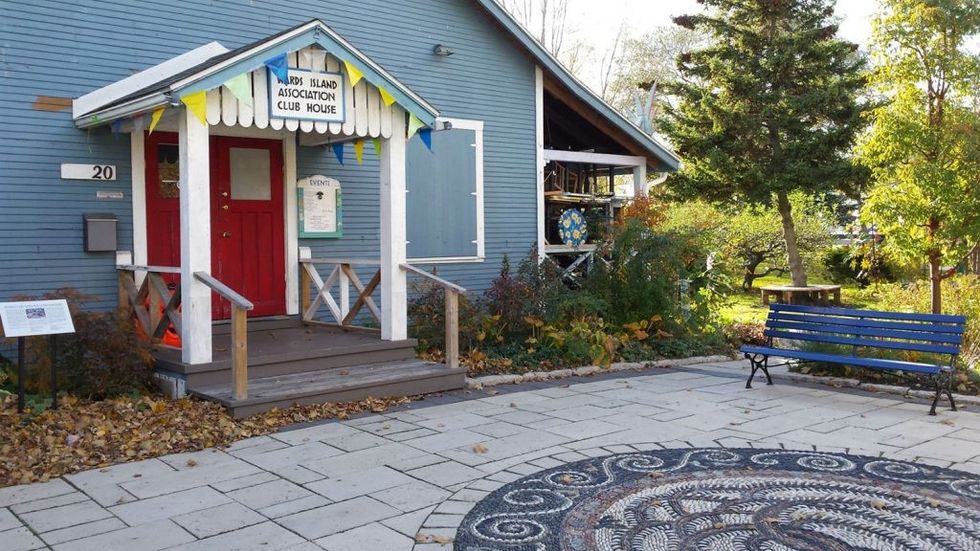 Residents gather at the Island community centre. (Photo credit: Linda Rosenbaum)
There are two large clubhouses for community events, an open-to-the-public cafe and restaurant, and a school that goes to Grade 6. Many students live in condos along the Toronto waterfront and come to school every morning across the bay on the ferry.
Some Island families go back generations, like Bill Ward, whose family first came to the Island in the mid-1800s as fishermen. Wards Island is named after Bill's family.
What makes us unique is that our community has no cars or stores.
No form of motorized transportation is allowed on the Island other than garbage and service vehicles, a school bus and a snowplow. We walk and ride bikes everywhere. There's no place to pick up a bar of soap, diapers, bag of sugar, dog food or extra piece of insulation when you're in the middle of a reno.
We have to go to the city by ferry for everything we need. And because boats don't run more than once every hour (and less frequently in winter), more often than not, we borrow from neighbours.
Buying everything on the "mainland" means that once we've bought whatever it is we need (which might include a refrigerator or new mattress), we then have to shlep it is back on the boat, then lug the newly-purchased items home — either on a bicycle, a cart or some other carrying contraption.
It's possible to get a truck permit to bring major household items over on a ferry that takes vehicles, but it's expensive and complicated.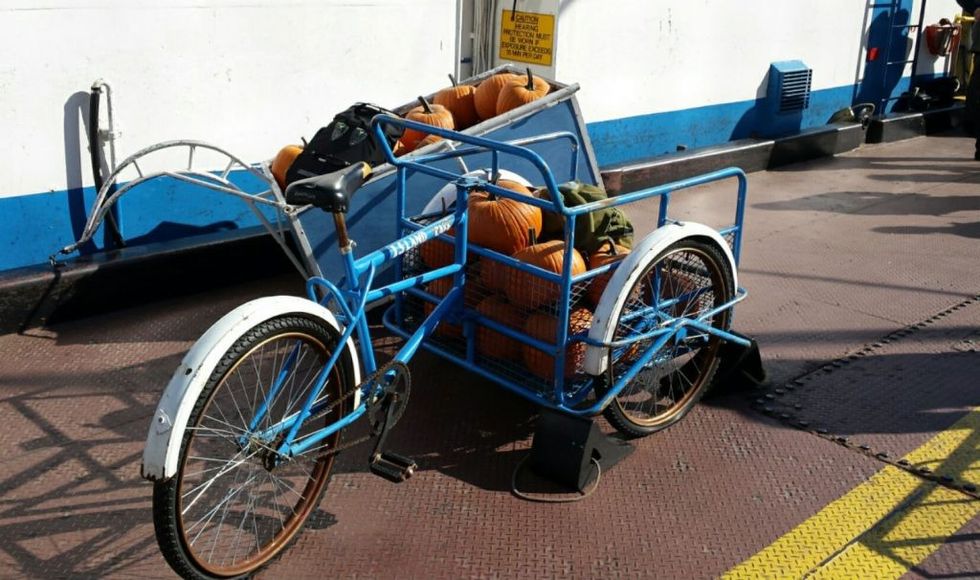 Pumpkins being transported back to the Islands via ferry. (Photo credit: Linda Rosenbaum)
Many Islanders came during the late 1960s and early 1970s when houses were inexpensive. The future of the 150-year-old Island community was uncertain then because the Metro government was moving to tear down Island homes. They had other plans for the land our houses sit on.
Islanders mounted a vocal "Save Island Homes" campaign that earned the strong support of Torontonians and local media. After a 30-year battle, the provincial government stepped in. In 1993, they passed legislation that gave Islanders a 99-year lease on the land.
We own our homes and pay city taxes like other Torontonians.
The legislation also set up a Land Trust to manage the buying and selling of homes. Unlike other people living in Toronto, we cannot sell our homes on the open market, nor receive market value for them.
The Trust is mandated to ensure the sale of island homes does not result in windfall profits for owners. It's a way to maintain the continuation of a diverse, mixed-income community of people living here full-time (rather than using their homes as summer cottages or for weekend use).
The selling formula is great for the community, less so for individual owners.
Under the legislation, an Island home can be passed on to your children or bought and sold through the Trust.
Selling price is based on replacement value only, and is set by a third-party appraiser. Once the selling price is determined, homes are offered by the Trust to the first people in line on a waiting list that has 500 people wanting to buy an Island house.
Clearly, we don't live on the Island for convenience or financial gain. So why do we live here?
Some like our small town values. Some want to raise children here because it's a safe, friendly place to grow up. Others believe in the "no car" environmental ethos.
Some love being close to the water for swimming, canoeing, kayaking, sailing and skating. Others like the laid-back lifestyle and immediate access to kilometres of bicycle and walking trails.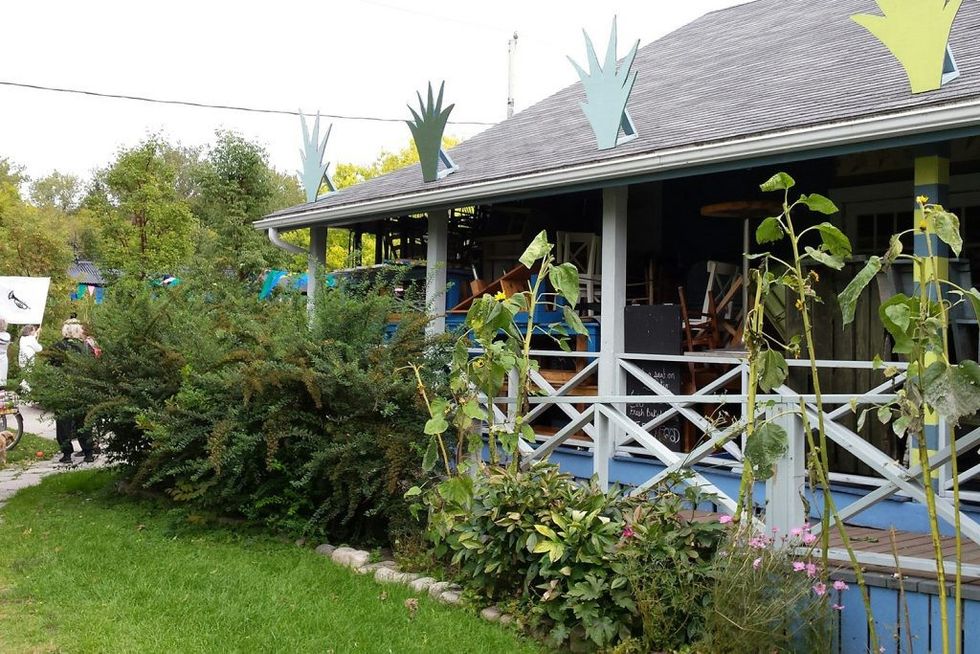 The Island Cafe, a casual, homey cafe & bar with a seasonal menu of light, local fare, plus live music & game nights. (Photo credit: Linda Rosenbaum)
Many would say the biggest draw is the close-knit community.
We pretty much know everyone, and for the most part, look after and take care of one another. We also have a lot of fun, especially after the last ferry boat goes back to the city each night at 11:30 p.m. There's no place else to go for our social life.
For most, the pluses of Island life outweigh the minuses, but there's one thing we all agree on. Island living isn't for everyone.
When people tell me I live in paradise, I ask them if they want to house-trade in February.
Save
Save
Save
Save
Community