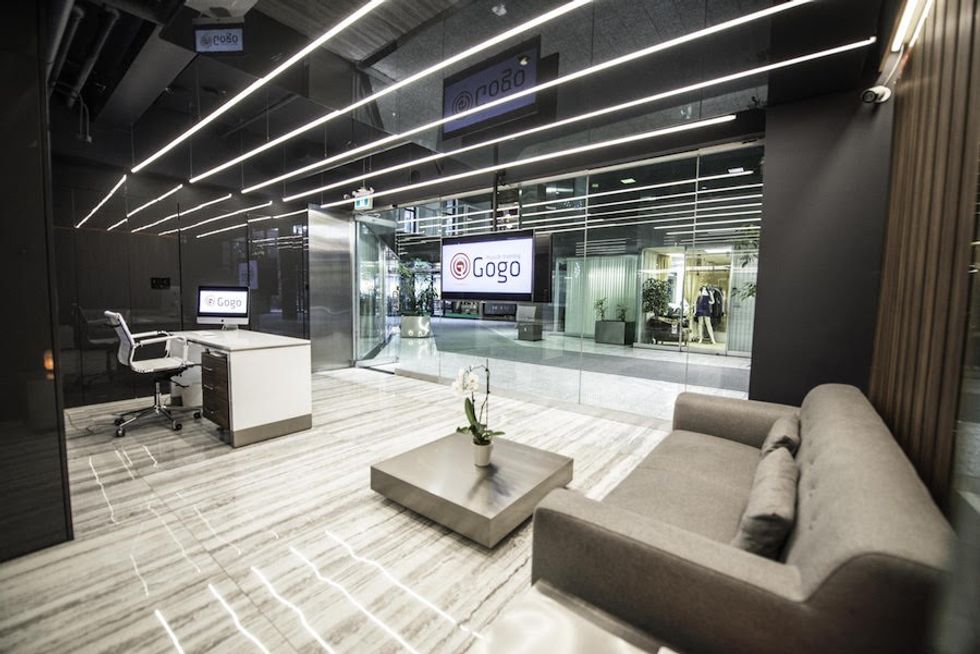 Gogo Training. (Photo courtesy of Gogo Muscle Training)
Toronto is a hub for fitness studios. There are the eclectic ones with collaged walls adorned in old black and white pin-up prints. There are the ones that use design to motivate with neon signs and those feel-good, inspirational quotes. There are even places with an area devoted to sipping tea and reflecting.
---
In fact, many of the studios I find myself attracted to are the ones whose spaces are as notable as their classes.
Maybe you want to hit up a studio just to challenge your body and mind in a different way. Or perhaps you're in a fitness slump and want a new space that can motivate in a better way. Either way, here's a list of five fitness studios in Toronto that should definitely be on your radar.
Who knows. One of these may just work out for you: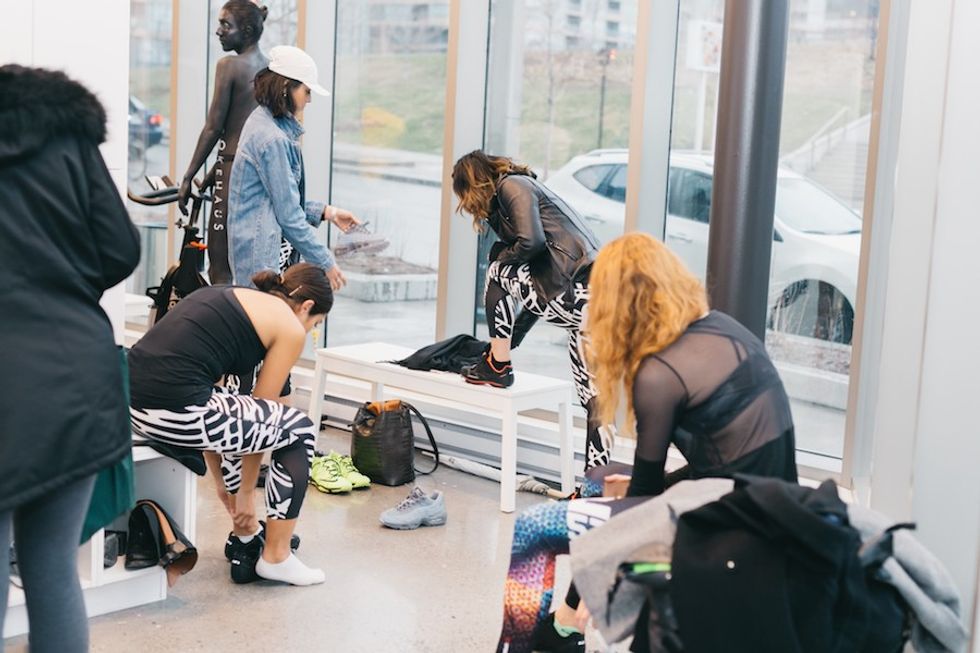 At the outset, SPOKEHAUS has a clean, bright and open front of house. But then the vibe flips. It turns into a dark, candlelit, room complete with empowering vibes once the skilled instructors take to the bike to lead a ride.
A former wedding and event planner in her other life, founder Christine Tessaro has really thought through every step of the consumer experience. From the cold eucalyptus towels handed out at the end of a sweaty ride (Half of why I go!), to the themed rides spanning from The High Ride to Reggaeton to Rose rides, to the Malin & Goetz products in the bathroom, and beyond.
Spin connoisseurs and newbies alike will want to check out this studio, with a wide array of classes to choose from.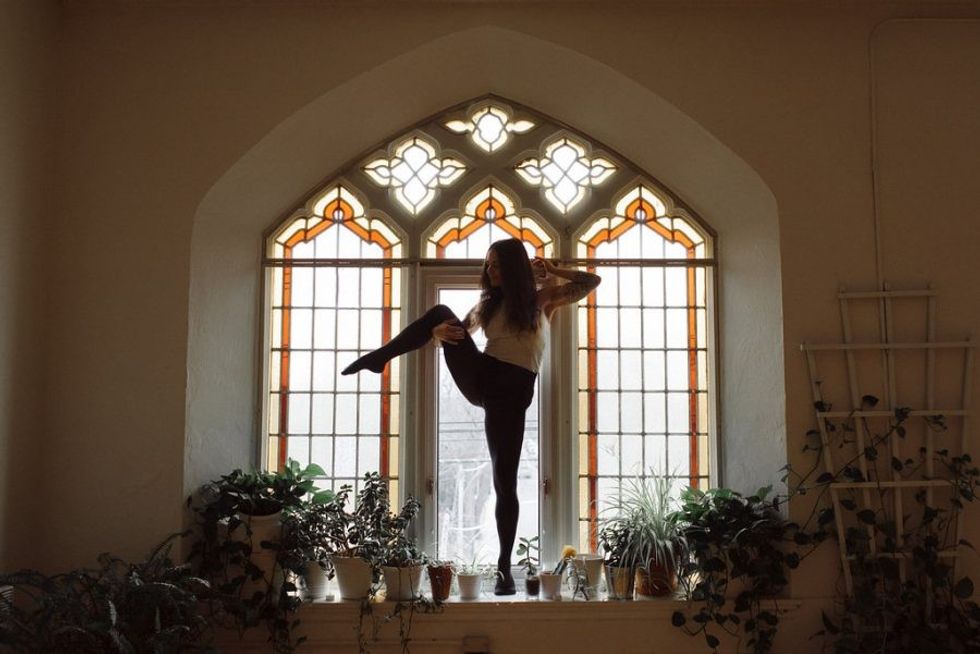 Home of Toronto's spiritual movement, Misfit's Queen West studio is perfectly located in a church with its iconic stained-glass windows. By day, it's blanketed with bright natural light. By night, its ambiance is set with a moody, romantic candlelit glow.
High vibes are provided by the plant walls, magical teachers and community that those in the know refer to as "tribe." Its creator is artist Amber Joliat. She infuses every corner of the studio with love. From the altar with pieces from around the world, to the hand-crafted collage wall of inspiring misfits, such as Josephine Baker, Martha Graham and Joseph Pilates.
Movement lovers enjoy the wild variety at the studio, dance classes, challenging pilates classes, a unique take on the reformer and meditation circles, which are all set to specially curated music. Check out the #misfitchurch hashtag on Instagram to see how beloved and holy this space really is.
BodyLove is the new dream destination for active, busy, young professionals in downtown Toronto. Come for a crazy good workout (or two). Stay for a coffee — or even a blowout. And hang with your peeps post-sweat, or just stick around to answer emails and get sh*t done.
This spot is all about offering a multi-tasking space for like-minded hustlers. It's brought to you by @CaleighFit, a personal trainer, fitness influencer and self-love crusader. She also has a decade-long background in TV production, as a former-producer at eTalk and The Social.
BOLO promises to be the viral-worthy community spot that will hopefully become your new home. Oh — and it's also all about loving yourself and each other. The space prides itself on being judgement-free. It's inclusive no matter what your age, experience, size, gender or fitness level.
Expect moody, sexy living room vibes worthy of a prime spot on your Insta feed, as well as the presence of hidden self-love affirmations throughout.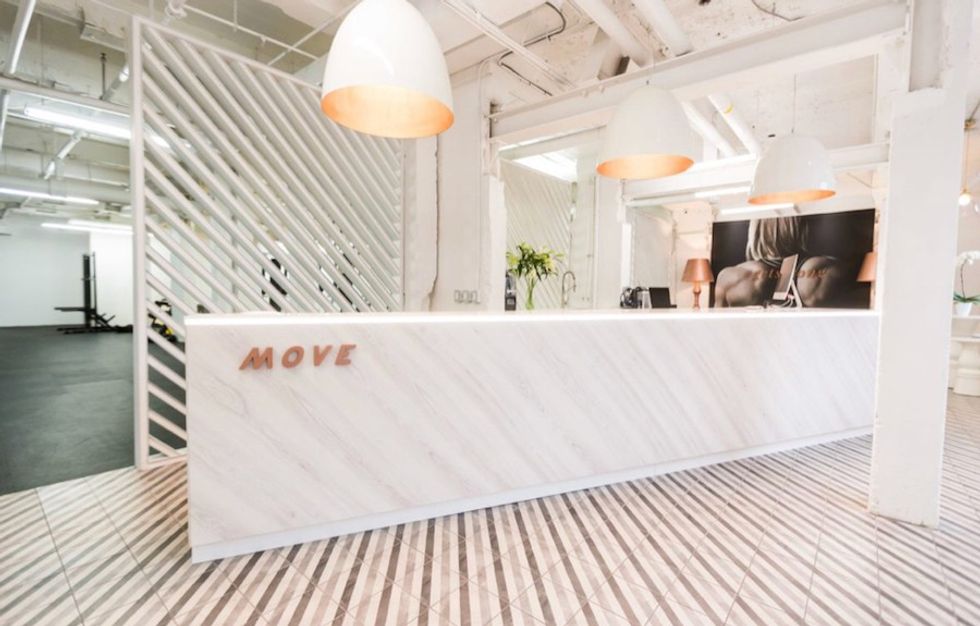 Move Fitness Club (Interior Designed by Nino Pulsinelli Designs)
Move is a boutique fitness club exclusively for women on the city's east end. It's most noteworthy feature is on-site childcare that includes a kids' camp and after-school programs. This way moms can have their cake and eat it too. (Not really, but you know what we mean!)
It's a 5000-square-foot, open concept space fit with white exposed-brick walls, Aztec tiling on the floors, copper hanging lights, an infrared sauna, luxury amenities in the change room, a juice bar and high-end detox products.
The design is aesthetically and mindfully welcoming. This is such an untapped market in Toronto and women flock here because it's a safe space with talented trainers, whose goals are to help women feel strong and healthy, in whatever way it means to them.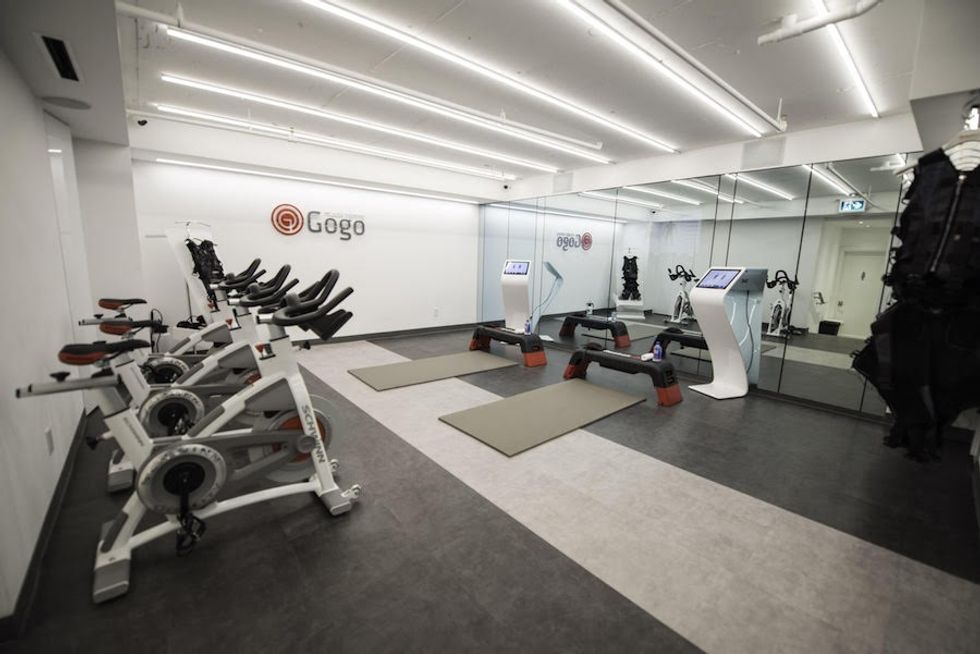 This sleek, tech-saavy studio, is one of the only places in the city to offer the latest Electrical Muscle Stimulation (EMS) technology. It's an open, industrial space with exposed piping and high ceilings. The interior feels especially spacious as the rooms are separated by floor-to-ceiling glass doors.
Opened earlier this year, GoGo already has some of Toronto's top influencers frequenting the studio for its efficient EMS and HIIT workout. It actually sends small electrical pulses to muscles, which enhances their natural contractions and makes every workout more efficient. In just 20 minutes per session, regular devotees can expect to see the same results as what would normally require 90 minutes!
Celebrity fans of EMS training include Ashley Graham, 2 Chainz and Hannah Bronfman and Victoria's Secret angels Alessandra Ambrosio and Elsa Hosk.
Toronto