The problem with best-of lists is that, of course, they're always subjective. What may be a great first-date spot for one, can be a total turn-off for another. And so for this list, I reached out to my social network to see what their new favourite first-date spots are in the city.
And since spring is the perfect time to yourself back out there, let's get you out there.
---
So with the help of notable-sociables like Glen Baxter, Dr. Jess O'Reilly, Anjli Patel, Angela Aiello, Ryan Emberley, Carly Stojsic and Andreas Antoniou (along with my opinions as a relationships writer born and raised in Toronto), here are the top seven cozy, intimate, sexy and buzzworthy spots for a first date this season.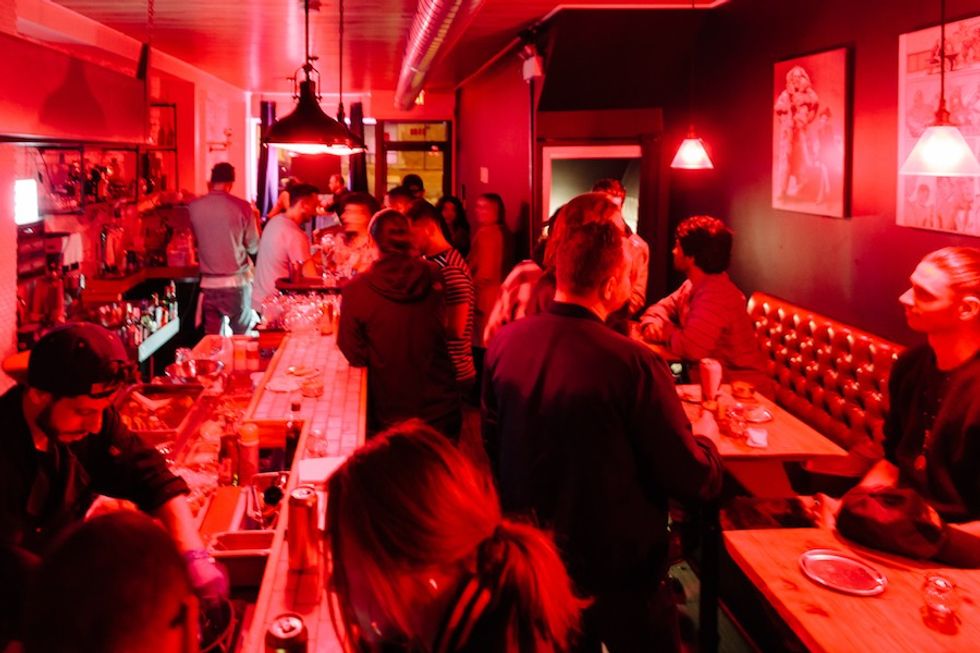 This made the Number 1 spot on this list for few reasons. Its handful of unique features work together to really make it a unique date spot that actually promotes connection and bonding.
The most noteworthy reason for this choice: the optional phone check-in behind the bar so you can disconnect, (while you get to charge your phone) and really get know your date. Imagine that. You can be present!
The lighting is set with candles and dark red ambiance. The music is R&B and old-school hip-hop. They also have these teapot cocktails on the menu meant for two. So the whole experience is aimed at sharing the night with someone special. Bonus? The kitchen is open Tuesdays to Saturdays until 2 a.m.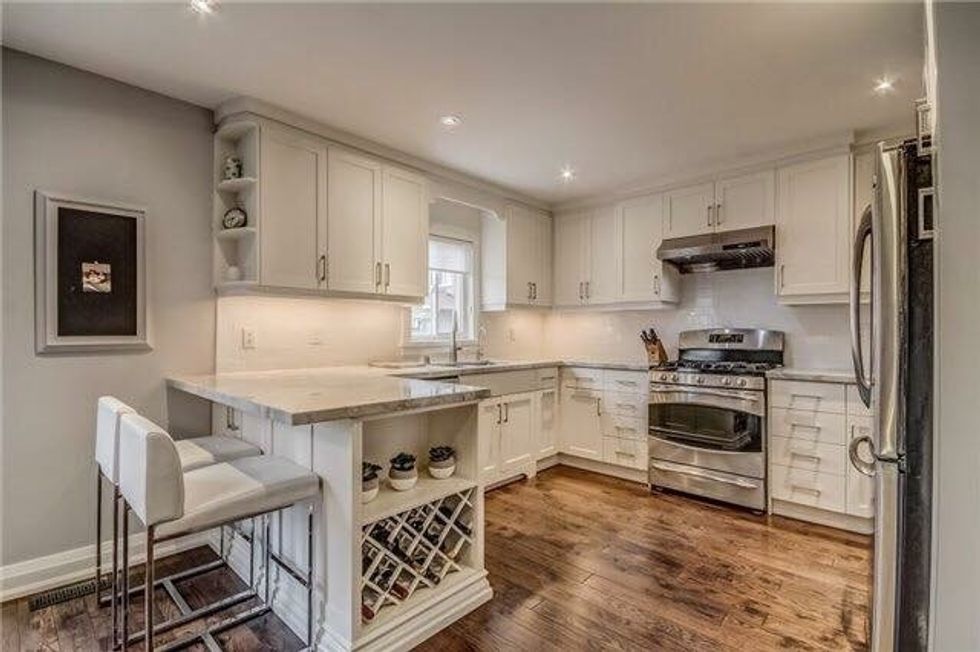 Tanto
This restaurant on the Ossington strip is extremely inviting. Its exposed brick walls and memorable, hospitable service make you feel like you're amongst friends.
Instead of grabbing a table, sit at the bar and order from the impressive wine list. I've had one of the best wines in the city here. No surprise, as this venue is from Peer to Peer Hospitality Group that also owns Charbrol, Atlas and Cava.
This Argentinian spot has share plates and bites that are a perfect complement to the wine varietals on hand. If you want a memorable and homey experience, this spot's for you.
The upscale French restaurant and winebar just opened its doors on March 15. And it sits atop the original and historic Senator Restaurant.
Come for the wine, stay for the live music.The 24-seat piece is filled with vintage furnishings and a classic 1920s Heintzman upright piano.
They'll have a roster of a variety of acoustic musicians in various genres, led by resident pianist and Juno-award winning artist Julian Fauth. Performances are Friday and Saturday nights.
This is the toast of the town right now. Right on Dundas just west of the Ossington Strip, this is an open-space filled with plants and electric energy. It's small, sexy, perfectly lit. And it creates such a cozy vibe, thanks to the communal tables with bar stools.
The food and wine are delightful and it's got quite the hipster feel.
Take note, this is not the place to go to if you don't want to run into anyone. This is where you go if you're game for being seen out with your date. Make a reservation well in advance to ensure you get a spot.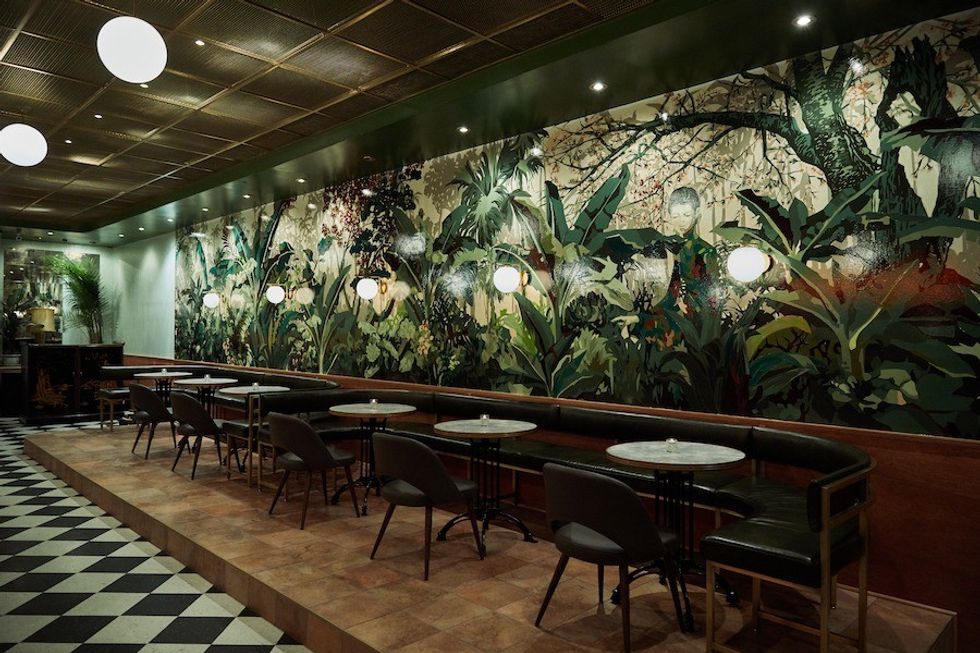 Mahjong Bar (Photos courtesy of Finn O'Hara)
This sexy, dimly lit hot-spot is behind the curtain of a little bodega at Dundas and Dovercourt. You walk into the open and meticulously designed space, where you have the option to sit at the long bar, banquet seats or tall seats on the side.
The menu offers little Chinese food bites, which are perfect (and subtle) for sharing. There's an impressive cocktail list, plus delicious bubbly is also available.
This spot in Bloorcourt feels like an intimate dining room in someone's Forest Hill home.
With emerald walls, low-lighting, and hanging plants throughout, you feel like you're in a ritzy room. Hop up on a seat at the bar, order a cocktail. This place does not have that party-like buzzy vibe that many new bars have, so you can actually have a conversation with your date.
If you're the kind of person who wants to have someone at your home for drinks, but you can't do that on a first date — because that's a plan, not a date — then this spot is the next best thing.
The cocktails are all extremely beautiful and are some of the best I've had in the city. Order La Belle Province and have them add a splash of Cava on the top. Or go bold and try the Harvest Moon. You're welcome
(Photo courtesy of King Taps, Toronto)
This beer hall by the owners of Cactus Club is in First Canadian Place in the heart of the Financial District. There are two floors with two separate bars with two totally different moods.
Downstairs is more of a hang and less of a scene. It houses endless flatscreen TVs that are a sports fans dream. While upstairs has live music and is a little more of an upscale venue.
If beer is your thing, I recommend starting with a set of flights. But they have everything on tap from beer, to cider and even wine. They also have a variety of playful cocktails. And the menu is a hodgepodge of everything you could possibly crave, making it a really easy spot to go to if you don't know your date's food preferences yet. Note: They offer half-price bottles of vino on Tuesdays.
Toronto