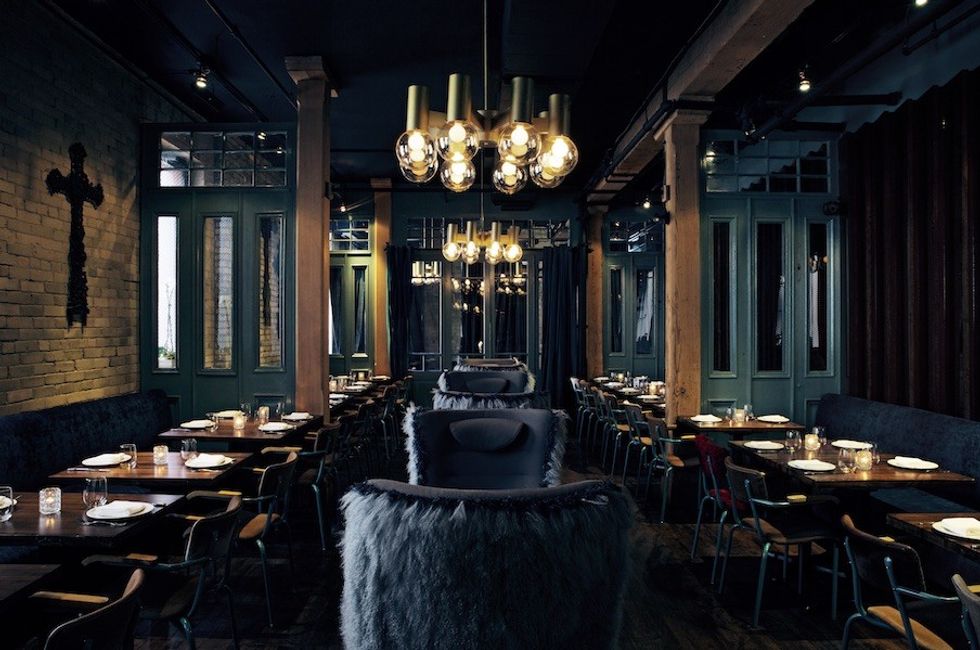 Frings in King West.
I remember getting a press release about six years ago about how chef and restaurateur Susur Lee and his designer wife Brenda Bent co-created the now-closed restaurant BENT, on Dundas West. He did the menu. She did the design. (White tiles on the walls. Her sons' toys from when they were kids on the back wall!)
---
The couple made that space together to be run by their sons Kai and Levi Bent-Lee. In fact, Brenda has designed all of Susur's restaurants. And they continue to work together.
I love this concept.
Sure, some swear the recipe to a perfect relationship is time apart. Go your separate ways from nine to five, then reunite come evening. Some even say working together could be the kiss of death for an otherwise fine-enough relationship.
But for others, working and playing together makes for the most optimal relationship.
After all, a relationship is a partnership — two people coming together, using their strengths to bring the other partner up and even them out.
So, with that said, let's highlight a some of the Toronto food scene's most notable couples who co-create or co-own some of the city's top restaurants.
The couple: Chef Craig Harding and interior designer Alexandra Hutchison
Been together: 11 yearsMarried: 5 years in April 2018The spot(s): Campagnolo and La Palma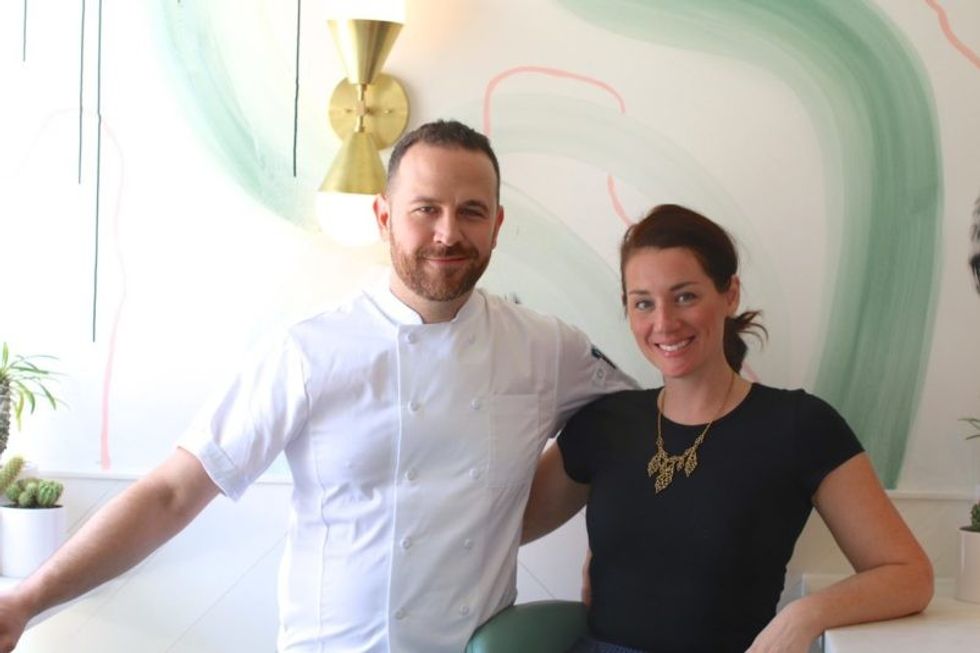 Craig Harding and Alexandra Hutchison. (Photo courtesy of Caroline Aksich)
The details
Chef Craig Harding and interior designer Alexandra Hutchison opened Italian eatery Campagnolo in their Trinity-Bellwoods neighbourhood in 2010. At the end of May 2017, the couple opened up Venice Beach-inspired coffee-to-cocktails restaurant La Palma, with Craig as culinary director and Alexandra as creative director. Both Campagnolo and La Palma's interiors were designed by Alexandra who splits her time between New York City and Toronto.
How working together has benefited their relationship, in their own words
By building and running restaurants as a couple, we've had the opportunity to explore each other's creative process and passion in a very in-depth and intimate way. We have grown closer through the ups and downs of running a business. And we have had the joy of celebrating the amazing success of those restaurants together.
The couple: Stacey Patterson and Jenny Coburn
Been together: 15 years togetherMarried: 8 yearsThe spot:Ufficio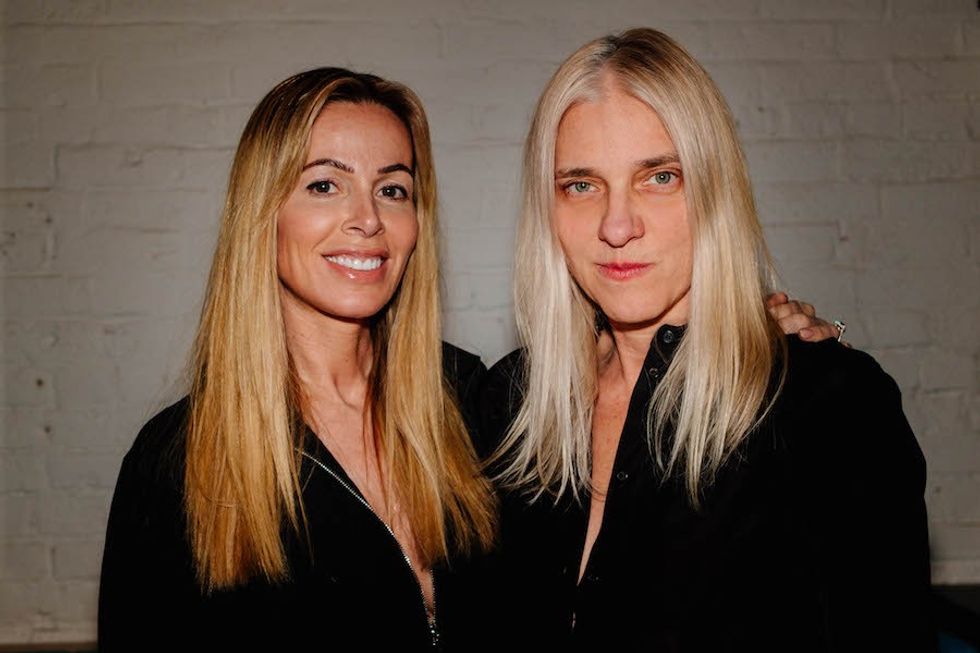 Jenny Coburn (left) and Stacey Patterson (right).
The details
We met when Jenny was opening a restaurant for a friend of mine. We connected immediately over our shared passion for great food, beautiful design and the restaurant business. Ufficio is a great reflection of the evolution of our relationship.
Jenny had a tremendous desire to open her own restaurant. And we had often talked about wanting to have a restaurant that reflected our lifestyle — our love of animals, healthy eating and appreciation of gorgeous spaces. We came across a fantastic West End space and decided that the opportunity was too good to pass and the timing was right.
How working together has benefited their relationship, in their own words
We can't deny that working together has its bumps. But the greatest benefit has been that we've discovered a deeper support for each other. We balance one another, communicate directly and trust each other in a different way than before opening Ufficio.
The couple: Brandon Olsen and Sarah Keenlyside
Been together: 5 years, and got married this year.The spot: La Banane and CXBO Chocolates
The details
The couple co-owns both spaces together. Sarah is the creative director of the brand. She designed La Banane and her art can be seen hanging on the walls of the heavily Instragrammed, always busy restaurant. She's all about the concept and branding and design, and comes from an artistic background. He's the chef/chocolatier. (Disco ball, anyone?)
How working together has benefitted their relationship
Though we didn't connect with them directly (the pair is currently travelling for their next big thing,) it's evidenced by their Instagram accounts (and if you meet them IRL,) that they're each other's biggest fans.
For Valentine's Day, the couple took over The Kit's Instagram account. They shared their mutual love for one another, food and design using the hashtag #couplegoals. Oh, and one year ago to the week, Brandon shared a picture of them on his Instagram account and wrote, "I'd be lost without this one. She's the better half of us. Thank you @missarahk for everything that makes you, you. #internationalwomensday"
Swoon! I'll be over here eating a box of CXBO chocolates all by myself, thank you very much.
The couple: Susur Lee and Brenda Bent
Been together: 35 years
The spot(s): Fring's, Lee, Kid Lee, Luckee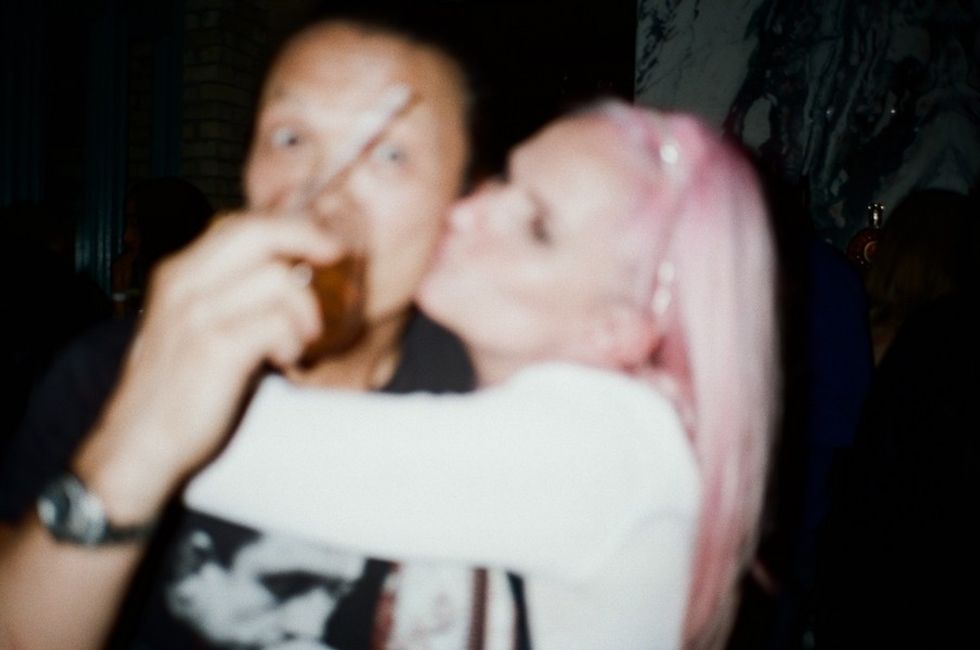 Susur Lee and Brenda Bent. (Photo courtesy of Matt Adam)
The details
Brenda has a company called Bent Gable Designs with her partner Karen Gable. Susur Less has the Lee Restaurant Group. Putting their efforts together have made for great successes.
How working together has benefited their relationship in their own words
To be honest, I think working together benefits the business better than it benefits our relationship. But that said it hasn't hurt.
Now that our children are working with us, it helps us stay close given how busy all of our schedules are. Since I take care of the operations and the kitchen, and Brenda designs the restaurants with her business partner Karen Gable, we don't work directly together. So we're not together all of the time, which is sometimes better for working relationships!
The couple: Julio Guajardo and Kate Chomyshyn
Been together: 13 years
The spot:Quetzal (new Mexican restaurant with Grant Van Gameren)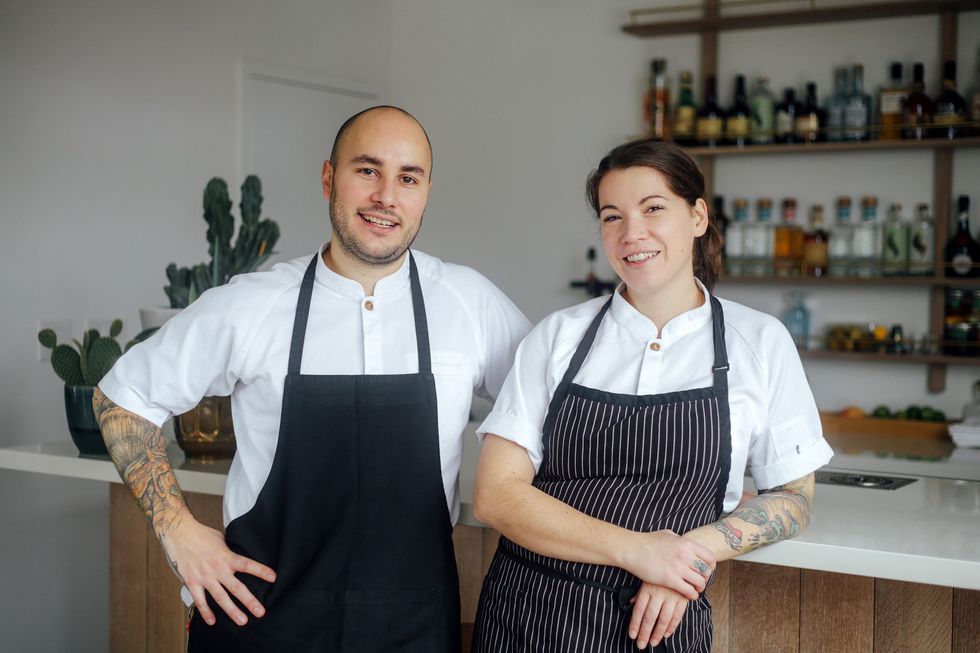 Julio Guajardo and Kate Chomyshyn (Photo courtesy of AJ Fernando)
The details
We met at Le Cordon Bleu Ottawa in 2004, while we were both attending cooking school there. Shortly after graduating we moved to Montreal to pursue our careers there. After six years of hard grinding behind the stoves in Montreal, we decided to take our first trip together and visit Julio's home country.
We went to Oaxaca and fell in love! That trip really solidified what we wanted to represent in Canada: True Mexican flavours.
Shortly after we opened our paleta (Mexican popsicles) company, LA CaTRINA, as our first step to introducing our goal to the public. We were approached by an investor from Montreal. And after two years of trying to open there, Grant's wife, Sunny Stone, suggested we contact him. He flew down to Montreal for a day, we cooked him a seven-course meal in our apartment, and the next day he called us and asked us when we could move to Toronto.
So really we have just always worked together for the same goal and it's just natural that we both work on Quetzal.
How working together has benefited their relationship, in their own words
As chefs, having a meaningful relationship with someone who has a normal schedule is next to impossible. I think the understanding we both have for the amount of effort/time necessary to have success in our industry has definitely helped us. It's not always easy to work together, but at least we know that we can survive even the toughest challenges together.
Industry Profiles