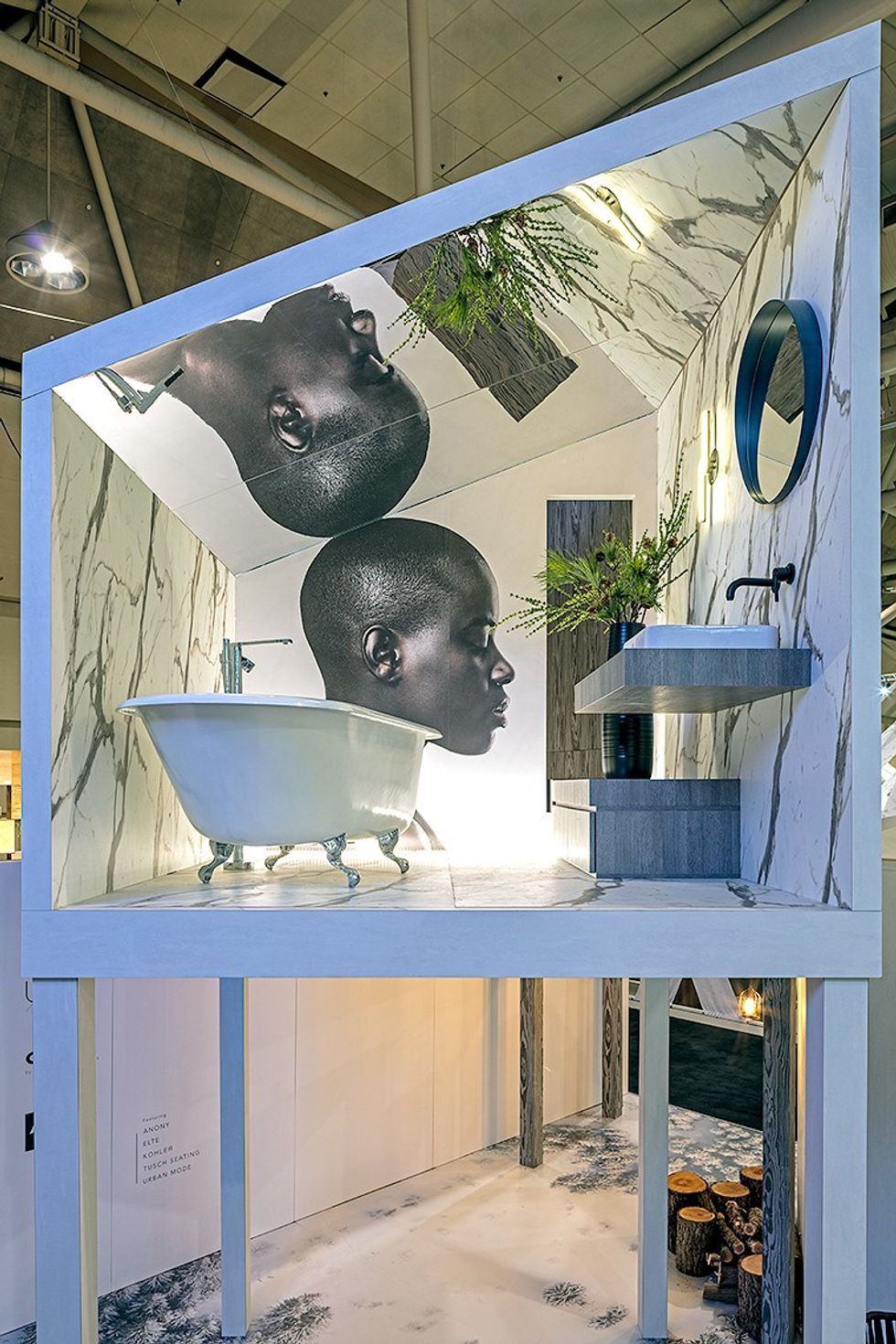 This is not your mom's kitchen ... Welcome to the kitchen of the future. (All photos by Peter A. Sellar)
---
Decked-out in skinny jeans, fitted blazers with tees, and hipster cuts/man-buns, Kelly Cray and Neil Jonsohn may surprise you at first — that is, if you're familiar with their work.
Despite leading one of Toronto's busiest interior design firms — that has quietly been fashioning the country's most glamourous spaces for decades — these gentlemen are extremely humble, rather soft-spoken, but still, shockingly edgy.
Over the past 15 years, the stylish principals have helmed U31 Design (pronounced U-3-1), a 25-person studio located in the fitting Queen West neighbourhood. Initially, Jonsohn managed the private residential arm, orchestrating elaborate vignettes within multi-million-dollar mansions for the Bill and Melinda Gates's of Canada. Cray handled the commercial side, devising chic, monochromatic layouts for the country's biggest condominium developers (often times, their personal homes too). Recently, the designers have joined forces on hospitality and tech start-up ventures, including hotels, bars, and co-working spaces.
While Cray and Jonsohn's portfolios appear to be on opposite sides of the design spectrum, the duo is equally luxurious, pared-back, and somewhat respectable in their approach. They cater to each client's every extravagant desire. This, however, does not always reflect the effortlessly cool image the two portray outside the office. Last we met, Cray was confidently draped in black faux-fur (Anna Wintour would likely approve), while Jonsohn donned a short-sleeved shirt, nonchalantly revealing some Peter Marino-worthy tattoos.
And now the two are revealing more, design that is. Because U31 was invited to exhibit at this year's Interior Design Show (IDS) in Toronto. The firm was asked by AyA Kitchens to be the creative lead on a booth that would showcase its cabinetry manufactured in Cleaf laminate from Italy, carried by local supplier Weston Premium Woods.
Titled The Future of Canadian Living, the result is a towering 18-foot-high treehouse-like structure containing three A-frame-ish pods. It melds the natural beauty of Canadas rugged landscape with U31s experience in vertical communities and high-end design.
Because of the limited footprint on the show floor, building up seemed like a natural solution especially given our condo background, says Jonsohn. We also wanted to represent the nations unique cultural diversity.
While the exquisitely-styled rooms combine contemporary and vintage products, each space highlights a different archetype: The funky kitchen, containing a hip leather stool, sleek matte lighting, and old-school bar accessories would satisfy a mixologist.
The Carvaggio-esque library with modern wingback chair, cascading gold pendants, and classic gramophone would accommodate a world traveller.
And the serene bathroom, with white marble-look walls, tub atop gold feet, and concrete-like vanity would suit a wellness enthusiast. (All lighting is by emerging designer Anony, seating from Kroft, Tusch (Expormim, Inclass), and Urban Mode (Blu Dot), fixtures by Delta and Kohler, and accessories from Elte.)
Whats the point then in labouring for months over an installation that only lasts days?
Condos are U31s bread-and-butter, so we dont want to stop doing that, however, we would love to explore edgier projectswith innovators like Airbnb, Ace Hotel, or WeWork, says Cray. This presentation is one way of showing potential clients weve got what it takes.
Sophisticated, contemporary, and edgy the future of living already looks good. And, the firm behind it is just getting started.
Urban Living