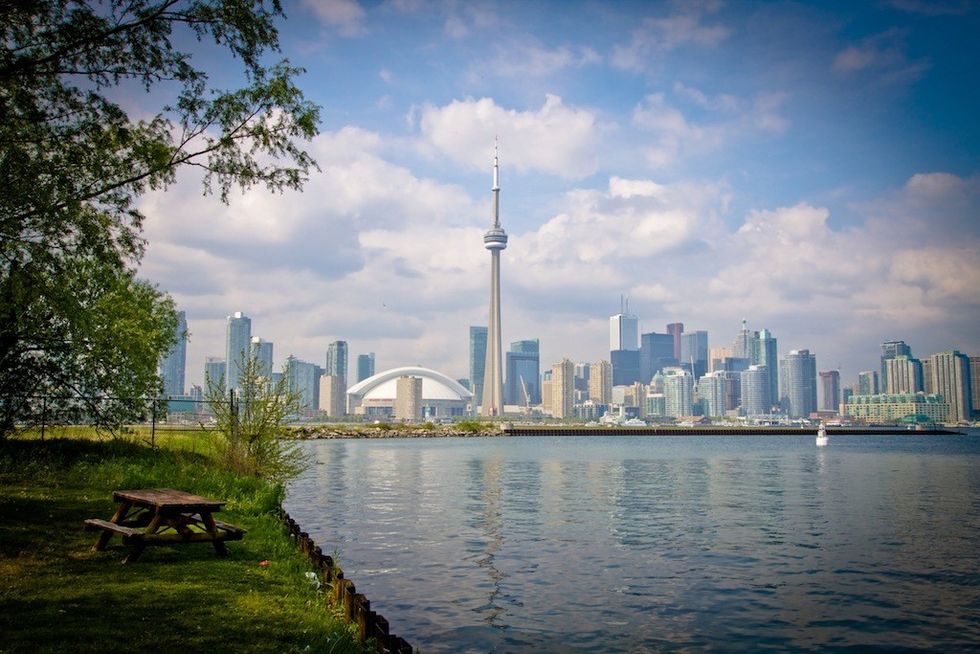 (Photo courtesy of Toronto Guardian News Website)
From Toronto Life to fashion reporter at the Globe and Mail to editor-in-chief at FASHION, and everything in between and beyond, Leanne Delap has come to see Toronto and its life from many different perspectives. But she's always been and will always be a "West-End Girl." Here's her story on her not-so-secret love affair with Toronto then and now ... 
---
When I graduated from university, at the very end of the '80s, if you planned to stay in Toronto you felt like a loser, not willing to plant your stake among the brighter lights of New York or Los Angeles, or for the boldest, Europe. But I never felt that way. My love affair with this city felt fresh back then, as it still does today.
Growing up in cookie-cutter suburbia, the houses came in three different styles with four colour-ways of trim variation (but endless possible permutations of Tolstoy-style unhappiness happening on the inside). My heart ached when the jagged Toronto skyline came into focus.
An image from the comedian and Scarborough home-boy Mike Myers in a long-lost Toronto Life interview has stayed with me. He spoke of driving down the DVP at night, decades ago, when there were orangey streetlights casting a surreal glow on the winding hollows. He called it the Yellow Brick Road, and that was where I saw my future, too.
I ran out of Pickering at 18 with my hair on fire, and eventually landed at Toronto Life as the '90s dawned. The city felt knowable then. I was newly minted from Ryerson, which at the time was an outpost in the still-seedy swath of Yonge and Dundas. But there was The Library Bar on Dundas as beacon, a rundown gem with a jukebox stuck on Billie Holiday and carpet soured by generations of spilt beer. It was great, and is still standing.
For dance clubs, there was Domino's at Isabella and Nuts & Bolts on Victoria and the Diamond (now the Phoenix) on Sherbourne, the Twilight Zone on Richmond, and when we dressed up to vie to be beckoned past the velvet rope, Still Life in the Entertainment District before there was one. The bare-bones aesthetic of most of those clubs meant the atmosphere was down to the late-New Wave shag haircuts and leather jackets, with drag queens providing glittering punctuation.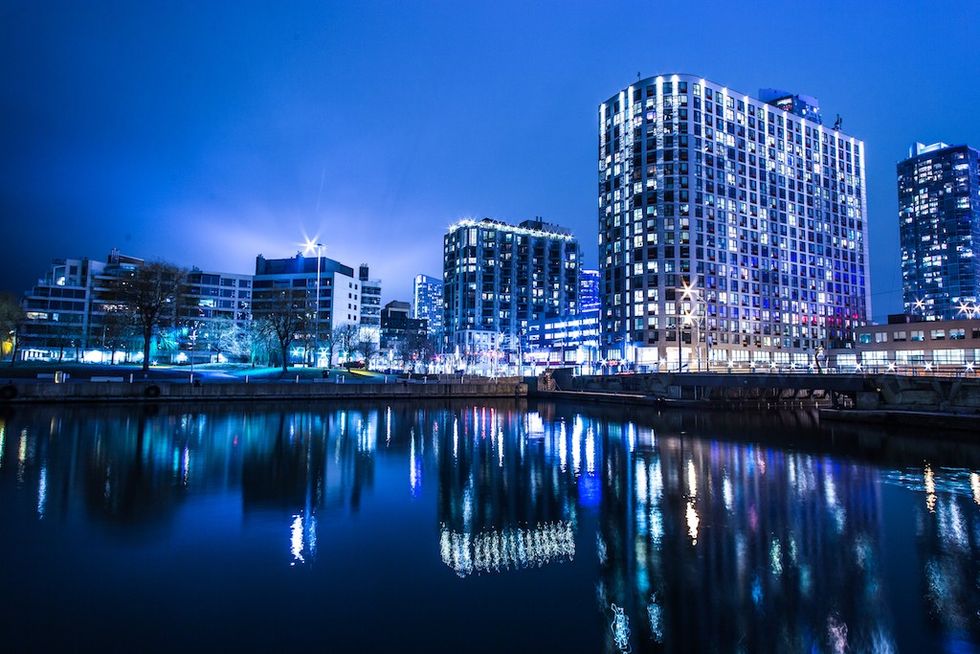 Toronto seems to grow shinier and sleeker over time ... (Photo courtesy of Toronto Guardian News Website)
Even today, as I look at the shiny condo village that King West has become, I still see it as it was back in the day, a maze of illegal and condemnable artists' lofts, where interesting creatures lived by night and dodgy after-hours booze-cans were found at the end of long, dark hallways.
Our relationship with our hometown changes as we age, of course.
I loved Patti Smith's gritty, pulsating look back at her New York of the '70s in "Just Kids." But I connect much more intimately to the coffee shops, detective show binge-watching and the Sandy-devastated Far Rockaways cottage of her New York of the near-present in "M Train."
As I was drawn to the west end in the early 2000s, I found my place in the world. It was not as hip as it is today, still poxed by crack dens before the Drake Hotel articulated the mission of residential art and culture. But the essential character has remained.
It is the scale of Little Italy and Little Portugal that I love. Three-storeys high, for the most part, low-slung ornate wrought-iron gates, gardens bursting with bright climbing roses, people on couches on their porches, bushels of peppers lining every corner.
I lived in turns on Beaconsfield and Bellwoods, where Portuguese sports bars still spill out onto the streets, male-only holdovers pressed up against jazzy holes in the wall, like the great Communist's Daughter. And where restaurants are full of extended families watching soccer and Brazilian soaps at the same time, platters of churrasqueira chicken, paprika-dusted roast potato balls and hunks of skewered meat hung to drip juices into bowls of beans and farofa.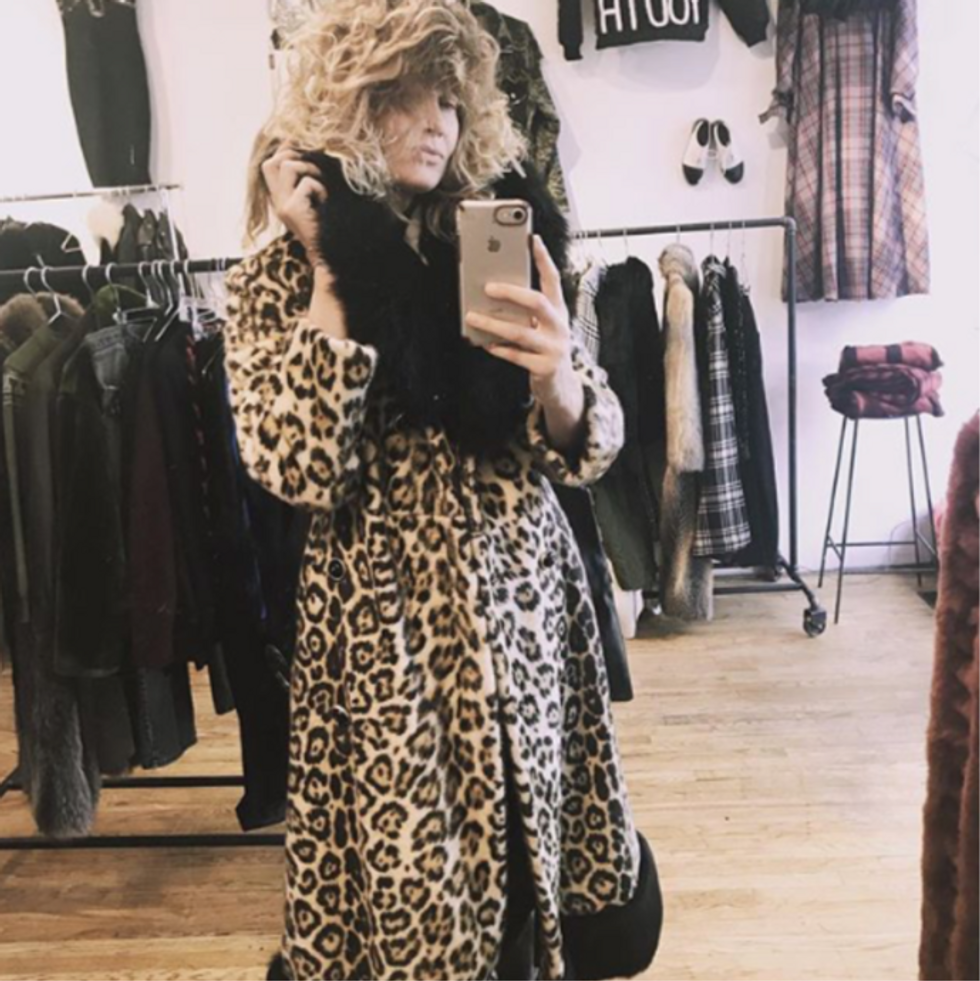 Kealan Sullivan, another local superhero. At her shop 69 Vintage, she created the evolving Queen Street West look — which is now online in pop-up mode. (Photo courtesy of 69 Vintage)
My kids grew up playing under the racks of 69 Vintage, where stylist-extraordinaire Kealan Sullivan has invented the evolving Queen West uniform for 15 years (she still runs an online endeavor and holds the occasional pop-up, just east of Ossington).
Kensington Market feels, mercifully, largely untouched. This is where every teen, from me through my own kids, first discovered cheap vintage, and street food. It is food shopping today that takes me back there on the regular, an obsession that has altered my relationship with the city yet again.
For the past three years, I have lived (with ambiguous feelings) in the posh, leafy enclave that calls itself Republic of Rathnelly. Which always reminds me of the guy who gave himself his own nickname in college. It is a little too polished, which can really grate: it is the cracks in any façade that I find compelling.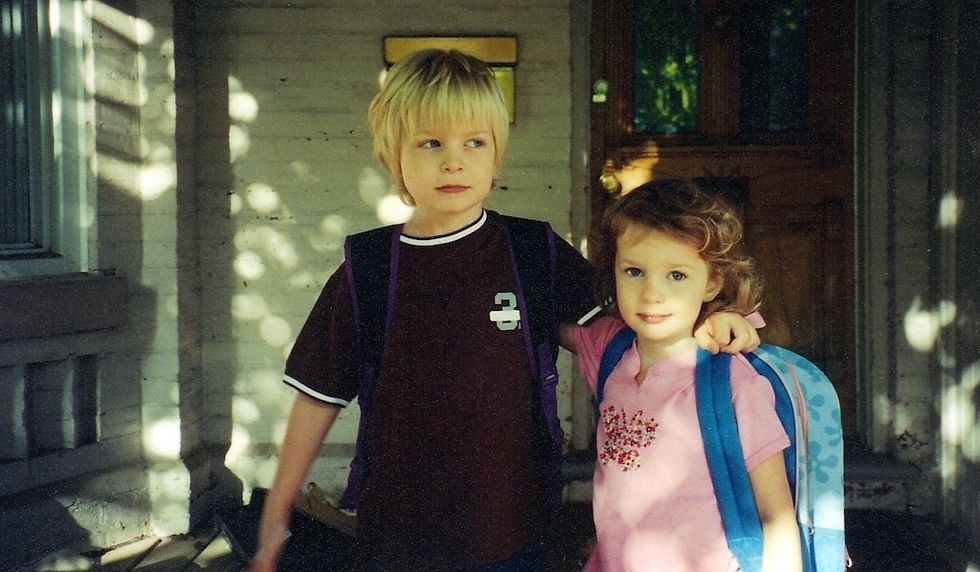 Max and Simone on a first day of school pic, in front of our very typical west-end Victorian semi in Little Portugal.
I am grateful for my cushy life, and I love our home. And it is great for the dog (it is compulsory to own one on my street).
But as a hood, it just isn't alive or unexpected. There are never any guys racing down the parking alleys in Hondas tricked out with after-market lights and spoilers. There is no graffiti. There are no parades to honour random saints. And you can't nip down to the Done Right on Queen West for a pint and a peek at the latest, timeworn, seasonal decorations.
And so I run away to explore the city for ever-more-obscure groceries. I might go up to Marlee, above Eglinton, to go to Zito's — the best Italian grocery store, other than Lady York, around the corner on Dufferin. Come September, Zito's streetside entrance becomes an Instagrammable fortress of bushels of ripe-red, bursting San Marzanos. A bushel is 53 pounds, for those who have not passed one through a hand-held food mill.
Or I will head out to Lawrence East before breakfast on the weekend to the teeming Diana's Seafood market; early-side you may find local celebrity chefs poking about the squid. Don't even ask about the lengths I go to find chicken feet and organic bones for stock: the bone broth craze has made selection low and prices high for what used to be throwaway bits. A true, if weird, signifier of the city's sophistication.
The only thing wrong with the city now is that my own kids will be unlikely to settle here. Rents are so stupid that kids starting out have no choice but to leave. A full-180 from the scenario I found with my fresh degree rolled up in my hands.
Community