Industry Profiles
Elliott Taube: A story written in the Toronto skyline
He went from sitting in a cubicle, eight hours a day, staring at a screen he hated, to boating around the waterfront, staring at the renowned Toronto skyline he loves — in part because he helped develop it.
So how did Elliott Taube, president and general manager of International Home Marketing Group, go from one point to the other? Well, actually, he never went far. His first computer job was in downtown Toronto, he has always wanted to be downtown Toronto, and now his legacy will always be a part of downtown Toronto.
International Home Marketing Group is a full-service turn-key solution for medium- to large-size builders and developers throughout the GTA and Southern Ontario. This is its 25th year of providing start-to-finish solutions for the sales and marketing of new homes, in the high-rise and low-rise sectors. But Taube and the company are certainly putting the International in its name — on a growing path to cities including Vancouver, New York and Los Angeles.
His sales path began at the age of 13.
"I grew up in a family that had a retail business. My father started out with an Army Surplus store in 1947. And I was asked to talk to people. Ask what they wanted to buy."
Then came the age of computers, and he developed an affinity towards that industry. But as Taube continued down that path he missed the human connection. And it's the human connection the 54-year-old credits for his accomplishments.
"My trajectory, which got me where I am, was all based on relationships," he says.
Taube noticed this from a young age, even as a waiter at The Keg, or bartending and working in multiple Toronto nightclubs.
"I enjoyed that. It was very social. You meet different people every day. Unfortunately, with that business there's only so much money you could make unless you are an owner. But in my family, I'm the youngest of four, with 20 years between my sister and I. Our parents passed away by the time I was 30. So my capital was not there."
So, how does someone with retail, computer and service industry experience — but no capital —become an owner and come to "own" a big piece of the city's development?
"I had a friend in real estate who suggested this would be a fit. That you could make unbelievable money and do what you want."
So Taube's capital was made up of relationships, passion and hard work.
As his capital grew, he wanted to try a different side of the market: the new homes side. "I had no new home experience. But I got the shot because of relationships."
A break he credits to Howard Sokolowski of Tribute Communities landed him 10 years with the company, which specializes in low-rise development builders. Then came time for another change, when Taube could foresee the changing skyline of Toronto.
"The market hadn't exploded yet, but it was an interesting time. I needed to learn the high-rise side."
Soon, he found himself at International Home Marketing Group, in a sales position at Pier 27. Six weeks later, Taube already started climbing the corporate high-rise when he accepted a management position. He arrived in the penthouse, three and half years ago, when he became president of the company.
Just because Taube runs the company, it doesn't mean he doesn't run with his entire team.
"I'm involved with every project. A typical day is attending almost every meeting, being involved right from the ground up with everyone from architects to advertising companies. And it's not from a micromanagement or control side; it's just something I'm passionate about. I want to make sure we deliver the best products out there."
Even when on the water, or out and about with friends or colleagues, his work is play, or his play is his work, as it were. "One of the games I like playing with my friends and colleagues, is Who Made That Building And What's It Called?" (One of his favourites is 88 Scott.)
The spirit of Toronto and his work are a big part of his character and sense of worth.
"This company started 25 years ago. For years it was run by Michael Wilson, who was the owner and a partner. When he passed away it was a big loss. To see we've continued the legacy he started, and how we've grown beyond what he created over last 25 years …"
Taube takes great pride in that — and in his clients — many of whom have been with International Home Marketing Group from the beginning. Scholarship programs, charitable donations, corporate social responsibility and the community have always been a large part of the company.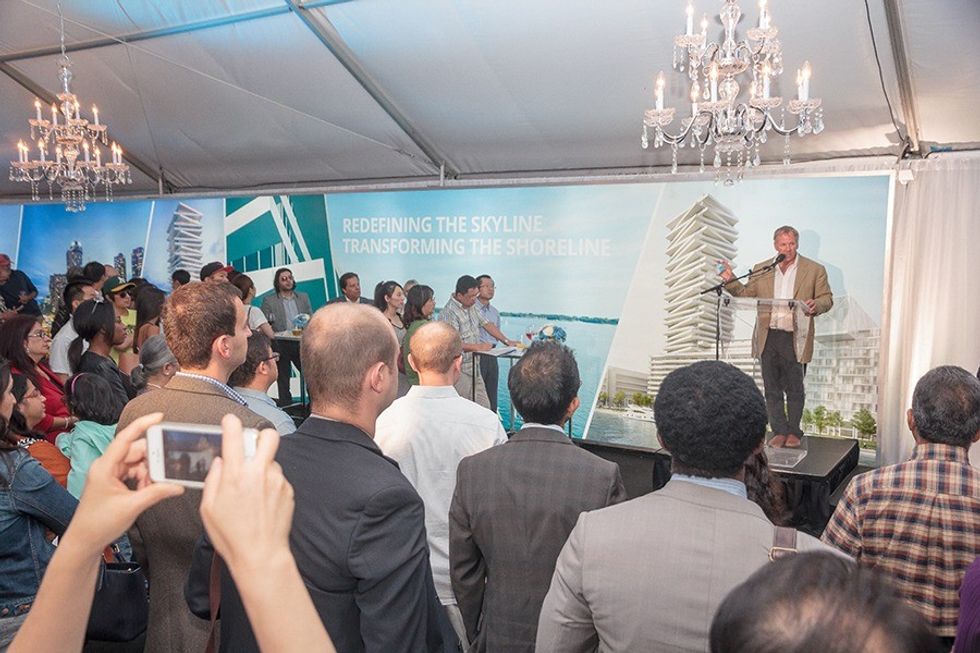 In fact, from more than 30,000 participants in this year's Becel Heart and Stroke Ride for Heart, Taube placed 10th for money raised. "To be in the top 10 and raise money and create awareness — I was very, very proud."
Taube has come very far, even though he's in the same place he started.
"I remember being downtown during the time the SkyDome was being built. Seeing those changes. But being there now, on the water, on boats, and seeing the things we've been responsible for doing … Watching as this city's skyline changes and knowing you are contributing to its growth. That's an absolutely amazing feeling."