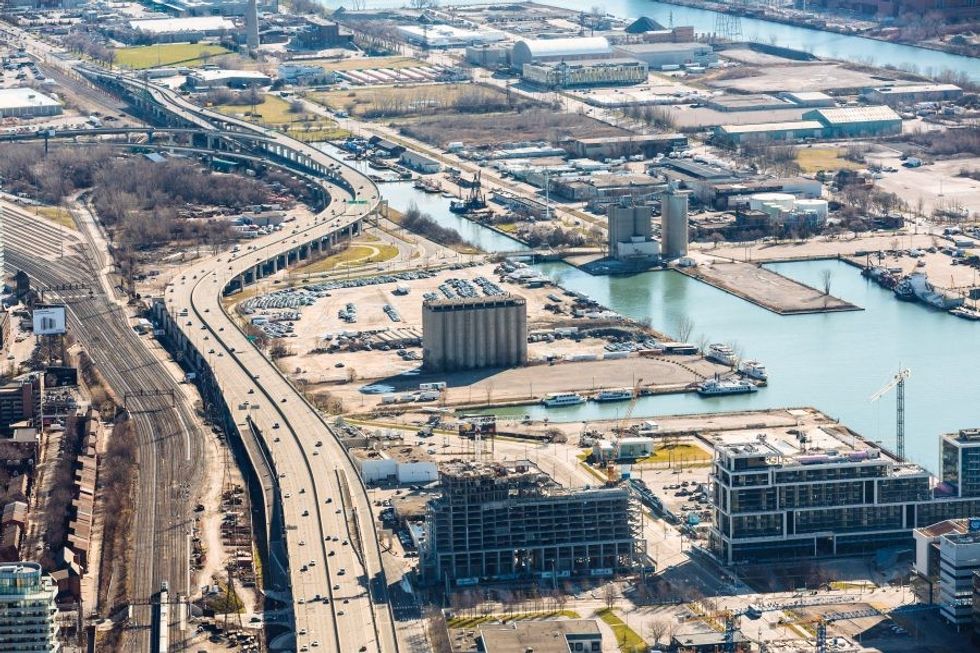 Google's Quayside, to be built on a derelict parcel along the eastern waterfront, will transform 12 acres into a high-tech mixed-use facility, one that everyone has been talking about. Quayside is Storeys' Development Project of the Year. (Photo courtesy of Sidewalk Toronto)
Not often does a Toronto development project make headlines around the world, but in 2017 it happened.
---
The object of global attention was, of course, Quayside, the 12-acre slice of our urban future that will be built on the east waterfront. Proposed by Sidewalk Labs, a Google sister company, the experimental community will be planned "from the Internet up."
Without question, Quayside is Storeys' Development Project of the Year.
At the same time, 2017 has been an annus mirabilis in the suburbs that surround the big city.
Mississauga and Vaughan are two of the municipalities that have decided to reverse decades of sprawl and remake themselves as urban centres complete with mass transit, a public realm and the sort of city-like densities they have traditionally avoided. And so we have two honourable mentions to this Storeys series.
In other words, 2017 has been a period of great transition as well as enormous excitement. Though it left us feeling uncomfortable and confused, it also created a sense of hope that a better future just might lie ahead.
Needless to say, it's too soon to tell how things will unfold and certainly the developments that defined the year attracted their share of criticism.
Quayside is no exception. It inspired fear and boasting in equal measure.
Supporters view it as confirmation that Toronto is uniquely positioned to tackle the changes and challenges that lie ahead.
On the other hand, many fear it is a Trojan Horse that will allow Google to take over the city and the data it generates. That may seem a bit dramatic, but Quayside has left many observers afraid the proposed community will steal residents' privacy.
These worries may or may not be justified, but given the nature of world we inhabit, they seem a bit late in the day. Not that privacy isn't worth fighting for, but we lost it years ago. In any case, Sidewalk Labs is committed to spending a year and as much as US$50 million to draw up its plans. At that point, Waterfront Toronto can either accept or reject them.
Unusually pleasant
Though no decisions have been made, Sidewalk Labs has talked about creating a smart community with multi-use modular buildings, autonomous vehicles and affordable housing. Utilities such as garbage collection would be underground, making the new community an unusually pleasant place to live.
Regardless of what happens, the world will be watching.
Meanwhile, with a number of large sites on the waterfront and beyond up for revitalization, Mississauga leads the way.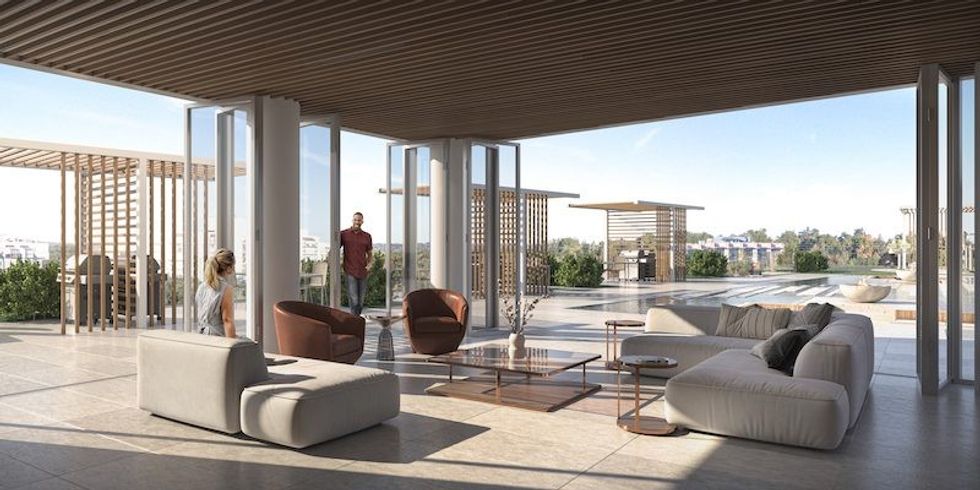 Phase 1 and 2 of M City Condos in Mississauga. (Rendering courtesy of Norm Li)
It's clear big changes are in the works for Canada's sixth-largest city. Probably the most inconspicuous will be M City Condos, a massive scheme at Burnhamthorpe and Confederation Parkway that will eventually include 10 towers.
The tallest, which will come in at 60 storeys, is designed by Toronto's CORE Architects. It takes its aesthetic cues from the iconic Absolute towers by MAD Architects — better known as the Marilyn Monroes — but translates their curved floor-plates into something more angular.
Urban ambitions
The owner of the site, Rogers Real Estate Development, has teamed up with Urban Capital to build M City. It is one of a new generation of redevelopment projects in Mississauga intended to take advantage of the city's urban ambitions. Aimed at a less suburban demographic, it is expected to appeal to buyers looking for a lifestyle based on density.
As Mississauga Mayor Bonnie Crombie said at the M City launch last January, "We are building a complete city — a place where people can live, work, earn an education and enjoy an unrivalled quality of life — all within their community. This landmark development will redefine the western edge of downtown Mississauga and add to our growing skyline."
Down on the Mississauga waterfront, a trio of projects will reconnect the larger community with Lake Ontario. The largest of the three parcels, the former Ontario Power Generation site, occupies 177 acres, enough space to transform Mississauga into a fully mixed-use, transit-based, 21st-century city. The site is currently up for sale.
Planning for the nearby Imperial Oil lands is already underway, being developed by a consortium comprised of Kilmer Group, Diamond Corp., Dream Unlimited and FRAM + Slokker. The 72-acre site beside Port Credit, now called West Village, will comprise 2,500 housing units, 200,000 square feet of commercial and retail uses as well as a waterfront park.
Before anything can happen, however, developers will spend two years cleaning the former industrial site.
Vaughan revitalization
In Vaughan, a similar story is unfolding. When the Spadina subway extension opened on Dec. 17, it suddenly connected the Vaughan Metropolitan Centre (VMC) to downtown Toronto. The enormous, 442-acre development on Hwy. 7 between Hwy. 400 and Jane Street marks the spot where the city will enter the 21st century.
Conceived as a "complete community," the VMC will include green space in addition to commercial, retail and residential. By the time it's completed, 30-odd years from now, it will in effect be a city-within-a-city.
Among the first components of the giant complex is Transit City, an unabashedly urbanist project organized around a 55-storey condo tower designed by Diamond Schmitt Architects. Located literally steps from the new subway station, the development is oriented — as its name indicates — around transit. In other words, this represents one of those rare occasions when transit precedes growth. This means the new community can be designed to take advantage of the subway.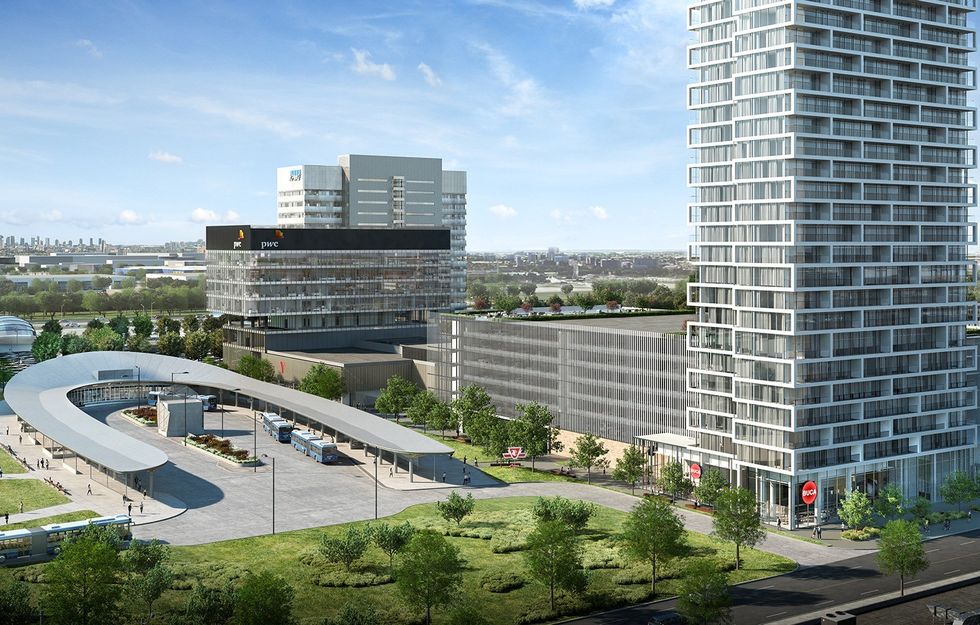 Vaughan is shedding its traditional suburban image, and a catalyst for the transformation is Transit City condos. The 55-storey tower will be part of a walkable community, steps from the newest TTC subway station and regional bus terminal. (Rendering courtesy of CentreCourt Developments and SmartREIT)
For now, however, Transit City is a construction site. Though this means the subway is decades away from justifying its cost — $3.2 billion — eventually it will become a dense and walkable neighbourhood, one where residents can get around by public transit. This is not something that can be taken for granted.
Toronto, for instance, has failed consistently to rezone neighbourhoods around subway stations for greater density — regulations don't allow it. The vague hope that intensity will inevitably appear doesn't necessarily follow; just look at what has happened — or more to the point what hasn't — on Sheppard Street East, where the subway opened in 2002.
Joint-venture partners SmartREIT, Mitchell Goldhar and CentreCourt Developments promise a multi-use development that includes a BUCA-branded bar and restaurant, a YMCA, a hotel and let's not forget Transit City's very own "Central Park." It will be designed by acclaimed Montreal landscape architect Claude Cormier, best known in these parts for Sugar Beach and the marvellous new Berczy Park, shrine to the dogs, near St. Lawrence Market.
It remains to be seen how things turn out, but with the stunning VMC station, things are off to a terrific start. Designed by Grimshaw Architects, Adamson Associates and Paul Raff Studio of Toronto, this isn't just another station, it's a celebration of transit. More than a way to move people from A to B, it is an extension of the public realm — not only a place to move through, but a place to be.
Hume with a View