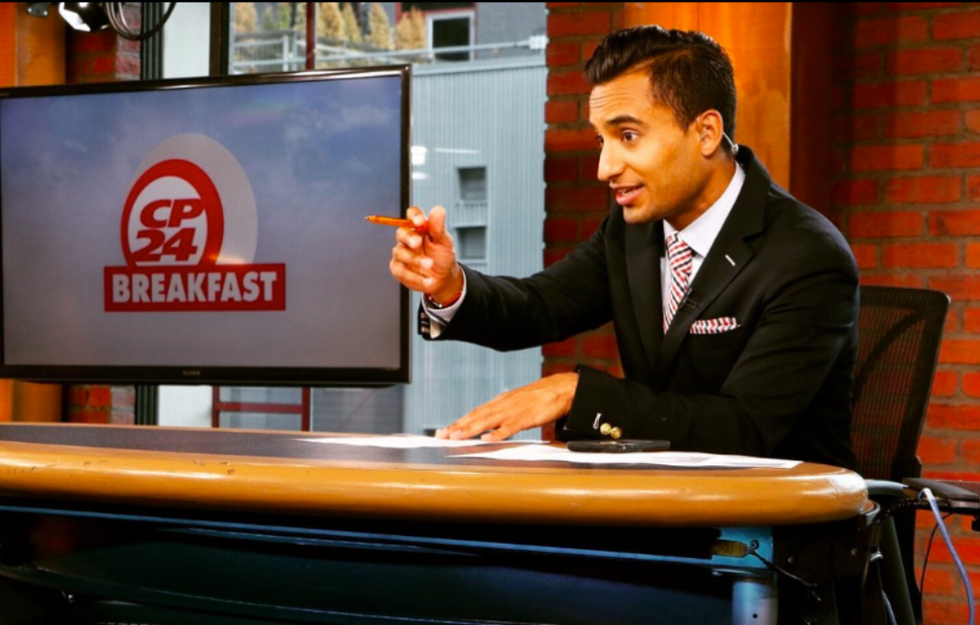 (Photo courtesy of Gurdeep Ahluwalia via Instagram.com)
Gurdeep Ahluwalia is one of those Toronto personalities that likely needs no introduction.
---
I was recently hosted at a Jay's game with him. We had box seats. And all the women in the box next to us kept trying to snap Gurdeep's picture in that way you try to take a snap when see a celebrity IRL, but don't want them to know you saw them.
The cat was out of the bag when a few innings later — and likely a few drinks in — they asked him what the most popular news story was that day. Of course. they flirted and fawned over how handsome he was in person, and tried to talk him into staying out past his curfew.
But Ahluwalia stuck to his well-practised routine of cutting out early, so he could get some beauty sleep before having to be on-air on CP24 Breakfast in his anchor seat (or throne, depending on how you look at it).
Now, Gurdeep has welcomed Storeys into his CityPlace condo, which he bought eight years ago and has lived in since. He talks to us about his sleek set-up, life in the city and how he balances work and play.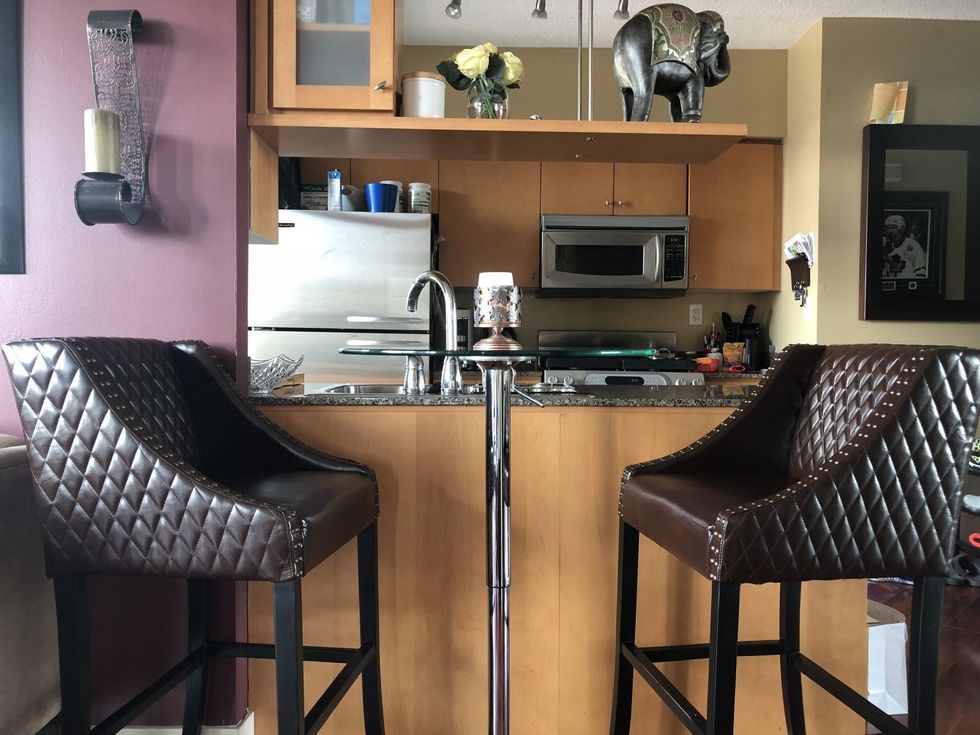 First things first, you bought your CityPlace condo eight years ago and you still live there. What originally drew you here?
Location, location, location.
I wanted to be within walking distance of work, but also have great restaurants and nightlife options relatively close by as well. Also, being close to the Gardiner when I need to make a quick escape to suburbia saves me the hassle of actually driving through downtown.
Despite the gentrification of the area, you decided to stay put. What's kept you there?
Gentrification is a good thing! The area's constantly improving and property values have jumped nicely.
For people who consider that area a little bit bro'y or a space for 20-something-trust-fund kids, what would you tell them?
I would say that's the old Cityplace mindset, or probably perpetuated by someone who hasn't actually lived there.
It can also really depend on which building you're in. Some may be full of renters and transients, which doesn't foster a community feel. I'm lucky that that's not at all the case in my building.
The community has recently added a library, a park, an ice rink, dog areas, and a splash pad. In addition, two schools and a community centre will be completed next year, and new restaurants and local establishments are springing up all the time.
Again, I can't speak for all the buildings, but mine has plenty of owners and families with young children. It truly feels like a community.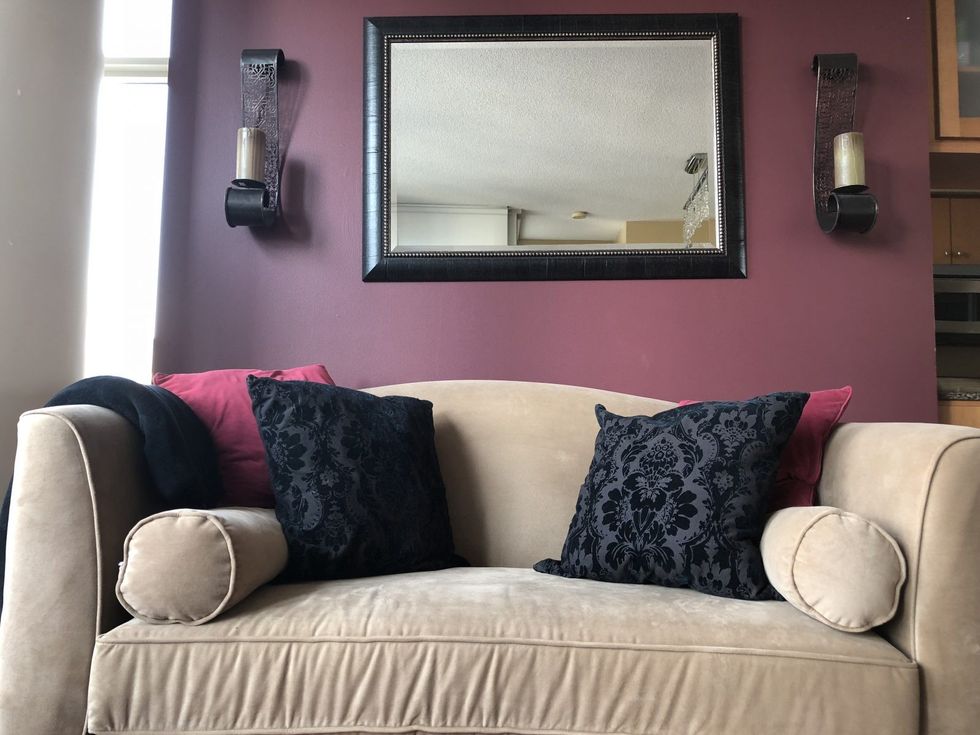 What do you like most about your condo and your unit?
I love the amenities. I love the views. And I love that I have a corner suite with a unique layout.
Why did you decide to buy instead of rent?
Because I'd rather pay my own mortgage than someone else's.
Did you work with an interior designer for your unit?
Nope. I envisioned and designed it myself.
I ripped out the carpets and had hardwood installed. And I painted the white walls to add colour, warmth and personality.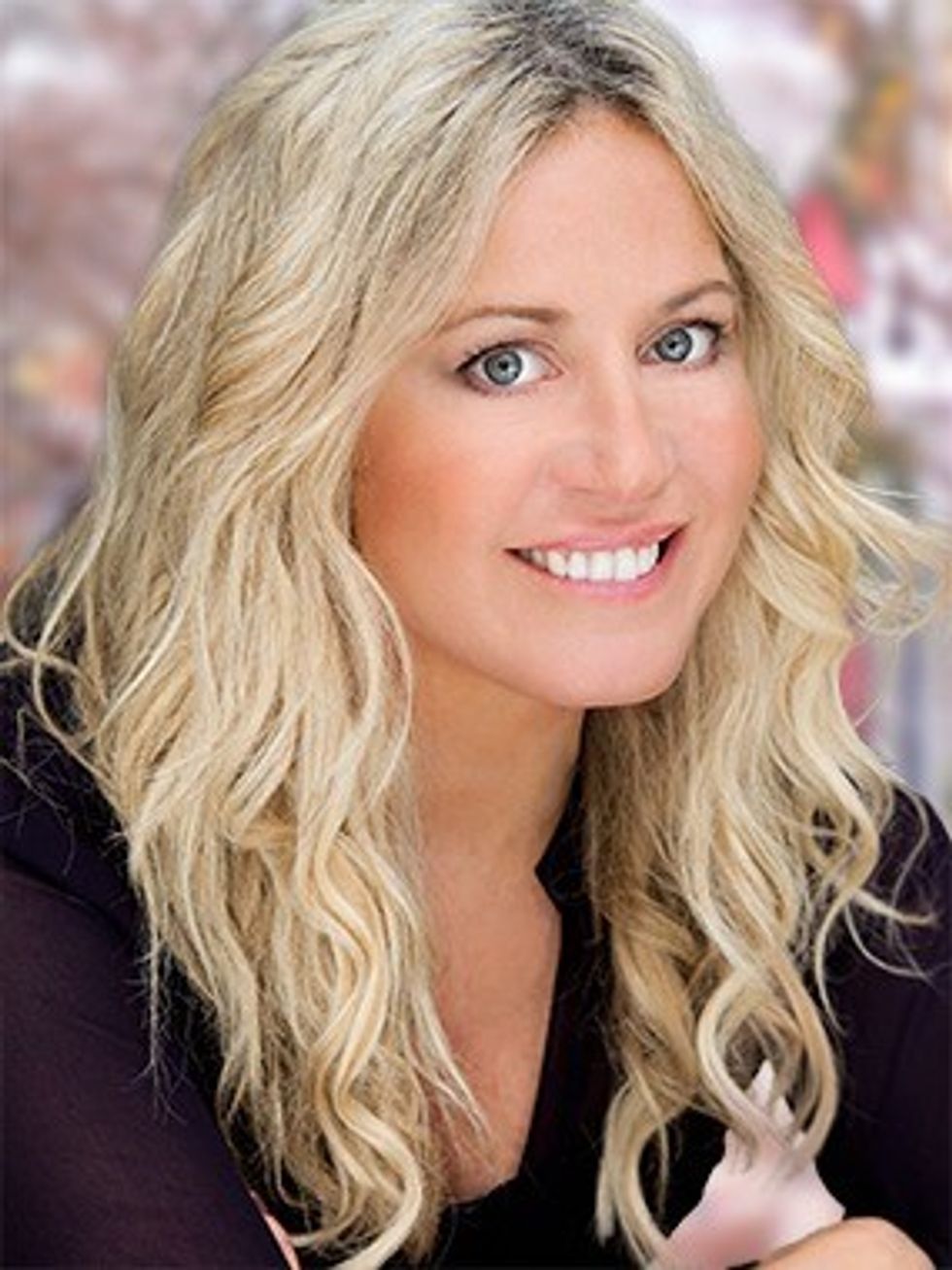 Let's talk numbers: How many square feet is the space and how many bedrooms and bathrooms are there?
It's 750 square feet. It's a 1 + 1 + a den that can be a second bedroom.
Yes, and I use it.
How do you get around the city?
I Uber to work because it's SO early. But for the most part, I walk places, unless I'm running late.
You're on the air bright and early. What time do you go to bed and what's your morning routine?
I try to be in bed by 7:30 p.m. and asleep by 8:30 p.m. (though that doesn't always happen). My alarm goes off at 3:15 a.m. I meal prep and pre-pack my breakfast to save time.
In the morning, every minute counts.
Once awake, I shower, steam my suit, do my hair, pet my dog, and then I'm out the door by 4:15 a.m.
What are the amenities like in the building?
The amenities are fantastic. The best in all of Toronto. And yes, I use them.
Talk to us about your personal style and how you went about personalizing the home to make it you?
I mostly designed this when I purchased it eight years ago, so tastes evolve over time. But I'm still quite happy with it.
Basically, I found one piece that I fell in love with, and designed the room around that.
The rule is that you can have ONE oversized piece of furniture in a condo (any more and your place will feel crammed).
So, I bought this beautiful, large leather treasure chest coffee table. It's massive for my place, but again, it's my only oversized piece. It's very me, and it works. As the Big Lebowski would say, "It really ties the room together."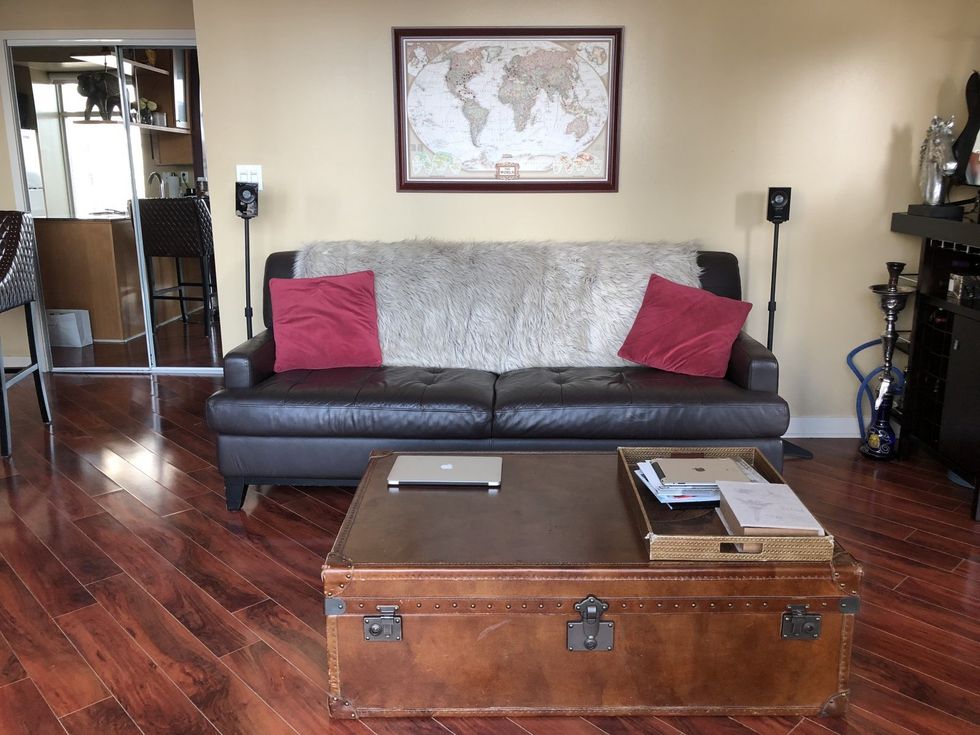 What one thing can you not live without in your home?
My dog, Coffee! Inanimate objects are replaceable.
What's the first thing you do when you get in from a long day?
I rub Coffee's belly and take off my suit … And then I make my post-show, pre-gym snack: a Fuji apple with celery, natural peanut butter, and organic RW Garcia sweet potato crackers.
Fav spot in your home?
Either my couch with my feet up on the coffee table, or on my bar stools and high-top table, while eating and watching TV.
Did you have to change anything in your home when you got Coffee?
I had to put away my sheepskin rug. I think she probably would have had a field day with it.
I also had to colour in some corners of furniture she chewed on when she was REALLY young.
You currently don't have a family. But if you plan on having one down the road, where in the city would you want to raise them and why?
That's hard to answer without a partner in my life. But ideally, I'd like to stay downtown.
I've been inspired by seeing families with young children in my building. They seem to make it work well, and just because I had a backyard growing up, doesn't mean my future kids need one.
There are also a lot of luxuries downtown that a family in the suburbs wouldn't have.
But, I'd definitely need a bigger suite with more bedrooms to make it all work. I assume that the Mrs. is going to want a walk-in closet. :)
Do you like to entertain at your place?
I do. My spot is usually the place we all start off the night.
You recently rented a cottage with friends. Where did you rent and how did you choose that spot?
I rented in Haliburton and used the Canada Stays website to find it. Nothing else major planned for this summer.
IMO, Toronto is one of the best cities in the world in the summer. So, I tend to save the majority of my vacation time for the colder months, when I feel like I need to get the hell outta Dodge.
What's next for you?
Rising and grinding every morning with my CP24 Breakfast family. Outside of work, just enjoying the rest of my summer. I'm excited for my Maple Leafs, and still pondering what to do with the couple of weeks of vacation that I've got left for 2018.
I'm open to suggestions @GurdeepA.
Toronto