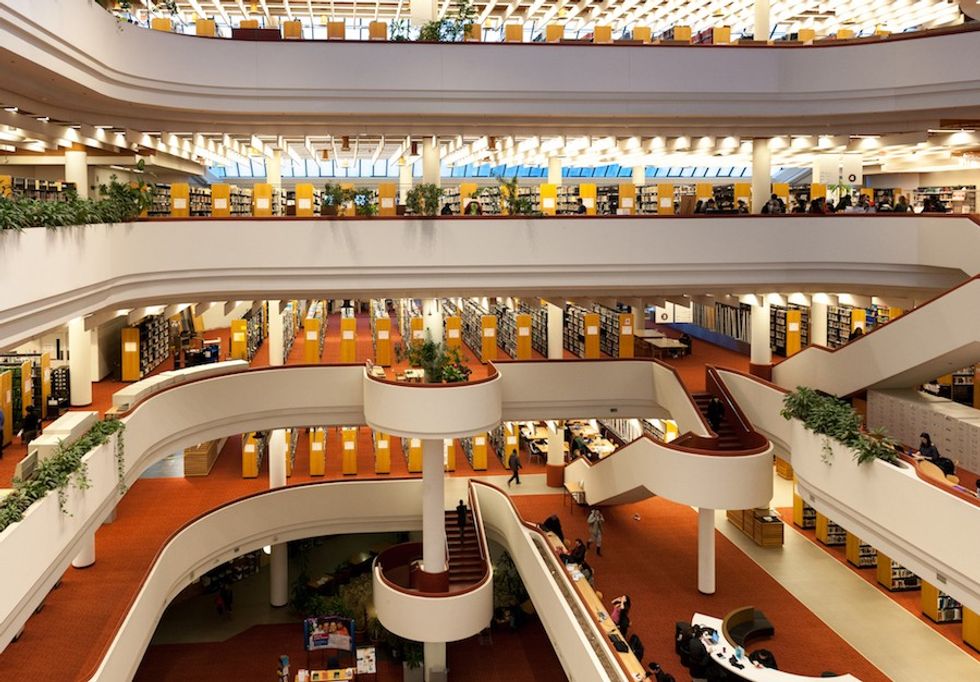 Toronto Reference Libary
Before the time of work-meets-play co-working spaces …  And before working also involved sipping local beers from your offices' tap, five steps from your desk … And before you had the luxury of taking a quick 10-minute power nap in the office sleeping pod, there were libraries.
---
Remember those?
While libraries may harken back to the days of no-sleep, binge-drinking coffee and university deadlines, Toronto's library scene (yes, there is a scene) is giving trendy co-working spaces a run for their money.
The libraries of yesteryear have been replaced with bright and shiny aesthetics and in-house coffee shops. So the oldies have remained goodies. These public spots will make you want to sit down, have a coffee, use up all the free WiFi and get your $@*! together.
So, here are my top-3 co-working spaces in Toronto — that just so happen to be libraries.
Toronto Reference Library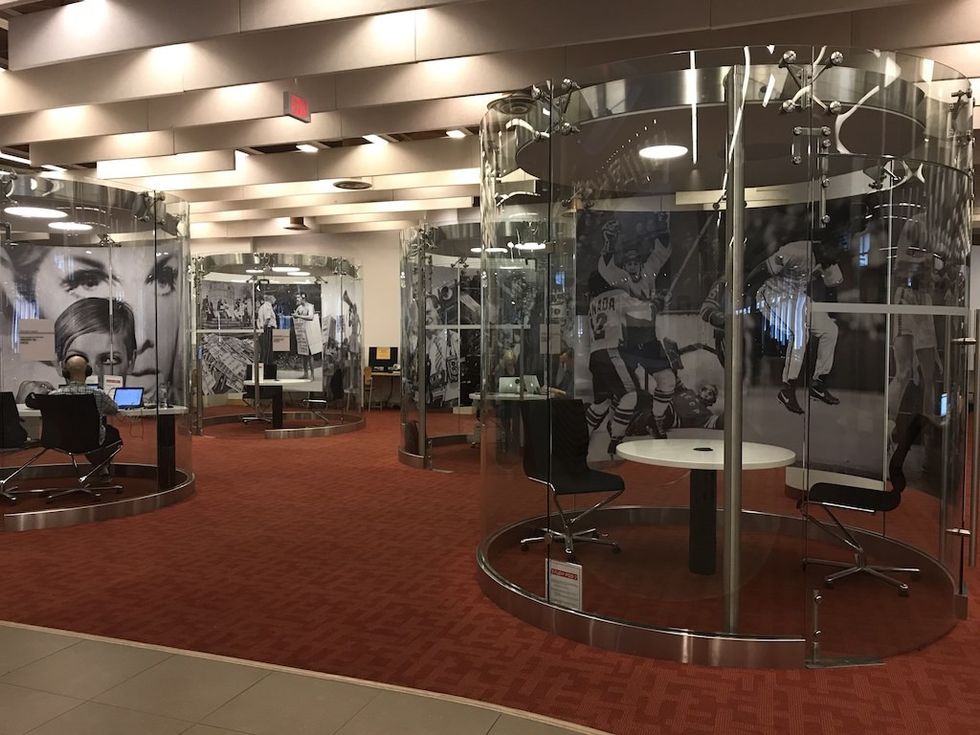 Architect: Raymond MoriyamaWhen it was built: Officially opened in 1977Where: 789 Yonge StreetFree Wifi: Yes
What's the hype?
This five-storey Toronto Public Library is located on Yonge Street, one block north of Bloor Street and is considered one of the three largest in the city. It was also selected as one of the six most striking architectural structures in Toronto .
While the in-house Balzac's coffee is enough to make any city-dweller perk up in this workspace, this futuristic-looking library offers a lot more than just some of the best coffee in Toronto. It boasts seating for 1250 people in a massive open space.
You're surrounded by tranquil indoor ponds, cubic glass rooms and galleries . Plus, there are a variety of cool features and services, like the Digital Innovation Hub. It also offers classes, workstations and equipment for all those innovators interested in 3D printing and design, audio/visual editing and graphic design.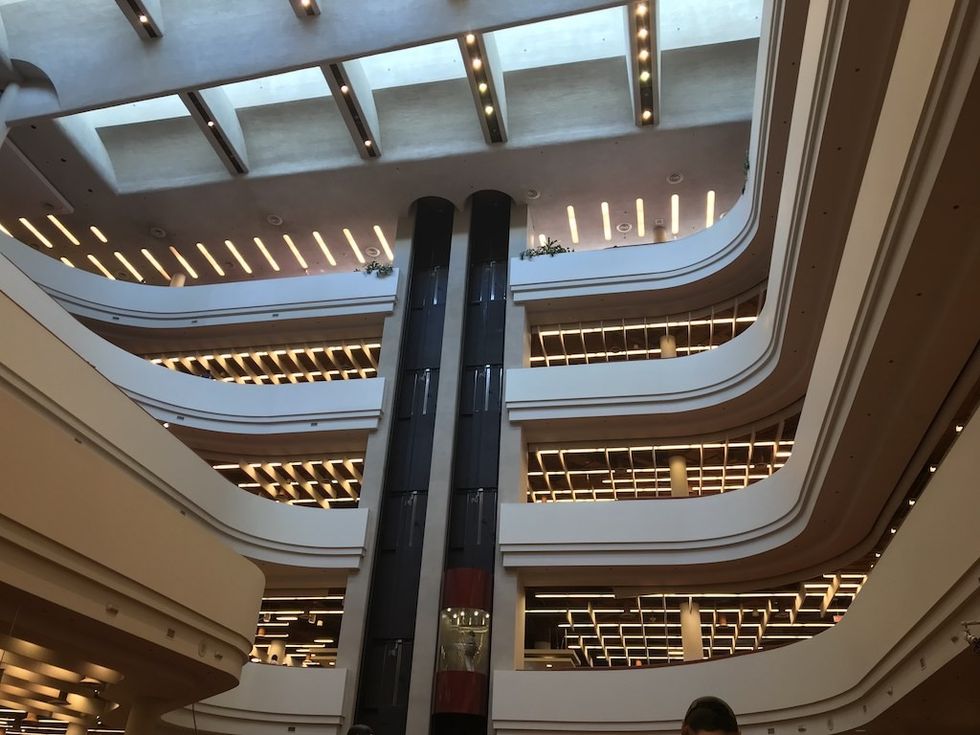 Of course, the Toronto Reference Library is home to impressive art as well. It has special picture collections, exhibits and rare literature for photography-aficionados, lit-junkies and creatives alike.
For the lone-wolves, glass circular study pods, complete with blown-up pictures of sports legends and Brit model Twiggy, are available. And for those who want to make friends, you can sit at any of the large wooden tables dispersed throughout — complete with electronic outlets.
The space is inviting, expansive and a breath of fresh air.
Get lost in the sea of red and white spiral staircases, explore the five different floors, hide between the hundreds of rows of books, or book a spot in the Writers' Room — if you're serious enough about your craft — and you're bound to stay until closing time.
Bloor/Gladstone Library

Architect: Alfred ChapmanWhen it was built: 1913Where: 1101 Bloor Street WestFree Wifi: Yes
What's the hype?
This library is a fusion of old meets new, by combining Renaissance Revival and modern architecture .
The aged red brick exterior has ancient-looking rounded archways and sculpted fireplaces. Its other half is a transparent, glowing glass-box.
Although the library is only three floors, it feels grande and entirely open thanks to the natural light that spills in. This allows for easy working conditions and even easier lounging.
It's separated into a few sections: the kids get the ground floor, while the second and third floors consist of bright green study rooms, computer labs, and of course, the "glass-box," which happens to be a fan-favourite. What's more, it has won many architectural awards .
It's a cozy space, made up of comfy single-seat couches, big wooden tables with accessible outlets, and smaller, more intimate tables.
While it maintains its oldie-but-goodie vibe, it exudes fresh and new with pops of green, red and nature motifs. It offers a wide range of books and resources open to the public, but doesn't overwhelm with hundreds and thousands of floors and rows.
This library definitely caters to the ones who crave simplicity and comfort, while still delivering a good dose of cool. And though it may not have an in-house coffee shop, the good old Tim Hortons across the street never fails.
What's the saying again? Old is always better?
Ryerson Student Learning Centre
Architect: Snøhetta
When it was built: 2015
Where: 341 Yonge Street
Free Wifi: Yes
What's the hype?
This eight-storey, 21st-century student centre fits approximately 2,300 people and is arguably the coolest co-working space this city has to offer.
It's a LEED Gold certified building — meaning it's got a slew of awesome sustainable features. Namely three green rooves and an award-winning, temperature-moderating, transparent glass exterior.
Each floor has its own theme, which allows you the opportunity to find your perfect vibe.
The first floor is the Amphitheatre. This is the main hub where people congregate, interact and collaborate in an open space on staggered, chunky wooden platforms and long staircases. It's home to a Starbucks, a lounge area and is the perfect introduction for the seven floors above.
Level 2 is a bridge to connect to the library. But head up to the third level and you'll find the home to the Sandbox and the Digital Media Experience. It's an open and collaborative space for entrepreneurs and innovators to work on their skills. Complete with a hefty amount of hardware (PCs, MacBooks and 3D printers and more), it's the perfect spot for students to explore, create and innovate alone or by listening to guest lectures and participating in workshops.
The fourth floor is The Garden. Everything in it, from the walls to the couches and benches, is a different shade of green.
Continuing with its nature theme, the fifth floor is The Sun. It is home to seminar rooms, 11 collaborative and group work rooms and an open study space. Red-tinted translucent glass panels make up the walls on this floor, but thanks to the brilliant design and architecture , manage to achieve the perfect balance of natural, white light.
All in all, this makes for a warm and inviting atmosphere.
But my favourite is the sixth floor, which is quite popular among Ryerson students.
It's nicknamed The Beach. An apt name for the entirely open concept hangout spot. Light wood, diagonal benches extend across the space and reach down to the vibrant blue carpet — something truly reminiscent of calm, blue waves hitting the sandy beach, but in reverse.
Students can sit on the bright pink, yellow or blue patio chairs or beanbags that are strewn throughout. Or they can park their bags underneath their heads for a quick power-nap across the massive windows. The Beach offers a truly serene working experience.
The seventh floor is the dimly lit, neutral-coloured quiet zone — open to grad students and those who need to zone in.
Finally, the top floor serves as The Sky (obviously). There, windows are etched with geometric shapes, letting in ample light which reverberates off the entirely white space. It sits atop Dundas Square, allowing for a breathtaking view of the city and an epic Instagram shot.
Toronto