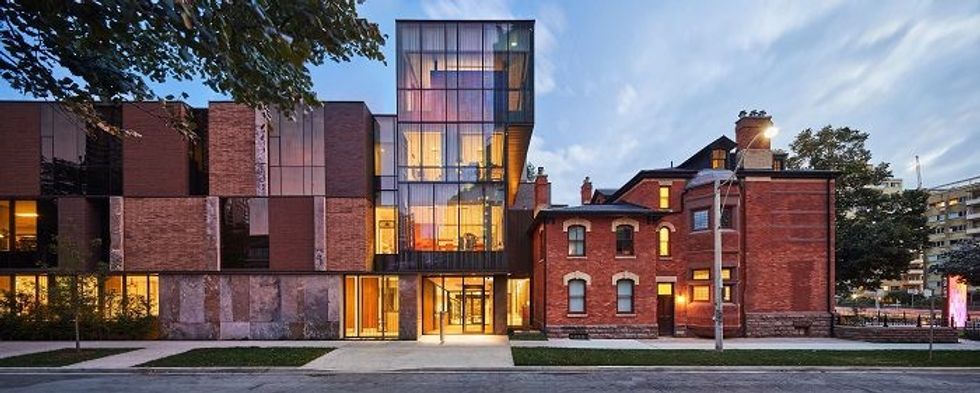 (Image courtesy of Casey House)
The 2018 Governor-General's Medals in Architecture honour outstanding buildings across Canada. The winning projects are celebrated for their commitment to natural materials , clean design , and craftsmanship.
---
While Quebec took the greatest haul with four awards, Ontario was still well represented, with two Toronto buildings receiving medals.
Casey House: Hariri Pontarini Architects
Hospital design probably conjures images of linoleum tile, fluorescent lighting, and colourless walls. However, Casey House , Canada's first and only stand-alone hospital for those with HIV/AIDS, offers a much more serene setting.
While the overall design is by Hariri Pontarini Architects , this grand house has been restored by ERA Architects with reusable materials. Its interior features natural light, limestone, and wood.
Fort York Visitor Centre: Patkau Architects and Kearns Mancini Architects
Patkau Architects took the lead on this public building, which also includes the efforts of Kearns Mancini Architects . Fort York Visitor Centre located near the Lake Ontario shoreline represents the piece of our history where York was defended in 1813.
And although Toronto is full of brilliant architecture that doesn't have to be awarded to be appreciated, we congratulate the teams behind these two winning structures.
Both projects demonstrate how even ordinary public spaces can be transformed into works of art through thoughtful architecture.
See the full list of Governor-General Medals winners here .
Real Estate News