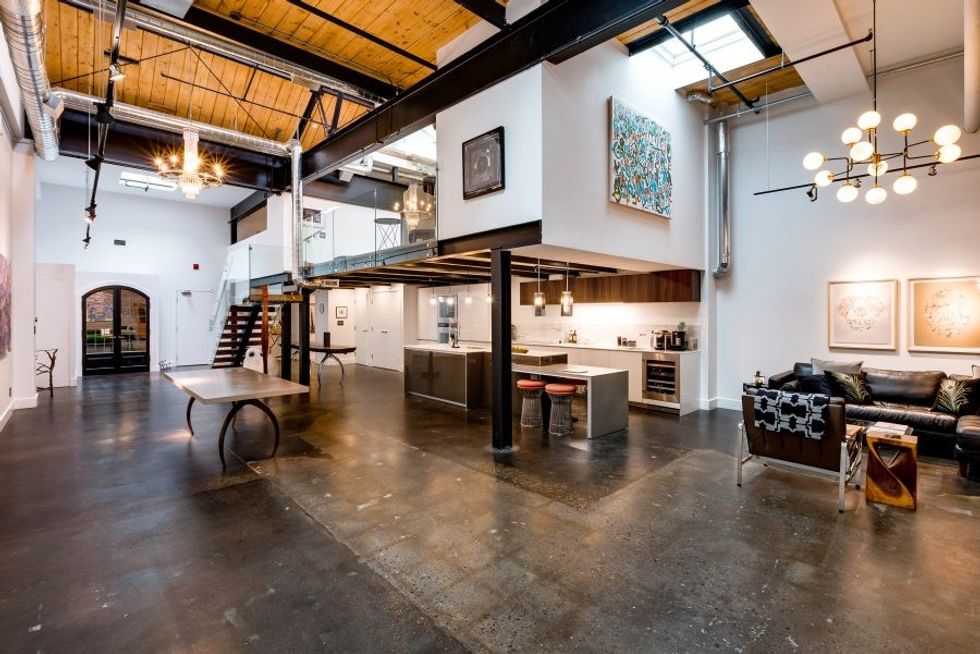 Emily Harding Gallery (Photo courtesy of My People Know)
---
You should never judge a book by its cover, or an art gallery/home by its exterior ... 
Last summer I was invited to an exclusive dinner party produced by Porsche and Conversation Agency, in celebration of the partnership of Porsche and NXNE, at the Emily Harding Gallery.
I arrive at the event, in front of the supposed gallery, clad in cocktail attire — as listed on the VIP invite.
Suddenly, I felt overdressed.
I was in surprisingly quiet Leslieville, surrounded by industrial brick buildings with no fanfare on the outside. The only clue indicating I was at the right place was the Porsche 919 Hybrid racing car in front of the nondescript home.
"This must be the place," I thought. I headed into the building, wishing I'd gone with a pair of sneaks, instead of my black suede pumps.
And yet, as I knocked on the door of the unit and walked into the gallery, I realized I wasn't in Kansas anymore. If anything, now I felt underdressed.
And I had to pick my jaw up off the floor.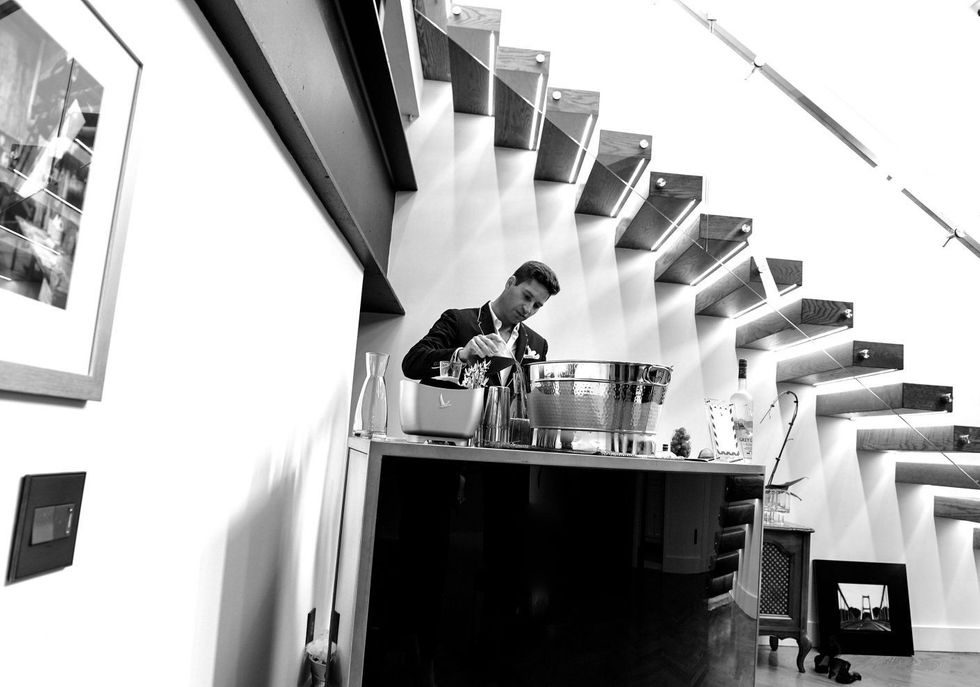 (Photo courtesy of George Pimentel)
The 2300 square feet of open space — including the 375-square-foot rooftop terrace — was as grand as can be. Especially with the 20-foot ceilings in parts, three floors (main, mezzanine, and terrace), and an exposed brick wall at the rear.
I was offered a glass of bubbly before walking around and heading upstairs to my friends.
As I walked up the first flight of stairs, I was greeted by mixologist and global Grey Goose ambassador, Joe McCanta. I immediately put down my flute in favour of one of his signature cocktails. Then headed up the floating staircase, complete with a glass railing and LEDs flush-mounted under each tread, to the rooftop terrace.
Society photographer George Pimentel was snapping pics of the intimate crowd and captured a shot of myself and my dear friend Marcello Cabezas, as we caught up on the terrace — that felt more like a hidden oasis of sorts.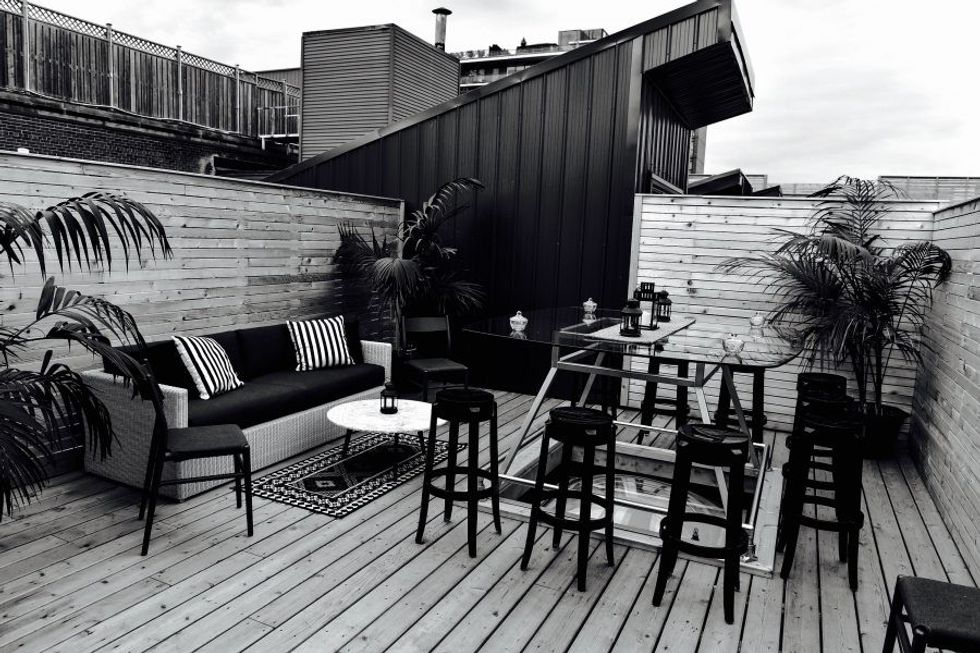 The rooftop terrace at Emily Harding Garding is an oasis in Leslieville. (Photo courtesy of George Pimentel)
Emily Harding Gallery may be unassuming from the outside, though it's anything but that from the inside.
Harding told me the building was formerly a Coca-Cola bottling plant and for years served in an industrial capacity for various businesses, before its transformation to live/work lofts.
After searching for the perfect living and work space, she decided on this one.
She wanted her space to respect that history, and retain as many original features as possible, which work especially well for an art gallery.
And Leslieville was a no-brainer for Harding, as it was an up-and-coming area and a great investment.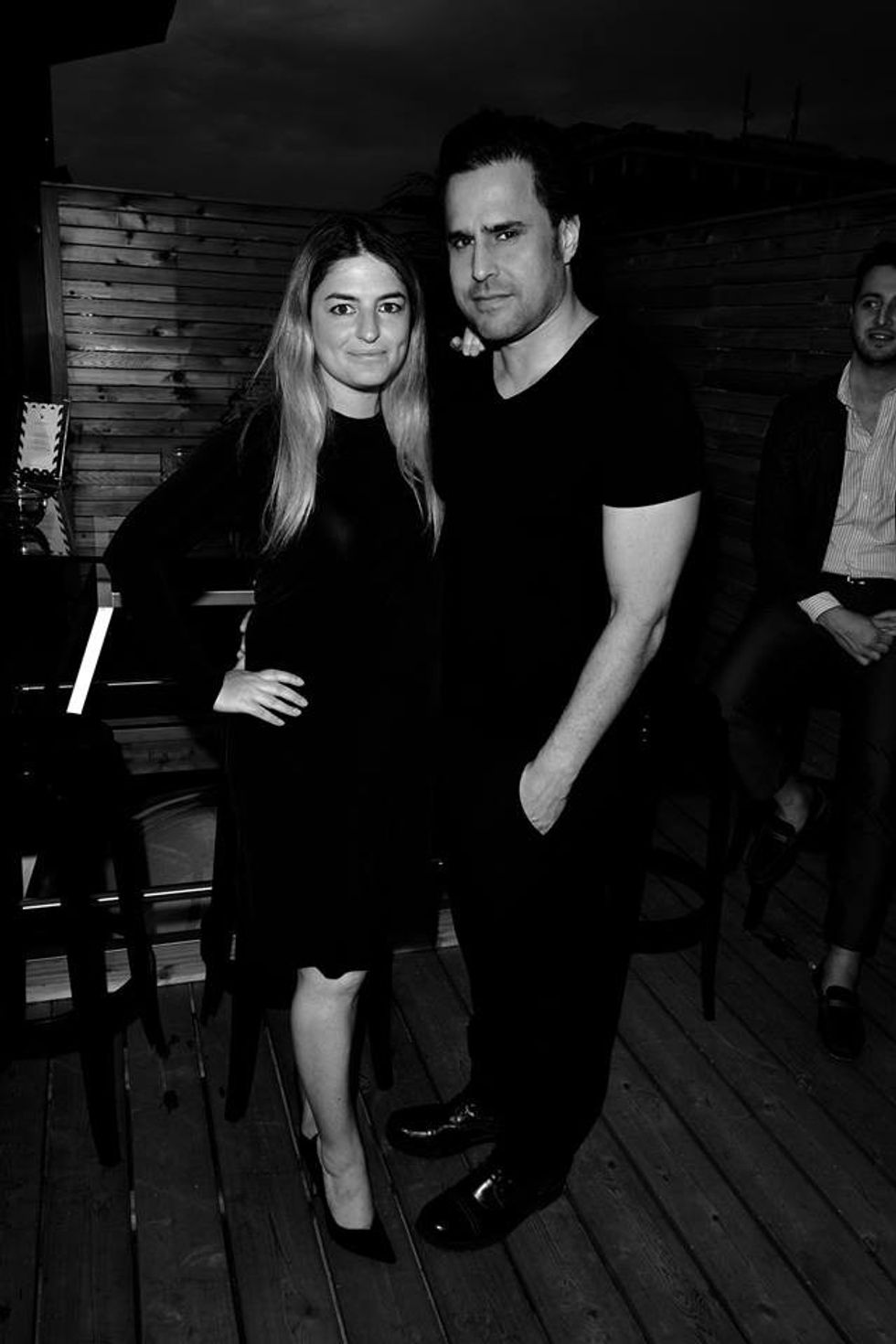 Jen Kirsch and Marcello Cabezas at the Emily Harding Gallery. (Photo courtesy of George Pimentel)
The space was designed by Harding with the help of the developers at Atria and architect Ali Kafaei from A & Architects. She chose all the finishes, from lighting to herringbone wood flooring, tiles, paint colours and furniture.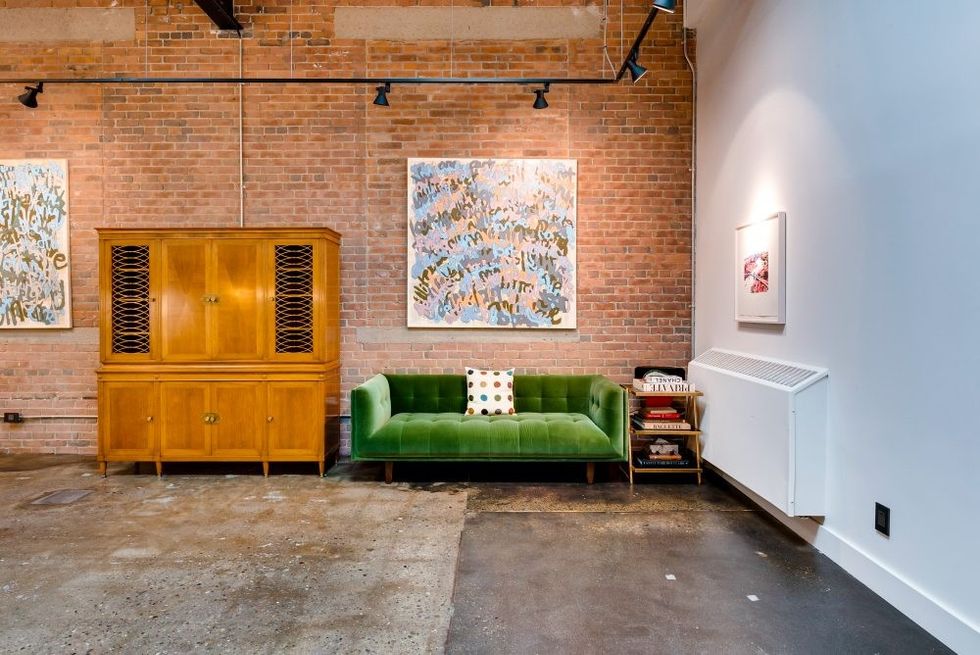 (Photo courtesy of My People Know)
She also designed the large kitchen with the help of the team at Ernestomeda, which on this night found chef Marc Lepine creating an extravagant seven-course meal. (By the by, chef will be honoured April 10 in Toronto as "Most Innovative Chef" by Canada's 100 Best Restaurants Magazine.)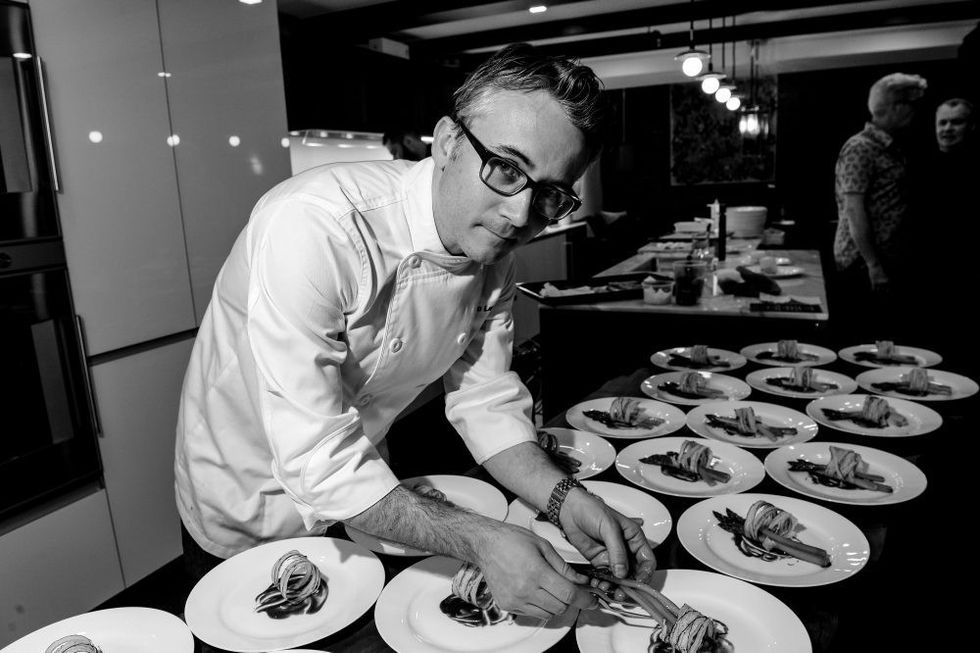 Chef Marc Lepine preparing one of his innovative dishes for Emily Harding Gallery guests. (Photo courtesy of George Pimentel)
So, this was just another night at the gallery that Harding also calls home.
Emily Harding Gallery currently represents contemporary Canadian, American, and European artists — both emerging and mid-career.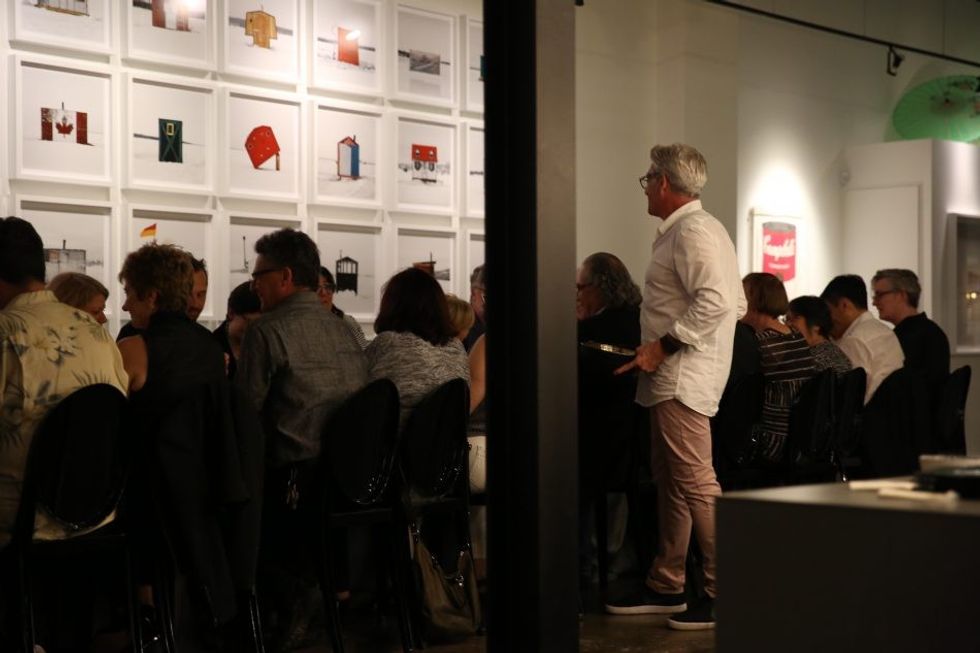 (Photo courtesy of My People Know)
Selected artists practise in various media, including, but not limited to: painting, photography, sculpture, works on paper, and video-installation.
"We endeavour to support these artists in their respective careers through thoughtfully-curated exhibitions and events, establishing valuable relationships with collectors in Canada and abroad," says Harding.
Their next show, which opens April 13, is a solo show of photographer, Reza Nadji.
It's open by appointment only and they also have a Vernissage once every two to three months when they open a new show. These shows are open to the public, but require an RSVP (you can join the mailing list here).
Harding also uses her gallery to host a "Curated Dining" series with her business partner, Jeffrey Dinan, who heads the food and bev side of things.
"These happen when we have a new show, and we feature a different chef to cook dinner for approximately 25 guests. Patrons meet the current artist, who talks about their featured work, and enjoy some exceptional food and wine from some of Toronto's most celebrated chefs," says Harding.
Their next series will be held April 25, 26 and 27, with chef Ivan Bailey, featuring classics from his menu at Celestin.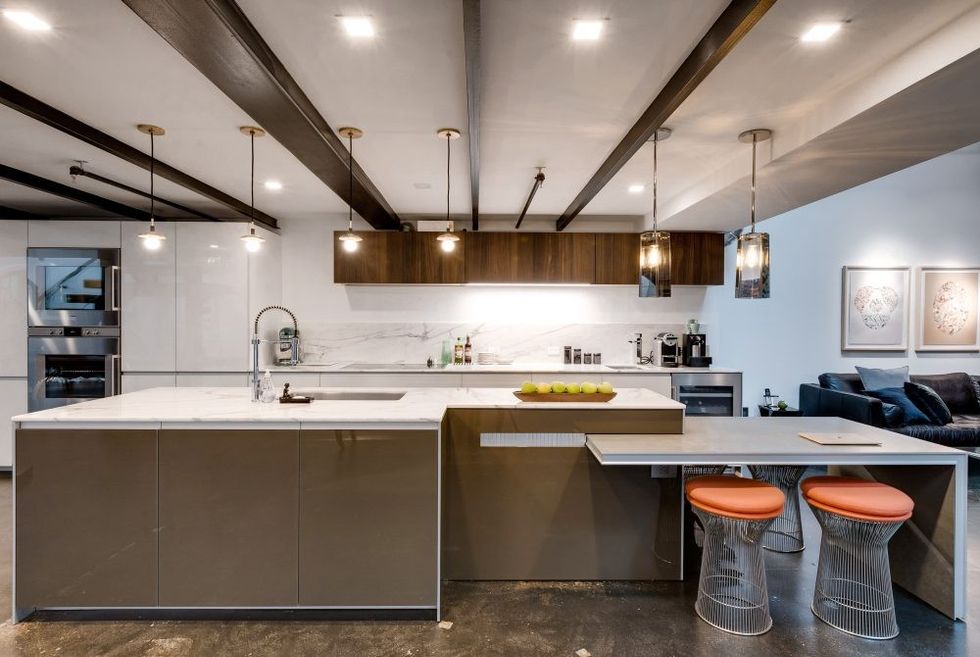 (Photo courtesy of My People Know)
Speaking of menus …
After my dessert, which happened to be an edible helium balloon (!!!) made by chef Marc Lepine, I headed to the main powder room. This ended up being my favourite room in the entire space.
It was painted in Farrow & Ball, "Calamine" and the marble geometric floor tiles (Harding's favourite feature) are Kelly Wearstler "Liaison Mulholland, Noir Blend." It was a dreamy, whimsical room that contradicted — yet worked with — the gallery's design.
Her upstairs washroom is just as ethereal and is done with Cole & Sons "New Contemporary Orchid" in mint green.
I lingered in the space with her and the hosts as the party started to clear out, half-joking that I'd love to stay there forever.
Emily, if you're reading this, call me.
Industry Profiles