Let's face it, to score a prime spot in the big city, you're probably breaking the bank a bit when it comes to the monthly rent cheque or mortgage payment. If you're living large in the penthouse , the view might be all the home decor you need. But if your home is a little lower on the condo totem pole, you might be looking for ways to get a big-ticket look on a bus ticket budget.
---
But with a few simple touches, you can make even a one-bedroom basement apartment look like a million bucks.
Perfect piles of pillows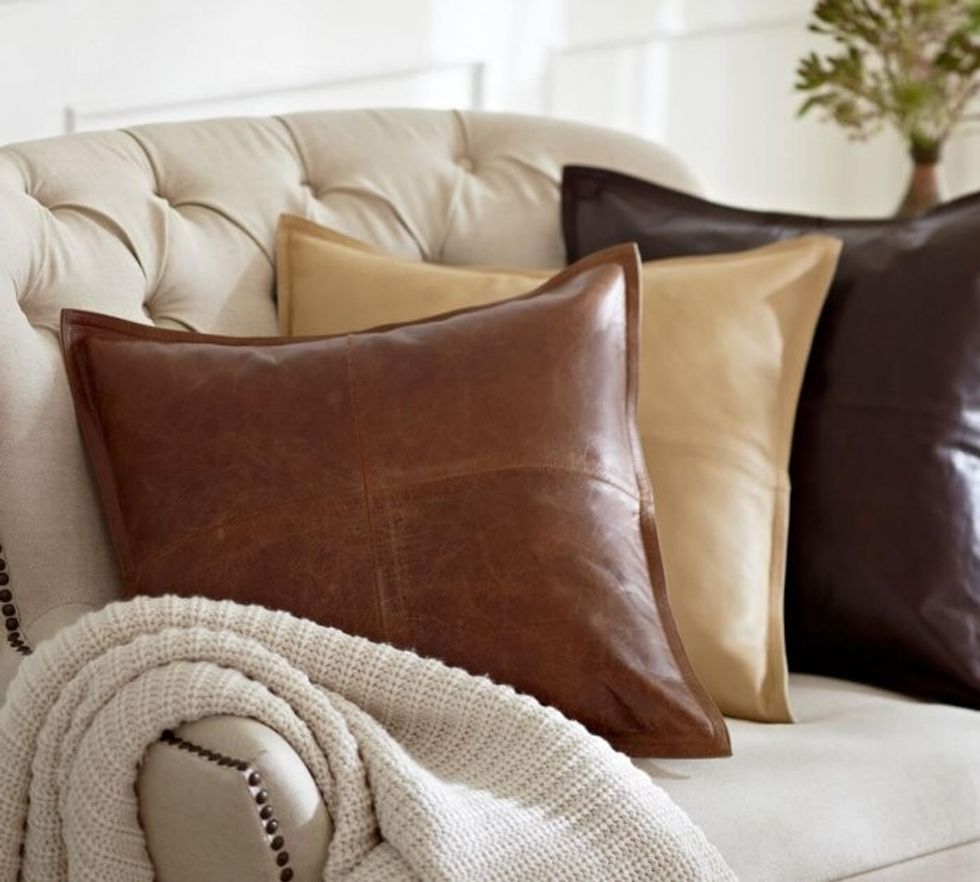 (Photo courtesy of Founterior.com)
Whether you're going classic shabby chic, or want to embrace the latest trend , pillows are the perfect place to start. Many inexpensive retailers offer trendy throw pillows that can dress up a couch or bedroom. Hit the internet for retailers offering more luxe fabrics at lower prices. If you're feeling crafty, save even more by heading to your local fabric store. Chances are there's something awesome in the remnants bin. With a few stitches and a fluffy insert from a retailer like IKEA, you can have a custom-made creation to complement any decor.
Lovely lighting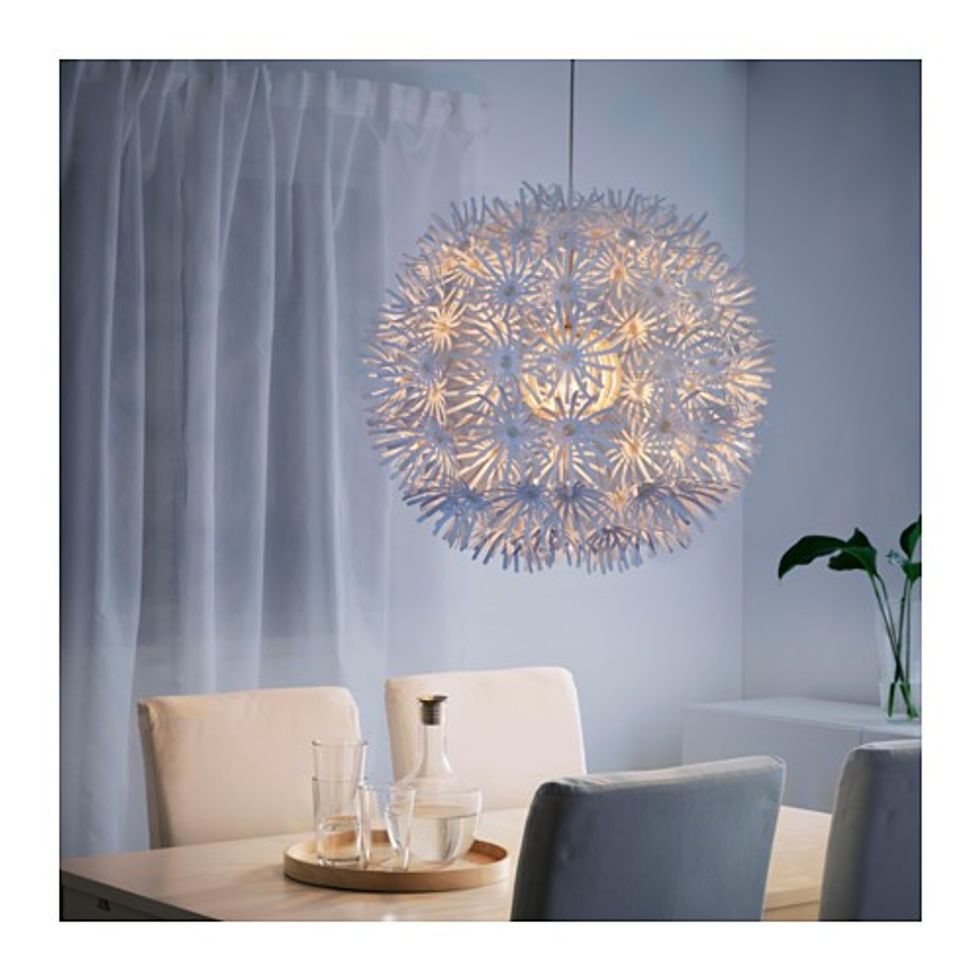 (Photo courtesy of Ikea)
According to Houzz.com, vintage lighting is poised to be a hot design trend in 2018. This is great news for thrifty shoppers. Check out your local Habitat for Humanity Restore , or other favourite resale shop, and you might luck out on high-end style at bargain basement prices. If you want a more modern look, swap out a bland builder ceiling light for something with a little more flair. A couple of pendant lights at that breakfast bar will be worthy of a spread in Better Homes and Gardens .
Raise those curtains!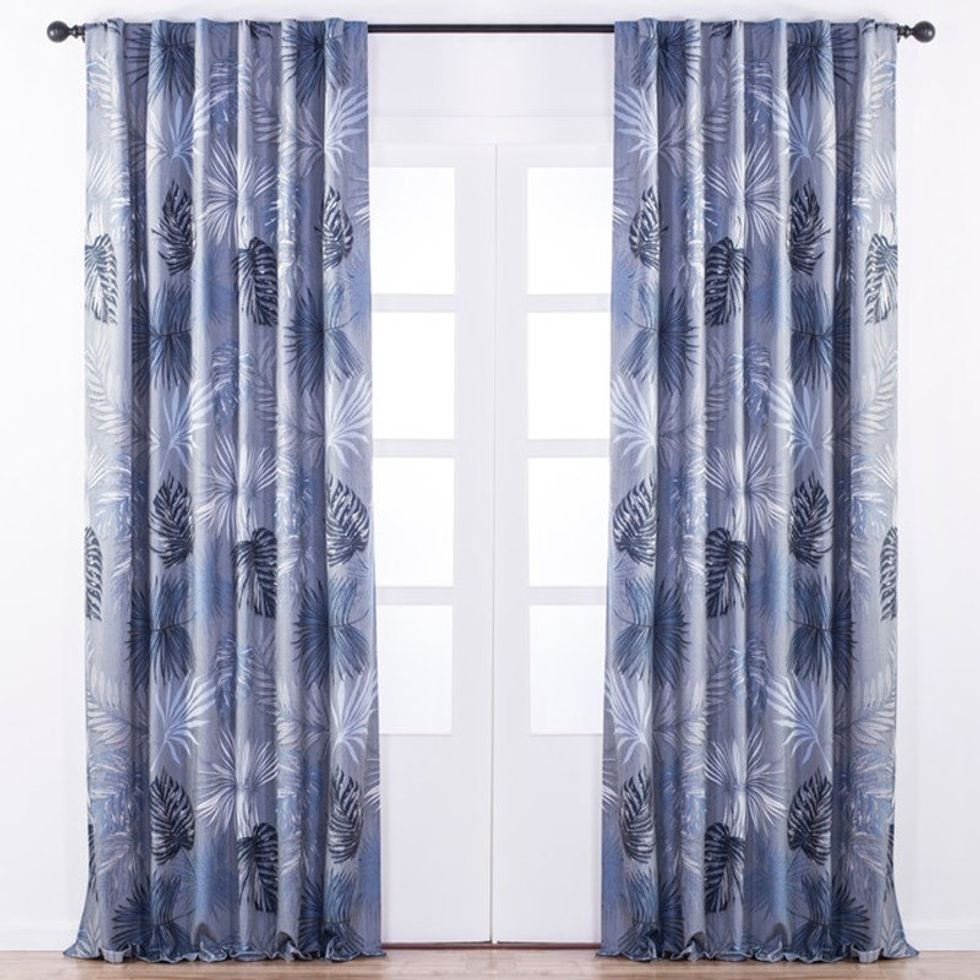 (Photo courtesy of Jysk)
It's a simple way to add sweeping drama and elegance to any space — ditch the contractor-grade Venetian blinds for elegant curtains. Retailers like Jysk offer bold, on-trend patterns for less than $50, or scour the clearance section of higher-end sellers for a lucky find. One of the most economical ways to make the most of your space is curtain placement. When hanging drapes, place the curtain rod just below the ceiling. This adds height to a room and makes windows look larger without added costs.
Fake a floor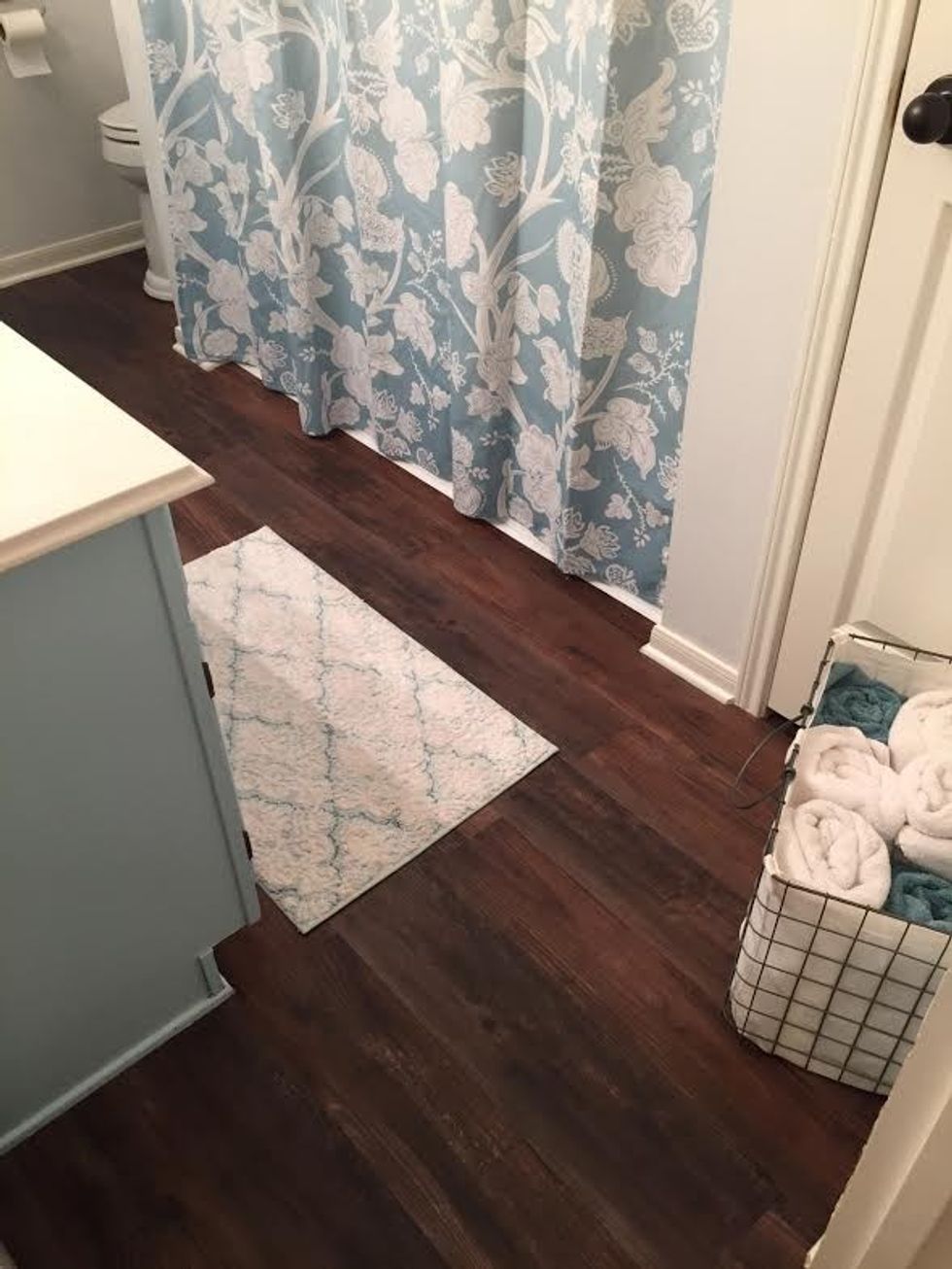 (Photo courtesy of Hometalk.com)
If you can't afford a full bathroom remodel, you can do something about less-than-inspiring linoleum. Peel-and-stick tile products can mimic all sorts of high-end looks and the vinyl construction means they can also handle the splish and splash of the tub. Given the small square footage of the average bathroom, there's a good chance you can give your bathroom a new look for less than the cost of dinner and a movie.
Frame your flat screen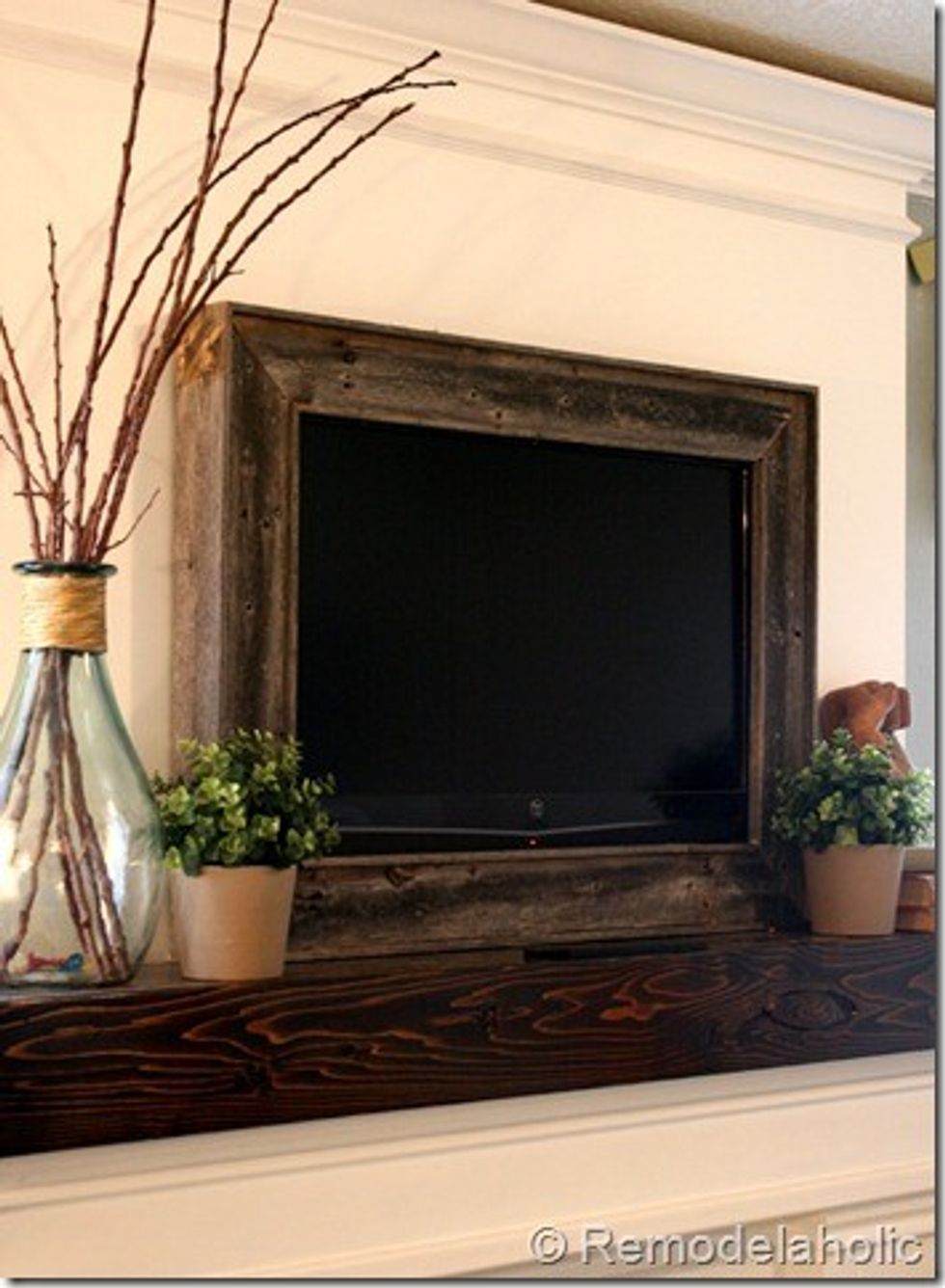 (Photo courtesy of Remodelaholic.com)
Want to really wow your guests when they come over to watch the latest must-see TV? Turn your television into a "picture" window by adding a wooden frame . You may be able to find an existing frame that fits around the television and works with your decor. If you have some basic carpentry skills (or know someone who does and who owes you a favour), your custom frame will cost only the price of a few pieces of wood, a little paint or stain, and the time it takes to Google the instructions.
Customize your closet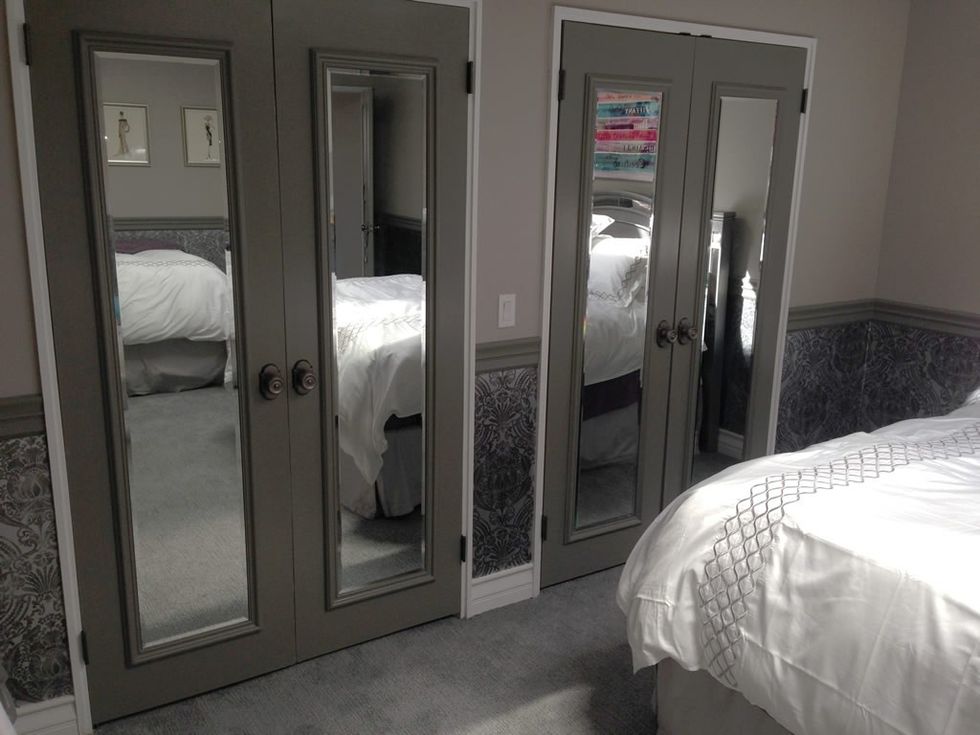 (Photo courtesy of Patriotglassmirror.com)
There are plenty of Pinterest boards dedicated to beautifying the inside of your closet, but that doesn't do much for the bedroom if you're stuck with drab doors. While some might first think to put a full-length mirror on the inside of the closet door, turn that idea around and hang an inexpensive, framed mirror on the outside of the door instead. Paint the frame to match the door and you have a custom look that makes a small space feel larger and ups your home's style factor, while giving you a place to check out your own.
Make it pop with paint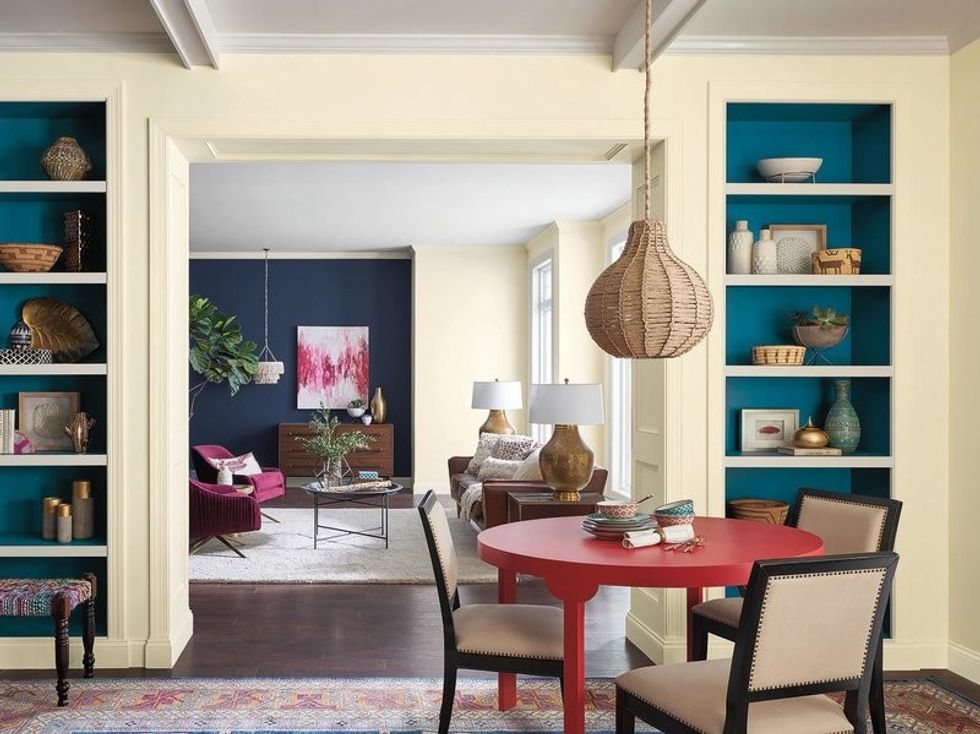 (Photo courtesy of Sherwin Williams)
It's a tip that never goes out of style — one of the least expensive ways to get a designer look is with a fresh coat of paint. From accent walls to faux-finishes, it takes minimal skill and financial investment to completely transform a space. Research the hot colour trends of 2018, grab that bucket and brush, and in the time it takes that second coat to dry, your walls will go from wonky to "wow!"
Really nice rug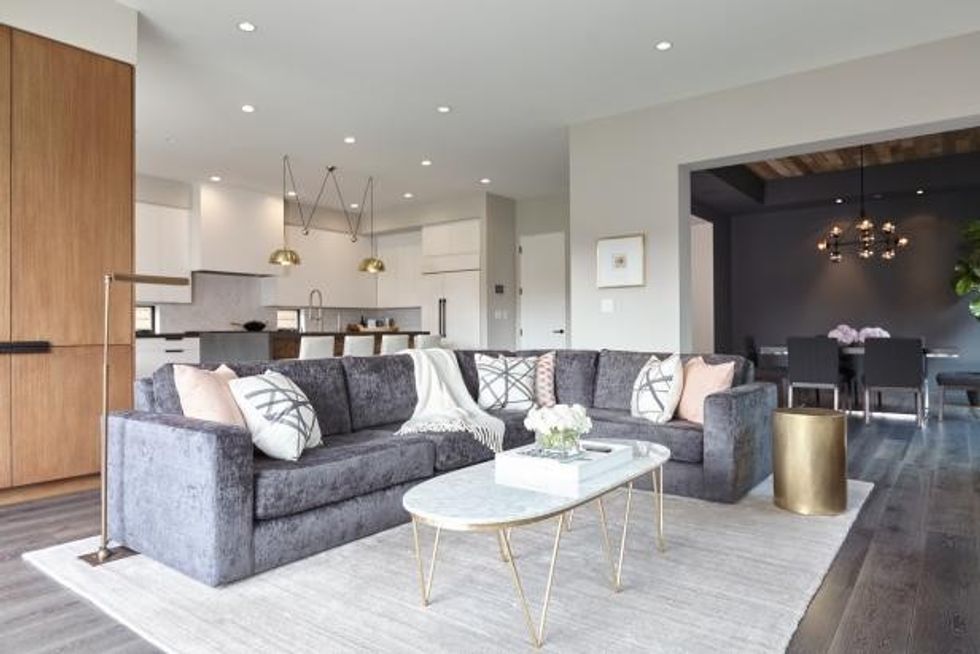 (Photo courtesy of Kara Thomas)
Whether your home has real hardwood floors, or you've become a whiz with those peel-and-stick tiles, a well-placed rug makes a space feel more finished and therefore, more expensive. With the explosion of online retailers and the less-expensive brick-and-mortar stores upping their design game, it's become much easier to find great rugs at great prices. Play with patterns if you've got neutral walls, or go for a softer fabric and colour for a cozier feel.
Change out hardware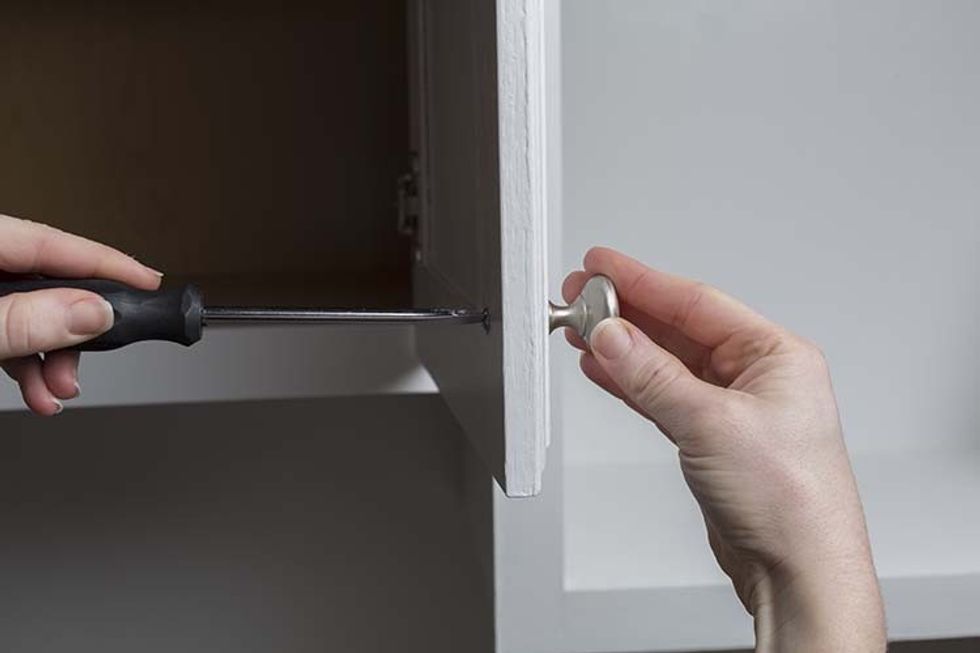 (Photo courtesy of Home Depot)
A super-simple way to give cabinets or older furniture a facelift is to simply change out the hardware. Replace pulls and handles — even hinges — to give the kitchen a fresh, more expensive look . Dated drawers can look new again with a modern handle. Also, consider changing out the faucet and sink handles for another big bang-for-your-buck upgrade.
Clear out that clutter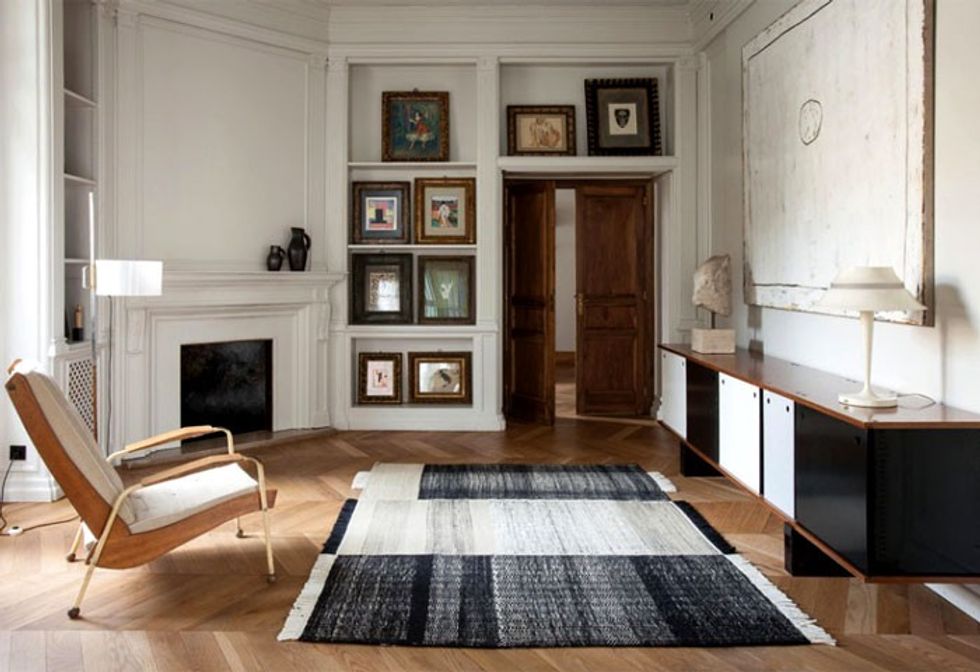 (Photo courtesy of Nanimarquina.com)
Clearing out the clutter from your home opens up space and allows what remains to shine on display. A minimalist vibe makes things easier to keep clean and fresh-looking. Plus, a home that has a place for everything makes it seem as if it was all part of the work of a professional design team. The best part? Of all the things you can do to give your home an upgrade, this doesn't cost a dime. In fact, if you've got eBay or garage-sale skills, this is the one tip that might actually make you money.
Style + Décor