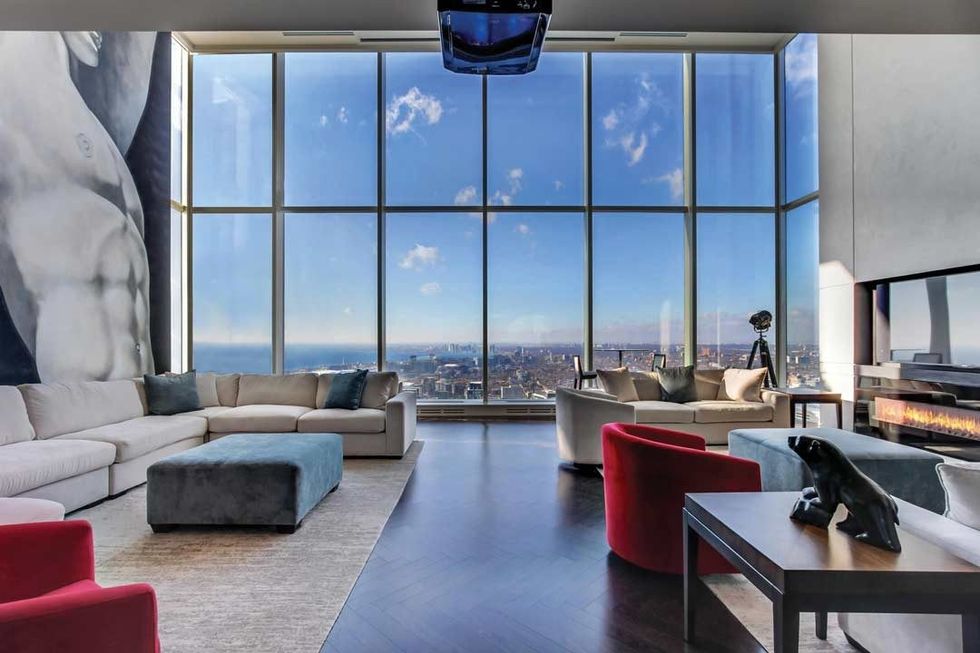 Realtor.ca says this expensive home at 180 University has entertained Hollywood's elite and international royalty. (Photo courtesy of realtor.ca)
Experts suggest Toronto's luxury market has cooled since the introduction of Ontario's Fair Housing Plan, which brought with it a contentious foreign-buyer tax — but that doesn't mean some upscale, expensive homes aren't changing hands in the 416 for head-spinning prices.
---
Toronto Storeys has rounded up several of the priciest dwellings to move on the local market this year. All transactions were recorded this calendar year through the Toronto Real Estate Board's MLS system, but some have closing dates in 2018. Houses sold in auctions aren't included.
46 Forest Hill RoadListed: $16,800,000Sold: $15,000,000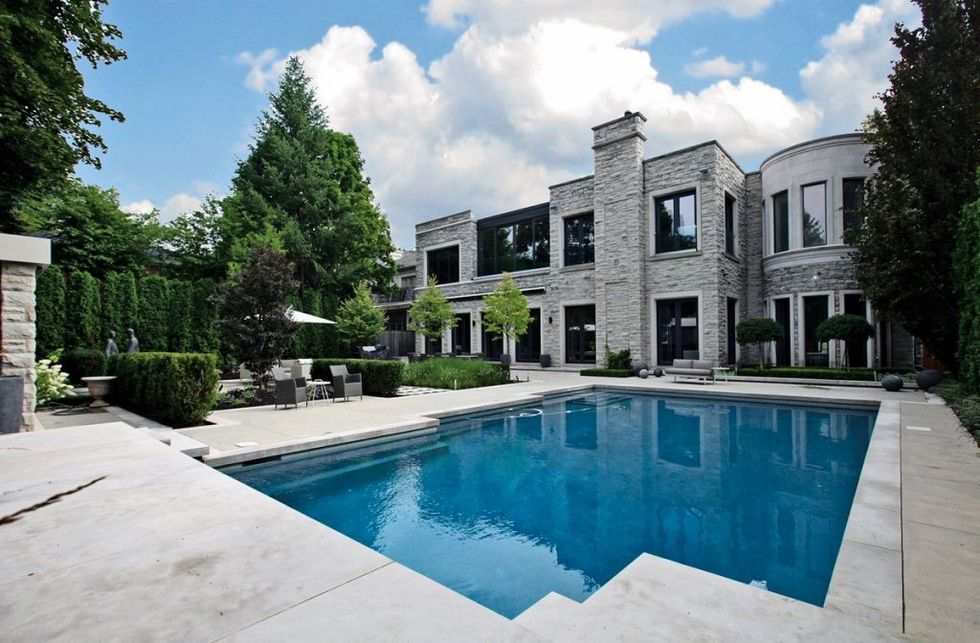 The most expensive home of the year ... could have been yours for $16.8 million. (Photo courtesy of Eileen Farrow of Chestnutpark.com)
Chestnut Park real estate agent Eileen Farrow was surprised to learn a Forest Hill listing she sold with Harvey Kalles Real Estate was the most expensive home to sell all year. She did, however, provide some insights into why the 20-year-old, stone-clad mansion got snapped up. "Amongst a million things to talk about, to my mind, it's just the ceiling height — and the light. And the finishings that are gorgeous also reflect the light," she said. A grand marble staircase under a skylight makes a strong first impression. That, and the extensive $5-million reno. "So, essentially (it's) a brand-spanking new home."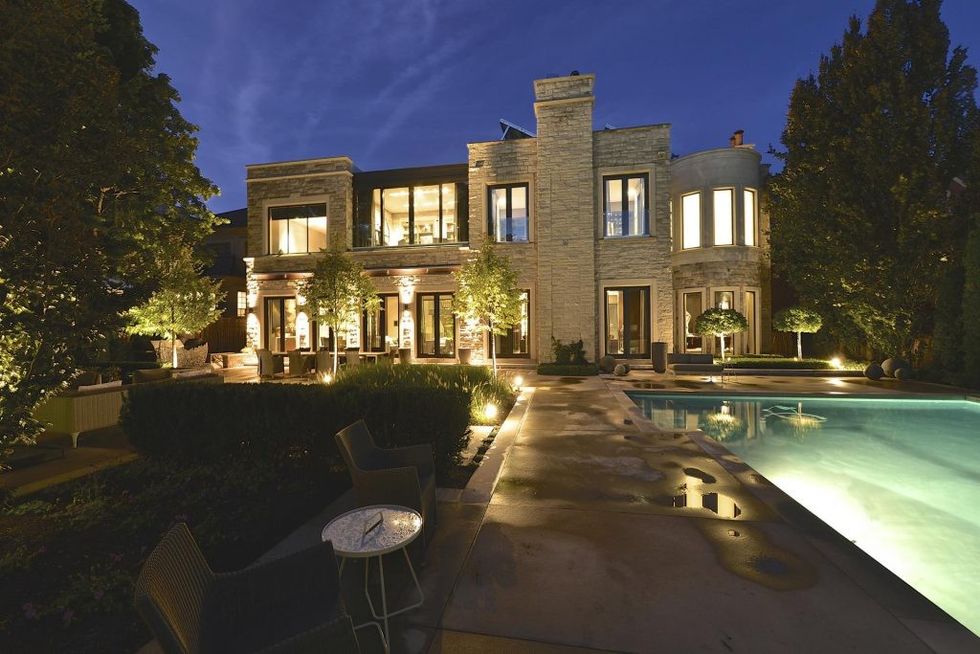 After sunset, by the pool, at 46 Forest Hill. Every night could be like a vacation here. (Photo courtesy of Eileen Farrow of Chestnutpark.com)
113 Mildenhall RoadListed: $12,800,000Sold: $11,632,000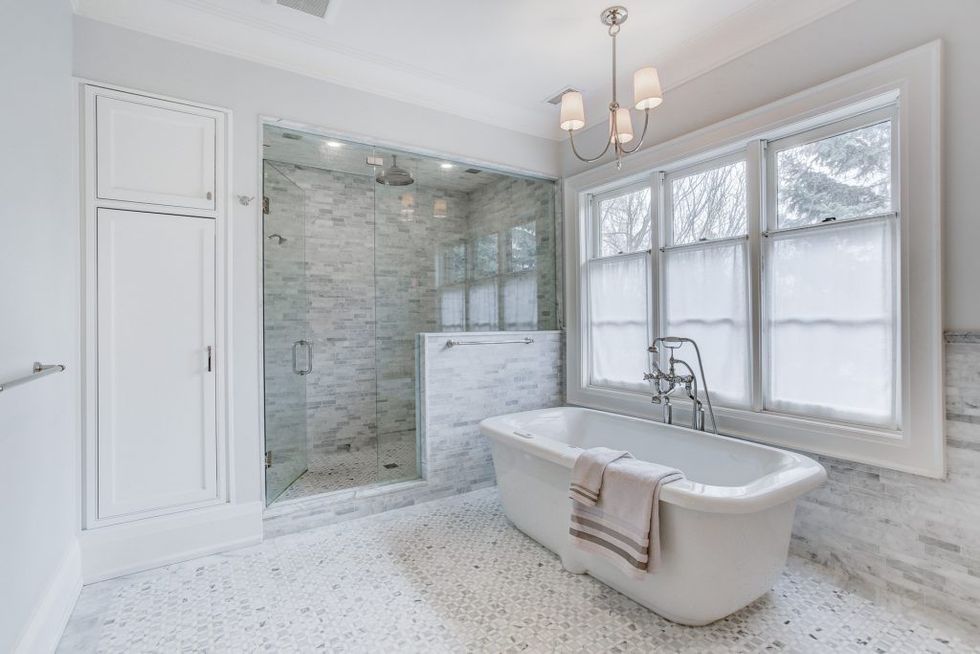 This home on Mildenhall is full of amenities — and this bathroom seems almost big enough to fit a full home. (Photo courtesy of realtor.ca)
Set back from a quiet, leafy side street and overlooking a ravine, 113 Mildenhall Road has obvious curb appeal. Listing agent Bella Lee of Re/Max Hallmark Bella Lee Group Realty, summed up the property's perks briefly. "It's the area and the land," she said, adding it's "well-appointed and maintained." That might be an understatement. The home has amenities to rival a luxury condo: there's a home theatre, gym, library, playroom, multiple balconies, and an elevator to get from floor to floor (each of which ranges from about 3,000 to 4,000 square feet).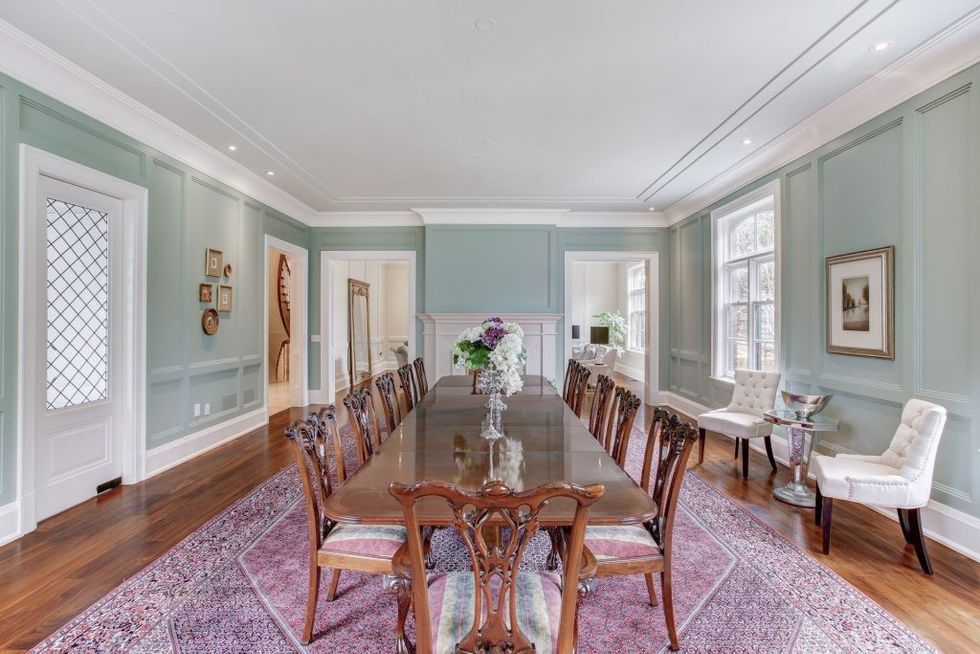 This dining room at the Mildenhall home can easily double for a space out of a Hollywood movie. (Photo courtesy of realtor.ca)
31 Knightswood RoadListed: $14,800,000Sold: $11,307,800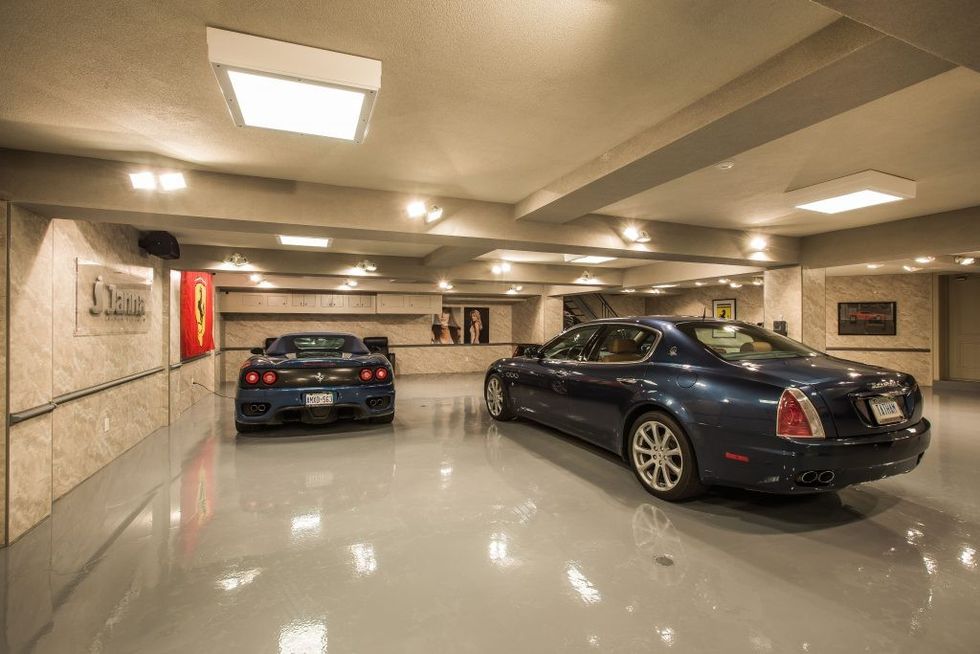 Luxury car dealership, or indoor garage? Just one of the many spectacular features of the Knightswood home. (Photo courtesy of realtor.ca)
The Tudor-inspired 31 Knightswood Road may have classic styling on the outside, but the interior is more difficult to pin down. Sure, there are rustic 22-foot vaulted and beamed ceilings like something out of a century home. However, the custom rainforest bathroom is another story. A jungle-storm soundtrack plays when someone enters — really. It took craftsman several months to finish its intricate tile work. And though the more than 18,000-square-foot home backs onto the second hole of the Rosedale Golf Course, the new owners won't need to leave the house to play around — the in-house theatre boasts a golf simulator. And you can't overlook the 20 parking spots, custom wine cellar, and outdoor waterslide that round out the home's unique offerings.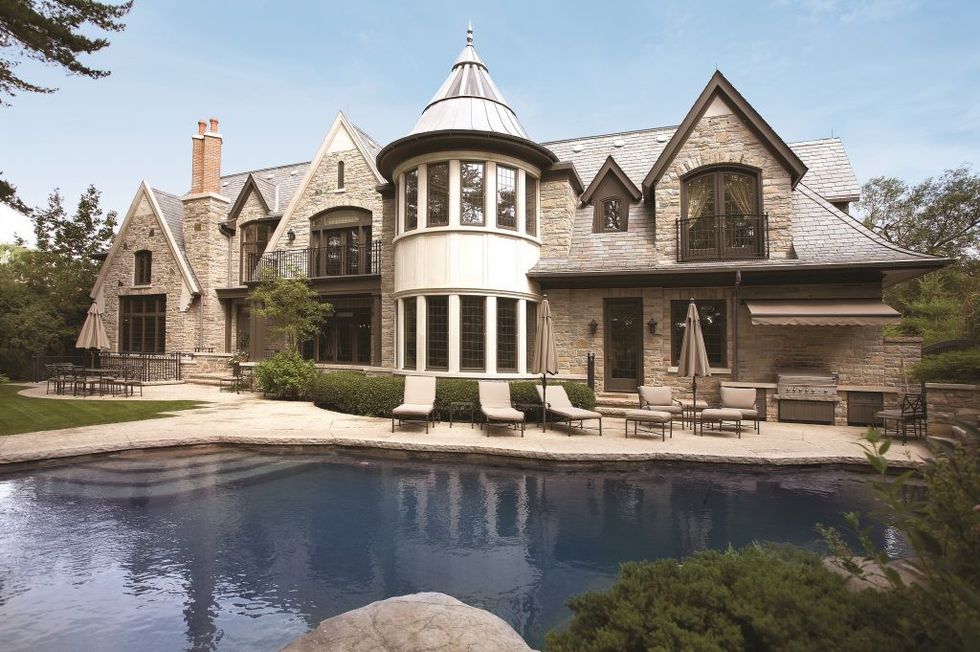 This Knightswood home has more than 18,000 square feet of luxury — and 20 parking spaces. (Photo courtesy of realtor.ca)
180 University Ave., Unit 6002Listed: $8,995,000Sold: $6,200,000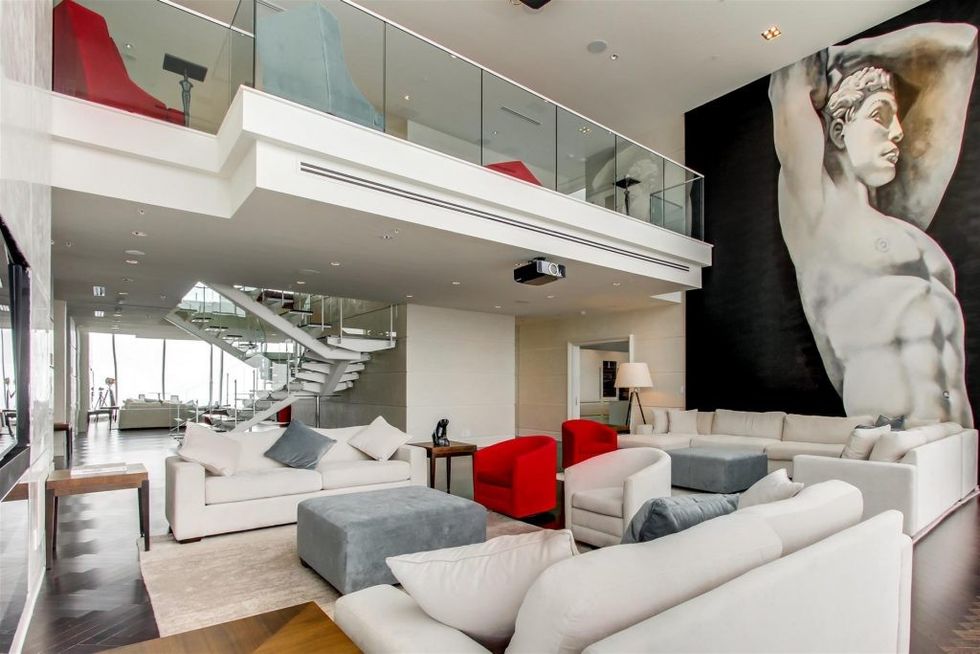 The high-rise luxury condo at 180 University could easily be mistaken for heaven. (Photo courtesy of realtor.ca)
Located within Westbank's 66-storey Shangri-La Hotel Toronto, with views of the striking cityscape, unit 6002 is no shoebox in the sky. The two-level condo spans more than 4,000 square feet of indoor living space and includes three bedrooms. "This Unit Has Entertained Hollywood's Elite and International Royalty," the MLS description reads. It's easy to see how. The ritzy, fully automated suite has a 20-foot roll-down movie screen, a two-storey painting by Italian artist Alessandro Bianchi that adorns one wall from floor to ceiling, and five-star room service is only a call away. Be prepared, however, to pony up $3,832 a month in maintenance fees.
Community