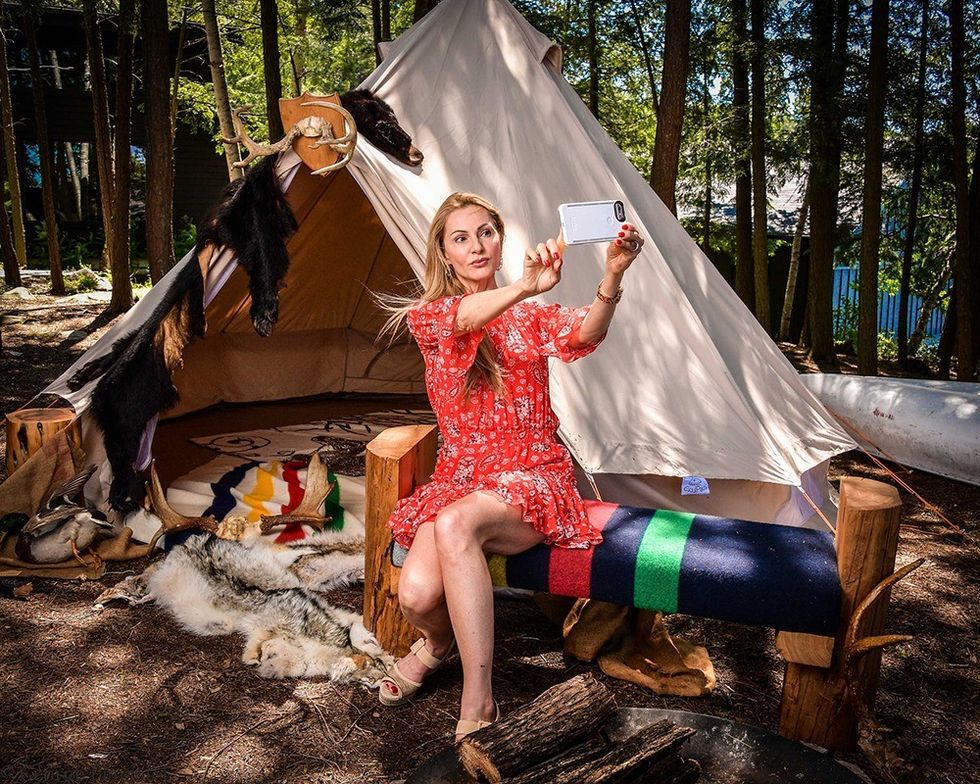 Joan Kelley Walker of Real Housewives of Toronto fame believes in her selfie during a 200-strong cottage party in Muskoka last weekend that raised $60,000 for the inaugural Commission Yourself event to help stop sex trafficking. (Photo by George Pimentel for Commission Yourself)
---
A rose is a rose is a rose — but is it a yurt?
It depended, alas, on who you asked, at one of the most buzziest parties in Muskoka this summer, held this past Saturday.
Certainly, it was the only party of any consequence that's managed to get George Pimentel — the numero uno party photographer in Canada — to come, not only to take photos of the passing tableau, but also to take portrait-type shots in what looked to be a fancy tent in the woods, accessorized with Canadiana artifacts as styled by Manny Neubacher and Anya Shor of Neubacher Shor Contemporary art gallery.
"I think a real yurt is more structural," Joan Kelley Walker, one of the breath-catching survivors of The Real Housewives of Toronto, philosophized to me. This, while preparing to be shot by Pimentel, and not long after which — in a meta-move worthy of Warhol — we caught her snapping a selfie of herself whilst the snapper was snapping her.
Walker and I mused if the edifice was actually more of a teepee.
Whatever one deigned to call it, it was the place to be, here on the cusp of Lake Rosseau. At one point, Shark Tank's Kevin O'Leary — having aborted his dream to lord over our House of Commons — made do with the teepee of glory, gamely stopping to take pics against it with his wife, Linda.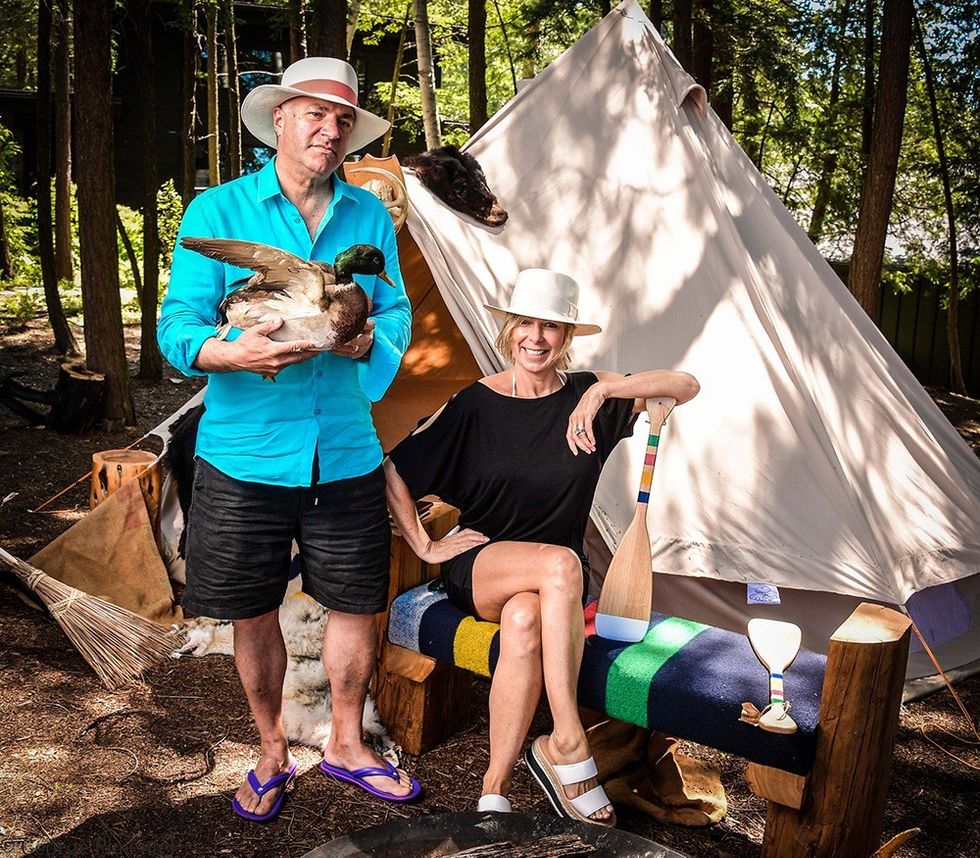 Shark Tank's Kevin O'Leary, with his wife, Linda, got his ducks in a row to pose for lauded celebrity photographer George Pimentel in front of the yurt/teepee/Canadiana structure. (Photo by George Pimentel for Commission Yourself)
Sometime later, it drew Olympic-winning cyclist Curt Harnett (one silver, two bronzes, baby), at which point those of us reverted to calling the thing a "yurt," if only for rhyming purposes.
Curt in a yurt!
Earlier, as it happens, Harnett was on his tush for a 40-kilometre charity bike race. The rally, like the party that followed, was to raise money for Covenant House's fight against sex trafficking. Hosted dockside at the unreal cottage of social duo Tamara Bahry and Rob White, it was an effort — dubbed Commission Yourself — that brought in a haul of $60,000.
"Have you had a Frosé?" asked one of the milling guests, pointing to the when-in-Muskoka confection of frozen, fruit-ified rosé going around.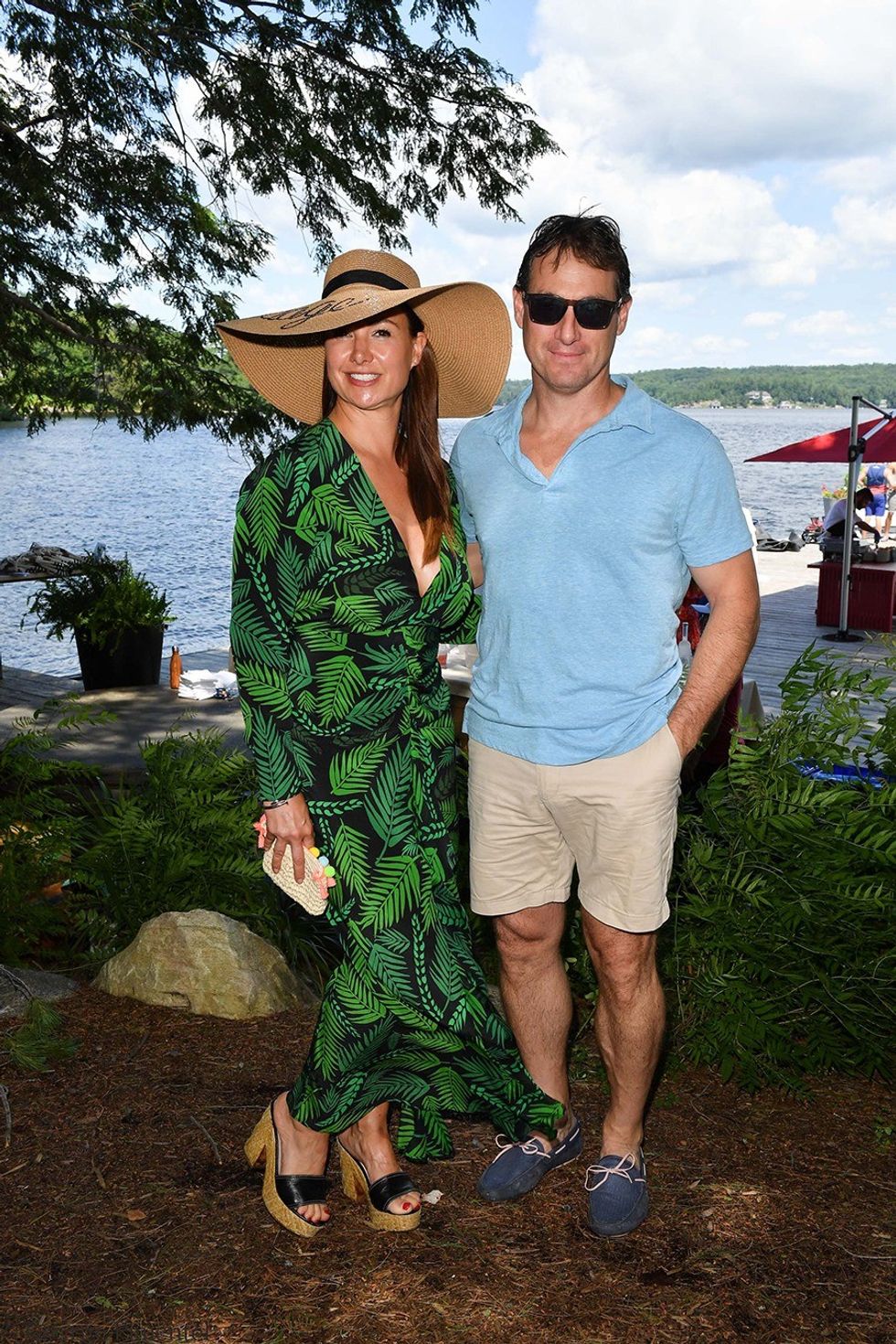 Cottage owners and dock party hosts, Tamara Bahry and Rob White. (Photo by George Pimentel for Commission Yourself)
The first such party of its kind, the 200-person bash struck me as a clever mix of the old-fashioned cottage-rite that is the "dock party" — one that Joe Canadian might dig — but with a dash of Gossip Girl-meets-Coachella pizzazz.
See: the Grand Electric taco truck that was parked conveniently in the driveway of the house, mirthfully dispensing hot-sauce-ready grub. See: the oooh la la cirque de waterworks brought in by the famous flyboarders who make up the Muskoka Wake company.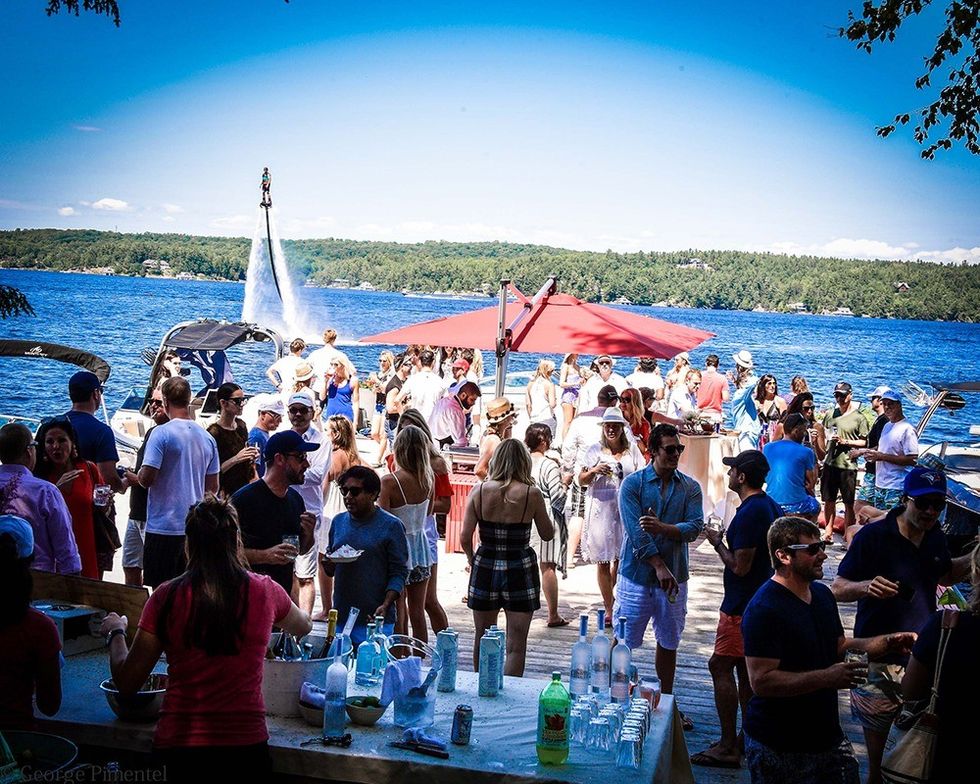 The flyboarders of Muskoka Wake add a fantastical backdrop to the party at the cottage owned by socialites Tamara Bahry and Rob White. (Photo by George Pimentel for Commission Yourself)
"We've done it for Cindy and Rande," one of the boarders was telling me. (Insta-short-hand, obviously for Cindy Crawford and Rande Gerber, who are the glitziest and most invite-coveted cottagers in Muskoka these days, particularly after their Canadian home-from-home was profiled in Vogue a couple years back.)
As DJ Geoff Sayer went boom-boom-boom (the house DJ borrowed from Toronto's Kasa Moto restaurant in Yorkville), and the afternoon sun swelled, there was, increasingly, a summer afternoon's feeling of not wanting to be anywhere else, and the squinting suggestion of keeping all the normal worries of the world at bay.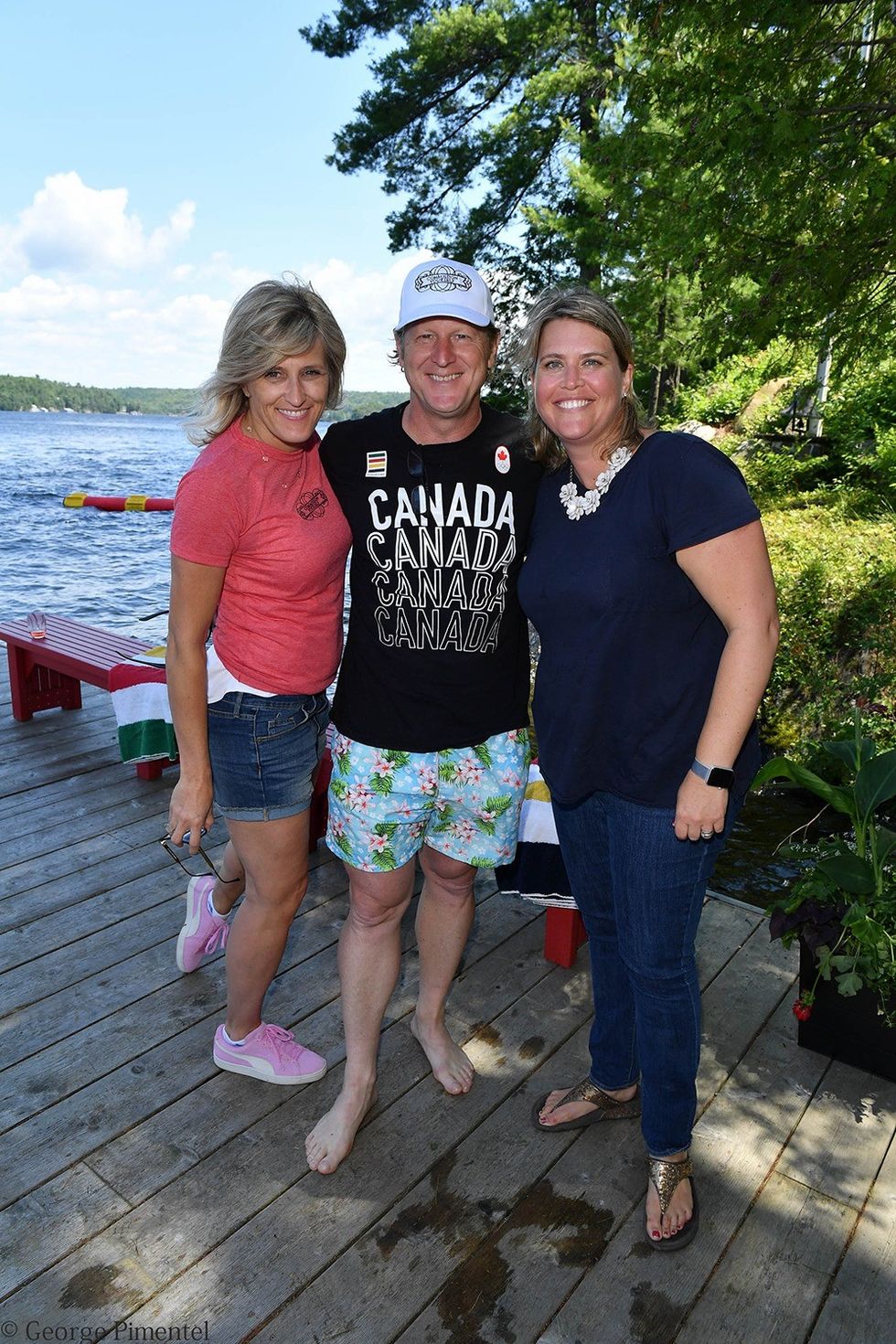 Olympic cyclist Curt Harnett, pictured with Melony Jamieson, left, communications strategist of Get It Done, and volunteer Amy Long,
At one point, three women with power blow-outs conjectured about the new season of Game of Thrones on one end of the dock. On another, I stumbled upon an in-depth analysis about the new Selena Gomez song. In another corner, I found one dude talking to another dude about the challenges of dating a Leo.
The party, by the way, was additionally the brainchild of Bahry, Tamara Moore, Melony Jamieson, Genevieve Roch-Decter and Brittney Kuczynski. Major sponsors included Prestone, BG Capital Group, Anson Funds, Grit Capital, Get it Done Inc, Ascent Behave and Tamara Bahry Photography.
And for those lucky enough to sneak into the actual home, which squatted above on a slope, it was quite the thing to behold. Built on the site where an old Edwardian hotel called the Royal Muskoka once stood, it's all a marvel of glass and wood and light now, as envisioned by its new owners. A bit like those mid-century structures one might find in Palm Springs — or even, it struck me, in the spirit of Pierre Koenig's famous Case Study House, in Los Angeles.
As it happens, it's also just the right massive Muskoka stead for her "Brady Brunch," as Bahry, the lady of the manor, informed me. Turns out that she and her partner, Rob, who got together a few years back, blended their family in a way so they now have three boys and three girls.
That's a lot of kids! And, well, possibly more than can fit in a yurt.
Insiders