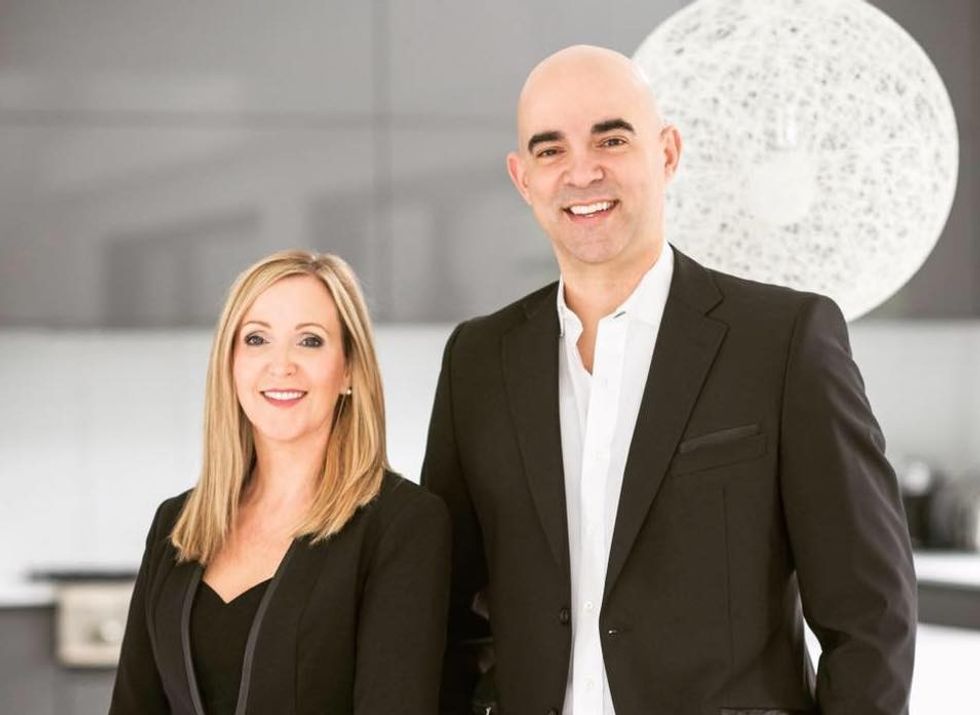 Both first-generation Canadians, Alexx Coelho and Elizabeth St. Cyr know the value of hard work and they put every ounce of that dedication into their clients.
---
Coelho, who is Portuguese, moved to Toronto with his family 30 years ago. He began his career in IT before finding real estate, while on a quest for something a little less socially limiting.
St. Cyr moved from Scotland to the GTA in 1992. She was a stay-at-home mom whose realtor was a fellow Brit and thought St. Cyr would also be perfect as an agent. So she gave it a go.
The new Canadians met at Prudential Real Estate before it was bought by Royal LePage several years ago. Not comfortable working by themselves, the two clicked around their similar work ethic and core values. In 2017, they decided to go into business together as the A & E Team, after about 15 years already in the business.
Coelho and St. Cyr came together to share those values with Toronto Storeys, as well as their penchant for travelling and woodworking ... And, of course, what they believe to be the future of teams in real estate. 
So what attracts you to each other?
Alexx: Well, we're both ridiculously good looking. (laughs) 
Elizabeth: I think we're very much focussed on the client.
It's about helping the client first and foremost and helping them with everything they need to get the house to market. Alexx is the most helpful person that you'll ever meet, both from a client perspective and a colleague perspective. 
He will do everything.
Literally, clear out a client's house and anything else they need to get it ready for market. Between the two of us, we are very client-focussed. That's a priority for both of us when it comes to listing a property. 
Alexx: The helping is a big thing as a core value for both of us. And I think Elizabeth feels that too.
We help whenever needed, regardless of monetary reward or not. If people need help, we'll help. With my old team, everyone had their own way of doing business and the core values were not as aligned. 
With Elizabeth, our values are more cohesive. And one of the things I like about Elizabeth is she'll tell you exactly what she's thinking at any time. No B.S. 
I'm very much the same way. We don't fluff around with maybes and hemming-and-hawing. No. Your house is worth X number of dollars. That's all it is. It's the straight, honest truth. 
Why do both of you prefer to work in a team instead of on your own?
Elizabeth: It can be very lonely if you don't have someone to bounce ideas off of. Even if it's an old client of mine, I really value someone else's input.
It's not that I don't trust myself. I've just been used to always having someone by my side. And I enjoy having someone there to give me feedback. 
Alexx: On a personal level, it's nice to be able to go on vacation and know that your business is taken care of.
We don't work 24 hours a day. And anyone that says they do is being silly. To us, it's unnecessary.
There's lots you can accomplish on a normal day, especially when you have someone you trust who can take care of things for you. 
If you want to go to the cottage for the night and if the client needs something, Liz can take care of it and vice versa. 
It's also nice to have a second set of eyes because we have complementary skills. And we need a second set of eyes if there's a problem.
Whatever the situation is, it's great to have someone who sees things differently. 
So if you're not working 24 hours a day, what are you doing in your off time?
Elizabeth: I like to travel. Traveling is a big part of my extra-curricular activities and socializing.
Part of that goes back to why we like working alongside someone we can trust. Because if I'm going to take off six weeks or more of the year, I want to know my business is in good hands. And that's why I work alongside Alexx.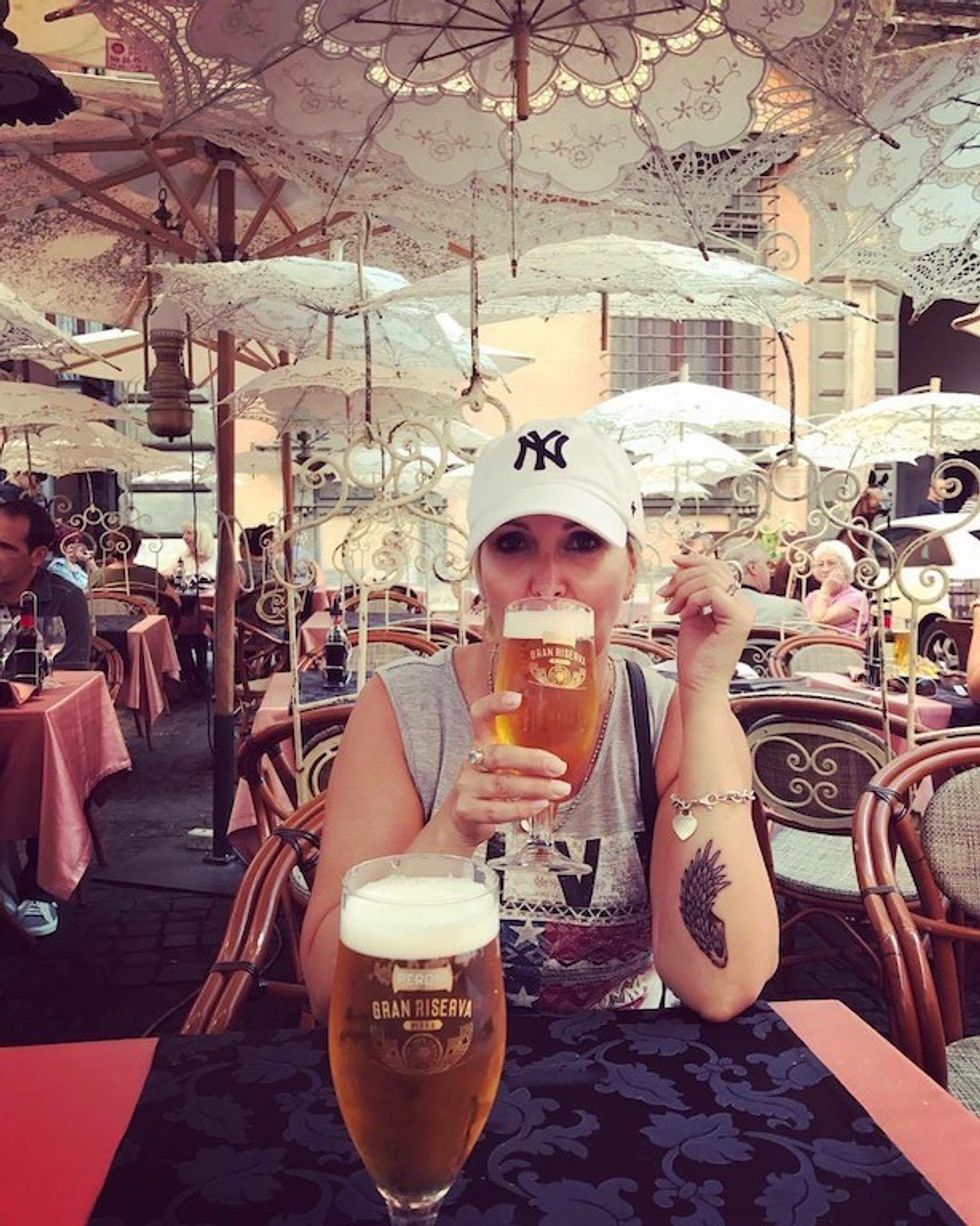 St. Cyr enjoying the local beer (Peroni) in Rome.
So where are you going next?
Elizabeth: Anywhere really. I go home every year because my family is still in Scotland. So I've been there this year. I went to Jamaica this year. 
Next weekend I'm going to New York City for a few days. I'm planning a road trip to Nashville and Memphis and then I'll be going to the Caribbean at the end of the fall. I might even be in Halifax for a national sales conference at the end of September.
Travel is what I work to pay for. 
What about you Alexx?
I have three kids under seven, so my travel schedule isn't as busy as it once was pre-kids. Before kids, I travelled six weeks a year and now that I have kids I spend as much time as humanly possible with them.
I love cooking. So every day I make a home-cooked meal for my family. I have dinner with them 95 per cent of the nights.
I also enjoy woodworking. So occasionally, at night, after the kids go to bed, I'm working on pieces that I often give to my clients, like cutting boards, charcuterie boards and some live edge stuff.
I tinker around and let the wood speak to me as to what it wants to be.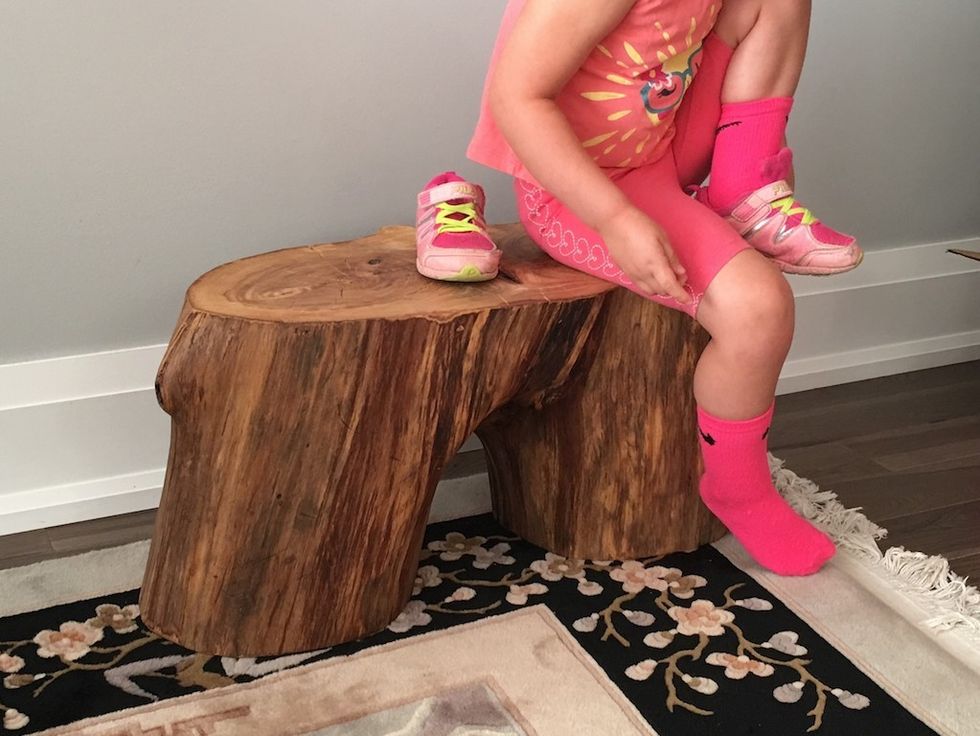 A stool Coelho made from a piece of an elm tree from a client's yard. It is in his living room now. And he made a smaller one for the client. (Editor's note: His pink outfit is top-notch too.)
What do you think is the future of teams in real estate?
Alexx: I think the way teams are currently set up in real estate — that's not the future. Teams in real estate right now are one or two lead agents and they have a bunch of sub-agents that work for them. 
For the most part, agents are divided into two categories: one's a buyer agent and one may be a listing agent and that's it. 
Not one person can do everything.
For example, I'm a pretty good photographer. It's one of my hobbies. But I don't take the photos of our listings. I hire a professional photographer who is a real estate photographer to do that job. 
Their skillset is that in the same way Liz is stronger at social media, while processes are my bag.
I have construction knowledge because I renovated a bunch of houses over the last 20 years. So I do a visual inspection of the property before we put it on the market just to handle all the problems. 
Eventually, I would see a real estate team as including people who are specific to those areas like construction and photography. So now there's a handyman who goes through the team and fixes it up, instead of me telling the client what they need to do to fix it up. 
I would see a team as one that's not necessarily real estate agents, but real estate professionals surrounded by professionals in related and complementary areas like photographers, videographers, handy people, stagers, decorators and landscapers. 
Elizabeth: That's our idea of a team. I think it's going to become more of a community team vs. one person in the forefront. All the agents will be equal and then you'll have all these related practitioners as well that will help your clients. 
In the eyes of the public, teams can be perceived as special to some people. But I know that some people don't like a team because the team leader will list the property and then they're left with, in their opinion, minions thereafter. 
It depends on the individual. Some people believe they're getting more value for their money, while other people want the more individual process one-on-one. 
Definitely, the real estate industry is going more towards teams, but I think the structure of those teams is going to change. 
One more thing, Alexx ... Why the two Xs?
My full name is Alexandre, but my dad was Alex as well. When I was a teenager, I didn't want to be called Junior. I thought Junior was silly, so I put a second X on it.
I was 14 or 15 years old and it stuck. Now, 30 years later, I'm stuck with it and it's good and it works and people are like, "Two Xs, that's awesome!"
Elizabeth: Well, I know Siri doesn't like it. She mispronounces his name all the time.
Industry Profiles