In a national retail outlook published in May, Jones Lang LaSalle (JLL) described housing as "a driving force behind the redevelopment of malls" in Vancouver, Toronto, and other cities in Canada.
In Vancouver, one of the largest redevelopments of any kind currently underway is the redevelopment of the old Oakridge Centre shopping mall into the new sprawling 3,000-home urban village called Oakridge Park by QuadReal Property Group and Westbank.
---
Elsewhere around Metro Vancouver, Shape Properties' Amazing Brentwood in Burnaby has brought a transformed shopping centre and a sixth residential high-rise on the way. Something similar is underway with Lougheed Centre, also in Burnaby. And Richmond Centre. And Lansdowne Centre, also in Richmond. And Capilano Mall in North Vancouver. And Columbia Square in New Westminster... the list goes on.
Over in Toronto, one of the largest projects of any kind is also a mall redevelopment: Square One in Mississauga, by Oxford Properties and the Alberta Investment Management Corporation, which will see 130 acres transformed into an 18 million sq. ft mixed-use district with 18,000 residential units.
Again, there is a long list of other mall redevelopments in Ontario, such as the Bayview Village Shopping Centre, Galleria Mall, and Dufferin Mall in Toronto, the Agincourt Mall and Malvern Town Centre in Scarborough, and the Cloverdale Mall in Etobicoke.
Two Types of Mall Redevelopments
"There are generally two models of shopping mall redevelopments," says Christine Fang-Denissov, a Partner at Urban Strategies, a planning firm that's involved in many mall redevelopments across Canada. "There are sites that are succeeding and doing well, and those malls stay, and it's about continuing the evolution of those sites. The other category is where -- for all kinds of reasons -- a standalone shopping mall doesn't make sense, and those are projects where a full re-imagination of the site happens."
Fang-Denissov says that many malls were built in an era that was automobile-focused and are surrounded by a sea of surface parking that is now underutilized lands which serve as an opportunity to create more complete communities.
"We're working on the Square One project, and that's one example of a site where it's one of the most successful shopping malls in Ontario -- and Canada, probably -- but it is of this model where the shopping mall is in the middle of a sea of parking and there's all this underutilized land around it," she said. "And the plan is to think through how you take the parking lots that surround a very successful shopping mall and come up with a structure that doesn't compromise the viability of the mall, but allows development to move forward to best utilize those lands. It's kind of like threading the needle."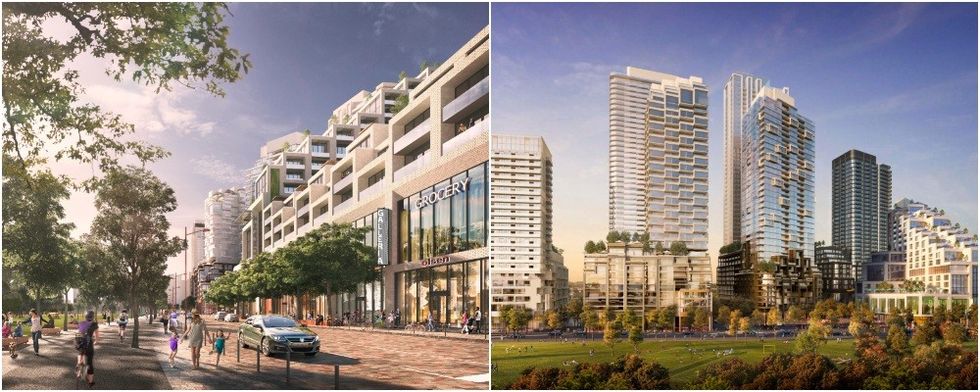 Renderings of the Galleria Mall redevelopment project in Toronto. (Urban Strategies Inc.)
Urban Strategies is also involved in the ongoing Galleria Mall redevelopment, and Fang-Denissov says Galleria is an example of the other -- full reimagination -- category.
"That was a very interesting project because we came up with a master plan that reimagined the retail in a completely different format, but we had to think through ways where you slowly start to take the mall apart, because it's serving short-term functions like the grocery store function, and it has a community centre on the site, so we had to work very hard on the phasing strategy."
Planning and Design Challenges
Both Fang-Denissov and her colleague at Urban Strategies, Warren Price, agree that the phasing plan is one of the biggest challenges when it comes to mall redevelopments.
"Phasing becomes very critical," says Price. "What do you do first? What do you do second? It's not always about the right sequence for development. It's also about the right sequence for the business and the retailers, because you don't want to disrupt an existing lease that's very profitable, so being mindful of those financial realities is also important to the physical planning."
From a design perspective, it's also important to open up the mall, in terms of access.
"The big malls that are kind of internalized in a sea of parking were literally designed to keep outside influences away," Price adds. "They wanted to essentially capture the shopper and to keep them there, and in order to achieve some of the complete community objectives, often you need to kind of crack open the mall and improve connections from the mall site to the surrounding communities, such as through the public realm, green networks, and active transportation."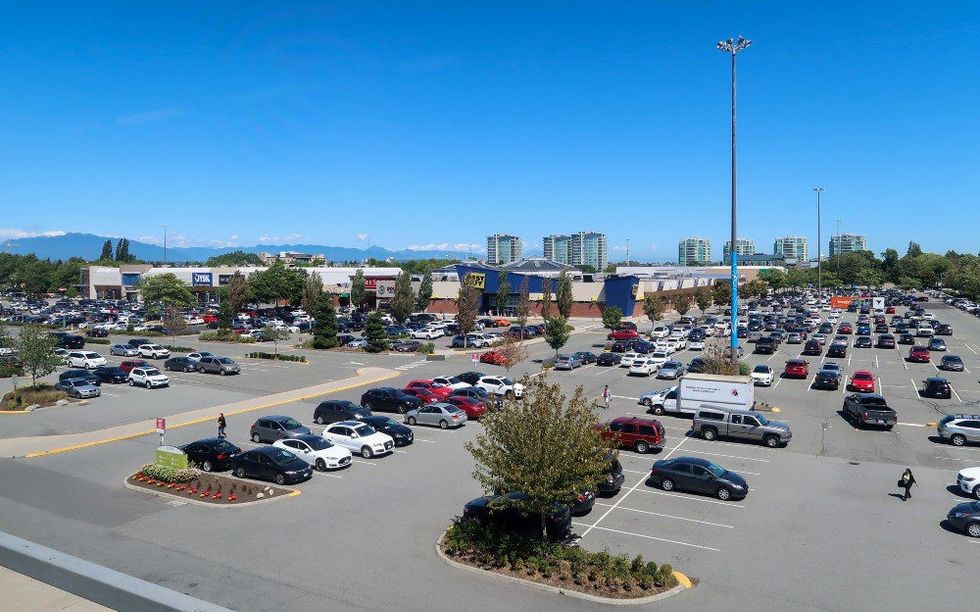 Lansdowne Centre and its sea of parking in Richmond, BC, which is set for redevelopment.(Colliers)
For mall redevelopments that involve a full re-imagination, one of the biggest challenges can oftentimes be coming up with a robust community engagement process that addresses the values of the community as it relates to the malls, which may not be as financially successful, but still play an important role in their communities regardless.
For the Galleria project, Fang-Denissov says, Urban Strategies ran a full year of public engagement before the official application was submitted, in order to hear the values of the community and to come up with ways to align those values with the ambitions of the property owner, which made the approvals process relatively straight-forward.
"If you can show people that there's not going to be negative impacts like massive amounts of traffic infiltration into their neighbourhood, the idea of replacing a "dead mall," most people are on board and they see the value in it," says Price.
The Retail Landscape
Shopping malls have traditionally been designed around large anchor tenants, such as a department store -- Hudson's Bay, Sears, Zellers, Walmart -- but that is no longer as true as it once was.
"I think a big question mark in the retail industry is the long-term success of the very, very large anchor tenants that end up being the bookends of shopping malls," says Fang-Denissov. "I know one of the things that retail developers are thinking about is not just the viability of these shopping mall sites, but also the flexibility of the mall perhaps staying, but some of those anchor tenants flipping or changing or evolving, because those are the ones that are kind of harder to deal with."
It's not exactly accurate to say that shopping mall redevelopments are primarily happening because retail is dying, but they are definitely happening in part because the retail landscape is changing.
What's happening now, says CoStar Group's Canadian Chief Economist and Head of Market Analytics Carl Gomez, is that consumers and retailers are opting for "omnichannel" retail, which includes e-commerce, apps, and social media along with traditional brick-and-mortar. As a result of this, some retailers can now reduce the size of their physical stores and keep more of their inventory in warehouses -- a big reason why industrial demand across Canada is so strong.
The amount of new enclosed mall developments.(Colliers)
"The retail used to follow the rooftops, so anytime you had a community that would develop, you would need the retail to service it," says Gomez. "Now, retail is following the elevators and all the condos going up. The whole purpose there is to create demand. You put people there, and people need retail and they need services, so you have a captured audience."
The pandemic also resulted in people recognizing the importance of necessities and non-discretionary shopping, such as grocery stores and drug stores, and these kinds of retailers are still doing relatively well, and even occasionally being the focus of new developments.
"One of the things I've learned through my career in talking with various retail consultants," says Price, of Urban Strategies, "is that retail traditionally runs on three things: it's either convenient, it's all about experience, or it's all about price. I think what's happening is that Amazon and the e-commerce models are simply going after the large format malls, so the folks competing on price and -- to some extent -- on convenience, are really under attack. My hunch is that this is why there is this focus on experience."
A Higher and Better Use
Office buildings are being converted into housing. Golf courses are being examined for redevelopment. Car dealership lots are being eyed for condos. Shopping mall redevelopments is just another instance of property owners trying to make better use of their existing properties, and in a time that's increasingly being defined by the lack of housing and affordability, housing has become the obvious "higher and better use," to use industry parlance.
"Not only do we need housing, but we also need a diversity of housing," says Price. "A lot of these mall sites are in neighbourhoods that are suburban, and pre-dominantly consisting of single-family homes, and so these sites provide really good opportunities to introduce a broader mix of housing types and tenures. It's good city-building."
READ: Will Redeveloping Golf Courses Ever Become Par For The Course?
"With the population growth that we've had and that we anticipate, these large shopping centres with large parking lots close to the city are just not the highest and best use of the land," says Sherman Scott, a Vancouver-based Associate Vice President at Colliers. "So if you can add residential and then keep the commercial in the bottom, it makes all kinds of sense."
Scott says he believes that Canada will be seeing more and more shopping mall redevelopments, that gone are the days where developers are building single-storey retail, and notes that while it used to be more of an urban phenomenon, mall redevelopments are now happening all over the suburbs as well.
"As Canadians, I think we sometimes take this kind of development for granted," concludes Price, "because --particularly in the Greater Toronto and Greater Vancouver markets, but also in other booming parts of the country -- the demand for housing is so intense that it makes all this work, both from the city-building and financial perspective. Other places, such as the US, they may not have all the same levers that we do in order to achieve this, so I think this is something we as Canadians are getting particularly good at doing and understanding how to do this, and it's kind of making our cities a bit more distinct."
Price's colleague, Fang-Denissov, says that Toronto recently hosted the Spring Urban Land Institute conference, where she crossed paths with many colleagues in America and heard, anecdotally, that Canada is a bit ahead of the trend when it comes to shopping mall redevelopments.
We may have been half-forced into it, but necessity is still the mother of invention.
Retail