Reduce. Reuse. Recycle. We all know these concepts as it relates to waste, but did you know they can be applied to buildings too? When it comes to real estate, they're deeply-intertwined in what's called "adaptive reuse."
---
The concept is simple: take a building that's run its course and convert it into something that suits the needs of the current time. Not only does this make use of a neglected or empty building, the companies that own and operate these buildings can also continue benefiting from their initial investments and save significant amounts of money they would otherwise need to spend on constructing an entirely new building.
One of the earliest examples of adaptive reuse also happens to be one of the most famous buildings in the world: The Louvre. Built in the late-12th to 13th Century under King Philip II, the Louvre was originally built as a defensive fortress for France. It was then converted into a residence in the 14th Century by King Charles V, and then became a residence for artists after King Louis XIV chose Versailles as his residence in 1682. The Louvre made its final transformation about a century later, opening in 1793 as the Musée du Louvre, now the most-visited museum in the world.
Over on our side of the pond, one of the first notable examples of adaptive reuse in North America was Ghirardelli Square in San Francisco. According to the Cultural Landscape Foundation, in the 1960s, architects Lawrence Halprin and William Wurster converted what was then a one-block plot with a chocolate factory into a shopping and tourist destination that's still standing today, "creating a viable adaptive reuse model for other cities" in the process.
The trend didn't exactly catch fire here in Canada, with the very-notable exception of the Distillery District in Toronto, which was originally established as the Gooderham and Worts Distillery. Distillery operations closed in 1990 and after gathering cobwebs for a while, re-opened to the public in 2003 as a commercial district that happens to include one of the largest collections of Victorian-era industrial architecture in North America.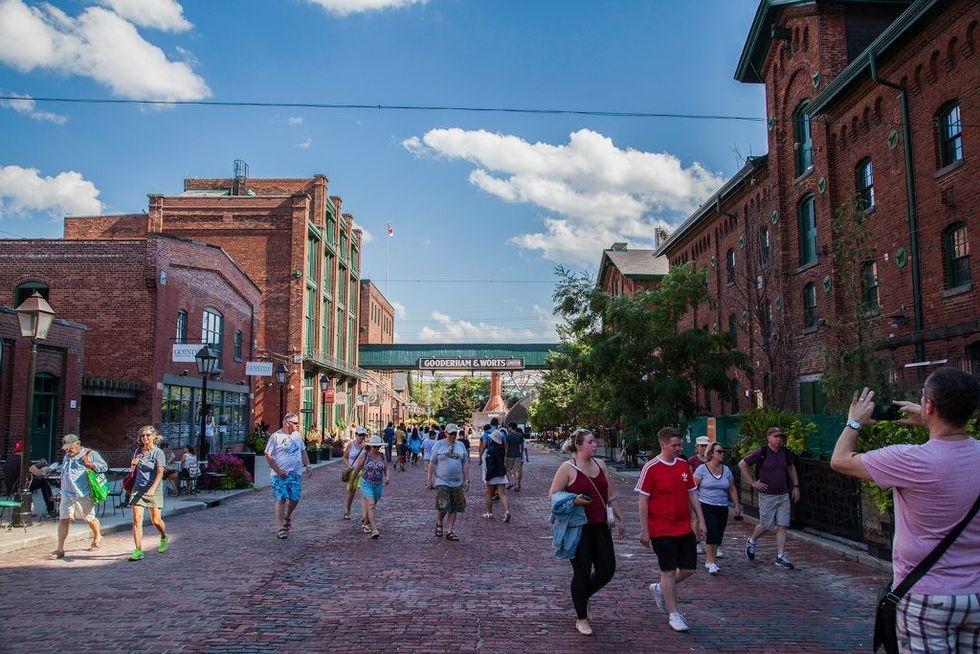 The Distillery District in Toronto is an example of a industrial-to-commercial conversion. (The Distillery District)
Those three examples are all of conversions -- sometimes also called "rehabilitations" -- into commercial space, but nowadays what's more common is turning commercial space into residential space.
Work From Home, Homes From Work
The world has just gone through a once-in-a-century event in the COVID-19 pandemic. Aside from changing how we think about things such as personal health, the pandemic also changed our relationship with space. Our homes used to be just that: our homes. These days, they're increasingly doubling as places where we work, where we shop, and where we exercise. Because of this, spaces that once existed solely for those purposes are no longer as needed.
Many people purchased homes during the pandemic after realizing they needed more space to accommodate working from home. For a while, many office buildings, like streets and malls, became empty. Quite a few still are. Many people, now used to the benefits of working where they sleep, are not thrilled about returning to offices, and there aren't strong indications that's going to drastically change soon. Where does that leave office buildings?
You can't exactly pick up an office building and drag it over to the recycle bin, but what cities around the world are now seeing is office buildings being turned into housing, particularly in places in dire need of it. Chicago is converting office buildings in its famous business district into apartments. New York City has created an Office Adaptive Reuse Task Force. California has passed legislation to encourage adaptive reuse, citing the state's housing crisis. All of this happened just in the past few months.
According to the American-based National Apartment Association, 32,000 apartments have been created since 2020 as a result of conversions, including a record-high 20,100 in 2021, which included conversions of 7,400 offices, 3,400 factories, 2,850 hotels, and others. In March 2022, the NAA said they were expecting 53,000 more units in 2022.
Why are we talking about the US? Because here in Canada, we couldn't be farther away from those numbers.
But Canada does have some examples.
In September, a redevelopment proposal was brought to the City of Toronto that would see a century-old office building restored and converted into a residential building. A similar plan was proposed for a different heritage office building in Toronto last December. On the West Coast, a 21-storey heritage office building in Vancouver was converted into a residential building called The Electra in 1995 that's still going strong as a rental building. The historic Gastown area also continues to be restored, often with new uses.
Over in Calgary, 200,000 sq. ft of office space in the Palliser One building is set to be converted into 176 apartments, and if any city in Canada is leading the way on adaptive reuse, it's the Stampede City. The City of Calgary has, by far, the most successful programs in the country -- officially called the Downtown Calgary Development Incentive Program -- that provide financial incentives specifically for conversions of office buildings into residential uses.
Calgary's program wasn't primarily birthed because the region desperately needed housing, or because they wanted to preserve heritage buildings, like the incentive programs in Victoria, Winnipeg, and Halifax. It was because they had an overstock of office space.
According to an economic report published by the City in November 2022, Calgary accumulated over 4M sq. ft of office space between 2013 and 2018. That was followed by a steep reduction in demand, by over 6M sq. ft, leaving Calgary with a bunch of office space occupied by nothing except dust. Since then, the City's program has resulted in about 665,000 sq. ft of office space converted into over 700 homes, with more coming in Phase Two of the program.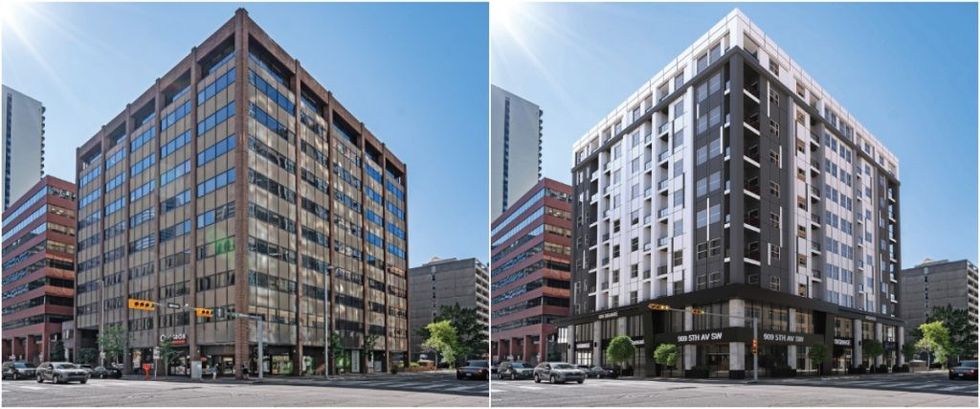 The Cornerstone in Calgary, set to complete conversion in 2023. (PeopleFirst Developments)
But these are the exceptions in Canada. There has been little to no increase in adaptive reuse projects in Canada, let alone has the idea reached a critical mass, or a "tipping point" where the idea takes on a life of its own. Unlike in the States, statistics about adaptive reuse do not even exist and cannot even be compiled.
STOREYS reached out to Altus Group, a Toronto-based company that specializes in commercial real estate analytics, and a spokesperson said that they did not have such data. CBRE Canada and Avison Young, who regularly publish data reports about commercial real estate, were also reached and similarly did not have such data.
STOREYS also reached out to the Canadian Mortgage and Housing Corporation (CMHC), whose Rapid Housing Initiative specifically includes conversion projects. The CMHC has data about how much total units of housing have been created in Canada through the Initiative, but was unable to compile data specifically about units created via adaptive reuse, pointing only to examples of individual conversion projects that were previously announced. They estimated the grand total of housing units created via those projects to be at about 2,000.
The lack of such data is indicative of where adaptive reuse stands in Canada. On Everett Rogers' famous Diffusion of Innovation curve, the concept of adaptive reuse in Canada is stuck in the Chasm. To identify why, it helps to understand the processes behind adaptive reuse projects.
How to Recycle an Office Building
Converting an existing office building into a residential building sounds cool, but it isn't as simple as swapping out the furniture -- like converting a spare bedroom in your house into an office. Buildings, regardless of how plain or basic they may appear, are designed for their specific intended uses. After all, before it began being used in other realms, "form follows function" was a maxim coined by an architect.
Because an industrial building can be drastically different from an office building, and an office building can be surprisingly different from a residential building, the building that's targeted for conversion has to first be analyzed from top to bottom to see how feasible conversion really is, taking into account factors such as the structure of the building, its engineering, and even its aesthetics.
"These conversions are so asset specific," Jessica Morin, Head of Research for CBRE US, told STOREYS. "The factors really have to be perfect: building, location, lighting, floorplates, attractiveness of the construction market, how quickly they can flip and lease it."
Office buildings typically have larger floor-plates, because spreading out employees across multiple floors is more of a hassle than having them all on a single floor. Single-floor offices with open floorplans also facilitate communication, comradery, and cohesion (back before Slack was a thing). Offices also typically have washrooms clustered together, which means the plumbing of the building is quite different than in an residential building, where each unit in every corner of the floor has at least one washroom.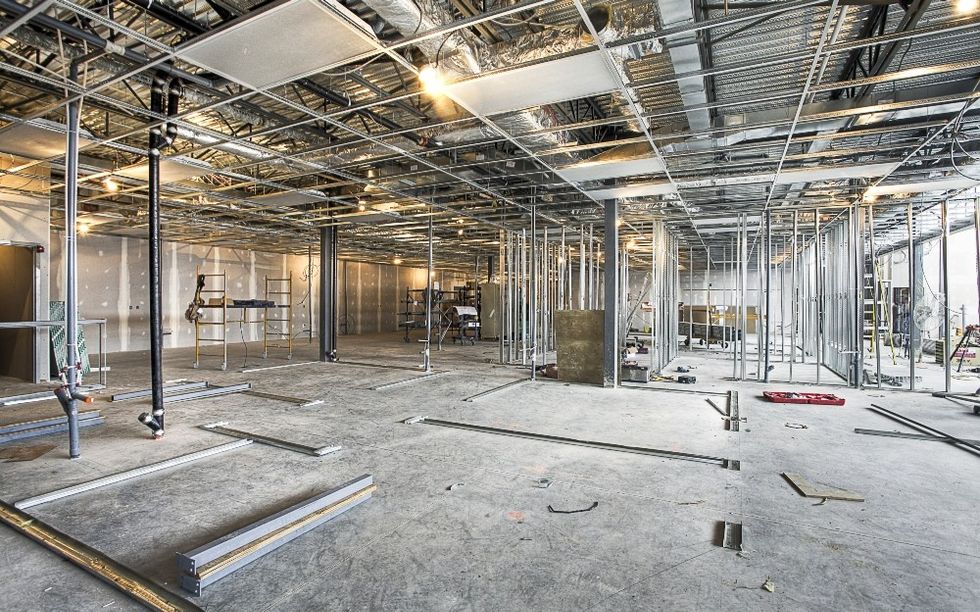 (Shutterstock)
"Often, particularly in smaller or more rural municipalities, buildings are too old or too structurally precarious to support the business-case for adaptive reuse," Alberto de Salvatierra, a professor at the University of Calgary's School of Architecture, Planning, and Landscape -- as well as the Founder and Director of the Center for Civilization, a design-research think tank -- tells STOREYS.
"In these cases, it would just be too expensive to renovate. Demolition and reconstruction become surprisingly cheap in comparison. In other instances, available stock is spatially inadequate: in larger cities, like Calgary, vacant office buildings can have floorplates that are too deep or irregular to support the business case of adaptive reuse, or in smaller cities, like Medicine Hat, buildings are too small. When the motivation is to create dense, mixed-use developments and affordable housing, certain buildings simply cannot deliver."
"It can be cheaper to demolish and build anew, particularly in cities where the land on which buildings sit has become more valuable that the building itself," Professor de Salvatierra adds. "In these instances, developers would rather build a newer, taller, and more luxurious tower from scratch rather than try to adapt existing stock. Often, the biggest obstacle to adaptive reuse is the business case."
In other words: a confluence of factors have to come together in a single building for a conversion to be the best approach -- physically and financially. The more walls that have to be added into a building, the more money it's going to cost. The more the office building's insides have to be gutted, the more money it's going to cost. Like it or not, developing housing is a business, which means if it doesn't make money, it doesn't make sense.
Adaptive Reuse in Canada: The Chasm
Would more incentives help? Asked this question, Morin and her colleague Eric Stavriotis, Executive Vice President in Location Incentives, say that CBRE US has been tracking adaptive reuse since 2016 and they have not seen a correlation between adaptive reuse projects and incentives. They've also not seen a material increase of adaptive reuse in the States, but it has been steady in recent years, with anywhere between 70 to 100 adaptive reuse projects of various kinds a year.
Stavriotis says that the question of making better use of existing buildings is being asked at the city and state levels, and many are increasingly looking at incentives, but many of them are still in the early stages and it's too soon to tell if the incentives will make an impact. But he also stresses that "if the asset is right for [conversion] and the value gets low enough, and they can set the right rent, there doesn't have to be incentives for this to take place."
"Conversions may end up being a small share of the pie," Stavriotis says, pointing out that only about 2% of US office stock has been converted since 2016. "But this is the time to look at it."
Back in Canada, Professor de Salvatierra says that "adaptive reuse has been a longstanding interest and priority" in academia. "It is widely known that buildings themselves are a significant source of global CO2 emissions, so adaptive reuse -- rather than demolition and reconstruction -- is a more sustainable and environmentally friendly approach to city building. However, the "popularity" of adaptive reuse by the profession, or its adoption by industry, is uneven across geographies. Cities have varied and distinct challenges, and not all of them see the value or urgency of adaptive reuse."
Another factor is office vacancy. In CBRE Canada's Q3 Office market report, the national average vacancy rate of office space in Canada was 16.9% in downtown cores, nearly half of that of Calgary (32.9%), which had the highest office vacancy rate in the country. In Toronto, the vacancy rate is at 11.9%. In Vancouver, the vacancy rate is at 7.1%. You can't convert empty office buildings into apartments if you don't have any empty office buildings to begin with.
Perhaps governments on all levels need to examine adaptive reuse more. Perhaps developers need even stronger incentives, to make those not-quite-feasible conversions more appealing. Perhaps companies can be incentivized to move more operations to remote work, freeing up office space to be converted into housing. Perhaps the housing crisis needs to get even worse for people to really look at adaptive reuse. Or, perhaps we need to get with the times, because as they say: adapt, or die.
Office