In major cities across North America, the stability of office assets has become a major concern for landlords, as well as the nearby businesses that rely on foot traffic, and local governments. Many of those cities are also facing a housing crisis, and have thus put two and two together and taken a serious look at office conversions — also known as "adaptive reuse" — in recent years.
In 2019, California Governor Gavin Newsom issued an executive order for the State to prioritize converting excess office space owned by the State. Last year, New York City created an Office Adaptive Reuse Task Force. Earlier this year, the City of Chicago announced two more office-to-residential conversions, adding to their growing list of such projects.
---
Here in Canada, office conversions cannot be discussed without mentioning Calgary, which currently has 10 adaptive reuse projects underway as part of a successful office conversion incentive program. Now, the City of Edmonton is following suit and on the verge of establishing such an incentive program of their own, which is expected to be announced in October. In Toronto, there isn't currently a program, but it has been pitched in the past, and the City has seen some one-off conversion projects nonetheless.
In Vancouver, we may have to go all the way back to the mid-90s to find examples.
The most notable is the Electra, at 989 Nelson Street, formerly the office of BC Hydro before they relocated and the building was converted into residential use in 1995. Other examples include 1177 Hornby Street, also known as London Place, and 1010 Howe Street, which were both converted shortly after the Electra.
In 2004, the City of Vancouver received a proposal to convert the Arthur Erickson-designed Evergreen Building at 1285 West Pender Street, but that ultimately did not happen, and the Evergreen Building remains an office building today. The City of Vancouver adopted a Downtown Office Conversion Policy in 2009, but there are practically no examples to show for it.
What gives?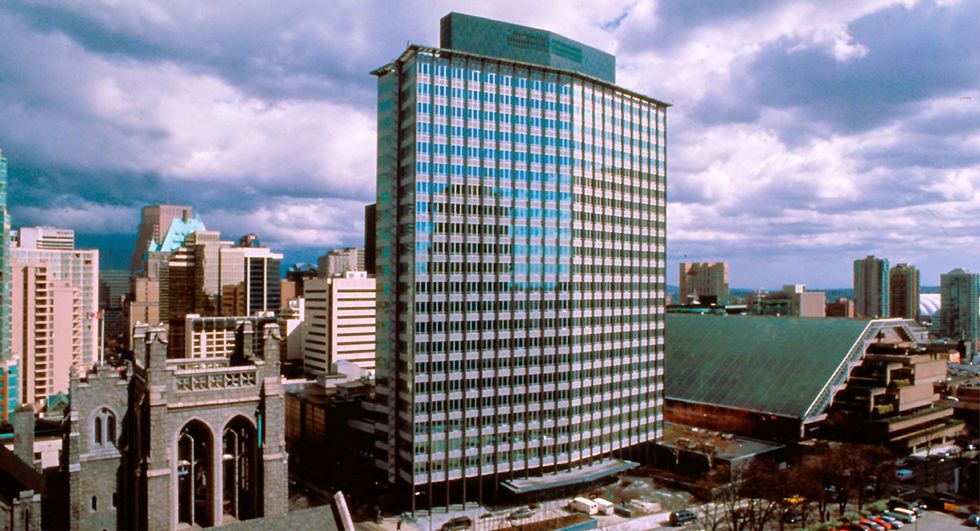 The Electra at 989 Nelson Street in Vancouver was converted to residential use in 1995.(Merrick Architecture)
The Highest and Best Use
In commercial real estate, what property owners do with their assets is oftentimes determined by what the highest and best use of the property is at a given time.
Those who own sprawling golf courses in cities that are short on land to build housing are now considering redeveloping their golf courses. Owners of retail space are also now redeveloping malls and/or their surface parking lots into high-rise residential towers for similar reasons. Times have changed and the need for housing now trumps the need for private golf courses and seas of surface parking, making housing the highest and best use for properties.
Vancouver undoubtedly (and unfortunately) has an urgent need for housing. However, the demand for office space has remained strong, which means that for owners of office buildings, it's not clear cut that residential is a higher or better use.
According to a Q3 Colliers market report, published this week, office vacancy in Downtown Vancouver is now at 11.9%, which is high for Vancouver — and trending in the wrong direction — but still one of the lowest vacancies in the country, behind 6.1% in Downtown Victoria and 11.0% in Downtown Toronto.
Downtown Calgary leads the nation with an office vacancy of 29.5%. Second in the nation is Downtown Edmonton, with a vacancy of 20.3%. It's no coincidence that Calgary created a financial incentive program to encourage office conversions, nor is it a surprise that Edmonton is following suit.
The key factor is not just that the vacancy rates are very high, however, it's that they have been at those high levels for a long period of time.
"You need to have a sustained high vacancy environment," says Susan Thompson, the Associate Director of Research for Colliers based in Vancouver. "Vancouver hasn't had a really high vacancy environment for a long time. The highest it's gotten is around 10% in 2015, and that's not going to spur a conversion cycle."
Both Thompson and Hani Lammam, Executive Vice President of Vancouver-based Cressey Development Group, note a key difference between Vancouver and Calgary, where Thompson was formerly based and Cressey is currently converting an office.
"Our office market is more stable," says Lammam. "What we see in Calgary is it is very much a boom-bust market. Especially these oil and gas companies, they commit to so much office space, and they trigger these new builds, and then the market changes, so you end up with all this excess space. In Vancouver, we're not a big head office town, so we don't have tenants that demand we build 500,000 sq. ft, so we don't build the size of buildings that they do in Calgary. So our buildings are smaller, and we're not reliant on one company to make a project feasible, so even with a market shift, we don't end up with big vacancy issues."
Lammam also adds that Vancouver has been very intentional about separating residential from commercial in downtown, such as keeping residential out of the Central Business District. He recognizes that there have been some conversions in the past — such as the Electra — but he doesn't see Vancouver diverging from this separation, thus greatly reducing the likelihood of office conversions, at least in the downtown core.
Asked what point the office market would have to get to in order for developers to seriously consider converting their office buildings, he says the office market would probably have to be in "pretty severe trouble" with no clear sense that demand is going to recover. He doesn't see that happening, and he doesn't see the pressure from the housing crisis to be strong enough to force a change.
"In the housing crisis that we have, you would think that if it was going to happen at any time, it would happen now. When you have a housing crisis, you're looking for quick ways to deliver housing, but I just don't think that that pressure is enough to kind of undo decades of urban planning."
Both Thompson and Lammam recognize that Vancouver has a set of office buildings that are nearing the end of their lifespans, and will likely become non-competitive in the market. That doesn't necessarily mean they'll get converted, Lammam points out, as they could just get renewed (such as the aforementioned Evergreen Building) or redeveloped into new office buildings.
All of this is to say that while office conversions have become en vogue in major cities, the trend may never make its way to Vancouver.
Office