Between the truly out-of-nowhere PGA Tour-LIV Golf merger in early-June, the US Open that concluded in mid-June, and the Open Championship that begins today, golf has been in the spotlight a lot recently. But in Canada, golf has been under the spotlight for an entirely different reason lately: more and more owners of golf courses are thinking about redeveloping them.
---
In early March, the City of Toronto received a development application for the privately-owned Flemingdon Park Golf Course that would add four residential high-rises between 42 and 56 storeys to the site while turning the remaining 40 acres into a public park as part of the redevelopment.
In Winnipeg, the University of Manitoba is currently in the process of transforming the Southwood Golf and Country Club it owns into an urban village with over 11,000 units of housing called Southwood Circle, a project that has been in the works for over 10 years before the development plan was approved earlier this year.
Over in British Columbia, the Burrard Group -- through their subsidiaries CRC Developments and GolfBC -- has undertaken a series of projects that have built residential communities on and around golf courses, the most recent of which is Quail Landing, a collection of 24 townhouses within the Okanagan Golf Club that is set to be completed this summer.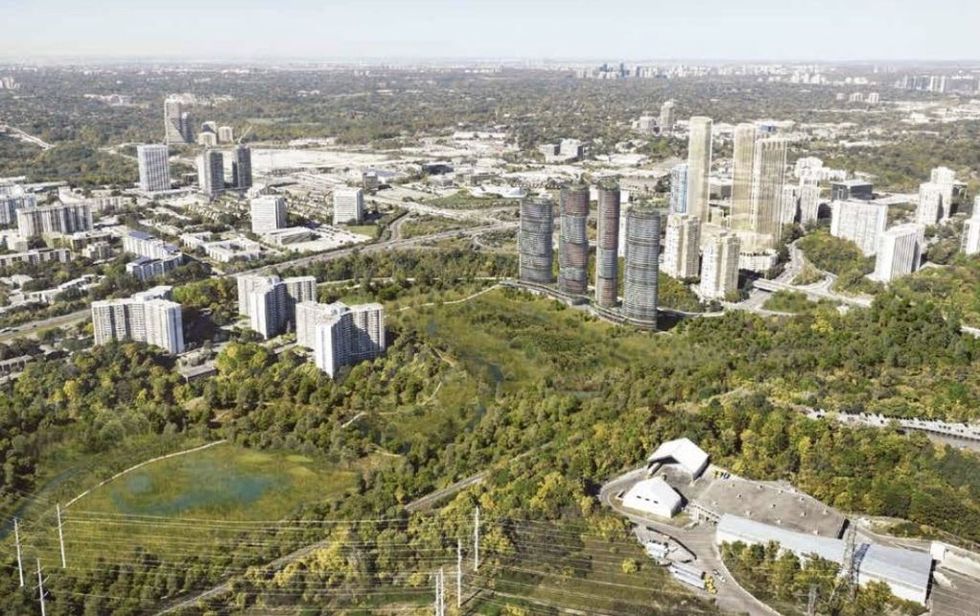 A rendering of the four proposed towers for the Flemingdon Park Golf Course in Toronto. (Don Valley Trails Park Holdings)
Those are just some of the recent examples, and while there are plenty of other ongoing projects across the country, there has also been a notable amount of projects that have drawn a significant amount of pushback.
In Ontario, Oakville's Glen Abbey Golf Course was subject to redevelopment plans that ultimately did not commence after passionate efforts from locals saved the Jack Nicklaus-designed course.
Last month, the Town of Cochrane in Alberta scored a victory over the owner of the Cochrane Golf Club after the Court of King's Bench of Alberta dismissed an application filed by the owner that would've paved the way for the owner's redevelopment plans.
Also last month, in British Columbia, the City of Kelowna voted in favour of changing the zoning of the 106-acre Kelowna Springs Golf Course back into recreational use, putting Denciti Development Corporation in a tough spot after it acquired the golf course last year with indications from the City that it would allow the course to be redeveloped for industrial use.
Why Golf Courses Are Being Eyed For Redevelopment
It's not a coincidence that almost all plans to redevelop golf courses involve building new housing. As cities across Canada continue to face worsening housing crises, developers are trying to contribute to the solution by building more housing, and hopefully getting a better return on their investment. (Depending on who you ask, some may think the order of those two things should be flipped.)
Vacant office buildings are being converted into housing. Shopping centres are being redeveloped into residential high-rises. Car dealership lots are being eyed for condos. The name of the game is to create new spaces for housing by making better use of existing properties.
"Immigration is putting demand on land in major cities and pushing values up such that a 300-400-acre golf course simply is no longer the highest and best use for the broader community's needs," says Doug Allan, Director of CRC Developments. "More people means more demand for residential, commercial, and industrial uses to support the growth."
Golf, at least in Canada, was experiencing a bit of decline prior to the COVID-19 pandemic, Allan says, but the pandemic actually gave the sport a bit of a boost as a result of golf courses being sprawling outdoor spaces with plenty of space for recreation while maintaining social distancing.
Regardless of the pandemic, golf is a difficult business to be in (for those who aren't backed by Saudi Arabia's $700B sovereign wealth fund).
"Golf is a very challenging business to be successful/profitable in, and only those who have scale by owning multiple properties and being able to achieve efficiency through their procurement and supply chain relationships have a good chance to be successful," says Allan.
The business requires both a lot of capital -- due to things such as irrigation, fleets of golf carts, and upkeep of clubhouses -- and a lot of labour -- to staff the course, maintain the grounds, and operate the clubhouses -- which combine to create a high barrier for entry, as well as a low ceiling for profitability.
Golf courses, like other properties such as parking lots, are also often owned with a "covered land play" strategy in mind, where the existing operation is a way to cover carrying costs until a "higher and better use" for the property is identified.
What's happening now, then, with the housing crisis across Canada not showing any signs of improvement, is housing has become the obvious higher and better use.
The X Factors
While converting excess office space into apartments and redeveloping malls to add residential towers have largely gone unopposed, redeveloping golf courses has seen much stronger pushback, which has mostly been focused on the desire to preserve parkland and greenspaces, despite most golf courses not being as accessible to the public as a regular park.
(Golf courses are also not as environmentally-friendly as parks, with a 2010 Berkeley study finding that the average golf course in California produces 740 metric tonnes of CO2 per year as a result of fertilizer and pesticides, which is equivalent to 1.9 million miles driven by an average gasoline-powered car.)
Indirectly, but perhaps also directly, many redevelopment proposals centered around golf courses now emphasize the amount of green space that will be opened up to the public or protected.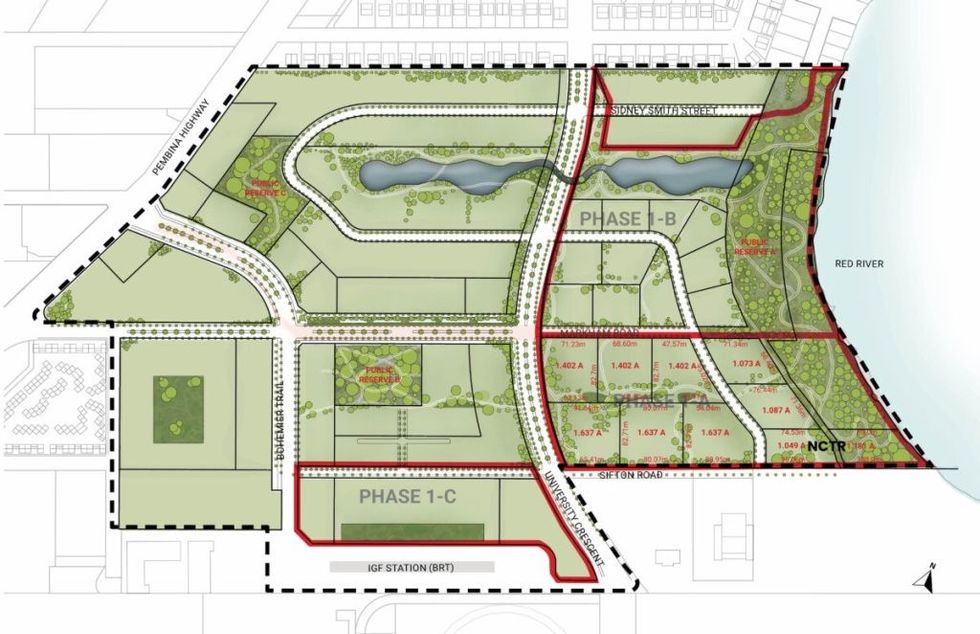 The master plan for Southwood Circle in Manitoba. (UM Properties)
In the case of the Flemingdon Park Golf Course in Toronto, the planning rationale emphasizes that the proposal would see the owners "donate 95% of the land (equivalent to 40 acres) as open space for public use," calling it a "once-in-a-generation public land contribution."
In the case of the Southwood Circle project in Winnipeg, the project website notes that "the land has extensive old-growth forest that will be preserved by the community master plan, as well as 1 km of waterfront that will be developed into public parkland."
Golf as a sport is also not exactly dying in Canada. According to Golf Canada's Chief Sport Officer Kevin Blue, the popularity of golf "resurged" during the pandemic, by as much as 20% or 30% compared to pre-pandemic times, depending on the metric.
Canada has approximately 2,500 golf course, according to Blue, and the net change -- factoring new golf course developments along with closures -- in that total was often negative in the 2010s, but has since mostly stabilized and moved towards an equilibrium.
Blue says Golf Canada recognizes the housing crisis and the need for affordable housing, but they do have concerns about the supply of golf courses contracting at a time when golf is "as popular as ever" and support the preservation of golf courses and the interests of golfers in Canada.
"I don't think redeveloping golf courses is a primary or only solution to that problem. The problem of housing affordability can be solved in a lot of different ways. We're sensitive to housing and affordability challenges, we don't have our heads in the sand about that, but what we are in strong opposition to is developers trying to remove golf courses as community resources in an effort to make projects that are actually not very accessible from a housing affordability standpoint."
For developers, redeveloping golf courses is also not as straightforward as identifying the portion of the course to use then beginning construction.
The water systems needed for homes is very different from those used for golf courses. The aforementioned heavy use of fertilizers and pesticides also means that portions of the land may be contaminated and need remediation. Some golf courses may not even be redevelopable at all if they are on floodplains or ravines. Community resistance could also prolong the rezoning and approvals process, which could translate into increased costs.
But with no visible light at the end of the housing crisis tunnel, it's likely that more and more golf courses will at least be examined for redevelopment. Whether they are successfully approved and completed, however, is a whole other ball game.
Parks