Tucked between the Humber River and Rexdale Boulevard along Highway 27 in Etobicoke is a 50.72-acre plot of land that's the home of a monument to a fading era: the Woodbine Centre shopping mall.
---
Originally completed in 1985 and developed by Cadillac Fairview, Woodbine Mall contains about 100 stores across approximately 745,000 sq. ft of commercial retail space, surrounded by a sprawling parking lot with over 3,500 spaces.
The mall is made of compositely designed structural steel beams, entrances feature exposed structural steel-vaulted framing, and the stores sit below barrel-vaulted skylights. Those stores include Ardene, Dollarama, Hudson's Bay, Lenscrafters, Rug Emporium, Shoe Rack, Baskin Robbins, Burger King, Popeyes, New York Fries, and Tim Hortons.
Then there is the Fantasy Fair, Ontario's largest indoor amusement park and arguably the main attraction of the mall. Opening along with the mall in 1985, the Fantasy Fair includes over 12 full-size rides and attractions, including an antique carousel, a miniature railway, a 50-ft ferris wheel, a 30-ft freefall elevator ride, and bumper cars, as well as numerous arcade games and party rooms.
Woodbine Mall has appeared in popular culture such as the 1990 film The Freshman starring Marlon Brando, the 2019 DC Comics movie Shazam! starring Zachary Levi, and the 2021 Christmas movie 8-Bit Christmas starring Neil Patrick Harris.
And it's currently at the center of a complex legal battle that will likely end with the mall being sold.
For Sale
The potential sale is the result of the mall's owner, Woodbine Mall Holdings, defaulting on mortgages in 2018 and a forbearance -- temporary postponement of loan payments -- agreement with Romspen Investment Corporation, a non-bank commercial mortgage lender.
Woodbine Mall Holdings lists Chris Hinn -- also known as Issa El-Hinn -- as its sole officer and director. Hinn is also the sole officer and director of Sunpact Holdings, which owns the nearby Rexdale Mall, and Birchmount Howden Property Holdings, which owns the 1500 Birchmount Road Business Centre, as well as three other businesses.
Romspen Investment Corporation is Hinn's largest creditor, and Hinn is Romspen's largest borrower, with an outstanding balance of approximately $333M. As part of the forbearance agreement, Hinn began selling off his mortgaged properties, and has sold six so far, between April 2019 and April 2022. The three aforementioned properties are what remains to be sold.
Complicating the matters now is that Romspen recently asked the Ontario Superior Court to appoint a receiver to take control of all of the aforementioned companies and properties, including Woodbine Mall, on the basis that Romspen has lost confidence in Hinn's ability to complete the sales of the mortgaged properties.
Romspen's receivership application was granted on May 8, with Ernst & Young appointed as the receiver. Hinn, however, is now appealing the receivership order on the grounds that the judge who granted the receivership application, Justice Peter J. Osborne, erred in, among other things, "failing to find that Romspen had acted in bad faith," according to court documents obtained by STOREYS.
Crucial to the case -- at least in the eyes of Hinn and his appeal -- is that there is already an agreement of purchase and sale (APS) on the table for Woodbine Mall -- the "single most valuable property in Romspen's portfolio in Canada," and the sale of which would "extinguish the vast majority of the outstanding debt owed to Romspen" if completed, according to Hinn's motion for leave to appeal.
According to a receiver's report prepared by Ernst & Young dated May 23, Woodbine Mall is subject to an APS that provides the purchaser with 90 days to waive its due diligence -- sometimes referred to as a "free-look" clause." The sale agreement was accepted on February 21 and was set to expire on May 23, but the purchaser has since requested a 60-day extension, saying that it needed to review "various planning and development-related issues." Ernst & Young granted the request for additional time, but only for 30 days, after which the sale would become firm and close in 90 days.
A Fragile Asset
"As we are just coming out of the pandemic, malls are particularly fragile assets," Hinn said in an affidavit on April 11. "Mall tenants, who operate brick and mortar retail shops, have been teetering in a precarious environment since the pandemic, as many customers have turned to online shopping. Now that the pandemic is fading, our tenants and businesses are finally starting to see light at the end of the tunnel."
Hinn says that his malls were closed for several lengthy periods during the height of the COVID-19 pandemic, during which he lost 20% of the mall's tenants. He goes on to say that when receivers are appointed to take control of an asset such as a mall, tenants tend to vacate quickly, which would likely result in "an immediate and noticeable devaluation of the mall."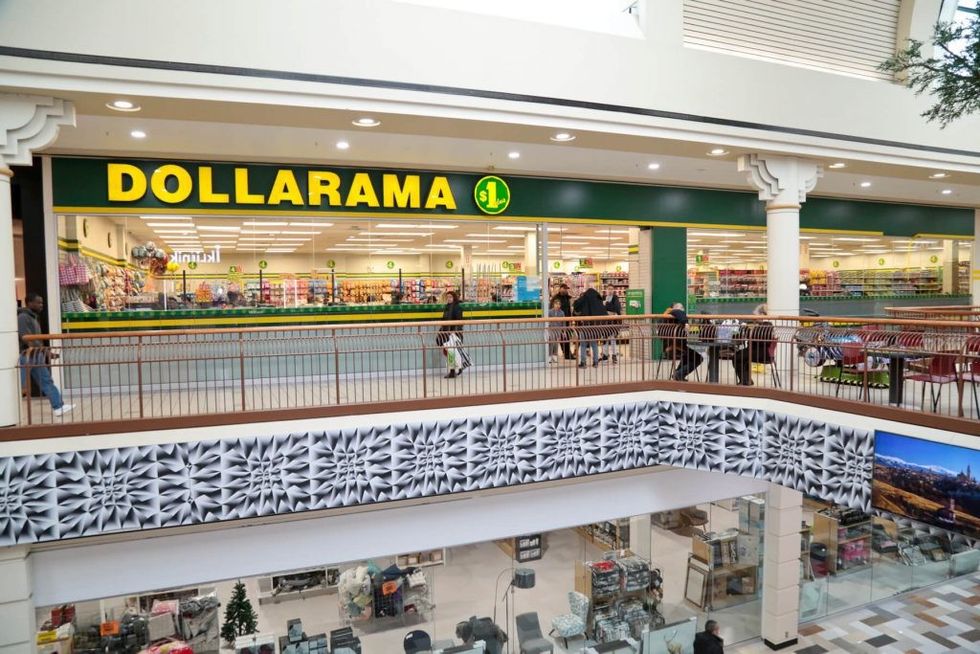 The Dollarama inside Woodbine Mall. (Woodbine Mall)
Hinn also notes that "operating a mall with an amusement park is a very niche industry that not many people have experience managing." He says that he has the requisite experience to manage the unique property because he has already been doing it for eight years, and that if new management is brought in as a result of the receivership, the mall is likely to suffer, and that the current buyers "see my continued involvement with Woodbine Mall as adding value to the property."
Also making it unique, Hinn acknowledges, is the redevelopment potential of Woodbine Mall, as it is "a prime development property" across the street from a proposed transit station -- a new GO station to be constructed on 555 Rexdale Boulevard by the owner of the Woodbine Racetrack (Woodbine Entertainment Group) and Metrolinx. He notes that the 51-acre site can potentially go the way of many other malls in Ontario and be redeveloped for residential uses, with the potential for 7,000 units.
READ: Scarborough's Agincourt Mall Redevelopment Inches Closer to Reality
Sales History
Hinn acquired the mall -- with financing from Romspen -- approximately eight years ago for just over $100M. In his affivadit, he says that "there [are] only a limited number of parties in Canada who could take on a purchase such as Woodbine Mall."
A copy of the accepted APS for Woodbine Mall is included in Hinn's affidavit, but is completely redacted, and the purchaser is not named in any other case documents. The affidavit, however, names various other parties who had interest.
One such interested purchaser was Westdale Construction Co Ltd., also known as Westdale Properties -- the Toronto-based developer who owns a series of shopping centres around Ontario -- in August 2022. Hinn alludes to the deal as an example of Romspen interfering with his efforts to sell the mortgaged properties, saying that Romspen "disclosed confidential information" to Westdale before he had the chance to enter a non-disclosure agreement with the developer. An email from Westdale's counsel saying it had received "gigabytes of info on the asset from Romspen" is included in Hinn's affidavit.
As another example of what Hinn calls the "bad faith of Romspen," he says Romspen sent a marketing package to Freed Developments without his consent. Hinn alleges that this was done by Wesley Roitman, Romspen's Managing General Partner, who he says is a friend of Peter Freed, Freed Developments' CEO.
Hinn says that Romspen also contacted the current buyer without his knowledge or consent, and that the buyer later formally requested his consent to communicate with Romspen about the transaction. Hinn also alleges that Romspen "had discussions with the purchaser's counsel regarding the possible receivership and sought their input prior to notifying me about the [receivership] application."
"The initiation of the application during the due diligence period for the sale transaction serves no positive purpose and is counterproductive," Hinn adds. "The appointment of a receiver would dissuade [any potential purchasers] from purchasing the property or purchasing the property at fair market value. I verily believe that, by bring this application, Romspen is deliberately attempting to frustrate the pending sale of Woodbine Mall because it has a side deal with respect to this property with an undisclosed purchaser. If the application is granted, Romspen could control the sale process through the receivership without the need for my involvement."
That receivership application was granted on May 8. With the purchaser being granted an extension of the due diligence period on May 23 for another 30 days, the sale of Woodbine Mall could potentially become firm by June 22 and close later this year.
Hinn is currently appealing the receivership order. However, even if successful, the mall will still need to be sold as per Hinn's forbearance agreement with Romspen.
The purchaser seeking more time to review "various planning and development-related issues" appears to hint at potential plans to redevelop the site after completing the sale.
All of this is to say: Woodbine Mall is going to be sold, one way or another, to this purchaser or another, and it may very well be going the way of the wind.
Toronto