After a long 15-year journey, Beedie finally unveiled its Fraser Mills master plan project in June, which will see the development of a 96-acre community along the Fraser River in South Coquitlam.
Fraser Mills is set to include 16 towers between 29 and 49 storeys with over 5,500 homes, a series of light industrial buildings, office space, retail space, a 50,000-sq.-ft community centre, and 16 acres of park space.
---
It will also now include a 7,400-sq.ft presentation centre constructed with mass timber. It's set to cost Beedie a whopping $10M, and is designed by Patkau Architects, the firm that designed the Polygon Gallery in North Vancouver, the Audain Art Museum in Whistler, and the Canadian Clay and Glass Gallery in Waterloo, Ontario.
A previous presentation centre plan was developed years ago with another architect that would've seen the presentation centre placed closer to the Fraser River, to showcase the waterfront nature of the community. Beedie ultimately decided against it due to the location being less visible from the main road — United Boulevard — as well as the fact it would have required ushering visitors through a construction site where roads are being paved.
Patkau Architects was then brought on to the firm's presentation centre project because Beedie Living's Director of Development Robert Toth had previously (before joining Beedie) worked with Patkau Architects' Principal John Patkau.
"The project really was a nice, small little jewel that was very appealing to us," says Patkau. "Our history is primarily in cultural and educational buildings, and a presentation centre is more like a museum than anything else, so it was an easy transition for us."
A significant portion of that $10M price tag is a result of the decision to use mass timber construction — a choice made right out of the gate, says Toth, as it was Beedie's way of paying homage to the history of the site, which was once home to one of the largest sawmills in the world.
The presentation centre will very much be a British Columbian production, with Abbotsford-based StructureCraft building the cross-laminated-timber (CLT) walls, buying the beams from Castlegar-based Kalesnikoff, and much of the timber itself sourced from BC. StructureCraft, who also did something similar recently for Amazon at their HQ2 in Virginia, then fabricates the building on site. The building shell is now already in place and was erected in about six weeks, because they were able to begin construction — prefabrication, technically — off-site before they received the building permit that allowed them to begin work on-site.
Patkau says the firm wanted the timber building to have a "wavelength form," which was allowed by the length of the proposed building.
"Celebrating the wood, celebrating the texture and richness and warmth of the wood, was our first intuition, and so the building touches both the base of history as well as the future of the wood industry in British Columbia," says Patkau.
"It wasn't like 'Hey, how are we going to spend $10M,'" adds Toth, "It was more 'Hey, how are we going to do something great,' and unfortunately great things come with a price tag."
Toth says the mass timber will be fully showcased — none of it will be encapsulated by drywall — and the presentation centre is expected to open to the public in December 2023.
How Sales Centres Are Birthed
Beedie's presentation centre will be operated by their own sales team, but oftentimes developers choose external teams to run the marketing and sales, such as MLA Canada, BakerWest, or Magnum Projects, who can be deeply involved in the planning of the sales centres themselves.
"The first thing we do is strategize on where we want to have the sales centre," says MLA Canada EVP of Sales and Marketing Suzana Goncalves. "Not always, but oftentimes it's best for it to be off-site, as it provides as much flexibility to the developer as possible, because in BC we have to start construction essentially within a year's timeframe, which means in order to begin construction, you have to have enough sales under your belt to get your [construction] financing in order, so oftentimes it's nice to have a sales centre that's off-site so you can do the sales you need for financing, but then you can take your time with the rest of the inventory, rather than spending a bunch of money on a sales centre and then having to remove it a year later to start construction."
After a space is identified, Goncalves says they will often conduct a walkthrough with the developers to make sure the space works for their purposes.
"Depending on the size and scale of the project, it might change what we think we need in the space, so — in some cases — you can get away with something a little smaller, maybe just building out a kitchen or a bathroom, for example, while in other cases you may need two or three showhomes," she says.

Once the space is confirmed, they often then bring in an interior design team, sometimes along with an architect, to design the layout of the space. Sometimes, Goncalves says, there are obstacles, like building columns in places where you don't want them to be and it becomes a game of Tetris — trying to make the different pieces fit together well.
Once interior designers begin their work, the cost to build the presentation centre can be determined, and then construction can begin. Afterwards, MLA Canada outfits the interiors with the various features that make presentation centres what they are: the architectural models, the graphics on the wall, and the colour scheme boards.
The Two Types of Sales Centres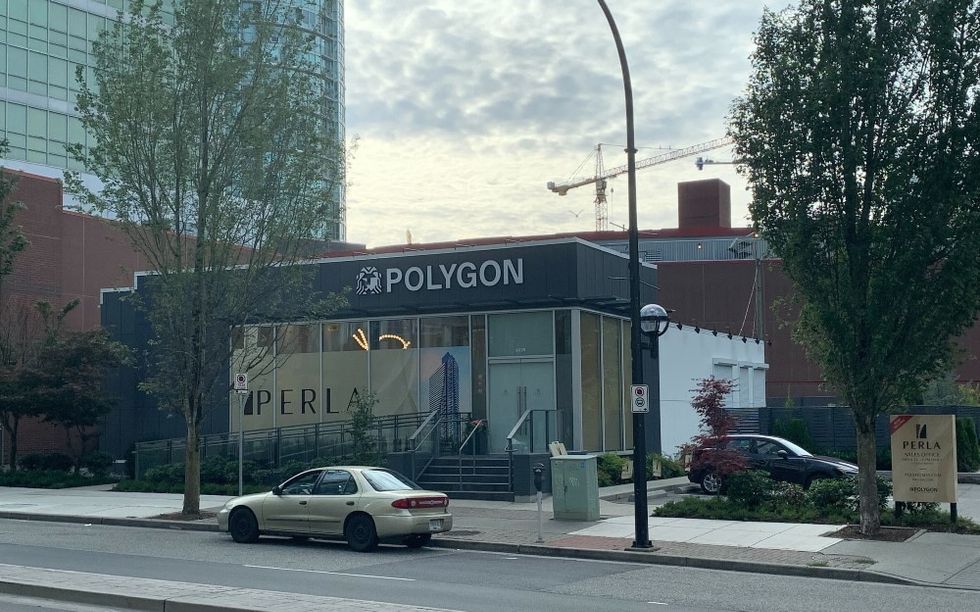 The sales centre on 6039 McKay Avenue for Polygon's Perla project.
(Howard Chai / Storeys)
Different firms use different terms, but — for the most part — they are all interchangeable. Presentation centre. Sales centre. Discovery centre. Information centre. Sales gallery. Home store.
While different firms have different preferences when it comes to the name, all parties interviewed for this article agree that there are generally two types of sales centres.
The first kind is the shorter-term standalone sales centre that developers typically only use for one project. They are usually more common in the suburbs where there is more land and space, and are the most common type of sales centre.
In Burnaby, MLA Canada has such a sales centre located near the intersection of the Kingsway and Royal Oak for Keltic Development's O2 Metrotown project, which is located a short drive away, behind the Metropolis at Metrotown mall. Near Metrotown mall and next to Crystal Mall also currently sits another standalone sales centre, for Perla, by Polygon Homes, which will be located a few blocks away near Central Park. On the other side of Crystal Mall, at the intersection of Kingsway and Willingdon Avenue, is yet another standalone sales centre, for the Central Park House project by Bosa Properties.
The second kind of sales centre is more long-term, and oftentimes larger. This option is often used by developers whose names are themselves a draw, and the space acts as a hub for many of their projects — related or unrelated. In other instances, they are used for bigger projects such as master-planned communities, where there will be multiple projects cycling through an extended period of time.
An example of the former can also be found in the Metrotown neighbourhood of Burnaby, where Concord Pacific occupies a large space adjoined to Metrotown mall — formerly held by Sears — that acts as the presentation centre for its Metrotown master plan community (currently under construction on what was formerly surface parking for the mall) as well as its upcoming Greenhouse and its master plan community in Brentwood. The sales centre for Beedie's Fraser Mills is then an example of the latter, with full build out of Fraser Mills expected to take place across 20 to 25 years, the first project of which, Debut, was announced last week.
Nearly all presale projects will use one of the two options, but there is a quite-rare third option that Goncalves calls the "boardroom program" route, which is when sales are run through a place such as the developer's office, and are typically for projects that are on a much smaller scale.
How Much Do Presentation Centres Cost?
Because of the differences between the types of presentation centres, the costs to build them can also vary.
"For example, you might go into a small retail space, maybe 2,000 or 3,000 sq. ft, and something like that might only cost you a few hundred thousand dollars to outfit it with a kitchen, a bathroom, to make it clean and fresh, and the other tools you need, such as reception and graphics," Goncalves says.
The cost of that kind of modest sales centre can start at around $300,000 to $400,000, and then go up depending on the size and scale of the project, and whether or not you can use it to sell multiple projects. A sales centre for a glamorous high-rise or a multi-phase project can get to around $700,000, to perhaps $1.3M, and potentially even $1.5M for the long-term projects, Goncalves says.
"When you have the opportunity to sell multiple projects in a single space, that can be a great advantage, because you can stretch your dollar a little further, economize it over a number of projects, and typically that means you can dress up that space a little bit more," she adds.
At 7,400 sq. ft, Beedie's presentation centre for Fraser Mills is quite large, but the $10M price tag makes even more sense when factoring in how long it will be used and how many projects will be sold through it.
Various parties interviewed for this article agreed that $10M is definitely a rarity, with Beedie's Robert Toth conservatively estimating the cost to be at least double the average cost for presentation centres. Regardless, the sales centre is almost always one of the biggest line items, if not the largest item, in a marketing budget. There are a few ways that can lead to cost savings, however.
Choosing to build the sales centre for a project on a site you own means you don't have have to lease retail space, which is often the case for those short-term standalone sales centres. Developers can also make use of their own space in other locations. Anthem Properties, for example, is using retail space within the Station Square project in Burnaby (that was developed with Beedie) as their "discovery centre" for the upcoming 66-storey Citizen, set for a location a short walk away.
Developers also often like to take over spaces that were previously used as a sales centre, because the location was likely chosen for good reason and there's already a good base to work with, along with the cost savings that come with that. For example, the aforementioned sales centre for Perla by Polygon Homes, on 6039 McKay Avenue (across the street from the aforementioned Anthem discovery centre), was previously the sales centre for Intracorp Homes' Telford On The Walk project.
For townhouse projects, it's also not uncommon for developers to use one of the first-built homes of the project as a showhome, from which they then sell the remaining townhouses, meaning they don't have to spring for a standalone sales centre.
How Sales Centres Have Evolved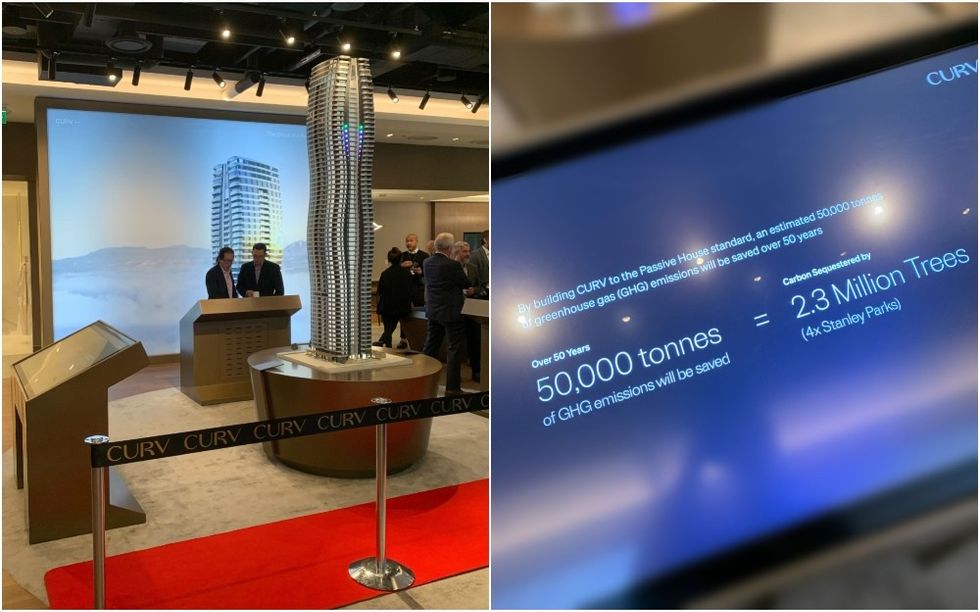 The presentation centre for Brivia Group's CURV in Vancouver.
(Howard Chai / Storeys)
Sales centre are often designed in a way to facilitate "sales pathing," Goncalves says.
"You come in, there's a greeting, an entry experience, and people tend to gravitate towards architectural models, then you talk about the neighbourhood and exterior factors first, then you move into the more granular details of the home from there," she says.
That kind of design and "flow of information" has largely stayed the same. What has changed is the role of technology.
"Ten years ago, you'd have floorplans hanging on the wall, and you'd have to get them redesigned and switched out as you sold through the building. Now, of course, we have touchscreens, and that allows us to showcase all of our floorplans, remove floorplans that have been sold out, and add things that we need to."
Entry areas often make use of iPads for registration. Walls are often filled with touchscreens showing building features or videos. The quality of renderings and animation has also greatly improved over the years. (All of the new technology also, of course, contributes to the costs.)
Nowadays, some developers are opting to forego physical architectural models of buildings and instead opting for digital replicas, allowing visitors to fly around the building, or go into a certain floorplan or suite type. Some, such as the presentation in Downtown Vancouver for Brivia Group's CURV, sales for which are run by BakerWest, use all of the above.
Toth, from Beedie, says that the Fraser Mills presentation centre will be using more touchscreen technology than any he has personally been involved in. It will also feature a model of the master plan, a model of the new Debut project, as well as two show suites for Debut.
What Happens After Sales End?
For Beedie, Toth says the site for the Fraser Mills presentation centre is one that has been scheduled for redevelopment in a latter phase of the master plan.
"As part of our development, we're building a 50,000-sq.-ft community centre [elsewhere in Fraser Mills] and within that community centre, we're creating at least 13,000 sq. ft of retail, and we have an agreement with the City of Coquitlam that we can move our presentation centre down to that retail space, to free up the current parcel if we wanted to redevelop it," Toth says.
Toth says that his team was originally hoping to use the presentation centre for at least 10 years, but that after it was designed, and now nearly complete, everyone is hoping to use it for at least 20 years, and it may stay until the very end.
He says there's nothing pushing the current site to be redeveloped, and many people have suggested various ways it can be repurposed once its services are no longer needed. Another benefit of the mass timber construction is that it can be disassembled almost as easily as it can be assembled, meaning the presentation centre can conceivably stick around in one form or another.
Nothing has been finalized at the moment, but ideas that have been thrown around include using it as a wine-tasting space, a gazebo, or a space for various Beedie events.
In other cases, where developers don't spend $10M on the project, once sales end, developers usually say goodbye to the sales centre. If the sales centre is off-site and leased, they end the lease, and the building may stick around until the next time a developer has a project in the area. If the sales centre is on-site, then the building typically gets demolished.
Mike Stewart, a longtime Vancouver-based realtor and Founder of Vancouver New Condos, has been to countless sales centres over the years, and he says those of Concord Pacific have always stuck out to him. Others include Onni Group building an entire suite for the then-upcoming Charleson project within their existing Mark project, as well as the presentation centre for Vancouver House by Westbank, who repurposed a public storage space.

Stewart says land costs and the lack of space in Vancouver have forced developers to get a bit more creative with their sales centres, pointing to a recent project called Woodland Block on Nanaimo Street that's using a single-detached home nearby as a sales centre. Grosvenor also recently submitted a development application to do something similar, redeveloping a single-detached home on W 38th Avenue in Vancouver into a presentation centre for their upcoming Oakridge Transit Centre redevelopment.
Stewart says sales are definitely easier for realtors like him when they take clients down to a nice presentation centre, and Goncalves says no two are alike.
"They all take on their own life and shape," she says. "No two sales centres are exactly the same, but at the heart of it, it's really about how we can help someone who comes in and provide them with enough information and comfort and peace of mind to be able to make a buying decision on a home that doesn't actually exist yet. And that's a privilege."
Real Estate News