---
One of Vancouver's longest-serving developers, Grosvenor, has joined in on the mega transit hub that is underway at Oakridge, a neighbourhood with direct rapid transit access to downtown to the north and the airport to the south.

Grosvenor just formally partnered with investors on the former TransLink site on West 41st Avenue near Oak St. that was, for several decades, a surface lot storage facility for trolley buses. Under the ownership of Modern Green Canada (now called MOMC), who'd purchased the site from Translink in 2016, the 14-acre Oakridge Transit Centre (OTC) had already gone through a rezoning for a master-planned community of about 1,600 residences that will surround a two-acre public park and childcare centre.
READ: Vancouver's Translink Launching For-Profit Real Estate Development Program
Architect James Cheng has designed the housing, retail and green space project, which will be built in four phases and likely start construction in 2025. There will be 1.5M sq ft. of space across 17 buildings that range from four to 26 storeys across the site, with the highest densities along 41st Avenue.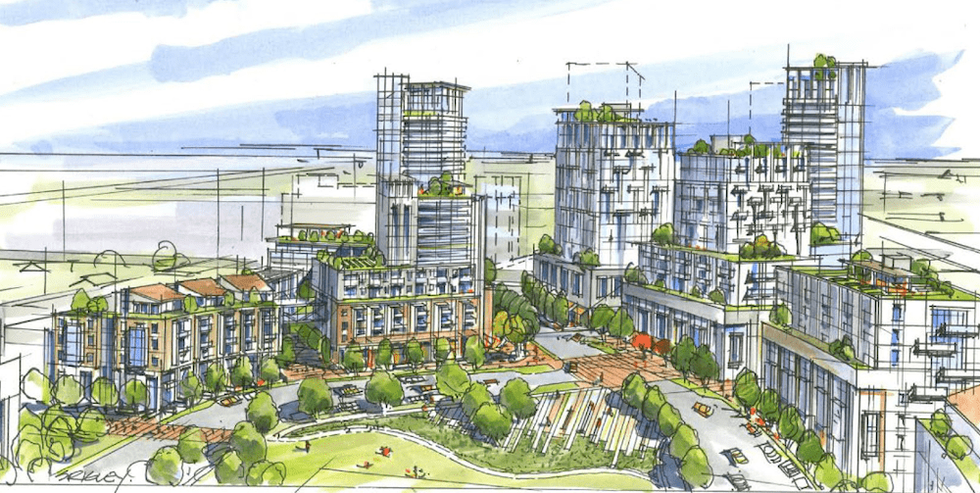 Grosvenor


For the last few years, the Oakridge area's skyline has been dotted with cranes as it emerges as one of the city's densest neighbourhoods. Across from the OTC is the sprawling former shopping mall at 41st and Cambie, which is becoming Oakridge Park, a 5M sq ft. master planned community that is more like a town centre. Westbank and QuadReal Property Group partnered in 2017 to redevelop the 28.5-acre former Oakridge Centre mall.

Grosvenor Group is an international development company from Britain that goes back 340 years, owned today by young billionaire Hugh Grosvenor, the Duke of Westminster. Grosvenor first arrived in the Vancouver region in the 1950s, when they developed the industrial site on Annacis Island. Today, the company has multi-family residential projects, both rental and strata, throughout Metro Vancouver.

"For us, it's obviously a pretty exciting area, playing off what is happening all around us, but particularly at Oakridge Park, with Westbank and QuadReal, and all the new retail and amenities they are going to bring, and of course the transit that already exists at that node," said Michael Ward, senior vice president and general manager for Grosvenor's Vancouver office. 

"We closed on the acquisition and our ownership began last week," he said. "It's a little bit different for us to get involved in a project at this stage, where elements have been approved already, but we have a long relationship and a lot of trust in James Cheng. The work he did for the plan for this site is excellent, and we are happy to step into it and move forward. He will stay involved, and we will probably have other architects involved on detailed design as well."

Grosvenor brought on another local investment partner as well, Transca Real Estate Development. The developer will construct and market the development and MOMC will remain as a capital partner. There will be more than 300 units of social housing and about 200 secured market rental units, of which a portion will be for moderate incomes, said Ward. The city defines moderate incomes at around $30,000 to $80,000 a year. The remaining 1,120 units will be sold as strata.

The social housing, childcare facility and park were part of a community amenities contribution (CACs) package that was offered to the city as part of the rezoning process. Ward said he prefers in-kind contributions to cash contributions, such as the three stand-alone buildings that, once subdivided, will be transferred to the city as publicly owned social housing projects. The developer, which has its own net zero carbon reduction strategy, also contributed cash toward safety improvements for pedestrians and cyclists in the area.

"Even though we were not part of the rezoning on this site, it is how we like to do it," said Ward. "That way, rather than just providing cash to the city that becomes somewhat nondescript in what it gets used for, there are identifiable things being delivered to the city that meet our goals, whether it's space for non-profit groups, affordable housing, parks, or childcare facilities. The things that are needed are delivered directly."
"It's ironic, because it's certainly more work on our part and the City's, to provide an in-kind contribution. It's a lot easier to pen a cheque. But it's generally sort of better for the neighbourhood and the City to try to understand what their objectives are and directly meet them instead of just doing step one, by providing the money.

Grosvenor is just getting started with the OTC site, but its original sale was the subject of controversy. The province sold the OTC site a few years after a land liquidation program that started in 2013, selling off dozens of publicly owned "surplus" sites to balance its budget. At the time, the Liberal government was heavily criticized for selling off public land that many felt should have been held in perpetuity as an asset to be leased. It sold off other major publicly owned properties, including the Little Mountain social housing community, which was home to about 700 low-income people, in 2007, for $300M.

Transit agency TransLink sold the 14-acre OTC to Intergulf Development Group and Modern Green Development Corp. for $440M (Modern Green later bought Intergulf's share). At the time, it was considered one of the biggest transactions in the province's history.
Future Developments