Toronto
Industry Profiles
Meet the Toronto Real Estate Tech Leader Big Developers Love
Long before COVID-19 switched up "business as usual" on the real estate front, Toronto-based ADHOC STUDIO had already created a multi-faceted digital sales centre.
Since the onset of the pandemic, business has shot through the virtual roof for Blackline, its web-based sales management software.
"Anybody that didn't see the benefit of the platform when we first started pitching it definitely took notice of Blackline once the pandemic hit," says Tim Ng, Principal of ADHOC STUDIO.
Creating a growing buzz among developers throughout North America, Blackline – first launched in 2019 – allows for the sale of real estate anywhere, any time.
The app consolidates all the essentials – floor plans, unit lists, and photography – in one location. Features include sales presentation management, suite reservation, real-time updates, neighbourhood exploration, analytics, floor plan comparison, customized branding, and more.
Empowering developers with ease, this allows for simple, remote education of anyone from brokers to end-users. This means that coffee shops, dining room tables, and even park benches can substitute typical sales centres, whether for connecting with local sales agents or overseas investors.
Blackline's creation was the product of a natural evolution for the forward-thinking ADHOC team.
Ng fused his love of technology and real estate with the creation of the digital real estate agency almost 13 years ago. In the early days, much of their business involved creating and building out interactive sales centre touchscreen applications. Pioneers in the industry, ADHOC standardized the screens as innovative mainstay features in sales centres.
"About four years ago we decided to pivot when we realized that real estate wasn't just being bought and sold in the sales office. A lot of the presentation and sales aspect was actually happening outside of that space," says Ng.
"We decided to build something that was completely web-based and cloud-based, so whether you were inside a realtors' boardroom or a Starbucks, you could easily get the job done."
The ADHOC team set out to disrupt the pre-construction industry with an end-to-end sales and marketing platform with the creation of Blackline. "Now, it's pretty much been widely adopted by all the big developers and sales and marketing teams," says Ng of the app's success.
Blackline has been a welcome addition to over 60% of the largest projects in the Greater Toronto Area (GTA), and has a growing presence across Canada. "We average about 2000 units every two months on our platform now," says Ng.
In short, Blackline is rapidly catching on, becoming an empowering game-changer for developers.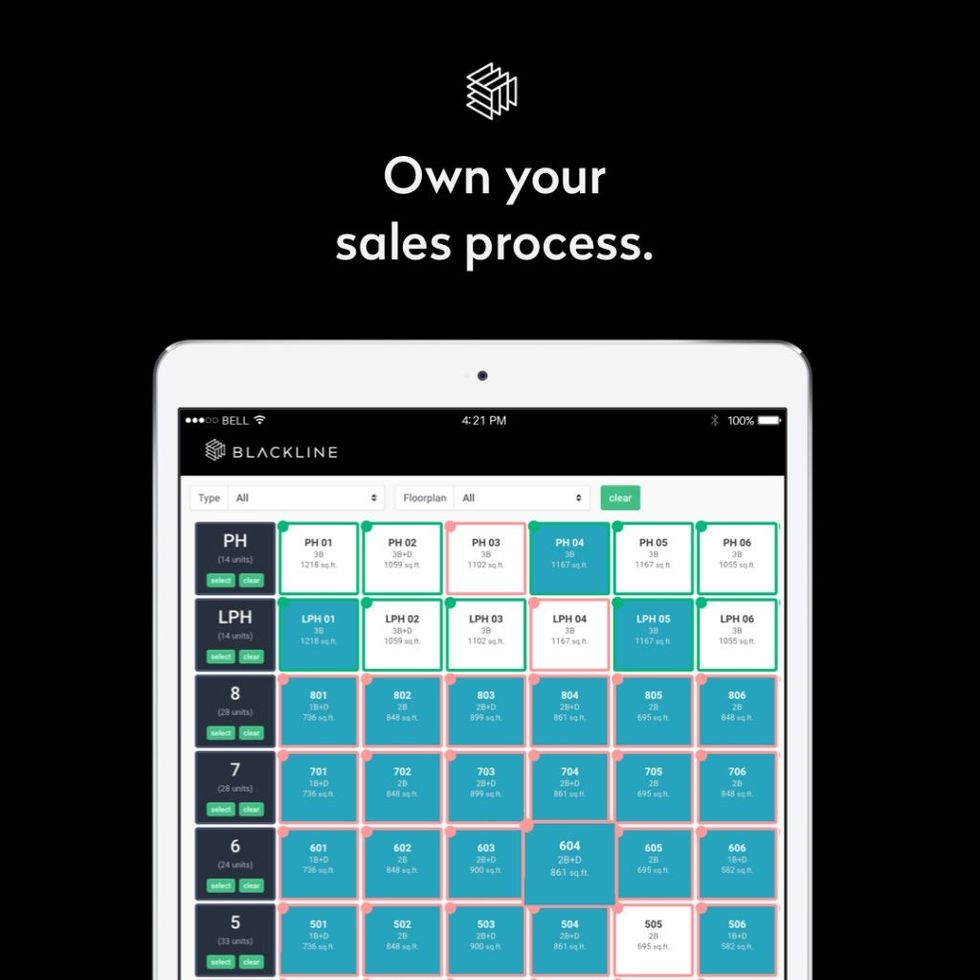 "Typical sales centre hours are noon to about 7pm, and that can be limiting," says Ng. "This offers a powerful sales tool to send a link to any of the realtors or brokers working on the project, and they can simply log on to that link to get all the information they need on the project, no PDFs or brochures required."
The brokers, in turn, can simply send the link out to clients and investors to digest the information themselves. "This allows them to make more informed and educated decisions, which positively affects the rescission rates," says Ng. "You don't know what you're getting until it's built, so we try to make everything within the link as tangible as possible."
That doesn't mean we've seen the end of physical sales centres, however.
"I think the virtual sales centre complements the bricks-and-mortar sales centres in the same way that online shopping impacts traditional retail," says Ng. "They are keeping their physical stores, but maybe downsizing and adapting."
But an initial touch point moving forward, says Ng, will be online. "When buyers visit the sales centre, it means they're serious," he says. "So, we'll see fewer tire-kickers; they've already made their decision when they walk through the door."
Not that they have to step into a sales office at all; even signing on the dotted line can be done digitally with Blackline. The future most certainly is here and now.
This article was produced in partnership with STOREYS Custom Studio.