---
Following a near 15-year journey, Burnaby-based developer Beedie is finally unveiling its biggest project to date: Fraser Mills, a 96-acre waterfront mixed-use community along the Fraser River in Coquitlam.
"We have some big industrial projects, but I would say, holistically, it's definitely the biggest project Beedie has embarked on," said Beedie Vice President of Residential Development Curtis Neeser in an interview with STOREYS.
The Fraser Mills community will be located between United Boulevard and the Fraser River, with King Edward Street running through a portion of the site, which is made up of the properties at 2, 10, 12, and 14 King Edward Street, as well as 1200 and 1316 United Boulevard, most of which is vacant.
After about 14 years, the final push began in April 2022, when Beedie President Ryan Beedie appeared before the City to present the master plan ahead of the project's first reading. Beedie was then granted final approval for the Fraser Mills project in September.
According to a City of Coquitlam report, the Fraser Mills master plan community will include 16 towers between 29 and 49 storeys and a range of low-rise and mid-rise residential buildings for a total over 5,500 housing units, over 460 of which will be market and non-market rental units.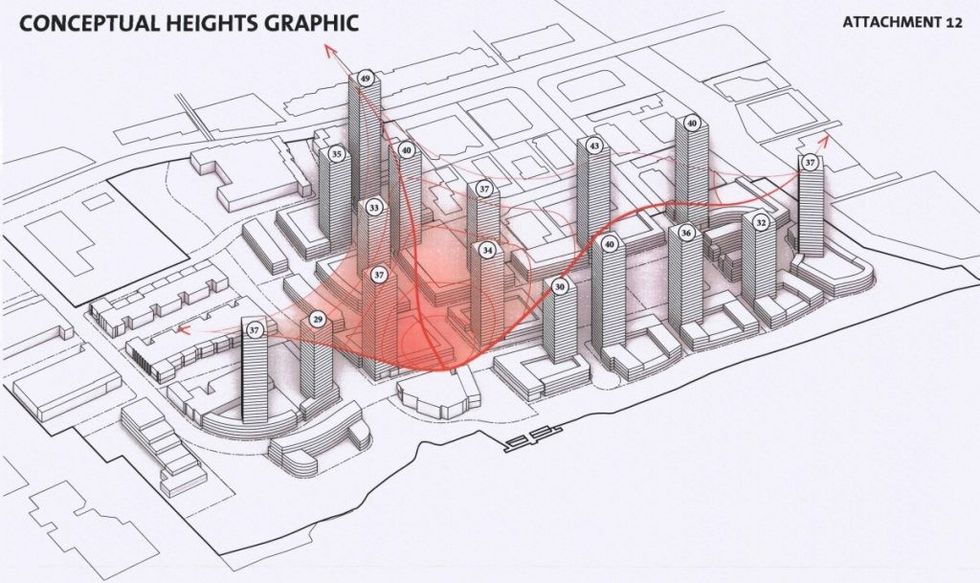 Residential building heights for Fraser Mills. (Beedie)
Additionally, Fraser Mills will also include a series of light industrial buildings, office space, retail space, a 50,000-sq. ft community centre, over 16 acres of park space, and a childcare facility.
There is also the potential for a new school, as the local school district has indicated that the project may generate demand for one, according to the City. If the school is not needed, the intended lots (20A and 20B) would be used for residential development.
Three of the industrial buildings on the western edge of the site have already been completed, a portion of which was separately developed previously, before being included in the Fraser Mills master plan.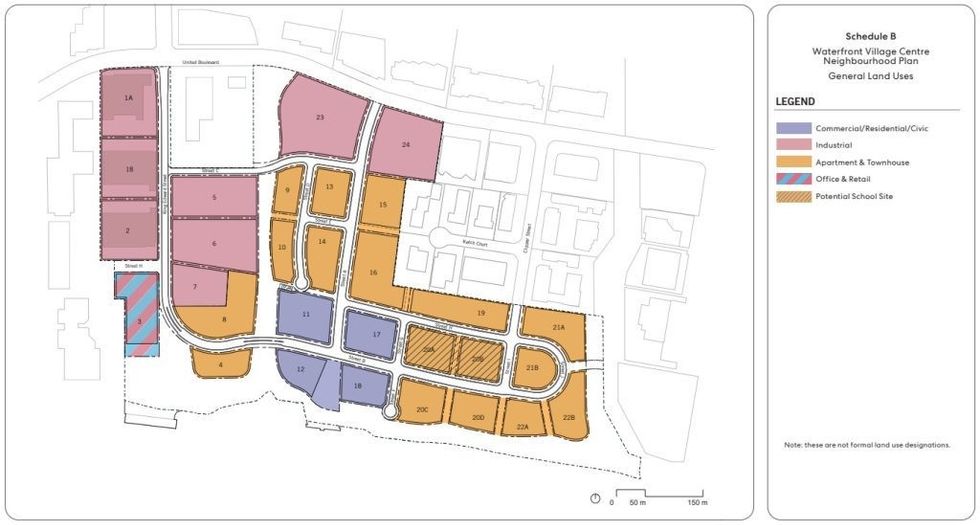 Overview of the site and land use, under the City's Waterfront Village Centre Neighbourhood Plan. (City of Coquitlam)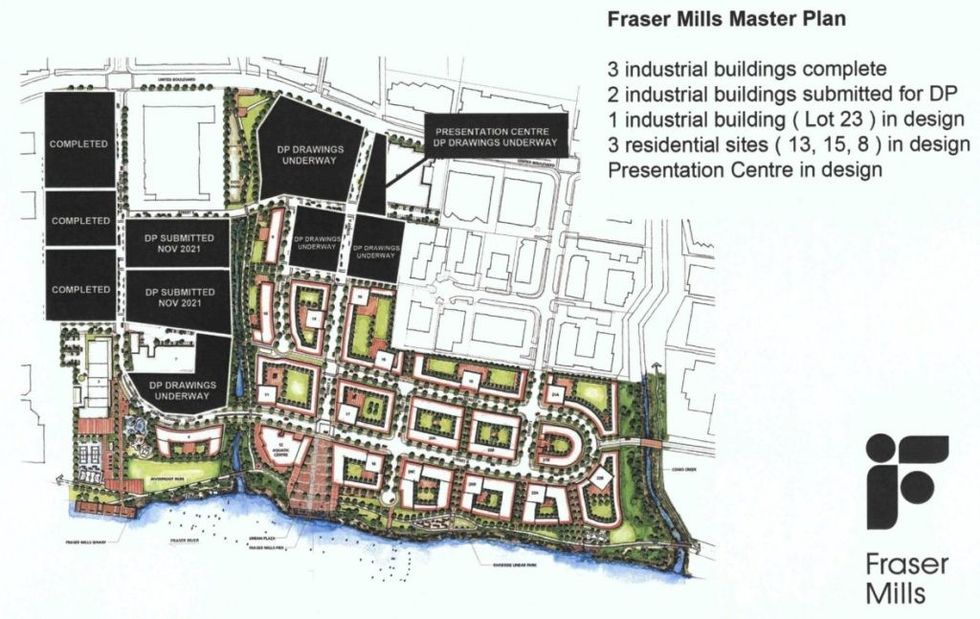 Progression on Fraser Mills as of April 2022. (Beedie)
"The site was initially bought as an industrial site," Neeser says. "The roots of the company come from residential and [President Ryan Beedie and Founder Keith Beedie, Ryan's father] saw an opportunity for residential."
Before it amalgamated with the City of Coquitlam, Fraser Mills was its own incorporated municipality, and had a strong industrial presence, similar to the River District in Vancouver that's further west along the Fraser River and currently being transformed by Wesgroup.
The project will also see the wharf at the end of King Edward Street restored and the construction of a new pier and dog park.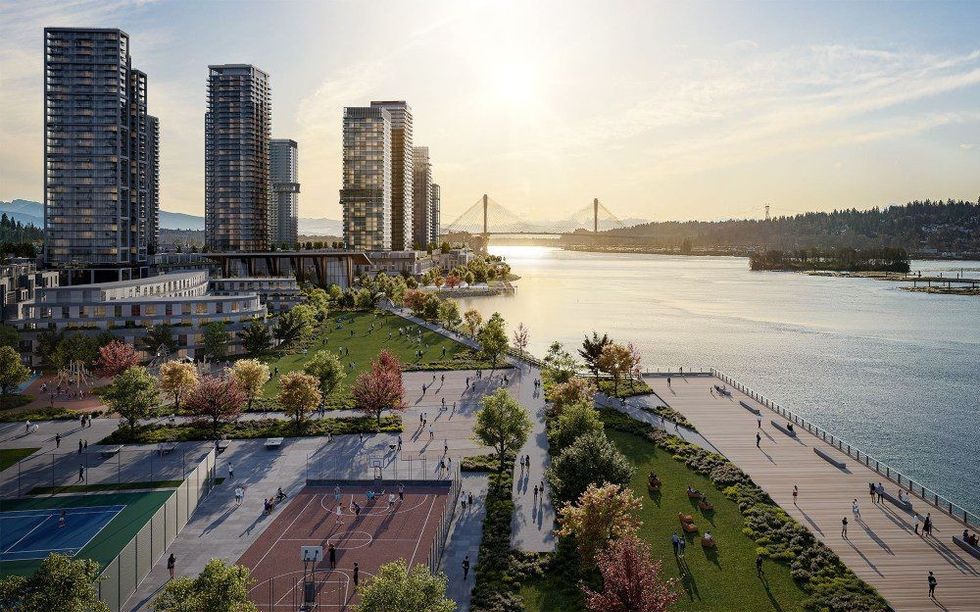 A rendering of Fraser Mills in Coquitlam, along the Fraser River. (Beedie)
The Fraser Mills project is expected to unfold in five major phases, as follows:
Phase lA: two industrial buildings;
Phase IB: approximately 2,000 residential units (including 235 market rental and 235 non-market rental units), retail space (including a grocery store), a child care space for 69 children, the riverfront park, the refurbished wharf, the Historic Como Creek Greenway, and two industrial buildings;
Phase 2: the community centre and adjacent urban plaza and pier, retail space, and a road connection to Brigantine Drive to the east;
Phase 3: approximately 1,200 residential units, retail space, office space, the riverside park and trail, and an industrial building;
Phase 4: approximately 1,000 residential units; and
Phase 5: approximately 1,300 residential units and (potentially) a school.
Neeser tells STOREYS that the estimated timeline for the project to reach full build-out is about 20 to 25 years, and that the first sales launch will likely be announced later this year.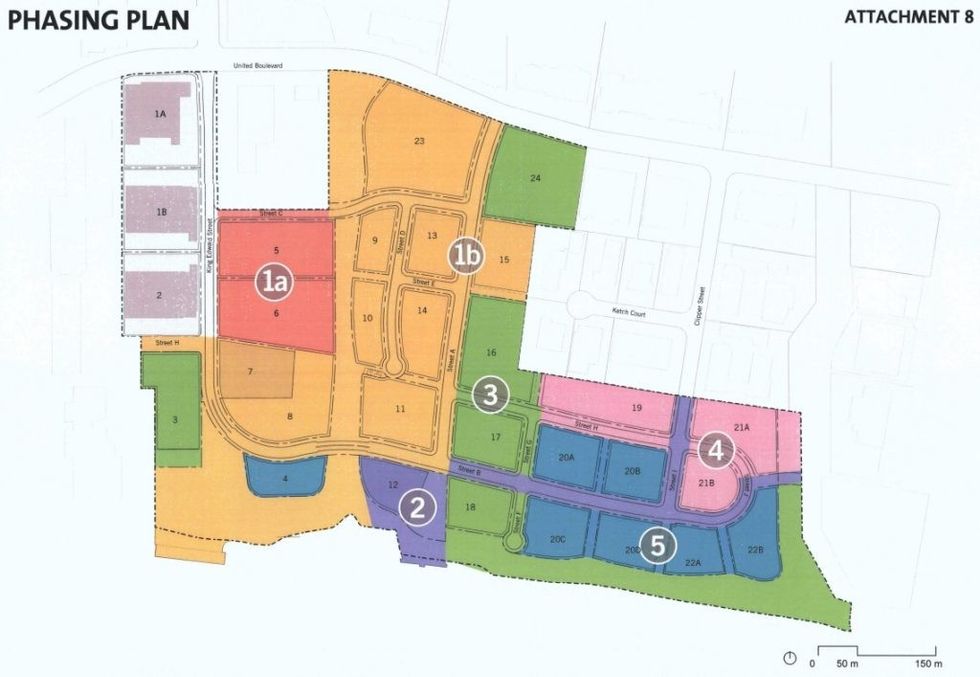 The phasing plan for Fraser Mills. (City of Coquitlam / Beedie)
In terms of infrastructure, the project will include additional vehicle lanes at the intersection at King Edward Street and United Boulevard, a new street through the site, a vehicle bridge connecting Brigantine Drive across Como Creek, and a series of bike lanes, sidewalks, and walkways for cyclists and pedestrians.
Architectural and planning firms working with Beedie on the Fraser Mills project includes Perkins & Will, Perry + Associates, and Bunt & Associates.
For the City of Coquitlam, the Fraser Mills project will generate an estimated $125M via development cost charges, $61M towards the construction of a community centre, and $6.14M towards the City's Affordable Housing Reserve Fund.
READ: Rize Alliance Proposing 4-Building Community in Coquitlam's Oakdale
"When you have a project this size, you really want to get it right, and that can mean from the transportation network to the composition of housing to the park orientation to a community centre, so there was a lot of conversations throughout the years with Coquitlam, always with the interest of improving the master plan," Neeser says.
"There's been some stops and starts to the project, but with last year's approvals, we're there now, and we're certainly excited to move it forward. I think where we've ended up, we're really pleased with, and I think the City of Coquitlam would say the same."
Future Developments