The Residential Construction Council of Ontario (RESCON) will host an online housing summit next month exploring ways to tackle the province's ongoing housing crisis.
Dubbed "Driving Solutions to the Crisis," the free event will take place on October 12, from 12:30 pm to 5:30 pm.
---
This is RESCON's third virtual housing summit and will feature presentations from a variety of experts, including elected officials, economists, and researchers, all discussing what needs to be done to make meaningful steps in increasing the supply of housing and purpose-built rentals.
"The housing supply and affordability crisis is very real and, at a time when we should be increasing the number of starts, they are trending in the wrong direction and the situation is getting worse," said RESCON President Richard Lyall. "To fix the problem and boost the number of new housing units being built, we must find ways to move residential development approvals through the system faster, get shovels in the ground sooner, and speed up the building process."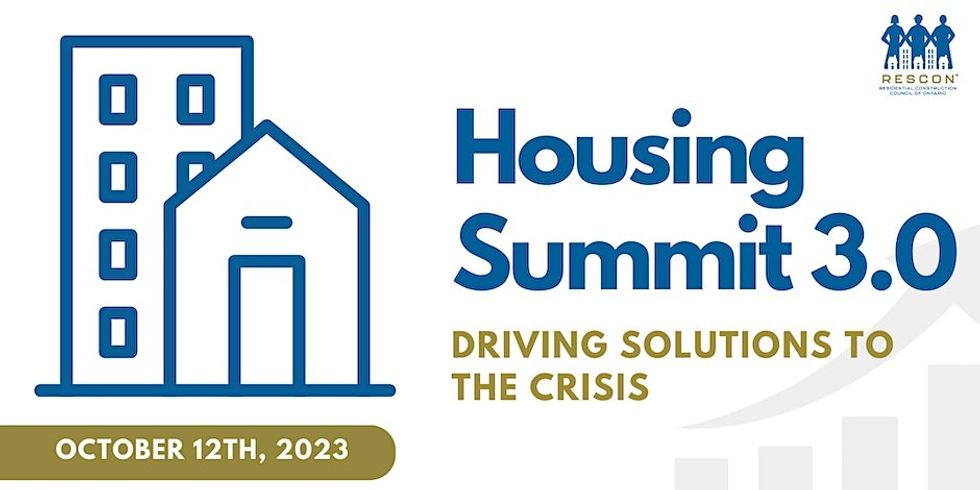 A number of recognizable faces will be making an appearance, including Toronto Mayor Olivia Chow, Guelph Mayor Cam Guthrie, Altus Group Head of Ontario Pre-Construction and Contract Administration Services Marlon Bray, and TMU's School of Urban and Regional Planning Professor David Amborski.
Canadian Centre For Economic Analysis President Paul Smetanin, AECO Innovation Lab CEO Arash Shahi, and the Smart Property Institute Senior Director of Policy and Innovation Mike Moffat will also speak at the event. Presentation topics are expected to range from digitizing approvals to tax changes that can unlock purpose-built rentals, to the latest construction innovations.
The summit comes as housing starts are dropping, with CMHC recently reporting a 10% month-over-month decline in July. In Toronto specifically, the annual pace of starts dropped 29%.
"We need to dramatically up the ante," Lyall said. "The development approvals system is too slow, there are exorbitant taxes, fees and levies on new housing and government and the industry must come up with solutions quickly to avoid a catastrophe. We're in a full-blown housing crisis on a scale that's never been seen since the Baby Boom years. How quickly we respond and what actions we take are critical."
Registration for the event is available online here.
Real Estate News