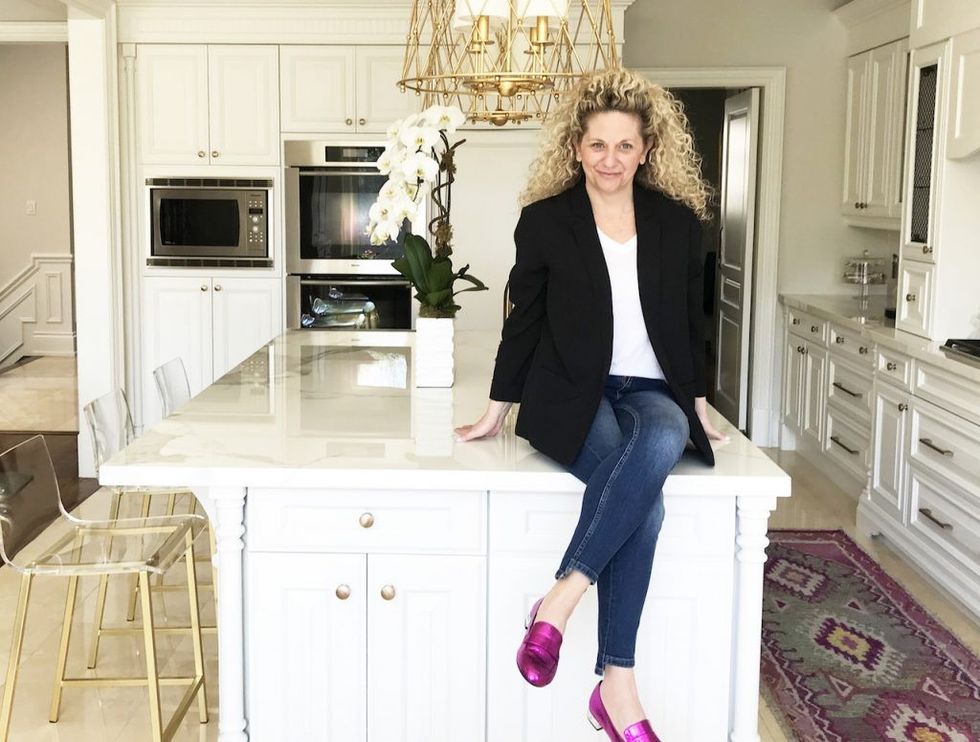 Barbie Brandes can help you find your dream house.
Barbie Brandes is committed to helping you find your very own dream house.
---
The proud agent at Slavens & Associates Real Estate Inc. has risen above Toronto's standard realtor stock, but her beginnings are anything but standard.
A former nursery school teacher, she not only treats her clients like family, but she treats their children like family too.
What's more, Brandes offers the added value of her unique design sense.
Her "Barbie Makeover" can result in a more profitable sale of your home. And beyond home-staging, she can also help design your newly purchased home.
So, unlike Barbie's iconic doll namesake, all accessories are included — so to speak.
Brandes took a (quick) break from her busy and fruitful second career to tell us how she goes the extra mile for her clients and their kids, why it's important to think pink, and how her design expertise went from a magazine feature to helping a couple feature their personal stamp on a new home. 
How did you get started in the real estate industry?
It's actually my second career. May 2018 is my 11-year anniversary. Before that, I was a primary school teacher for 10 years. It had run its course and I had put in my notice that I wasn't going to return, but I had absolutely no idea what I was going to do. I just knew that I needed a change.
Soon after, one of my childhood best friends, who had just gotten his real estate licence, was chatting with me. And he thought I'd be great at real estate. He said the words, "You'll come be with me."
That was Daniel Pustil, who has since become one of the owners of Slavens & Associates. I've been here with him ever since.
Teaching nursery school actually gave me some great insight because I feel like I was taking care of people's first most prized possession — their children. Then I segued into their second-most prized possession, which is their home.
That's how I became a real estate agent and I love it.
What do you love about what you do?
Two things.
I would say it's almost like being a matchmaker. The way I treat my clients. It's not about the sale; it's about finding the perfect home. I sort of get to know people whether they're a couple or a single person. I get to know their personality — their wants and their needs — and then I feel like it's my mission to match them with the perfect home.
This is not just location, but the feeling of a home, a neighbourhood — whether they want to raise kids there or be a hip, single, downtown person. I really take it as a matchmaking process.
Also, I'm like a closet interior designer at heart.
I love seeing how homes are decorated and what the trends are. I offer my clients extra services with staging and decorating - whether it's getting their house ready for sale as a seller or a buyer. When we're in the home I sort of lend my eye and suggest where they can put furniture, pick paint colours, and make tweaks here and there on any budget to make a house a home. 
Brandes helped her clients redecorate this once-dated kitchen, right down the light fixture. Then the clients stayed another two years. Once listed, the property sold in less than 24 hours.
How did your interior design expertise grow?
I've always had an eye for it. It's an interest of mine and something I think I'm actually good at — mixing patterns, colours, and light.
About 11 years ago, my own apartment was photographed for a magazine because I'd decorated it in my style on a budget. A friend of mine told an editor at this magazine that I had done this and it was very me and very of one style. This is what my forte is, doing it on a budget, so my clients tend to be real people.
For example, I had a client who was looking at a house and they liked everything about it except the kitchen. When we actually drilled down on what they didn't like about it, it came down to the colour of the cabinets. It was this dated '80s yellow.
People think that kitchen renovations are hundreds of thousands of dollars — and they absolutely can be. But I have a referral who can spray kitchen cabinets for a fraction of what it would cost to put in new cabinets or even reface new cabinets.
When I hooked them up with this referral and they found out how inexpensive it was, they knew they could buy their house, spray their kitchen cabinets, be able to live within their means and have a kitchen they love for a fraction of the price.
You're known for fostering a personal relationship with your clients. What does that relationship look like?
It's almost to a fault that I end up caring about my clients. The only thing I would maybe change is trying to separate the personal from the professional. But it's just not in my personality.
I almost feel like my clients are my family. It's like I'm buying a home for my brother or my cousin. We end up socializing, having dinners … and if they have children I develop a relationship with their kids.
There was one client whose son just took to me and he was a huge baseball fan. A couple years after they moved into their house I ended up going back there as a decorator and decorated their little boy's room in a sophisticated baseball theme.
It's just about developing a friendship and trying to do business at the same time as really caring about people and wanting them to end up in the perfect spot for them.
What has changed about the Toronto market over your 11-year career?
I find it a little bit tough.
People are being priced out of the market: regular, hard-working people with good income and good savings who are doing it on their own and want to upgrade or buy for the first time.
The prices have become so elevated, mostly due to the lack of product available, that it's really tough to find affordable housing in an area that's close to downtown or the subway line. And you're not way out in the suburbs or in a small town like Hamilton.
I found when I first started, people with nice income and good savings had enough for a down payment and it was cheaper to pay a mortgage than pay rent sometimes, as long as they had the down payment. But that has changed.
The lack of product is a big thing too because people can't afford to move anymore. So instead of upgrading to a second house, they are renovating or adding on because with land transfer tax, realtor fees and prices, it has just become very expensive to move.
How has new technology and social media affected the way you do business?
Greatly. Given my age, it's not something I grew up with or something I'm naturally comfortable with, but I have been making more of an effort to have a presence on Instagram and Facebook.
I have a signature colour — it's pink.
My open house signs are pink and my business cards are pink. It's part of my personality. It's who I am.
So right now, I'm doing a pink campaign on Instagram and it's everything from rooms I love to houses that have been decorated in pink … Or when the Leafs were going to Game 7, I put, "Game seven baby!" in my signature pink.
It just reminds people what I do and helps brand me. So as people are driving through the neighbourhood and they see a pink open house sign they know, "Barbie is at that house. We should go in."
Does the fact that your name is Barbie give you an edge in your marketing?
One hundred per cent.
When I was a nursery school teacher, I had kids who couldn't believe that was my name and they would tell other people, "My teacher's the real Barbie."
It definitely lends itself to my favourite colour, but it's just a coincidence.
My real name is Barbra spelled like Barbra Streisand, but I can't remember a time when my parents called me Barbra. My mom even called me Barbie when she was mad. I recently asked my parents where Barbie came from and they had no idea.
I've been called Barbie for as long as I can remember. And it definitely lends itself to the colour pink and being remembered.
Plus, I have huge blonde curly hair.
Industry Profiles