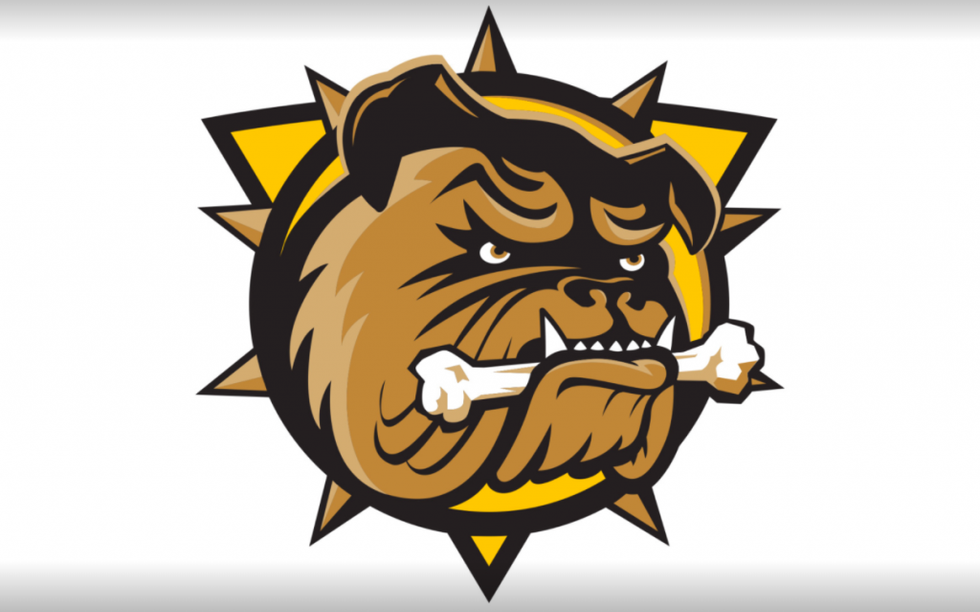 (Image courtesy of Hamilton Bulldogs)
---
Hamilton may be known as Steeltown, but it certainly has a heart of gold.
The city, which hasn't had many exciting sports stories of late, is now a big sports story with its Bulldogs. Interestingly, this has also led to a big story of kindness in the community as well.
The Hamilton Bulldogs now lead their OHL final series against the Sault St. Marie Greyhounds two games to one. This after they beat the Greyhounds 6-5 before a crowd of more than 7300 people.
Imagine, it was the first OHL championship game in Hamilton since 1978.
Now game four of the series is at Hamilton's FirstOntario Centre at 7 p.m. Very exciting for the city's sports scene, right?
Well, it gets even more exciting — and heartwarming — for the community.
It all started when a Hamilton-based family business had a small idea.
While Effort Trust is in the apartment business, developing and managing properties, its work would primarily make the news for housing affordability. But now it's affording something wonderful to the people it houses.
So the big sports fans at Effort Trust decided to purchase a small block of tickets to get some of its residents — kids and families — to the Bulldogs game tonight.
Typically, people who live in their rentals do so because they cannot afford a home. So to these residents, even Hamilton Bulldogs tickets may not be accessible.
"Many of our customers are sports fans too, but may be of modest means and not have been able to purchase their own tickets for a night out at the arena," says David Horwood, vice-president of Effort Trust.
"So, our office staff and building staff have been working hard to get these tickets into our residents' hands."
The response to Effort Trust's act of kindness was overwhelming.
They had to purchase more tickets. Two hundred more, in fact. Then they had to buy an additional 200. The company is doing this with the support and collaboration of the Bulldogs Foundation.
The Foundation is the charity arm of the hockey club. It aims to enrich the lives of children and youth in the Greater Hamilton Area through tickets, donations, and gifts in kind. By doing so, it can also promote the creation of interactive programs involving education, physical fitness and personal well-being.
You've heard the expression it takes a village to raise a child. Well, in the end, it looks like it takes a sports team, a real estate business and a charitable foundation to raise the spirit of community.
"What started as a small idea in the 15 to 20 ticket range has absolutely EXPLODED and we couldn't be happier," Horwood says.
Toronto