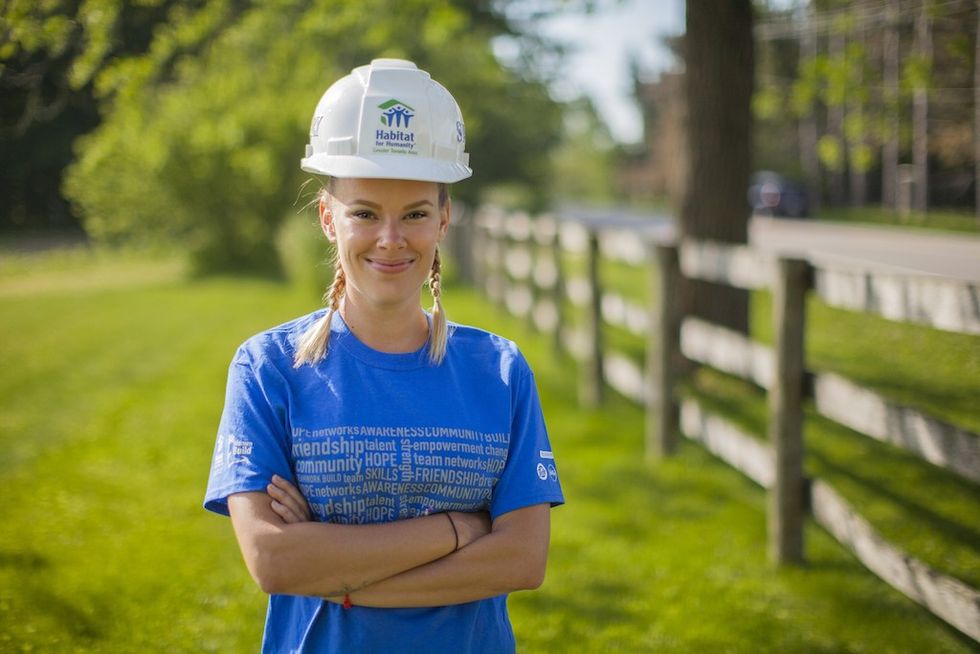 (All photos courtesy of The Holmes Group)
You may know her father Mike Holmes as the Make It Right advocate — and one of the icons of home renovation shows. But just because his daughter Sherry seems to be following in his work-boot-steps, don't assume she's the next Mike Holmes.
---
"My brother (Mike Jr.) is the second Mike Holmes. So, I'm the first Sherry Holmes," she says — with just the right amount of sass.
The skilled tiler and framer is the first in a lot of things actually — and she's leading the way to help others mark their important firsts.
From bringing together women to give back to the community and helping low-income families build safe affordable places, as the Habitat for Humanity Greater Toronto Area Women Build Ambassador, to getting young people involved in skilled trades, Sherry is charging through barriers.
And though she's making these strides for women, skilled workers and the community, this path she's forging is far removed from the one she would have expected growing up.
"It's really funny. I had absolutely zero interest in working construction.
"My parents split when I was really young. So, when we went to visit my dad, every other weekend, he would do building projects with us. He built me my first Barbie house. We built a treehouse. So, when I thought of working in skilled trades, it was something I would do passionately or just on a weekend. Not as a career."
But then construction stormed into Sherry's life in the most unexpected way.
"When I was 20, my dad asked me to join his construction crew — and be on camera. I thought, 'Nope! I don't want to do that.' I was just super indecisive and bored with my life."
So, what changed her mind?
Well, it wasn't the lure of constructing homes that changed her mind. It was the opportunity to help reconstruct lives in the aftermath of Hurricane Katrina, as part of the team for "Holmes In New Orleans."
While she may not have loved construction, Sherry has always loved travel and helping people.
Once she discovered the bigger purpose behind her father's request, she couldn't say no. And headed off to New Orleans.
But the Big Easy wasn't so easy. In fact, Sherry says it was terrifying.
"It was all quick. It was crazy hot. I had no idea what I was doing. I was the only girl on site. I was going to learn from people. And that was that."
And when she says learn, she means back to the basics.
More than learning the basics of construction, she learned valuable life lessons, like letting go of ego.
"I don't think I've ever been so nervous in my life. Everyone would say, 'What's she doing here? She's just a young girl.' And you have to be able to admit, 'No I don't know that. You show me.'
"I had to learn to read a measuring tape on site in front of everybody."
Sherry says her goal for that job was to earn the respect of every man on that site. And she did.
The team built the biggest house in the 9th Ward. Plus, the job was finished before deadline.
"And by the time we left, all the other contractors tried to poach me from Mike's company."
(Yes, she calls him either Mike — or dad.)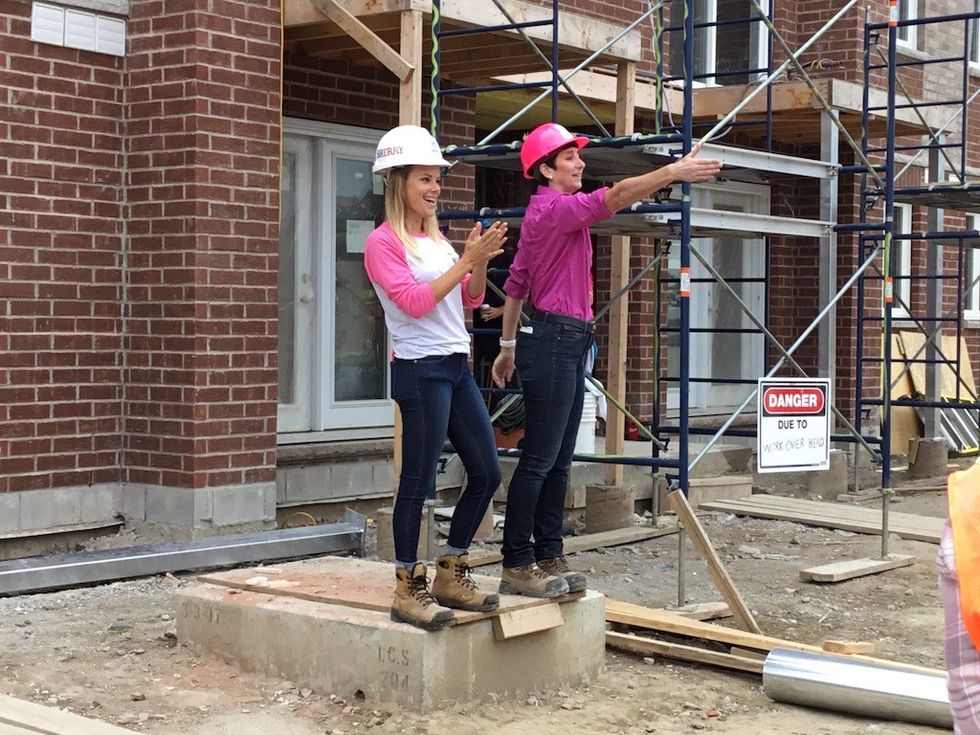 That trip to New Orleans was 10 years ago, and Sherry's still in construction. Literally and figuratively. Because she is still learning constructive life lessons and teaching them.
Through getting youth involved in trades, as well as her Women Build Ambassador efforts with Habitat For Humanity GTA, Sherry meets a lot of people discussing women in trade. She also speaks to audiences — that are filled with both women and men.
"I'm terrified of public speaking. I'm still super nervous. Super shy. But all of this has taught me not to be as afraid. And to see all these people come out and ask questions regardless of age or gender. It's just so cool to see people who actually care. And to see the impact I'm making.
"Because I honestly thought, 'Who wants to listen to me?' And now that I'm the Ambassador for Women Build, it's so exciting. I love to hear people's stories. I love to have conversations with them."
And she loves to work side-by-side with them too.
Because that's how it's done with Habitat For Humanity GTA .
Anyone can apply to be part of the build and be a homeowner with Habitat. But your down payment for a home is 500 labour hours — a down payment Sherry helps other women make. And these other women help inspire her.
"You're building your own house with others around you. And 30 per cent of Habitat homeowners are single mothers. It's so amazing to be able to say, 'Hey, I need some help.' And a lot of women there are not afraid to ask for it. And they're not afraid to work for it.
"If you're going to work for a house. You deserve it."
And Sherry herself keeps working for things and keeps helping others to do the same.
"Skills Canada and Skills Ontario are trying to get the next generation into trades. They have given me such a wonderful opportunity and I've gotten to try a lot of trades. Hairdressing. Makeup. I tried pottery. Baking. I'm a terrible baker but I've tried.
"I always wanted to figure out how to weld so I've trying welding. When I was in middle school I wanted to take shop. As a woman, I had to go to shop for a half the semester, then the other half I had to go to Home-Ec and make nylon babies and cook. And I had to carry that nylon baby around."
But times are changing — and Sherry is trying to change the face of the skilled trade workforce.
"I really want to see more youth get into a skilled trade. People look at skilled trade workers as the bottom of the barrel. People assume we didn't go to school. Don't make money.
"Plumbing is amazing. I wish I knew things about plumbing!"
Sherry was too scared to try trades for 21 years, now she fears not trying.
"I love seeing equality in women on a worksite. You have to work hard to put yourself there. You have to work hard to gain respect from everyone there. I think it's hard enough for women to get over the fact that they won't be surrounded by other women.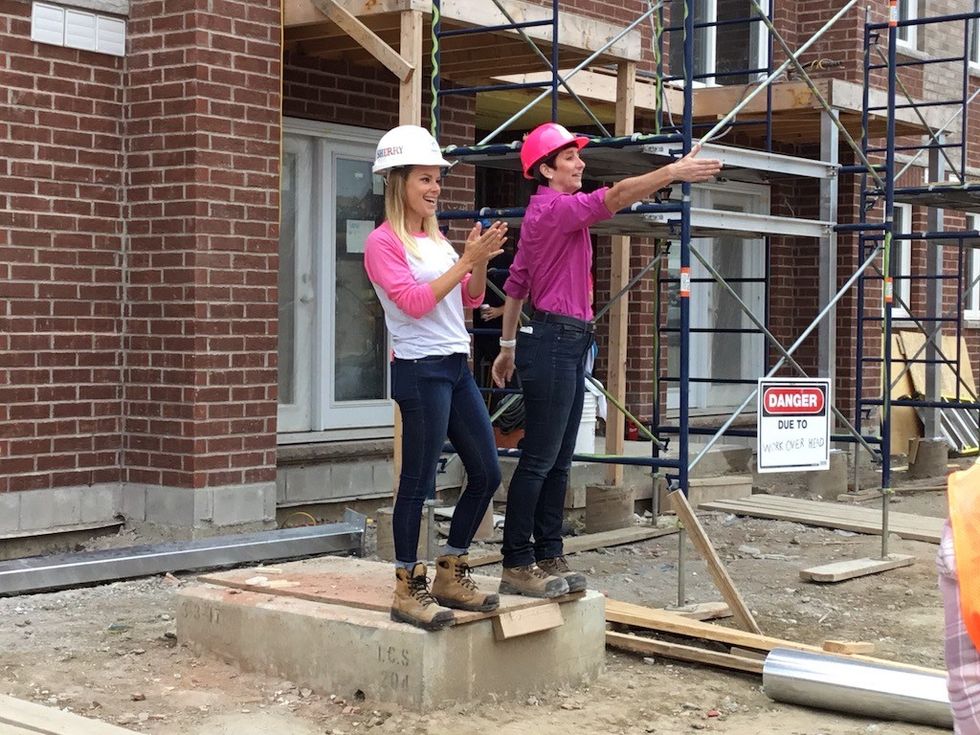 "Sure you'll run into silly things and you might get comments. But the more you're there you'll prove yourself and the more amazing you'll look. Making the decision to do it is difficult. Sticking it out is even harder. You learn more about yourself. And you don't have to rely on anyone."
Sherry never thought she would get this far. She never imagined she'd be in this position to mentor young women and men.
"My dad's whole goal in life is to educate people. Slowly but surely he taught me and my brother. That's why we're just trying to make a difference. Help the community, and give back. And learn. I'm still learning."
But so far the biggest lesson she's learned is to choose your own happiness. This lesson, however, is issued with a disclaimer:
"If you choose not to get of out of your comfort zone, you're missing out. And I'm still learning that lesson."
There's still a lot on the horizon for Sherry. Of course, she is back this year as Habitat For Humanity GTA's Women Build Ambassador, and will be starring in the brand new series, "Holmes: Next Generation," where she'll be joining forces with her brother Mike Holmes Jr. and dad, Mike Holmes.
She's also engaged to be married to Blake Steed. But Sherry says she won't be changing her name.
"Why change from a house to a horse?"
Yes. She will always be a Holmes. And she is certainly making her mark right as the first Sherry Holmes.
Want to join Sherry and Habitat For Humanity GTA in making a difference? Get involved with Women Build 2018 May 12.
Industry Profiles