---
The Bank of Canada has increased their policy interest rate eight consecutive times in the past year, and interest rates continue to weigh heavily on the real estate industry at large, so this is likely a counter-intuitive statement: in Vancouver, this may actually be a good time to get into the presale condos market.
To understand why, however, it helps to look at the ebbs and flows of the past few years.
According to Jacky Chan, Founder and CEO of BakerWest Real Estate, a real estate marketing and sales firm based in British Columbia, the last height of the presale condos rush came around 2016 and 2017.
That rush started to cool off in 2018 and 2019, due to a variety of factors such as escalating prices, the Government of Canada's introduction of the Minimum Qualifying Rate for the OSFI Mortgage Stress Test, as well as the Province of British Columbia increasing the Foreign Buyer Tax and introducing the Speculation and Vacancy Tax.
After the presale condos market hit its lowest point around Q1 2019, the market saw "a huge uptick" as a result of increasing immigration targets -- to the tune of over 400,000 a year beginning in 2021 -- and plateauing interest rates, which were eventually cut to 0.25% during the COVID-19 pandemic.
Chan says the presale market was "dead slow" around late-2020 and early-2021, but after that period, once people started adjusting to the pandemic, many started thinking about buying again, this time with a keener appreciation for where they live -- a byproduct of being forced to stay home during COVID restrictions as well as the introduction of a pervasive work-from-home movement.
Realtor Mike Stewart, also based in Vancouver, tells a similar story about the trajectory of the market the last few years, saying that once interest rates were cut, the presale condos market went crazy because many had accumulated savings and credit.
The first wave of immigrants from the federal government's lofty new targets started to arrive in 2021, with a significant portion of them landing in BC, naturally generating a lot of interest and an influx of capital in Vancouver.
However, Stewart says that a lot of that demand has now been deferred as a result of rising interest rates, which began 2022 at 0.25% and now sits at 4.50%, potentially setting us up for a market boom if the Bank of Canada holds off on further rate hikes like it has suggested. In deliberations leading up to January's announcement, the Bank noted that "it would be appropriate to pause any additional tightening to allow economic developments to unfold."
If that is indeed the case and we are due for a market boom, now -- the calm before the storm, one could say -- could be an optimal time to buy. "Smart, sophisticated buyers buy now," Stewart says.
READ: Past Is Prologue: How Recessions Have Impacted The BC Real Estate Market
When consumer buying power is lowered by inflation, or artificially curbed by increasing interest rates, businesses of all kinds will sometimes lower their prices in order to continue attracting consumers, and the presale housing market is no different.
"During this period, offerings are usually at a better price, because the market is less hot," Chan tells STOREYS. "There's less competition [in the market] and rates are high, but it doesn't affect you."
Unlike in China where the presale condos model requires consumers to pay in full before construction even begins, buyers here in Vancouver and British Columbia only need to pay a deposit, usually around 5% to 10% on the purchase date. Because the final price is locked in on the purchase date, buyers do not need to immediately secure a mortgage, and only need to worry about future deposit installments. Because buyers technically don't own the home yet, only the right to the home once it's completed, they also do not need to pay property taxes and maintenance fees for the home.
"You're essentially free-riding the developer's buying power, the financial cost, the holding cost, and developers are essentially paying the mortgage," Chan says.
Buying presale condos is not completely devoid of risk, of course.
For those who purchase because it's their dream home, plans could be disrupted if the project is delayed -- something that isn't out of the question in our current economic environment, where construction costs are ballooning. For those who purchase as an investment and want to flip, there is a possibility that the market could take a downturn during the construction period, forcing impatient investors to sell low.
Possibilities are not the same as probabilities, however, and not everything that can happen is likely to happen.
"The downside [with presale condos] is if the market goes down during pre-con," Chan says. "But this is very rare and highly unlikely in Vancouver. Vancouver remains very desirable. It's one of the only cities where you can speak your home language, wherever you're from. It has cultural diversity. It's vibrant. So here, the real estate market, in the long-term, is mostly a slanted line going uphill. 99% of my presale buyers have been financial winners."
Whether you're a first-time buyer or an investor, the pedigree of the developer is also important, if not just as important as the price. A local developer, Coromandel Properties, is currently saddled with $700M of debt, likely resulting in delays, if they're able to be completed at all. Even the best-laid plans can go awry if the basis isn't secure.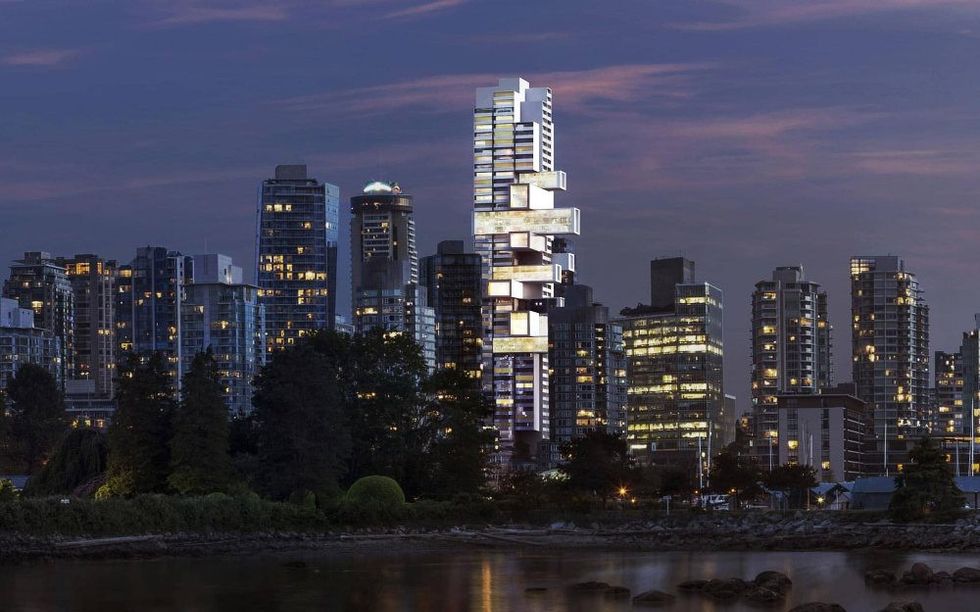 Fifteen Fifteen on 1515 Alberni Street in Vancouver, which is now pre-selling. (Bosa Properties / Ole Scheeren)
Chan's firm, BakerWest, has been involved in projects like One Park in Richmond, the Sun Towers in Burnaby, and -- most notably -- the upcoming 60-storey CURV, which is set to become the tallest Passive House building in the world and is on the short-list of most-anticipated projects in British Columbia. Chan tells STOREYS that presales for CURV are expected to launch in the next month or two, and that he envisions CURV becoming an international symbol for Vancouver that continues bringing the presale market to new heights.
Chan adds that he's seeing a new wave of interest in presale condos outside of Vancouver, in cities such as Burnaby, Surrey, and Langley, which are more pro-development, more ambitious, and more affordable. Separately, Stewart adds that Burnaby and the Fraser Valley have "a more open attitude" toward new housing and Vancouver is seeing "very few new projects, particularly downtown."
"There's not enough land, but also land use [policies] make it uneconomic, pushes cost, and makes it unappealing," Stewart said. "We still have a good amount of supply coming this year, but there is absolutely not enough new presale condos. We're dramatically undersupplied, with housing of all types."
READ: BC Adds Record 14,546 Rentals In 2022, But Condos Still Won Out
While many -- if not most -- in the real estate industry have come to the conclusion that the federal government's ban on foreign buyers is not really going to better Canada's affordability problem, some wonder whether it may have an impact on the presale market in Vancouver, which has a strong historic, and ongoing, connection with Asia. Both Chan and Stewart believe the presale market will be unaffected, and that the ban won't really do what the federal government says it will.
"Ahead of the foreign buyer tax, there were lots of things I was frankly uncomfortable with, that I felt were quite racially charged," Stewart says. "The narrative that Asian buyers were buying up supply from locals was driven by large lines in presale centres, and the assumptions were that they were not nationals. But I was in those sale centres, and the truth is few were not citizens, and many have strong historic ties here, some even longer than me, and I'm a white guy." (Hong Kong has the second-highest concentration of Canadians outside of Canada, as one piece of evidence.)
"I've worked with [real] foreign buyers," Stewart adds. "They were a small part of my business and were never a big part of the market."
If it was up to Chan, he'd limit the foreign buyer ban to only existing properties and push foreign buyers and immigrants towards the presale market, as it essentially equates to them funding our real estate development, he says, before some eventually become residents. Stewart thinks that the government should just focus on increasing supply, rather than attack the demand.
For consumers, Dustan Woodhouse, President of Mortgage Architects, believes there are few bad times to buy real estate in Vancouver, so the big question should be whether or not buying a presale condo is the right thing for each individual buyer.
"Why would you buy something that won't be completed for several years, as opposed to a home that you could quickly move in to?" should be the question, he says. Woodhouse recognizes that there are benefits with presale condos, like the ability to have more time to secure financing and moving into a home that is completely new, and that prices may in fact be discounted at the moment, but also points out that plans in our lives can change dramatically in the time it takes for a condo building to be completed, such as a new relationship, child, or job.
"People sometimes feel like a presale is a slide into real estate, entering the market step-by-step, an ease-in," Woodhouse says. "But for first-time buyers, the question should be whether it's the right time for you, rather than the question of macro-economics. It really depends on your personal circumstances."
So, current market conditions in Vancouver may in fact mean now is a smart time to get in on the presale condos market, but just don't let that push aside the question of whether or not it's smart for you.
Vancouver