A fresh residential development is coming to Vancouver -- and despite being one of the tallest in the city, it's poised to change more than just the skyline.
---
Dubbed " CURV ", the new tower from Brivia Group rising at 1059-1075 Nelson Street, will be renowned for more than its striking, nature-inspired design, and 360-degree city views –- standing at 60 storeys, will will also hold the title as the tallest Passive House in the world.
This designation -- which originates from Germany, where it's known as Passivhaus -- represents the highest standards for energy efficiency in commercial and residential buildings. In order to meet the Passive House criteria, a dwelling must save 90% of the energy output of a traditional building, adhering to stringent requirements in the number of watt-hours used for space heating, cooling, and primary energy demands. Superior insulation and airtightness are also paramount, resulting in optimal thermal comfort in all living areas, year round. In fact, a distinct characteristic of a Passive House is that it has no need for conventional heating or air condition systems.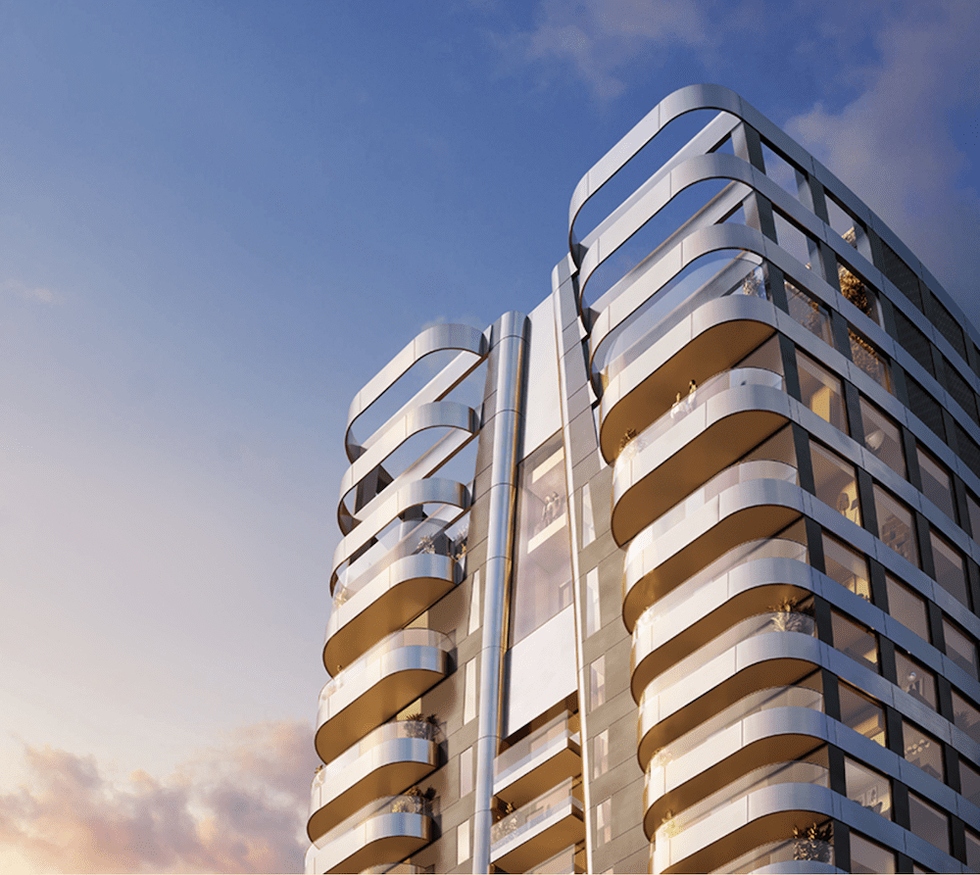 Brivia Group
"[Those standards] are in line with what Vancouver represents, in terms of the city wanting greener buildings, a greener environment -- it suits very well with the Vancouver lifestyle," says Vincent Kou, Chief Investment & Development Officer at Brivia Group. He adds that Passive House buildings typically max out between six to 14 storeys; this will be the first time such a tower has been built at this scale.
Reaching New Heights
With such dizzying heights on the docket, the team for this flagship building comes stacked with experience in world-class tall structures. Not only is Brivia Group the developer behind 1Square Phillips -- the tallest residential building in Montreal -- the lead architect on CURV is Tom Wright of WKK Architects , who famously designed Dubai's 321-meter Burj Al Arab hotel. Rounding out the team is award-winning designer Andres Escobar of New York-based Lemay + Escobar .
"It was a pleasure collaborating with Brivia Group to deliver on a building as important as CURV that will raise the bar for developers," Wright stated in a release. "At WKK, sustainability is now embedded in our culture. Superior design, with consideration and thought into the long-term impacts on our communities and environment, can truly improve our quality of life and enrich our experiences, today and for generations to come."
Further emphasizing CURV's impressive stature will be its location at the highest elevation in Vancouver's downtown core, between Burrard and Thurlow Streets. "It's like the King of the Hill -- everywhere around it is basically a downhill slope," says Jacky Chan, CEO of BakerWest Real Estate, Brivia's sales and marketing partner for CURV. "Our site is located at the actual highest point; not only will it be the tallest residential highrise, but because of the geographic advantage, it will actually look way taller than it is from a skyline perspective."
READ: BakerWest's Talent Attraction Catches Attention of Developers… And Recruits
The tower's exterior and name takes inspiration from nature; the curving facade reflects that there are no straight lines present in nature, with the structure resembling the sprouting of a plant's leaves. It pays homage to both the natural environment of Canada, as well as Vancouver's abundant natural beauty.
A New, Clean Ideology
As to be expected from a world-class, sustainability-conscious development, the amenities will also push the envelope in terms of luxury standards. Featuring western Canada's tallest clubhouse spanning the 60th and 61st storeys -- offering panoramic Vancouver views from every angle --  it will also boast a rooftop patio complete with hot tub, social lounge, BBQ area, and TVs. Social gathering and children's spaces will also be featured throughout the lower levels and at grade, designed around walkability and set against a natural palette.
Arguably the most attractive feature, says Chan, is the feeling of being a good global citizen, pointing to the fact that traditional dwellings are one of the leading contributors to greenhouse emissions.
"This offers a platform for all the residents to give back to the environment, to our earth, positively on a daily basis," says Chan. "Every moment that you're living in this space, you are contributing positively to our environment and to humanity. And this is huge because this has never been [thought of as] important in real estate design and development; it's always very user-centric, which was obviously very important, but the thought of how the user and the owner has a two-way street relationship with the environment and our society, has, in my opinion, been quite neglected. I think this is the first time in Canadian real estate that this has been at the forefront of the ideology."
READ: The Future is Clean: How COVID Has Fundamentally Changed What Condo Buyers Want
While assuredly a luxury offering, the price point for strata units has yet to be determined, says Kou, pointing to earlier media approximations of $4,000 psf as "speculation". However, he says, given Passive Houses' rigorous building requirements, they tend to be 15-20% above traditional buildings in terms of hard costs.
However, that doesn't mean the building's attributes will be gatekept for only the wealthy: Brivia Group has earmarked 102 of the total 501 units to be given to the City as social housing. An additional 49 will be reserved for market rentals, with the remaining 350 sold as market strata.
"When we talk about ESG, there's an S in there -- there's a social component, too," says Kou. "As a unit we tend to forget and think ESG is all about the environmental, but there's a social, diversity and inclusion aspect of it that this building is providing. It's very special in that it's going to be a green building, and it's going to be a building that meets the social requirements as well."
A Growing Demand for ESG Among Investors
While the Passive House concept is still in its infancy, a growing focus on sustainability will only make it more prevalent in the months to come. Kou points out that at a recent Quebec City real estate summit, Environmental, Social and Governance (ESG) standards were the main focus.
"I think the conclusion among industry players is that [ESG] is slowly and progressively the trend that is the objective for a lot of international cities; for example, in Montreal, they announced that from 2013 onwards the objective is to reach a net zero target for many buildings," he says. "I think this is something that is inevitable as we move forward, it's just when and how quickly and progressively should we be trying to reach that target, and what is the degree of the requirements. We cannot change the industry in a day, but obviously for the medium-long term vision, this is something that's going to be inevitable."
He draws a parallel to the early adopters of electric vehicles, who faced higher costs and limited accessibility before the standard became commonplace across the auto industry.
"If you look at it from an investor point of view, more and more investors -- and especially institutional investors -- this becomes a request or demand as part of their investment requirements moving forward. Anything has to meet the minimum requirements of their own ESG standards."
Future Developments