As we enter the third year of living amidst a global pandemic, it's safe to say that priorities have shifted for homebuyers -- a sea change that is particularly apparent in the new condo development space. While luxury finishes and upscale amenities -- such as a party room, gym, or conference room -- used to be top-of-mind for prospective unit buyers, today's discerning purchaser is much more focused on, well, quality of life.
---
It's a shift that today's multi-residential developers should heed, says BakerWest Real Estate Inc. President Jacky Chan -- or risk being left in the dust.
"The pandemic has really affected consumer behaviour and what is seen as a necessity," he tells STOREYS.
"I think there was more desire for the physicality of things pre-pandemic, more of a material sense," he says. [During the pandemic], I think people's perspectives really changed. We're talking about having the luxury of time, the luxury of safety, of community, family, and health. Because these are more and more significant and sought-after -- the true luxuries of life -- we've done a couple of projects which have been extremely successful and have broken a lot of records both in the sellable price per square foot, and the velocity of how they are being absorbed."
Air Filtration > Gold-Plated Faucets
Pre-pandemic, Chan says, the most highly-sought attributes among BakerWest's Vancouver-area clientele focused on artistic design and high-end finishes, such as jade, natural stone, and gold-plated faucets. These days, though, a top selling feature can be found under the kitchen sink. 
Chan points to the upcoming Revive development, a steel-framed stacked townhouse complex that's part of the five-project Wellside Collection from Belford Properties.
"We have a never-been-done-before water purification system, where the developer has incorporated filtration systems from the main line into each of the individual stacked townhomes. When the water goes into the building from the mainline, it's filtered once, so you're already getting cleaner water anywhere in your dwelling, and then again in your kitchen system, they have reverse osmosis under the sink filtration system for every single unit," he says.
"We're able to tell the client, 'Even the water in your toilet is cleaner than the water coming out of the tap from the single-detached or development across the street.'"
Features that promote air quality -- and particularly germ and virus screening -- are in high demand right now, especially among clientele hailing from denser cities such as Hong Kong, Tokyo, New York, and LA. Chan says that the Revive development also incorporates MERV-13 air filtration technology -- the highest allowed in residential homes, and just one level below the medical standard used in hospitals. This ensures that air exchange between units within the same building is minimized.
The reception to both this and the water filtration system have been "huge". "Before, developers never talked about it, it was never a point of concern," he says. "If you sold a development three, four, five years ago, and you talked about how the air is being filtered, nobody would care. But today? They're like, 'MERV 13 air? Hospital quality air? That's nice.'"
A Safe (Outdoor) Space
The desire for expanded outdoor space has been a prominent factor in the pandemic-era real estate market, offering a setting for safer socialization and human connection during lockdowns. While amenities such as well-designed patio space and rooftops have been on developers' radars since well before the pandemic, needing open-air space is a revelation for BC buyers, who've always been spoiled for choice when it comes to the great outdoors.
"The incorporation of indoor-outdoor living is very important," says Chan. "We have taken it for granted in Vancouver because we are so close to nature -- we're one of the only cities in the world where you can fish, wakeboard, surf and ski within the same day. We've always felt we can just go outdoors, but now, it's different. You don't want to just go anywhere. You want the outdoors to be yours, you want privacy, and you don't necessarily want a lot of other people to be in the space."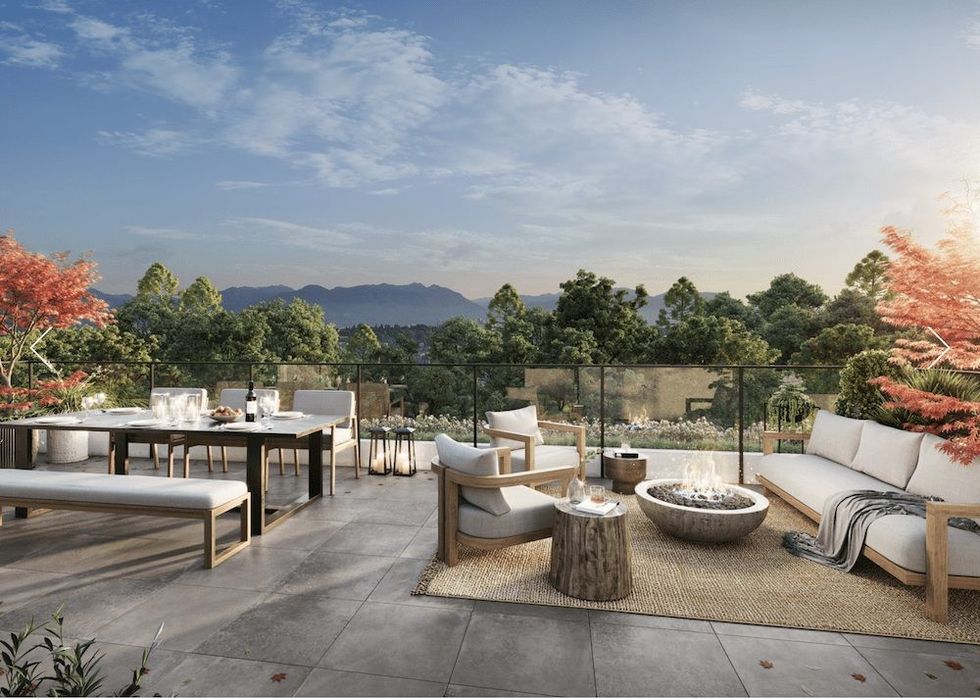 BakerWest Real Estate Inc.
Live Like a Good Global Citizen
Beyond pandemic-friendly creature comforts, however, today's cutting-edge developers know the smartest investment is one in sustainability, with ESG -- environment sustainability and governance -- incorporated right into architectural plans.
"It's basically the largest topic in real estate right now; how do we invest in this as a human race, not just as a monetary vehicle, but as a whole? How does that change society for the better and thus everyone will benefit from it, and how will it benefit the commerce of things and the entire financial system? So there's much longer-term thinking now," Chan says.
READ: New Toronto Green Standard Pushes Local Developers to Embrace Clean Energy
He alludes to a not-yet-announced project coming to downtown Vancouver which, in addition to being the tallest residential highrise in the city, will also be the tallest "passive house" building in the world, meaning its engineering and design implements the most energy-efficient techniques. This particular project will be "airtight", with its own natural air circulation and self-regulated temperature control, negating the need for air conditioning. The utilization of steel framing, rather than traditional concrete or wood, also considerably lengthens the lifecycle of the building and, as a result, its footprint.
"By doing that, it actually saves up to 90% of the energy that is used in the entire building so if you're using it and living in it, you're actually contributing to a very positive impact to the environment," he says. "To circle back to real estate development and design, that has been a very primary focus to achieve this net-zero carbon footprint or maybe even a negative footprint that we are not just creating new carbon gasses, but reducing it actively -- that's the new trend… Once you look at that, if you're able to decrease the energy spend, and create a much better efficiency, then the longevity of the building and the cost of living actually comes down. The depreciation of the actual structure lengthens, where instead of a 50-year lifespan, now we're looking at a 500-year lifespan."
"In five years, I'd say every single development will have an incorporation of some sort of this and it will be the default. If you talk to a designer or architect and they're not talking about any of this, then they would have no place in the market, they would be in the past."
Vancouver