We don't have to tell you COVID has changed the way many of us live.
---
But it is worth telling you about what those changes mean, and where they'll take us over the coming years -- as COVID (hopefully) continues to recede.
Case in point: Gyms and pools are now just table stakes in the amenities game when it comes to high-rise buildings in the mid- to higher-end range, say several developers.
With the amount of choice a discerning consumer has, the design and programming of intelligent amenities -- both indoors and out -- is key to providing an enjoyable vertical living experience, and being competitive in the market, according to key players in the space.
The pandemic has only served to highlight the importance of some of the amenity trends already developing beforehand, such as separated outdoor socializing spaces, dedicated spaces for working, relaxing, and fitness that exist outside of individual living units.
In the past 12 months, our homes have become multiple-use spaces like never before -- and high-rises are quickly making the adjustment.
Vertical Neighbourhoods
"To be a [single-family] home owner in the GTA is a serious investment," says Rob Spanier, President of The Spanier Group, a mixed-use development and placemaking advisor. That often unattainable investment (the current average price of a detached home in the GTA is over $1.7M), or simply a desire to live hassle-free, causes many people to turn to condo ownership or renting. And this is a competitive space, where buyers and renters have a multitude of choices, Spanier adds.
With Toronto condo sales (and prices) appearing to bounce back, as well as rental options, according to real-estate market research and consulting firm Urbanation in its first-quarter condo market report released May 3, prophesies of a hollowing out of the city are being proven wrong. And one of the major draws for prospective residents is how well a building is amenitized. 
Spanier conceives of high-rise buildings as "vertical neighbourhoods," where carefully curated amenities and retail -- the "spaces and places in between" -- are capable of creating a unique sensibility and bring people together.
"People want more quality living … and that is becoming an important discussion in the development community," Spanier adds.
Trends Matching Demographics
The types of amenities incorporated into a building vary depending on the location and demographics of the community says Samson Fung, vice-president of marketing for developer Tridel.
Downtown, for example, the demographics tend to favour younger professionals who are interested in party rooms and exercise rooms.
But Spanier goes further, mentioning some of the more creative ideas for amenities spaces, such as lap pools, or outdoor cooking spaces that go beyond a basic barbecue.
He draws inspiration from the wide variety of buildings he researches globally, including extremely high-end places that carefully think through every possible need a resident might have, such as a Rolls Royce car service at The Residences at Ten Thousand in Los Angeles, a luxury property that offers furnished leases at up to $65,000 USD a month, and includes 75,000 sq. ft. of indoor and outdoor amenities combined.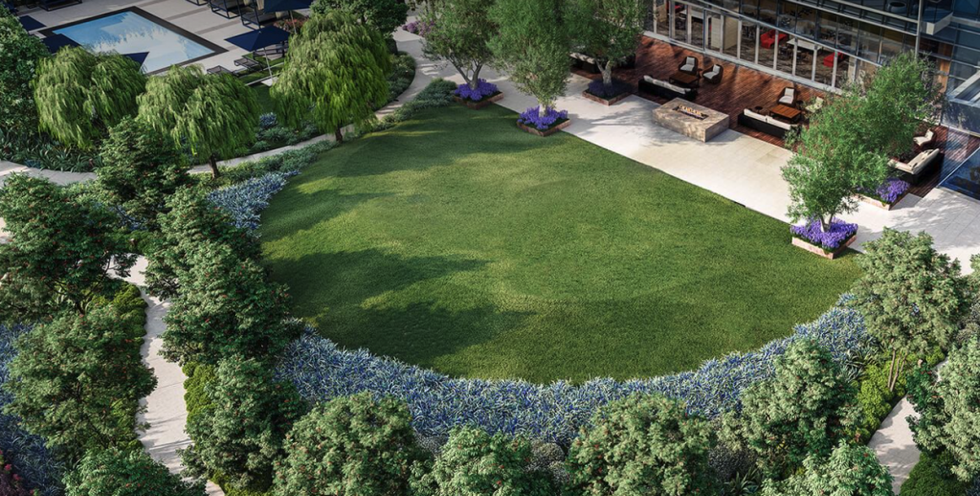 One-Acre Private Park at Residences at Ten Thousand
Emerging trends in amenities, says Spanier, include package delivery lockers with the rise in e-commerce, smart technologies, bike facilities, electric car charging stations, meditation and spa facilities, outdoor kitchens and seating areas, pet spas, community gardens, and entertainment areas such as recording studios, virtual games, and classes and social programming.
Still, an exercise room remains the No. 1 used amenity for now, according to Tridel's Fung. But what is offered can go far beyond the traditional weights-and-treadmill designs, ranging from spinning studios to yoga rooms, to even potentially incorporating technology into gym mirrors.
While another area that continues to receive major consideration is that of pet amenities. After all, the number of pet dogs in Canada grew by 100,000 between 2018-2020, now totalling some 7.7M across the country.
"It goes beyond an area for pets relieving themselves," Fung says. "A couple of communities have an off-leash dog-run area," and dog spas, which is a growing trend, he adds.
With (hu)man's best friend, of course, also comes families. So catering to larger family units in the condo space is also being considered and implemented in many current pre-construction offerings.
"We are starting to see more families moving into condos," Fung says. An example would be Tridel's MRKT development in Alexandra Park, where plans included both a daycare area and pods for teenagers.
Outdoors, Pre- and Post-COVID
Covid has certainly emphasized the importance of outdoor space, but the trend toward focussing on outdoor amenities predates the pandemic.
The desire for larger condo suites with terraces and balconies dates to as early as 2015, Fung says.
As well as the trend toward bookable private outdoor dining areas that are zoned off with fencing or planter boxes or lattice work, as opposed to larger open spaces.
"Urban gardens is another trend where there is space," Fung says.
And Tridel is currently even piloting an electric bike-sharing program.
"A lot of people invest in outdoor space" in single-family homes, Spanier says. Why should high-rise apartments not have the same opportunity, he asks.
"More progressive developers and architects are realizing the value of the outdoors," says Ryan Bloom, co-founder and CEO of Montreal-based Urban Bonfire Inc., whose outdoor kitchens are featured in some of Toronto's high-rise apartments, as well as many American buildings.
"From a cost-per-square-foot basis, (the outdoors) is one of the least expensive spaces to activate," says Bloom, as it does not involve the cost of building walls and climate control.
"Historically, outdoor cooking was dominated by the barbecue," Bloom says, while Urban Bonfire's outdoor kitchens mirror the indoor cooking experience, with outdoor appliances like refrigerators, as well as storage, seating, lighting and other design elements.
Beyond the feeling of safely socializing outdoors, post-COVID, Fung expects more emphasis on health and wellness in general, such as UV air purifiers in common spaces and touchless technology. Not to mention, Tridel has projects in the works that include looking at having every elevator cab outfitted with air purifier units.
After all, getting to the fresh air outside is even more relaxing when the air you're breathing to get there is also germ-free.
Amenities Come Alive with Programming
Tricon studies what kinds of amenities are being designed in other markets, especially the United States, where Class-A rentals are a larger part of the housing picture, says Andrew Joyner, managing director at Tricon Residential, a Toronto-based developer, investor, and manager of purpose-built rental buildings.
"Whether it's something as cute as a fire hydrant at an outdoor pet facility in Texas," Joyner says, or building partnerships with large-scale commercial gyms. It is not only the facilities, but creative ways to contribute to residents' enjoyment of the space and interaction with each other that makes a difference, he says.
Tricon's programming has included partnering with local restaurants and chefs to teach and host events, partnering with Toronto Life publication to provide TED-talk-like speaker series, bringing DJs to the pool deck, and having themed movie series.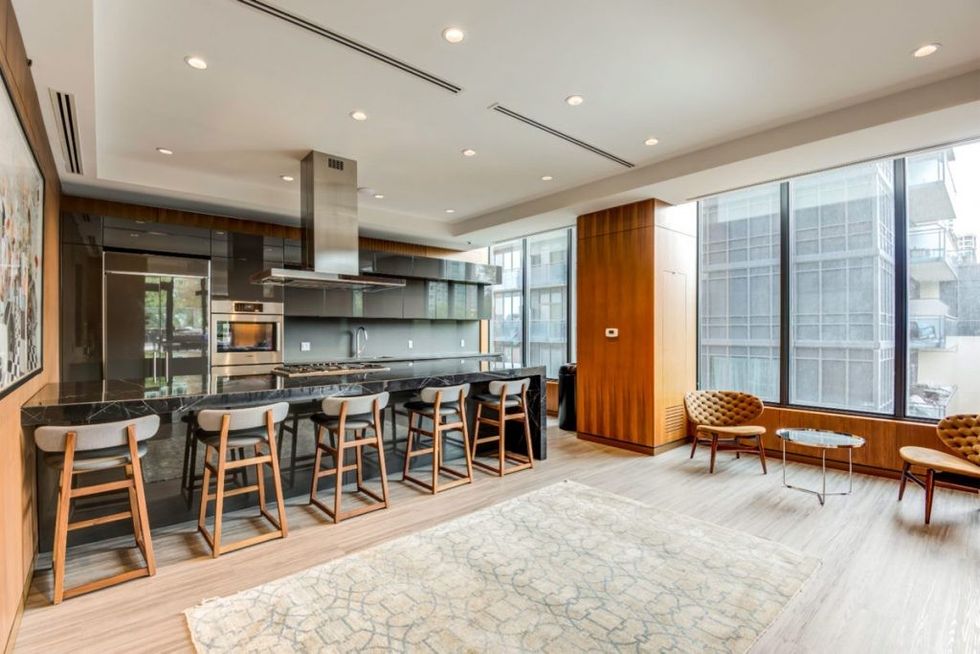 Inside one of Tricon's Toronto properties, The Selby
Because of the pandemic, Tricon has pivoted to virtual activities, such as virtual fitness and cooking classes, Joyner says.
Tricon has even gone so far as to create external partnerships, such as with Evergreen Brickworks, for outdoor activities for residents of The Selby, at Bloor and Sherbourne. 
Tech Makes Buildings Tick
The use of technology is increasingly important to create a smooth experience for residents. This can include technology that facilitates finding visitor parking spaces and parcel delivery or, as Tridel is looking into, providing an elevator app for phones (the future will be touchless).
With e-commerce picking up steam even before the pandemic, parcel lockers (including refrigerated options) are a growing amenity choice, with some developments already beginning to partner with technologies that will be able to alert residents about deliveries, says Joyner.
COVID has also accelerated the use of technology for daily practicalities, Want to book a building maintenance appointment or renew a lease? There's an app for that (or there will be one soon).
But if developers offer amenities just to tick a box without thinking through what people want and how they might use a space, those spaces may just languish, Spanier says. He remembers one condo building he moved into around the time the internet was starting to take off that offered an internet cafe for residents.
"A year later, it was a dark space, with a lot of screens not working," Spanier says. "It wasn't an inviting space and [it wasn't] how people wanted to use the technology."
Retail and the Ground Floor
The other key aspect of the "vertical neighbourhood" is curating the right kinds of retail and ground floor amenities, Spanier says. For instance, this means not just reproducing the chains or services available elsewhere, but curating retail that complements the neighbourhood as well as providing a unique experience.
And the ground floor, instead of funnelling people through security and to an elevator, could be used as a meeting space, with open doors allowing meetings to easily progress into a walk.
"It is complementary for people who live in the building, as well as the people who live in the neighbourhood," Spanier says.
The Future is the End (User)
Just as Spanier pointed out that years ago his building's internet cafe didn't survive as an amenity, many trends will come and go over the next decades. But one thing will remain above all.
"The future of amenitization is understanding your end user," Spanier says. "People are going to demand quality … and vote with their feet."
Future Developments