Toronto mortgage broker and real estate commentator Ron Butler calls Canada's temporary ban on foreign buyers "theatre."
---
And, based on a flutter of Twitter activity, he isn't alone in his sentiment. 
For those in the dark, as of January 1, commercial enterprises and individuals outside of Canada are barred from purchasing real estate in the country. The Prohibition on the Purchase of Residential Property by Non-Canadians Act was passed by parliament in June of last year and will remain in place for two years. 

The act defines a residential property as buildings with three homes or less, as well as parts of buildings like a semi-detached house or a condominium unit. It also includes vacant land within a census metropolitan area that may not have any habitable dwellings on it, but that is zoned for residential or mixed-use. The law doesn't prohibit the purchase of larger buildings with multiple units and doesn't apply to non-Canadians who are looking to rent. 
According to the Canadian Mortgage and Housing Corporation (CMHC), violating the act comes with a $10K fine for any non-Canadian or anyone who knowingly assists a non-Canadian. A sale of the property can also be ordered by the court, and they won't return it to the buyer for any more than the price paid to purchase the property. 
READ:With the Housing Market in Decline, Will Canada Come to Regret Banning Foreign Buyers?
Naturally, there are some exemptions (or, in this case, several). For example, those with temporary work permits, refugee claimants, and international students may be exempt if they meet certain criteria, says CMHC. Recreational properties like cottages and cabins are also exempt. 
In a country riddled with an impossible-to-ignore housing crisis, the move is intended -- in theory, at least -- to cool the housing market and make homes more affordable to Canadians by reducing competition.
"Homes are not commodities; they are meant to be lived in," Brittany-Anne Hendrych, a spokesperson with the Office of the Minister of Housing and Diversity and Inclusion told STOREYS. "We know that speculative investments in real estate contributes to pushing housing prices out of reach for too many Canadians, and that is why the Government of Canada is temporarily banning foreign businesses and individuals who are not Canadian citizens or permanent residents from purchasing homes for two years. The purpose of this law is to ensure that housing in Canada is used to house Canadians, and not as speculative investments for foreign investors."
While the end goal is to make home ownership more attainable, some say that the ban won't have a significant impact on home prices at all. Some critics stress that foreign homeownership isn't as prevalent in Canada as it's made out to be, and others -- like the always outspoken Butler -- call the new act performative rather than impactful, something that's driven by politics instead of practicality. 
South of the border, Anthony Hitt, president and CEO, Engel & Völkers Americas, says that the ban is something he and his realtor colleagues have been watching closely. "As a global leader in brokering properties, we have been focused on the number of important exemptions allowing many international buyers to purchase in Canada," Hitt tells STOREYS. "It's important for international buyers to work with a real estate professional well-versed in the local nuances of the marketplace in which they operate who can serve as a great asset in navigating this new policy." 
Hitt says that Canadian markets are already experiencing effects intended by the policy, irrespective of the ban. "Non-residents represent less than four per cent of residential property owners in most parts of Canada, including Ontario and British Columbia," says Hitt. "Since 2020, demand in Canada has been overwhelmingly local. While global buyers certainly do have an impact on the Canadian market, Canada's housing supply problem is not primarily driven by international buyers. Therefore, the possible impact of the ban remains unclear."
Hitt isn't convinced the move will impact housing affordability at all, and says we should learn a thing or two from New Zealand. "New Zealand enacted a similar policy in 2018, intended to remedy its own affordability crisis," he explains. "At the time of the ban, foreign buyers represented 2.9% of the market. This has since dropped to 0.4%, yet their housing prices continued to climb until recent rate hikes."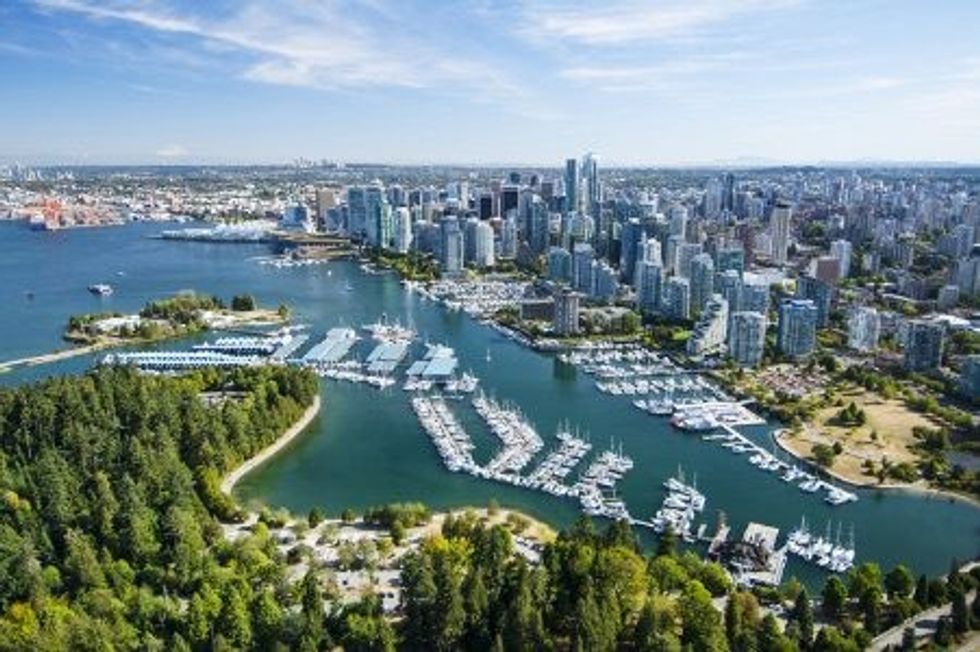 Vancouver/Shutterstock
Of course, we can't forget about current measures already in place to dissuade would-be buyers. Canada's priciest markets -- British Columbia and Ontario -- already have 20% and 25%, respectfully, foreign buyers' taxes in place. So, the number of would-be foreign homebuyers in these provinces is already low; meaning, the ban would have minimal impact on the issue at hand. According to the BC Real Estate Association (BCREA), the share of foreign buyers in the province's housing market had fallen to less than half a percent in the last two years.  
Numbers aside, Butler says the foreign buyers ban is ineffective in its very design. "The biggest flaw in the so-called foreign buyers ban is that there are an enormous number of loopholes," says Butler. "Those holding student visas may be eligible to buy [property] using gifts, which will automatically become the instant "go-to" for every person looking to circumvent the ban."
Butler says that the other "troubling" aspect is the lack of consequences for those who wish to ignore the ban. "If a foreign person buys Canadian residential real estate, they must 'eventually' sell the property and face up to a $10K fine; this court-enforced process could take several years before the property is sold, which may fit the timing of the foreign buyers quite nicely," says Butler.
While Butler points to loopholes in the act that foreign buyers can exploit, Pierre Leduc, media relations head at the Canadian Real Estate Association (CREA) -- on the other hand -- highlights challenges for foreign buyers in its exemptions, as identified by his colleagues. "The Federal government points to certain exceptions, but in reality, foreign students are limited to properties worth less than $500,000, have to have filed taxes in Canada for five years, and have spent at least 244 days a year in Canada over those years," Leduc tells STOREYS. "For non-Canadians with work permits, to qualify they have to have worked in Canada for three of the past four years and filed income tax returns for those years."
Leduc worries the move may negatively impact Canada's reputation on a global scale. "This has the potential to negatively impact the country's reputation, as Canada is a participant in the global competition for talent and skills, and this closes the door to homeownership for those choosing to immigrate to Canada," says Leduc. 
He also thinks the move contradicts Canada's ambitious and record-breaking immigration policy. "StatCan's 2016 Population and Households report reveals immigrant households -- landed immigrants or permanent residents granted the right to live in Canada by immigration authorities -- have a home ownership rate of 68%, while Canadians (non-immigrants) have a rate of 68.6%," says Leduc. "StatsCan's latest census notes 23% of the Canadian population consists of immigrants (as defined above). We are in a global competition for talent, and these restrictions are not helpful."
Spokesperson Hendrych says that the government recognizes that there are many non-permanent residents who are on the path to building a life in Canada. "That is why reasonable exceptions have been put in place to the prohibition to enable temporary residents and other individuals to pursue home ownership in their communities," Hendrych tells STOREYS. "Temporary residents must meet the necessary requirements to purchase a residential property, as outlined in the Regulations. The federal government is focused on taking action to make housing more affordable for Canadians, while also ensuring immigration targets meet the needs of the economy. This measure is directly targeted at temporarily prohibiting speculative foreign investment in the Canadian housing market and it does not apply to newcomers who are permanent residents."
READ: Canada Broke its Immigration Record Again in 2022
Still, Leduc fears that other countries could retaliate on the real estate front. "A big concern is retaliation by our USMCA partners, which may affect snowbirds and where they own property in the United States and Mexico," he says. Hitt, however, doesn't see the US following suit. "The US real estate market is experiencing market normalization after nearly three years of record-breaking prices and transactions," he says. "Markets vary so much as it relates to international interest and we do not expect to see the US taking similar action."
Rather than targeting foreign buyers, Leduc says the solution is increasing supply. "CMHC itself notes 22M housing units are required by 2030 just to keep up with demand," says Leduc. "We continue suggesting the Federal government create a permanent National Housing Roundtable to identify and address factors limiting the supply of all forms of housing. The housing crisis is a big, national problem and solutions depend on a massive increase in housing supply. We need an all-hands-on-deck approach to solving the problem -- all levels of government, civil society and industry stakeholders need to be working together." 

While most fingers -- regardless of who you ask -- point to a relentless lack of supply as the biggest problem in Canada's market, another glaringly obvious problem is that nobody seems to agree on how to fix it. 
The (controversial) ban on foreign buyers is just one strategy among many in the country's effort to improve housing affordability and increase supply, stresses Hendrych.
Real Estate News