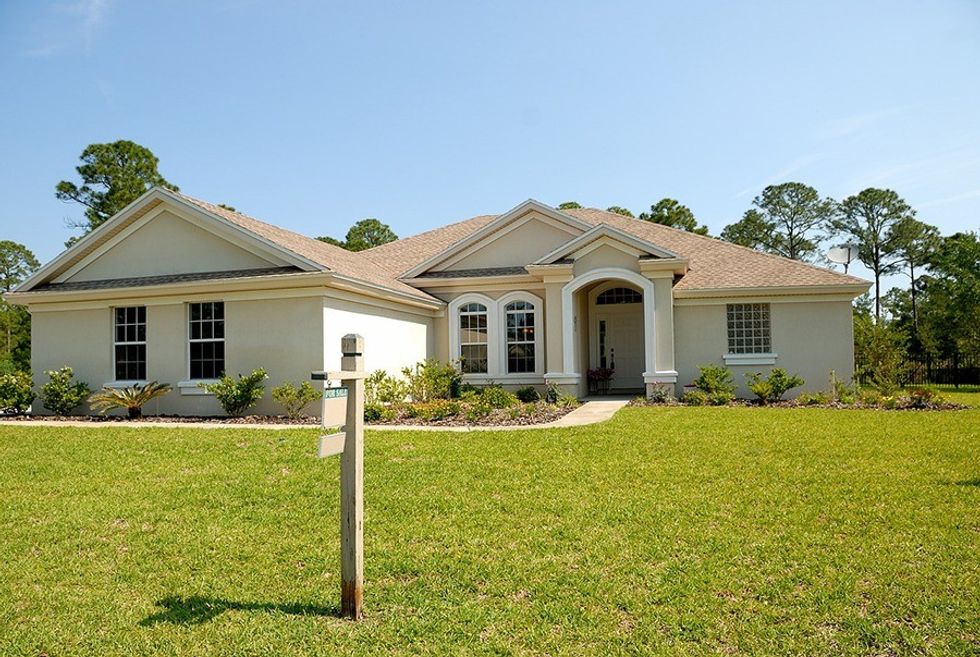 The latest crop of GTA housing data is in, and while the numbers look dire at first blush, they indicate the region is set for a blooming spring market.
---
The March numbers released by the Toronto Real Estate Board show the market continues its steady decline from last May, when the province implemented the Ontario Fair Housing Plan to stem housing demand and price growth in the Greater Golden Horseshoe.
That has thrown early 2018 performance into sharp contrast with what was a record-smashing year in 2017, with sales plummeting 39.4 per cent year over year, as 7,228 homes changed hands.
Prices have followed suit, softening 14.3 per cent to an average of $784,558, while the number of newly-listed homes for sale dropped 12.4 per cent. Year over year, condos are the only home type to see an increase in value.
"Starkly Different" Market Conditions
However, the board emphasizes, the March data is no reason to panic.
Not only was this slower activity expected in the first quarter, but shorter-term data shows demand and price growth have steadily increased month over month. Sales numbers are up across the board for every home type, while prices appear to be stabilizing.
"Right now, when we are comparing home prices, we are comparing two starkly different periods of time: last year, when we had less than a month of inventory versus this year with inventory levels ranging between two and three months," says Jason Mercer, TREB's director of market analysis.
"It makes sense that we haven't seen prices climb back to last year's peak. However, in the second half of the year, expect to see the annual rate of price growth improve from Q1, as sales increase relative to the below-average level of listings."
TREB president Tim Syrianos says that the adjustment period to the FHP is still underway. Also, new rules from the federal banking regulator that make it tougher to qualify for a mortgage, are taking a toll.
"TREB stated in its recent market outlook report that Q1 sales would be down from the record pace set in Q1 2017," says Syrianos, in the board's release.
"The effects of the Fair Housing Plan, the new OSFI-mandated stress test and generally higher borrowing costs have prompted some buyers to put their purchasing decision on hold. Home sales are expected to be up relative to 2017 in the second half of the year."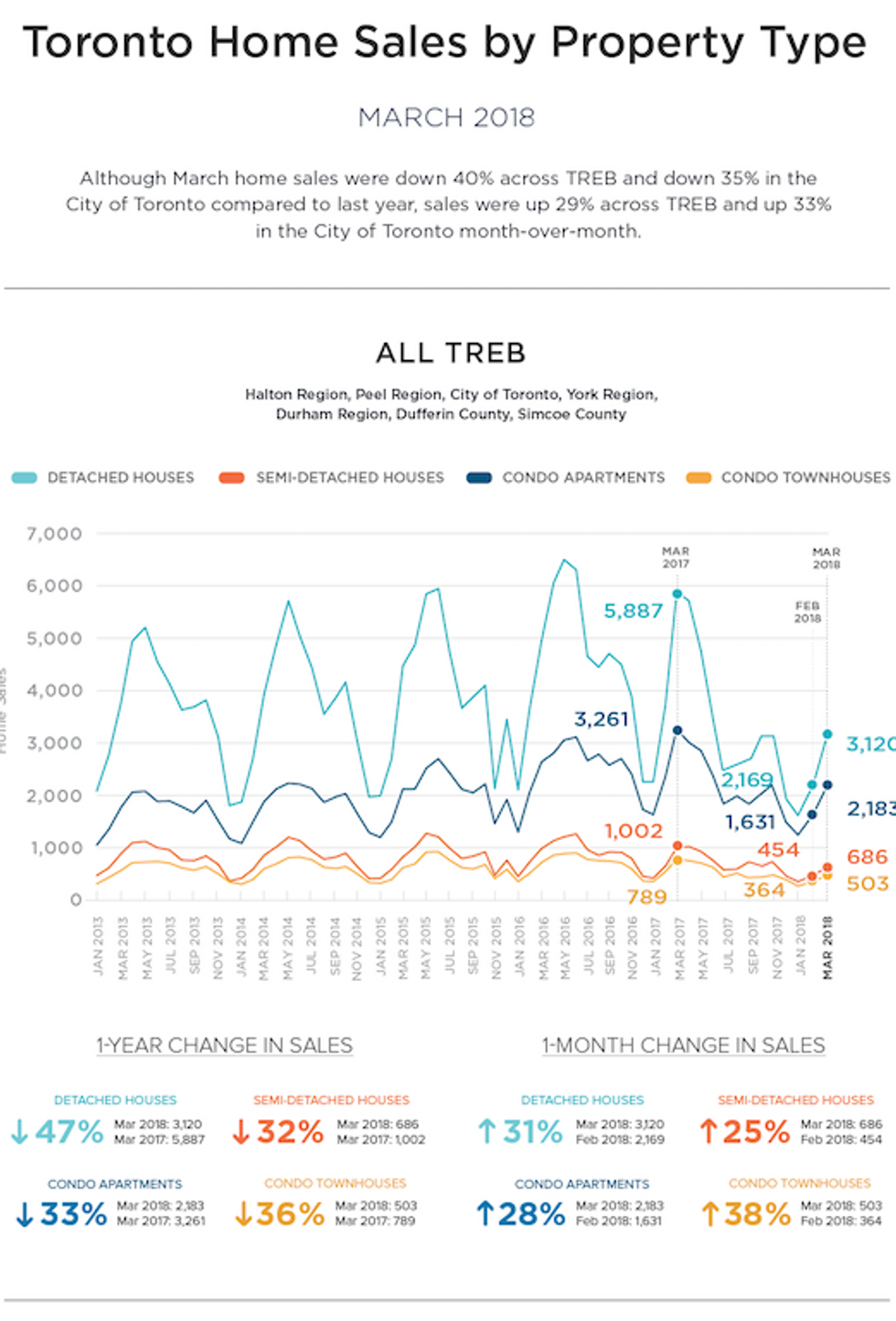 Month-Over-Month Data Reveals Steady Recovery
TREB points out that lower home prices are also disproportionately due to falling detached home prices.
These are the most-impacted of all home types following the new housing rules, and they're dragging down the overall average.
The luxury homes market has also taken a significant hit, with roughly half the number of homes priced over $2 million selling last month.
However, when compared to February , the detached segment is experiencing high demand, with sales up 31 per cent throughout the region, and modest price improvement of three per cent.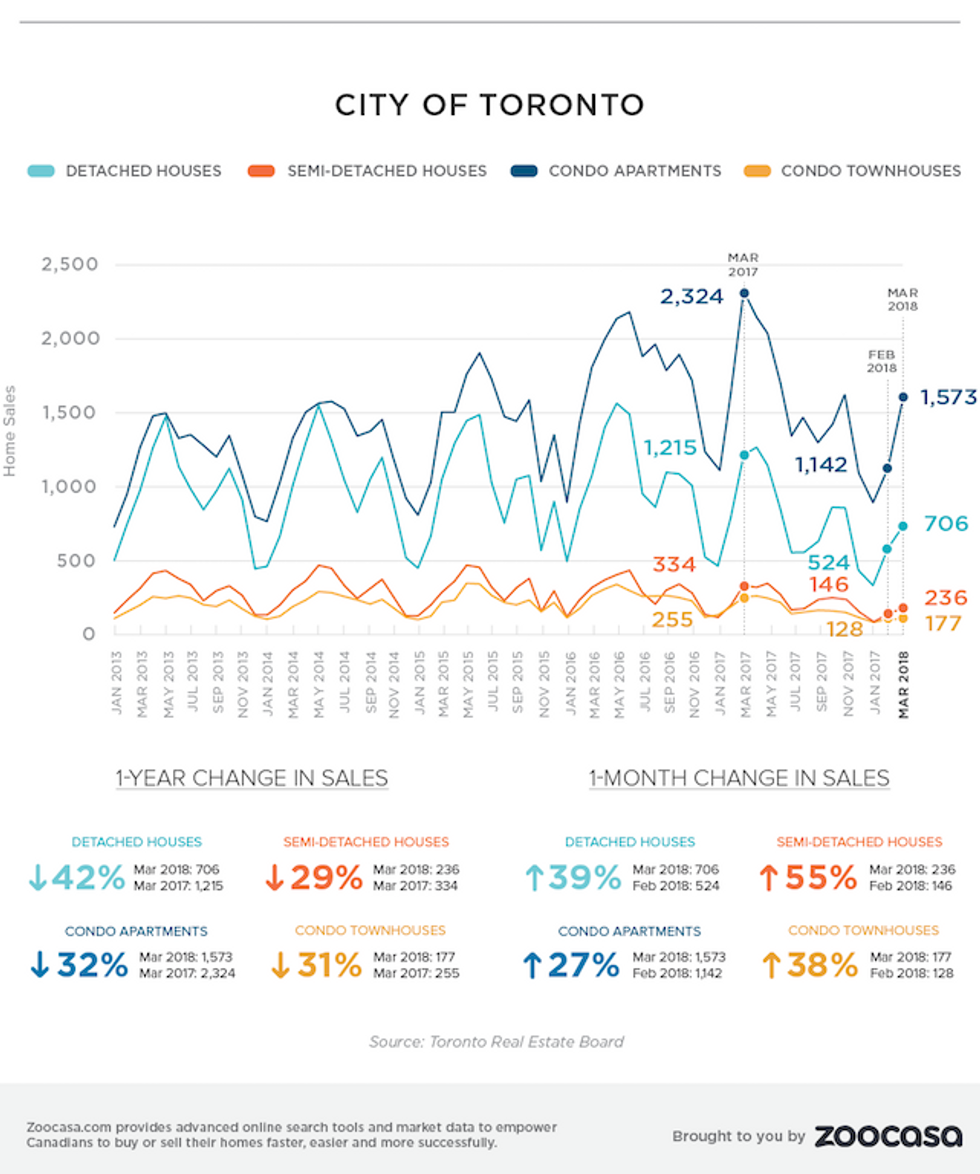 Consider Regional Differences
As well, because the region tracked by TREB is so geographically large — it includes Peel, Halton, York, Durham, and Simcoe regions in addition to the City of Toronto — local market conditions can vary widely.
One way to assess this is using the sales-to-new-listings ratio in each region, which is calculated by dividing the number of sales by new listings during a specific time frame. A ratio between 40 to 60 per cent is considered balanced, with ratios below and above that threshold indicated buyers' and sellers' conditions, respectively.
While the City of Toronto has re-entered sellers' territory with a ratio of 63 per cent, the majority of TREB markets remain balanced: Hamilton real estate within the Halton region hovers at 47 per cent, while Mississauga condos and houses within the Peel region are experiencing slightly more competitive conditions, at 57 per cent. York and Simcoe regions, however, remain buyers' markets, as sales demand does little to outpace the flood of new listings on the market.
Toronto Condos & Homes