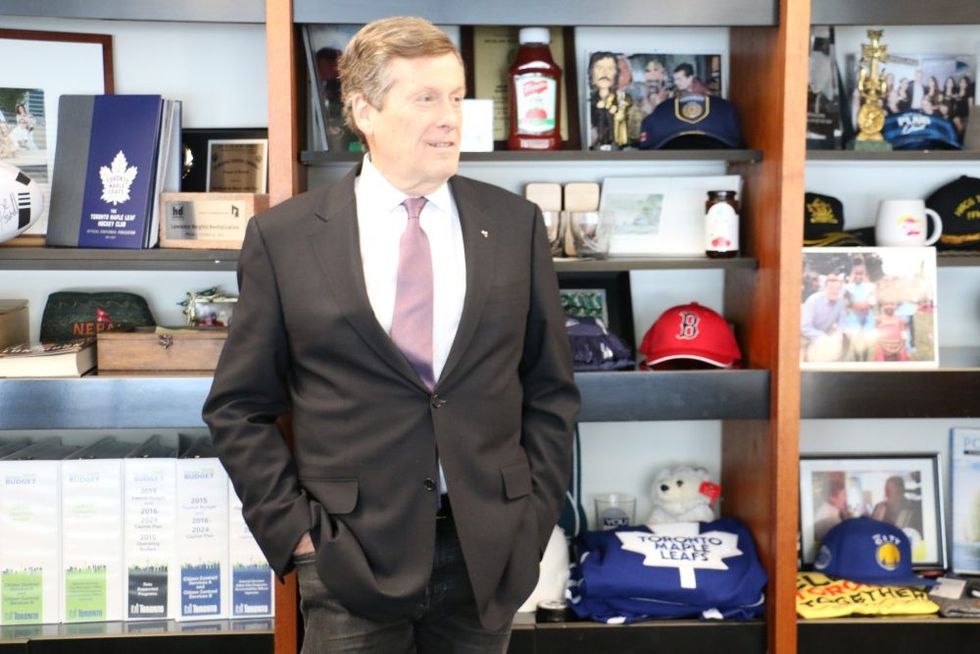 Update: The Toronto Star reports Mayor John Tory will make affordable housing the focus of his re-election campaign. So we've decided to revisit the mayor's exclusive interview with Storeys on his plans to make our city's housing more affordable.
---
Mayor John Tory says many new homeowners in Toronto today are eschewing a picket-fence lifestyle and in so doing are turning the city's housing market upside down.
Tory says while skyrocketing home prices are helping that trend, people — even those with families — are making a conscious choice to live in condominiums in the downtown core. One downtown development, Sugar Wharf, near the waterfront, is even including a school.
"They want to live where the action is, even if they have kids. The bottom line of all of the current conditions have caused people to think very differently about their housing," Tory, himself a condo dweller, tells Storeys in an exclusive interview in his City Hall office, which looks onto Nathan Phillips Square.
"All of this, in a way, has kind of turned the market upside down.
"Years ago, you started in an apartment, you saved up your money and bought a house. And then you might even buy a bigger house and maybe even move further out and get a bigger yard when you had children. But I think all of that has kind of been thrown up in the air."
Tory says he is fully aware of the impact seven-figure housing prices are having and says he has plans to make Toronto more affordable — more condos, affordable housing, rental units and possibly co-operative housing, which was big in Toronto in 1970s and 1980s.
Wearing black jeans and motorcycle boots, the mayor gives the impression he's looking at an imaginary housing puzzle and is trying his best to make all the small parts fit.
"Of all the issues I sit here and deal with, the ones that are the two biggest are transit and housing," Tory tells Storeys.
But don't expect the city to get rid of the hefty land transfer tax.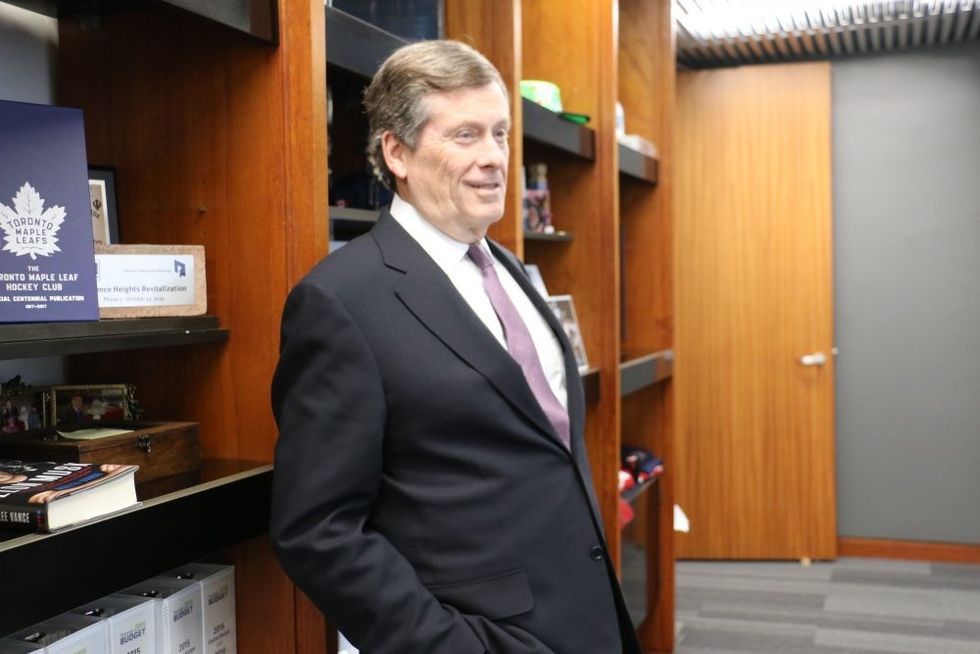 Tory says the city is not about to turn its back on the roughly $800 million a year the city land transfer tax brings into municipal coffers. "We need that money to fund daycare, to fund transit, to fund housing."
The alternative would be to raise taxes and that's not something the mayor is willing to entertain. The city land transfer tax on a $1-million home is $16,475, roughly the same as the provincial land transfer. This, critics contend, is helping drive up housing costs in Toronto.
The mayor says the fact is Toronto has become like other large cities, such as London and New York, where people are choosing to live in downtown condominiums — or what folks there call flats.
He goes on to explain while moving out of Toronto, where housing is often cheaper, has a certain appeal for some, there are just as many wanting to stay in the city for lifestyle reasons.
Tory doesn't buy the theory that Toronto housing prices are scaring people off. Transit, he says, will bring them back, even if it's just for work. That is if the province lives up to its promise to provide all-day GO service to places like Hamilton and Kitchener-Waterloo.
"If you look at the way people have lived in much bigger cities, such a New York, Chicago, London and Paris … they would have decades ago thought nothing (of the fact) you could live in a place like Hamilton or Waterloo and take a train to work," says Tory.
"That's why there is such a big push on building transit."
He says there are a few options available to him and council to make life more affordable.
"I am sure there are people who say 'I would really love to live in a house in Toronto. And they are, I'm sure, disappointed and frustrated that to live in a house in Toronto costs you a million dollars, which doesn't get you a house that is very big to say the least," he says.
Tory finds the best the city can do for them is keep taxes low. Taxes in the Big Smoke go up with inflation.
"But I think what we can do is deal with the other part of the market, which is the part that tries to promote affordability. So, we can stimulate the construction of affordable rental housing, which we are doing. I think we can really only do that … in partnership with the other governments, which we are now getting."
The other levels of governments — both federal and provincial, he says, had effectively backed out of the housing business for the past two decades. 
The mayor says affordable housing will be made possible through the renewed interest of senior levels of government and the private sector, along with surplus provincial, municipal and federal land made available.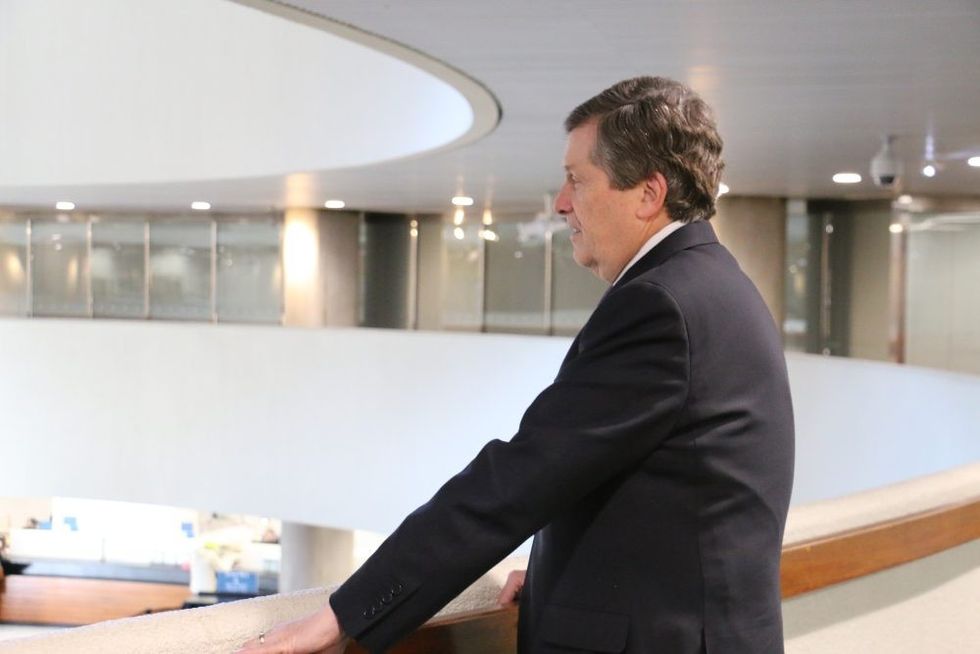 In 2016, city council approved the Open Door Affordable Housing Program to accelerate affordable housing construction, by providing city financial contributions. This includes capital funding and fees and property tax relief, fast-tracking planning approvals and activating surplus public land.
"We can do things like affordable home ownership," says Tory, explaining he just helped launch a project in Scarborough a couple of months ago. The one condition, he adds, is that if the house is sold, a portion of the profit has to be kicked back to the government who helped finance the project.
"Those are terrific projects because they lead to home ownership relatively affordable," he says.
"The biggest single thing we can do is increase the supply of affordable rental, in particular, and affordable ownership housing."
He believes because of municipal initiatives, the private sector is up to building rental units once again. Despite the fact the province earlier this year added rent control to all rental units — even new builds.
Tory says the message in the Open Door Program to developers wanting to build affordable housing and/or rental units, is that approvals will come far more quickly.
"If a proposal gets accepted we're trying to say in this Open Door policy … 'we are going to try and get you approved in a year…,'" says the mayor.
And to those couples and individuals thinking of moving to Toronto, Tory promises: "We are really going to really try to provide you with more options … and those options are going to be a whole combination of things — affordable rental housing and affordable ownership options."
Personal Finance