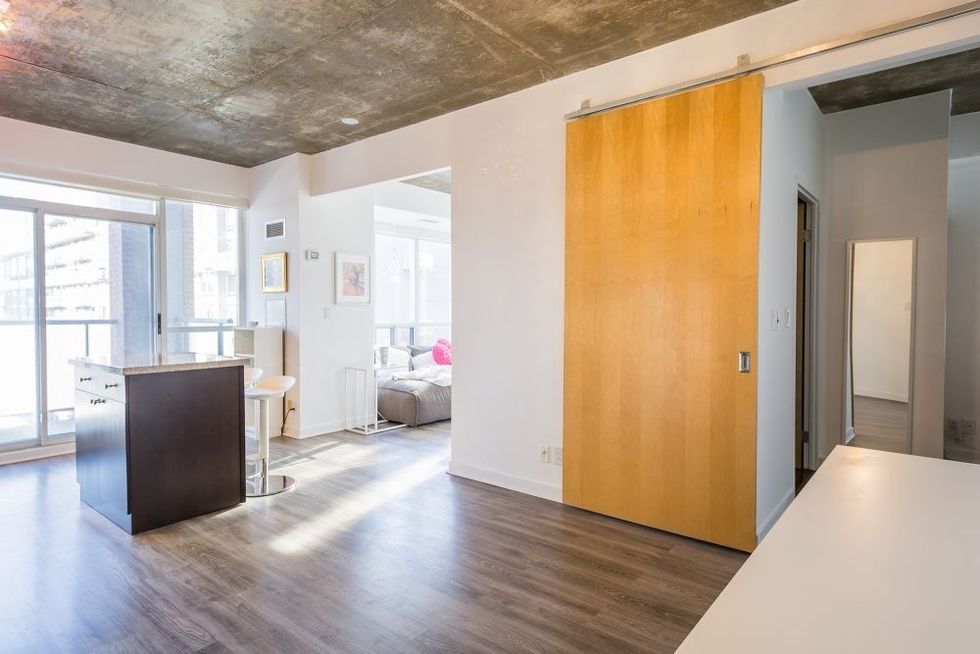 Welcome to my condo that I rented sight unseen. This move was definitely more of a journey than a destination. (Photo courtesy of Toronto photographer Joel Levy)
Who rents a place sight unseen?
---
Maybe the type of person who rents a place site unbuilt.
I can say this, because that person is me.
For me, moving has definitely been a journey; not a destination. To be fair, the word is moving; not stopping.
Fortunately, opportunities have taken me across the country and the world. So, in my lifetime, I have moved far more often than the average person. Or at least far … and often. Am I a nomad? Most certainly not. For I am — yes — mad, indeed.
Sure, every time I've moved, I've learned lessons from my previous move. I've become more efficient. I know how to purge. I know how to adapt to new cultures — and new accents and dialects, Tronno. I know not to bother putting IKEA furniture together myself. I don't know how much money I've spent employing people to do that for me — and quite honestly, I'd rather not know.
All of that experience should make things simpler. Instead, each move has gotten more and more difficult. Because the more you know … the more you know can go wrong.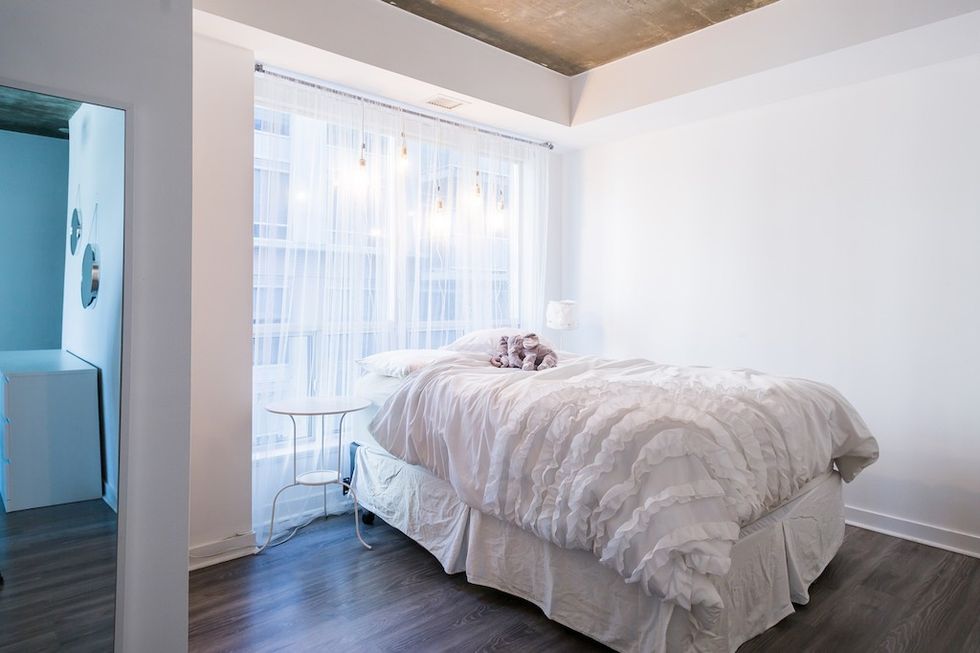 You are at the barn-door entrance to my bedroom. That door, along with the concrete ceilings and floor-to-ceiling windows, give this space a loft-like feel. The elephants on the bed are my dog's added touch. (Photo courtesy of Toronto photographer Joel Levy)
With one exception:
Finding the best place possible.
When I need a place to call home, I call potential landlords. I have a knack for finding gems at great deals — without ever seeing them in person — until well after the lease is signed.
It's not as if I enjoy the stress and uncertainty of finding places like this: fast and risky — a rushing roulette, as it were. But this isn't intentional. This is purely geographical, for I'm usually in another city when I get that phone call: "Congratulations! You're hired. Time to uproot your life and move here — yesterday."
(No one has ever really said that last sentence to me, but interestingly enough, I hear it every time.)
The thing about renting in Toronto, is that it may be better to rent sight unseen, because it's almost a bigger risk to rent sight seen. Renting is so competitive in this city, that you could lose the place to another renter (pronounced: bidder), before you can say 500-square-feet-for-$2000-a-month, as you walk out of your potential unit.
So, armed with a credit report in one hand and Viewit.ca and MLS listings at the fingertips of another, I start the search for my new place. Well, our new place.
Fozzie Bear, my mini-Goldendoodle, is coming — which, by the by, makes this that much more challenging. A pet-friendly search indubitably limits options. (Ironic, considering pets make neighbourhoods that much more friendly.)
Nonetheless, it's time to press on (keys) …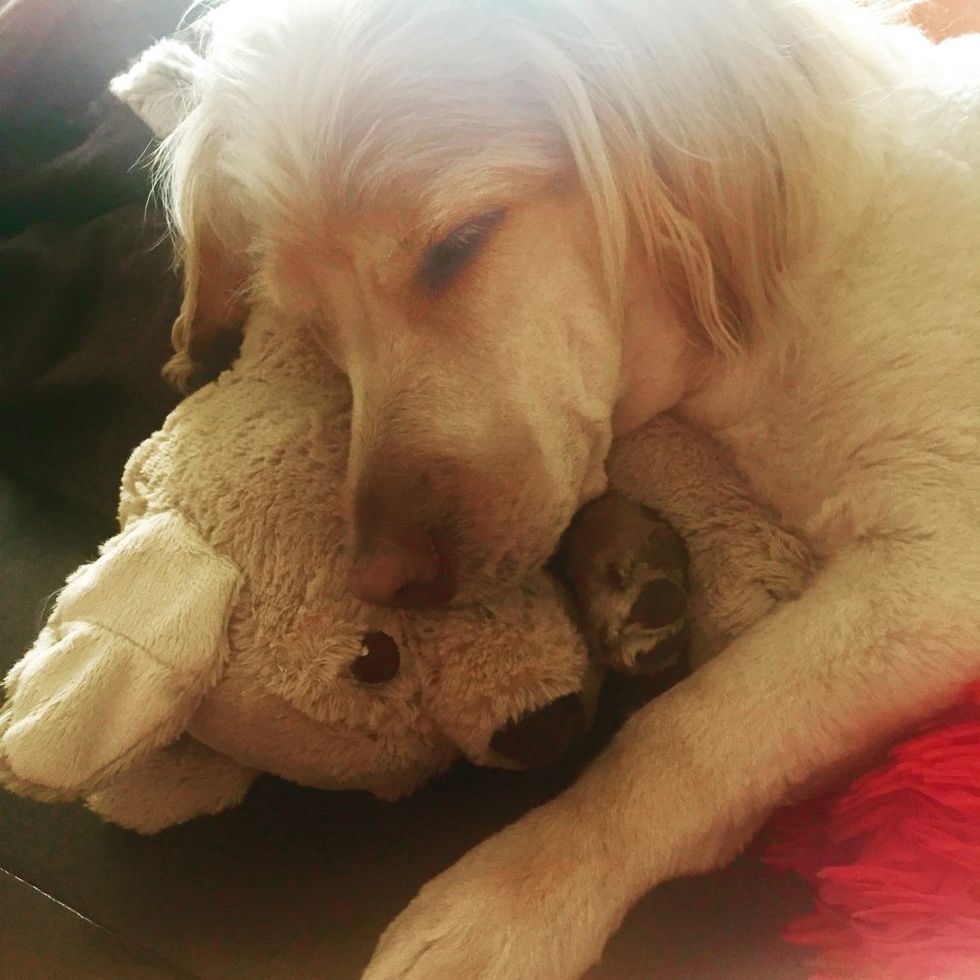 My baby with his baby. How could any landlord refuse this mini-Goldendoodle a rental property?
My wishlist:
King West or Liberty Village
One bedroom
One parking spot
Ensuite laundry
Dishwasher
Gym
Modern condo building
Fozzie Bear-friendly
Chris Evans, AKA Captain America, as my roommate (Hey, I did say wishlist.)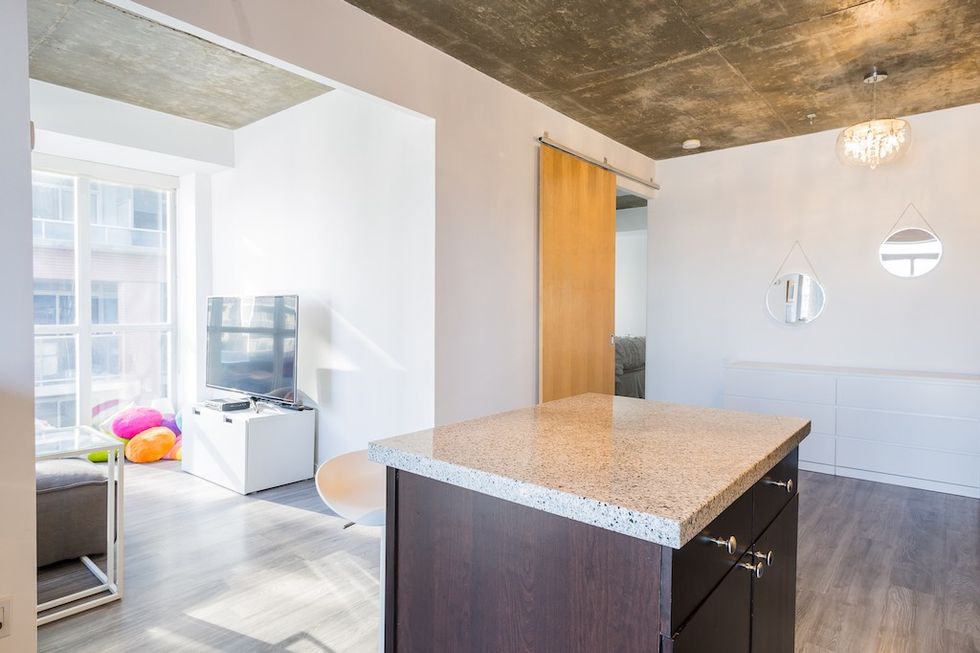 My loft-like condo may look nice now, but before I saw it in person, the images my mind conjured were quite horrific. (Photo courtesy of Toronto photographer Joel Levy)
Before I began my online search, I tried something new: I found a Toronto realtor to help. She visited two places on my behalf, and we FaceTimed through each viewing. I really liked the first place. BUT, a section of the kitchen floor was warped and needed repair. Otherwise, it hit almost every point on my wishlist.
Several times, I asked if she could get the landlord to repair it. She said he likely wouldn't and refused to make the request.
I became desperate … This has almost everything I want. What if I don't find another place in time?Maybe I should just accept it is as. What should I do? Well, what any responsible adult in this situation should do: seek advice.
Granite counter tops, stainless steel appliances, unobstructed balcony views ... And the list goes on. Discover more of it below. (Photo courtesy of Toronto photographer Joel Levy)
"You sound desperate," said my chief financial advisor, who is also my dad. "Fire the agent. If you ask her to make a request to the landlord, she should. Why's she trying to convince you to spend all this money on a damaged condo? And if the landlord isn't willing to make that repair, what other problems will you encounter with him?"
"And be patient. There's always another place," said my chief advisor, whom I call mom.
They're right. I value myself more than a shoddy floor. Unlike the foundation of that kitchen, I will not settle.
So I continued the search — on my own. Well, with my parents' support. After all, they are my advisors. Since I found my last Toronto home using Viewit.ca, let's try it again …
Clicking through page after page, unit after unit, nothing was coming up as my time ticked down. Naturally, I started second-guessing myself. "I hope I didn't make a mistake not accepting that damaged-floor place," said my illogical insecurities.
I was at the last listing on the last page of my search.
I knew.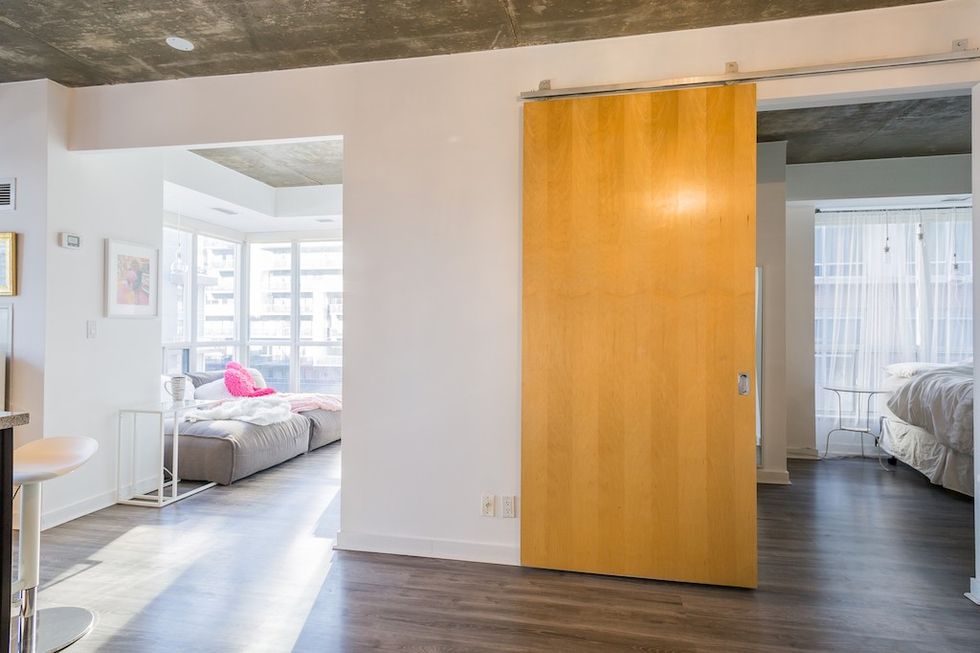 With 750 square feet, there's more than enough room to set up a queen-sized air mattress for visitors — who seem to be lining up steadily now. (Photo courtesy of Toronto photographer Joel Levy)
Immediately, I called the landlord and arranged for a friend in Toronto to visit the unit. My friend, who happens to be a realtor, said he's seen a lot of condos, but none like this. "You have to take it."
But, all of a sudden, faced with the final decision, I no longer knew!
What?!
I performed my due diligence, to the extent of verifying the landlord's property ownership. But I never had a chance to see beyond the few photos online, which didn't clearly showcase the place. And time was running out.
I signed the lease. From that moment, the images in my mind of my mysterious new place became less and less attractive. It's remarkable what stress and uncertainty can conjure, because they made me imagine the worst.
To prepare for this epic disaster, I lowered my expectations.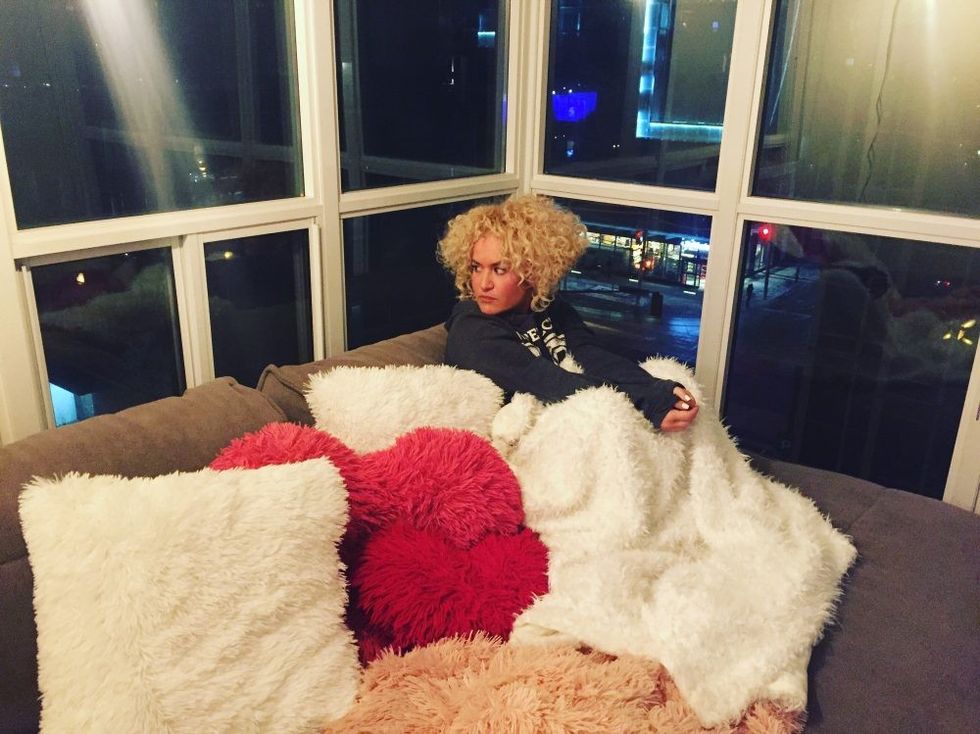 Comfy and cozy on my modern Japanese couch, enjoying my new downtown, loft-like condo. You can almost hear Chris Evans knocking on my door.
So you can only imagine how incredible I felt when I finally saw my new home in person, because I found the best. Of course I couldn't believe how great this place was sight unseen, because you literally have to see this place to believe it.
My new place:
King West Village
750-square-foot loft-style condo with barn door and concrete ceilings
Corner unit with floor-to-ceiling windows
One bedroom
Two full washrooms (So I use the second shower as a closet — because it would be weird to use my ensuite's soaker tub for that, right?)
One parking spot
Ensuite laundry
Dishwasher
Gas stove
Gas BBQ with hook-up to unit
Balcony with unobstructed view
Gym
Locker
Modern condo building
Fozzie Bear-friendly
All at the low-end of my budget!
I know this sounds great, like I got everything I wanted. But, alas ... I'm still waiting for Chris Evans to show up.
Renting