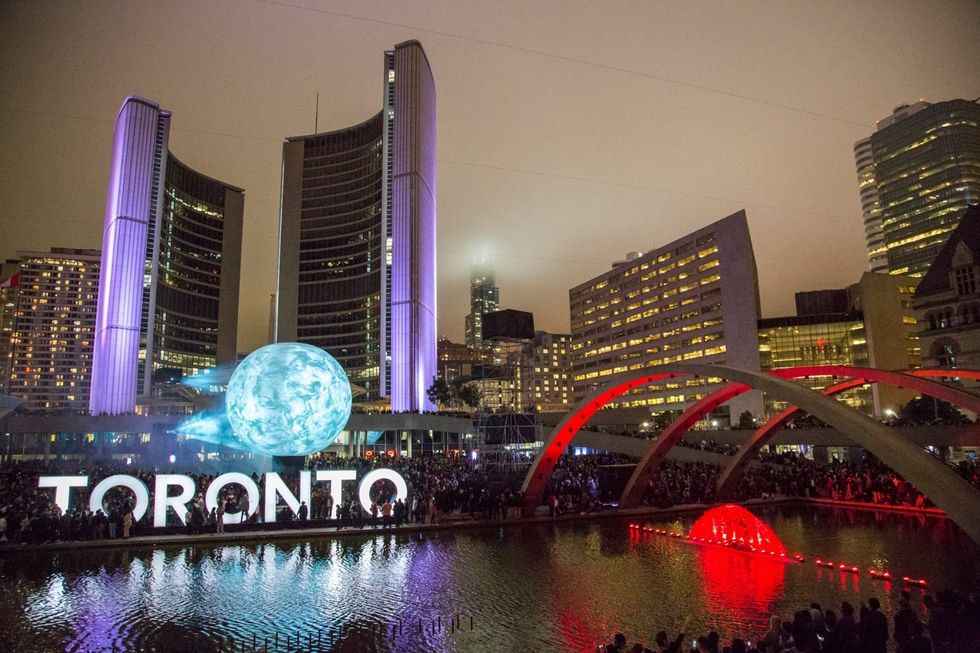 (Photo courtesy of Nuit Blanche Toronto via Facebook)
Nuit Blanche Toronto 2018 will transform the city. And you get to be a part of it. For FREE.
---
From must-see shows to free TTC subway transportation, here's everything you need to know about one of the most unique art festivals in the world:
On September 29, Toronto will be transformed into one of the largest and most unique all-night art festivals in the world, with contemporary art installations scattered throughout the city for Nuit Blanche.
From sundown to sunrise, Toronto will be yours to discover.
With over 75 contemporary art projects, by more than 300 local, national, and international artists, there'll definitely be something to pique everyone's interests.
Three City of Toronto produced and curated exhibitions will be in place. One in Scarborough, one downtown, and a third bridging the two neighbourhoods, all under Nuit Blanche Toronto's theme, "You Are Here."
This year's theme focusses on Toronto as a city of change and a city in progress, where artists and curators invite the public to see Toronto through new eyes.
Some Nuit Blanche Highlights
When: September 29th (into the early hours of September 30th)Time: 7 p.m. on the 29th to 7 a.m. on the 30thWhere: Locations throughout TorontoPrice: Free
Dream Time: We All Have Stories
Curated by Karen Alexander, this exhibition is inspired by the history and physicality of The Ward, as eight artists reimagine and transform sites in and around City Hall. Audiences encounter dynamic installations, spatial interventions, a living archive of sonic landscapes, and an underground city of memories.
Make Your Mark
Want to be a part of an exhibition? Visit Meghan Ross's sculptural installation, "Make Your Mark" at the Toronto Coach Terminal. Guests will be able to experience the imprint of their unique selves by letting glue completely dry on their finger and peeling it off. Thousands of individual fingerprints, which have been gathered throughout the year, will hang from the ceiling and stick to the walls.
Down At The Twilight Zone
Check out the "Down at the Twilight Zone," by Harold Offeh for a live, interactive performance exploring the diverse history and narrative of queers living in Toronto and paying homage to the Twilight Zone, a famous Toronto nightclub. Offeh will help bring his art to life by playing the role of "interactive host" for a night of time travel.
Styll
Curated by Alyssa Fearon, the artists in this exhibition disrupt boundaries and blur borders between downtown and the suburbs, the centre and margins, ourselves and each other. Each project, made by artists from Scarborough, exposes the unexpected and unplanned, making real again what was denied or written over.
Portals
With Scarborough known for having one of the largest populations of scattered or displaced Guyanese citizens, Alyssa Bistonath's "Portals" dives deep into the everyday gestures and routines of Guyanese residents. The science fiction film is about a series of portals ripping through time and space, transporting viewers to a place of solace.
Everything I Wanted to Tell You
Watch the Scarborough Civic Centre transform to display large, text-based narratives of the neighbourhood's diversity, nuance, and resilience in "Everything I Wanted to Tell You," by Hiba Abdallah.
The Things They Carried
Through music, food and art, these works cast light on immigrant journeys and provoke consideration of things forgotten or carried along the way. Curated by Tairone Bastien.
On Flashing Lights
Dance along with Brendan Fernandes's "On Flashing Lights" a project devised in solidarity with DJs from Toronto's queer, immigrant and racialized communities. The installation will feature a barricade of police vehicles on Bay Street, flashing their lights at the stage to symbolize the historic tension. Once every hour, the music will stop for a moment of silence and recognition of lives that have been lost on dance floors.
International Dumpling Festival
Visit the "International Dumpling Festival" by Ken Lum to try dumplings from across the globe as well as Jamaican patties, Finnish pies, Tibetan momos, Colombian empanadas and Polish pierogis. Feed your body as well as your understanding of different cultures with this event. Proprietors will be present at times throughout the evening to share stories about their dumplings, their businesses and themselves. Accompanying the kiosks will be banners made by Lum to represent the vendors and their food.
Toronto