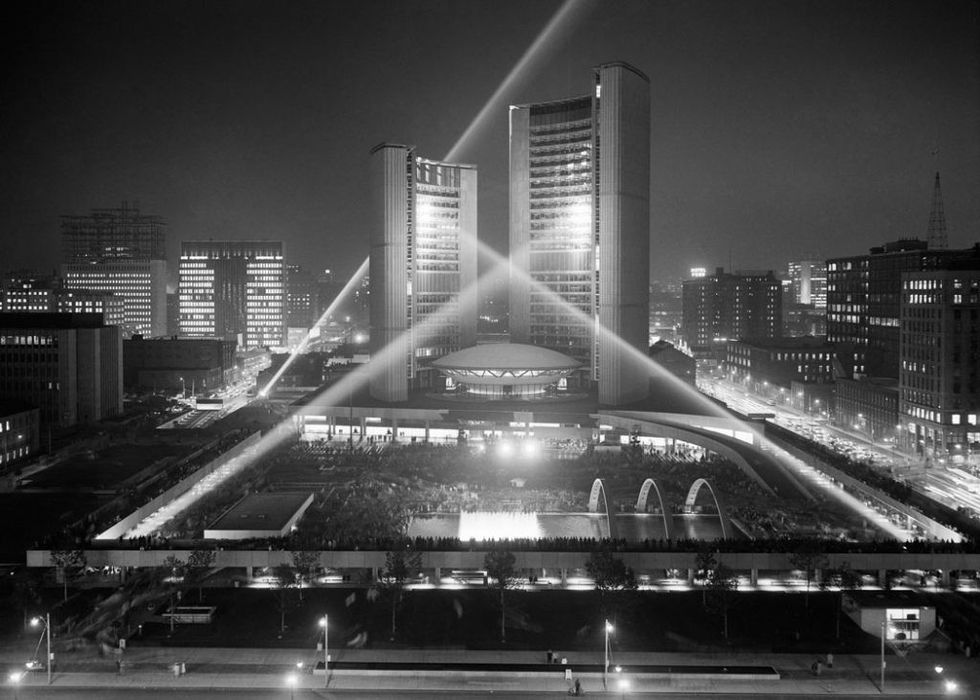 New City Hall opening day. (Image courtesy of Toronto Public Library)
---
If Old City Hall was the symbol of a powerful yet patriarchal 19th-century Toronto, then New City Hall was defiantly going to be the symbol of a more modern and embracing Toronto in the 20th-century.
This undeniable unique structure with its curved twin towers surrounding a flying saucer-shaped council chamber stands in front a plaza named for Toronto's mayor Nathan Phillips.
Phillips is actually the person who encouraged the competition for a new hall to be built.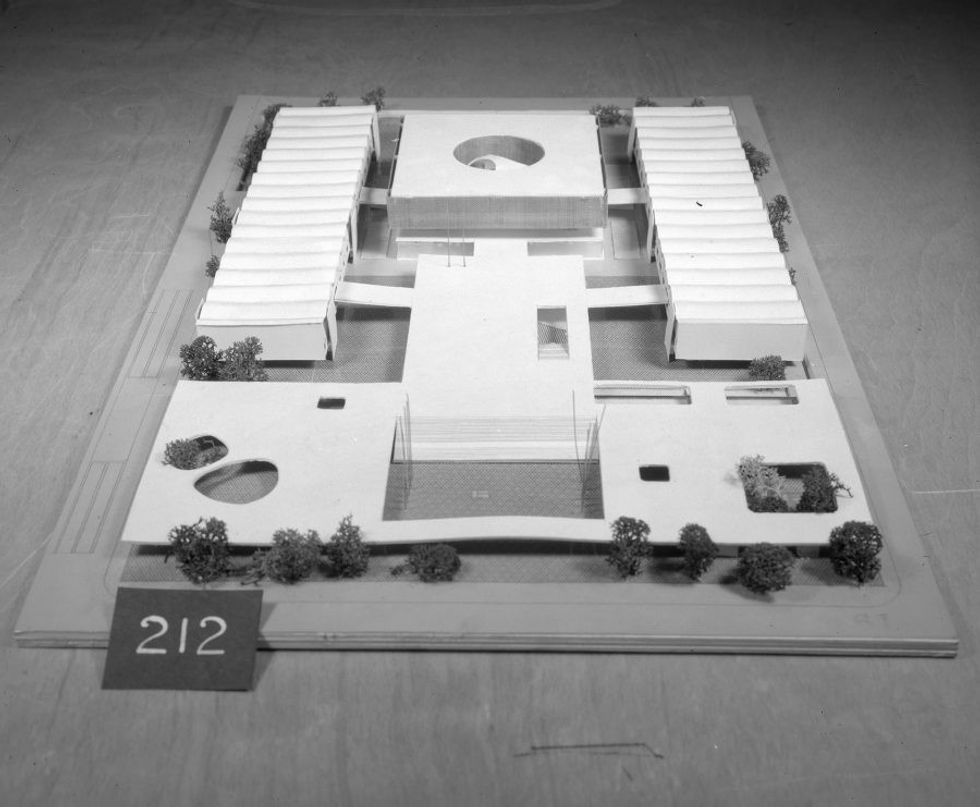 Olindo Grossi's entry. (Image courtesy of Toronto Public Library)
In 1943, civic leaders started to think about constructing a new city hall, even though the city hall they were occupying (today's Old City Hall) was only 44 years old.
The building was considered cramped, outdated and antiquated. Toronto's New City Hall was to be the fourth city hall since the city's incorporation in 1834.
By 1956, under Mayor Phillips' leadership, a five-person panel of judges amassed over 500 designs from 42 countries.
Soon after, they narrowed down the crop to eight semi-finalists. And two years later, in September 1958, they selected Finnish architect Viljo Revell to do the job.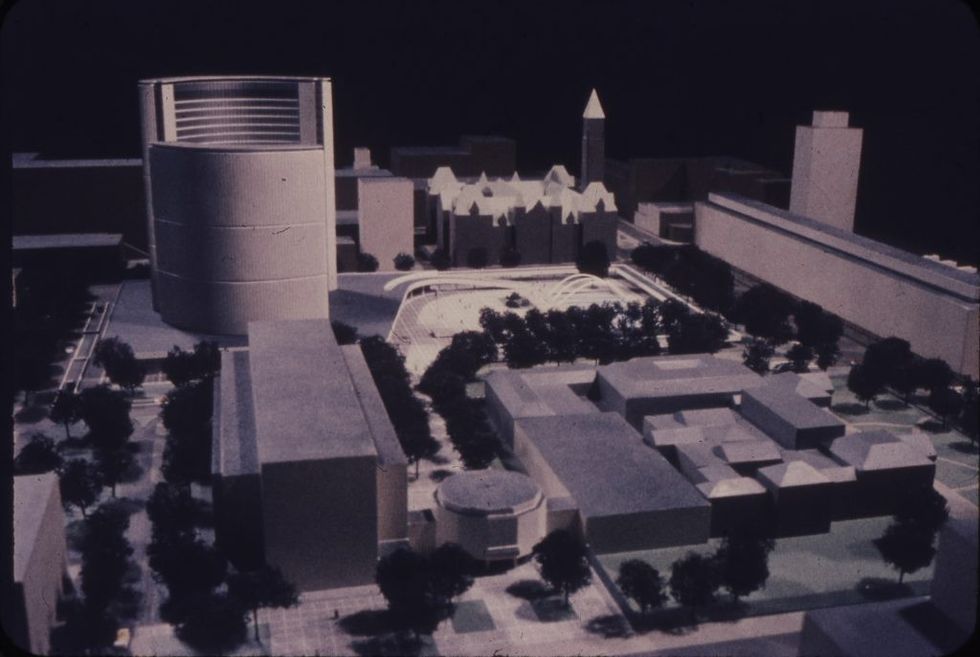 Viljo Revel's entry. (Image courtesy of Toronto Public Library)
Construction began on November 7, 1961.
First, there was the demolition of over 100 buildings, including the magnificent Beaux-Arts Registry Office and Shea's Hippodrome — a massive 3,000 seat Vaudeville theatre. Both buildings were icons of the old world making way for the new.
Together, with his Finnish teammates, Heikki Castren, Bengt Lundsten, and Seppo Valjus, Revell's City Hall had two curved towers of dissimilar heights that wrapped around the domed council chamber.
From Nathan Phillips Square, this outstretch gives the impression the entire building is embracing all who enter.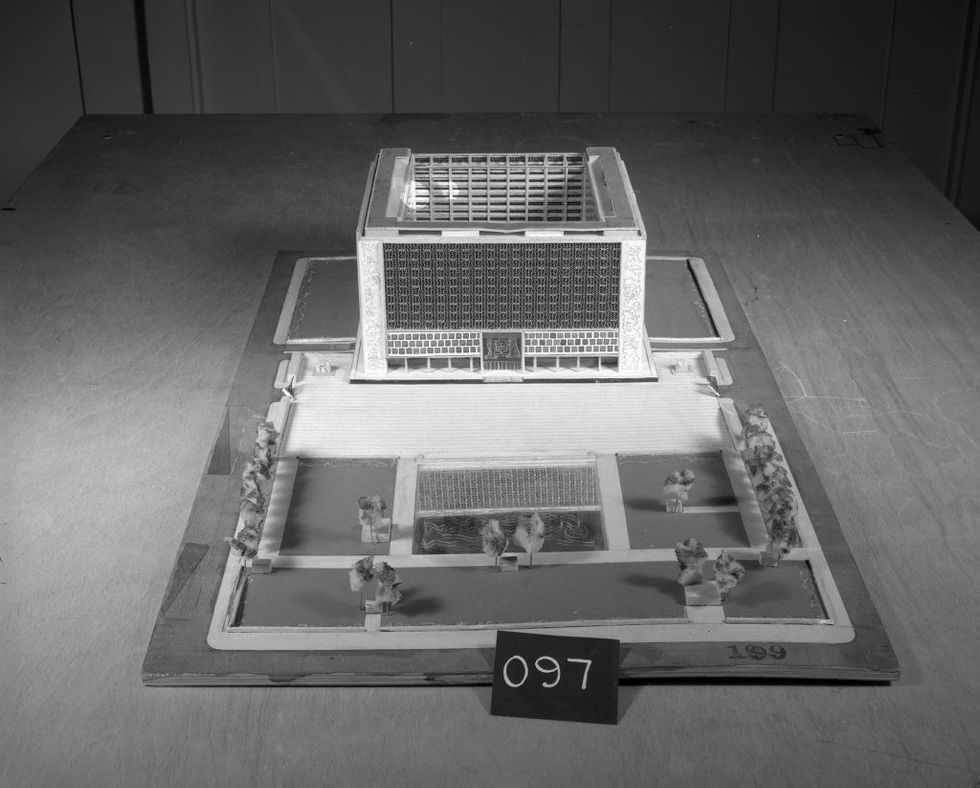 Arthur W. Kenyon & Partners' entry model. (Image courtesy of Toronto Public Library)
From above the two curved towers and "spaceship" inspired council chamber, it looks like a massive eye. This gave the building's original nickname: "The Eye of Government."
New City Hall was inaugurated September 13, 1965 — at a cost of  $31 million (approximately $240 million, if valued with today's inflation).
Even now, some 50 years after its completion, the inspired New City Hall still has an ultra-modern look that captures the vitality of post-WWII Toronto, when city planners were resolute in building a more modern downtown core.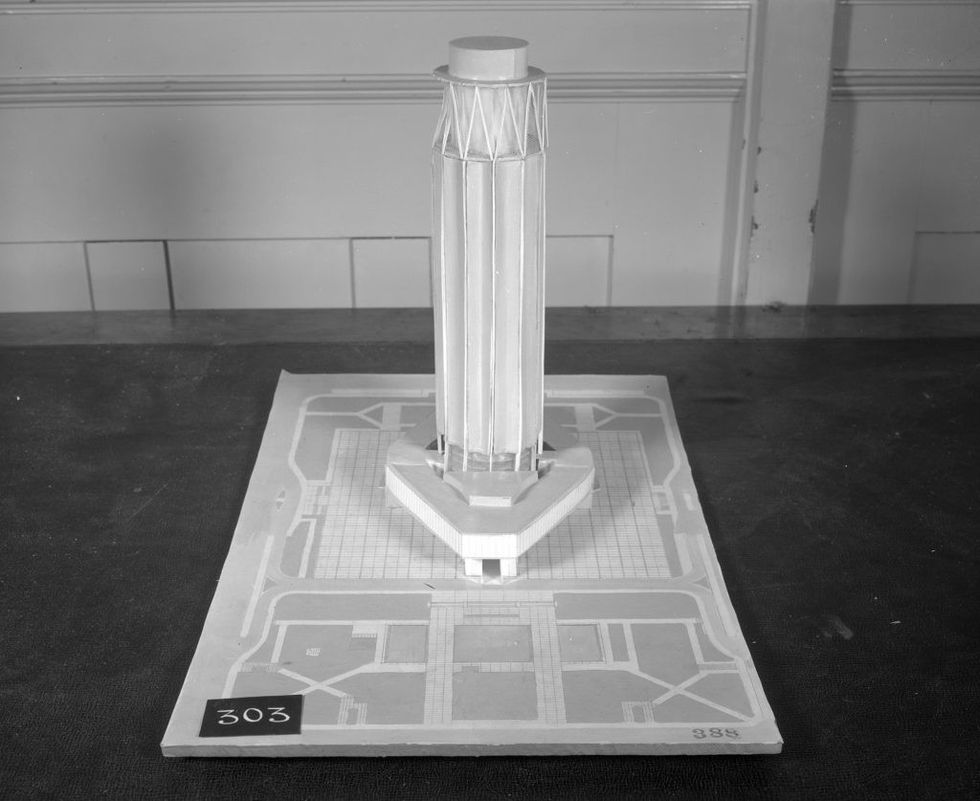 J. Kolenda entry. (Image courtesy of Toronto Public Library)
New City Hall is not only an iconic work of modernist architecture, but it's also part of the Star Trek Universe.
Not many people realize it appeared as an extraterrestrial building in an early Star Trek 1969 comic and later seen in the 1988 Next Generation episode "Contagion" as a destination of an alien gateway to another world.
Over the past half-century, many upgrades and changes have been made to New City Hall, without losing any of its original design or purpose.
Of these new additions is a publicly accessible green roof added in 2009 and a larger Peace Garden, once at the centre of Nathan Phillips Square, now moved to the Western end.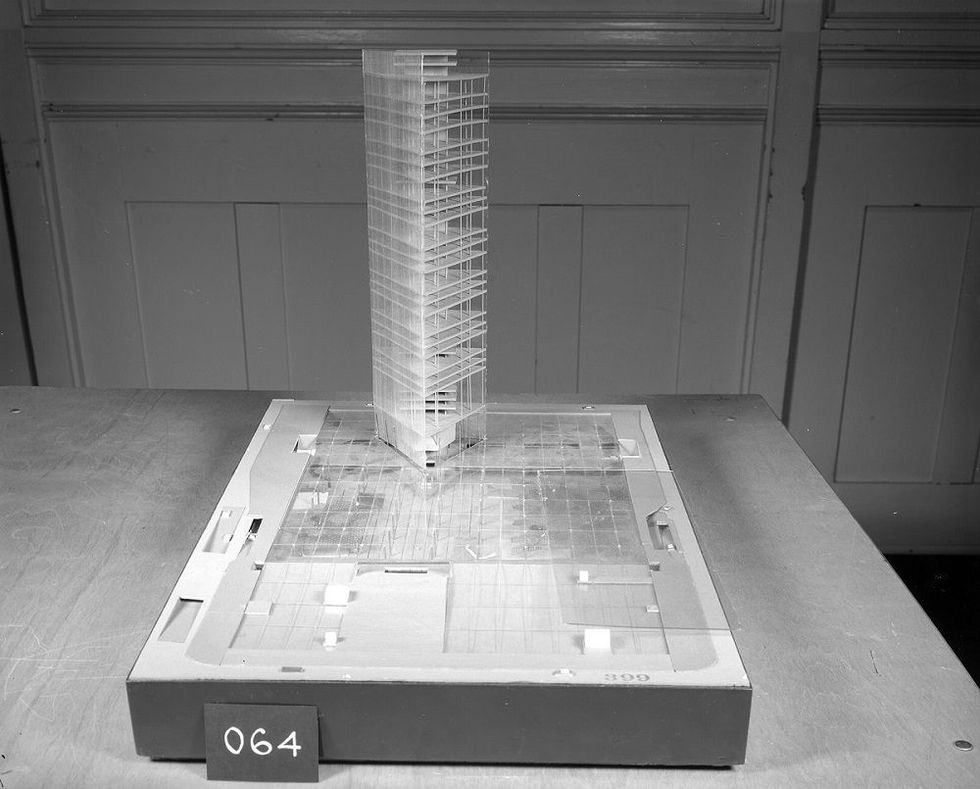 E. Asunsolo entry. (Image courtesy of Toronto Public Library)
When looking at some of the models sent in by other architects, no matter how futuristic they would have seemed to 1950s sensibilities, Revell's work really was the standout.
Architect Viljo Revell died at the age of 54 on Nov 8, 1964, in Finland. Sadly, before New City Hall was finished. So he never got to see his magnum opus completed.
Industry Profiles