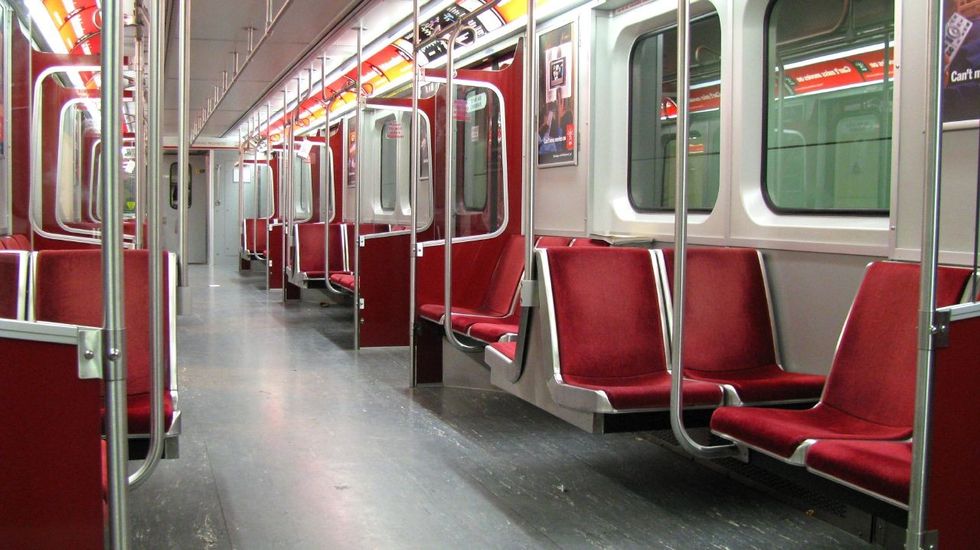 (Photo by Jen Vitterli via Flickr.com)
Nuit Blanche is on this weekend in Toronto, which means the TTC will run all night. Plus, Line 3 in Scarborough will be completely free!
---
Correct: F. R. E. E.
On September 29, Toronto transforms into one of the largest and most unique all-night art festivals in the world, with contemporary art installations scattered throughout the city.
All of the projects included in Nuit Blanche will be grouped into six easily-accessed neighbourhoods to make exploring more efficient and to moderate foot traffic.
To make travel easy for the thousands of people who attend the festival, the TTC is offering all-night service on its major subway lines, and one line will be free. (We just had to write "free" again.)
The Subway Lines That Run All Night For Nuit Blanche
Besides the regular all-night Blue Night Network service, the TTC is extending all-night service to a generous stretch of the subway.
Line 1 Yonge-University service will operate all night from Vaughan Metropolitan Centre Station to Finch Station.
Line 2 Bloor-Danforth service will operate all night from Kipling Station to Kennedy Station.
Line 3 Scarborough service will operate all night from Kennedy Station to McCowan Station.
The FREE Line
Additionally, service on Line 3 Scarborough (SRT) will be free from 7 p.m. on September 29 to 7 a.m. on September 30, through fare gate access at the following stations:
Kennedy
Lawrence East
Ellesmere
Midland
Scarborough Centre
McCowan.
The all-night service is regular fare except on Line 3.
So now there's no reason not to explore Toronto until the sun comes up ... or until you fall asleep... or whatever comes first.
Toronto