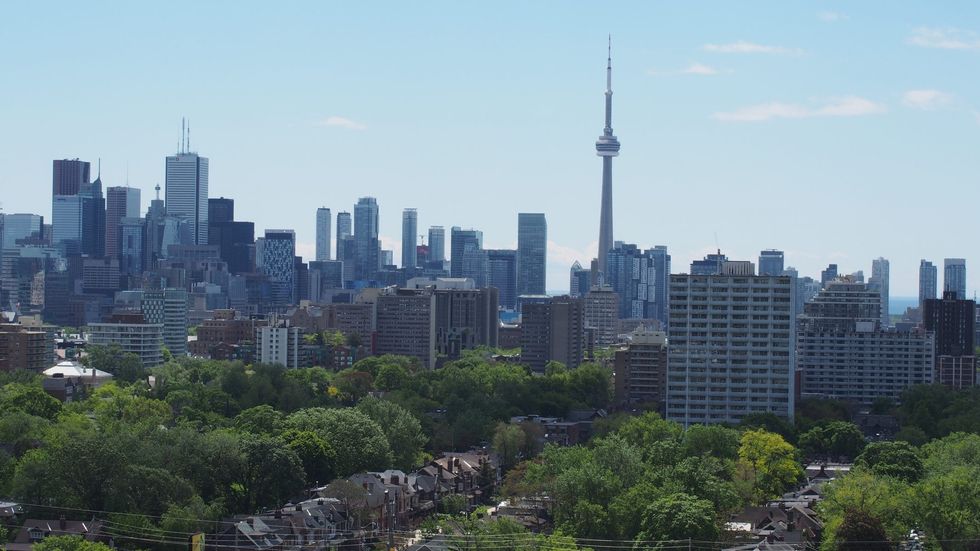 Toronto condos are king when it comes to rising real estate prices in the city. So, welcome to Condoronto.
---
According to the latest data from the Toronto Real Estate Board (TREB), multi-family housing, both of the low- and high-rise variety, experienced price appreciation of 8.3 per cent in the 416 region.
This outpaces the appreciation of all other home types.
Nonetheless, price appreciation for Toronto condos for sale differs dramatically from neighbourhood to neighbourhood.
The number of bedrooms within a unit can also have a significant impact on its value.
A recent study by Zoocasa, finds units with two bedrooms saw better than average appreciation in more neighbourhoods than one-bedroom units.
So which neighbourhoods experienced the greatest appreciation for both one- and two-bedroom units?
Zoocasa analyzed sold data from the TREB to calculate average year-to-date (January 1 to August 28, 2018) prices in 95 neighbourhoods across the City of Toronto. Findings show two-bedroom units are priced greater than the city average of $641,056 in a total of 43 neighbourhoods, while one-bedroom units are priced greater than the average of $473,800 in 30 neighbourhoods.
The average two-bedroom condo appreciated by seven per cent and the average one-bedroom condo appreciated by 11 per cent compared to 2017.
So, yes, it's fair to say Toronto is officially Condoronto.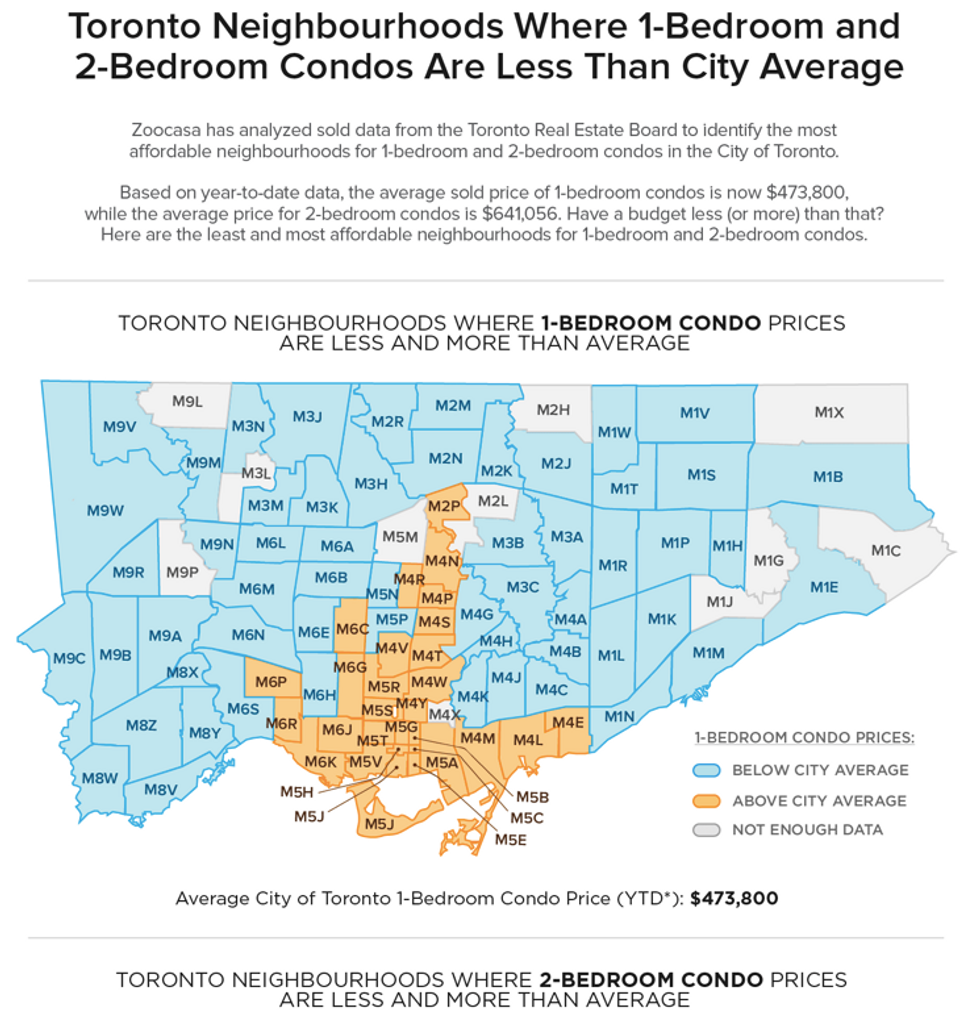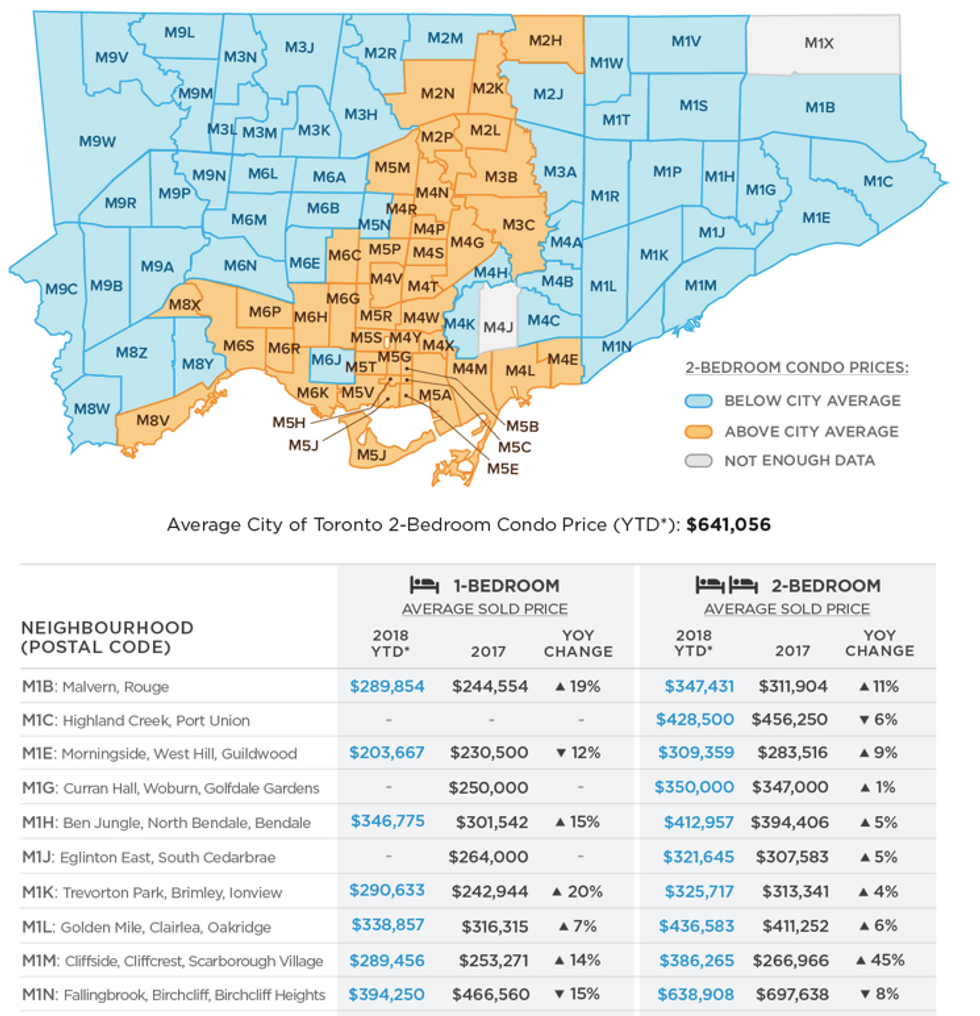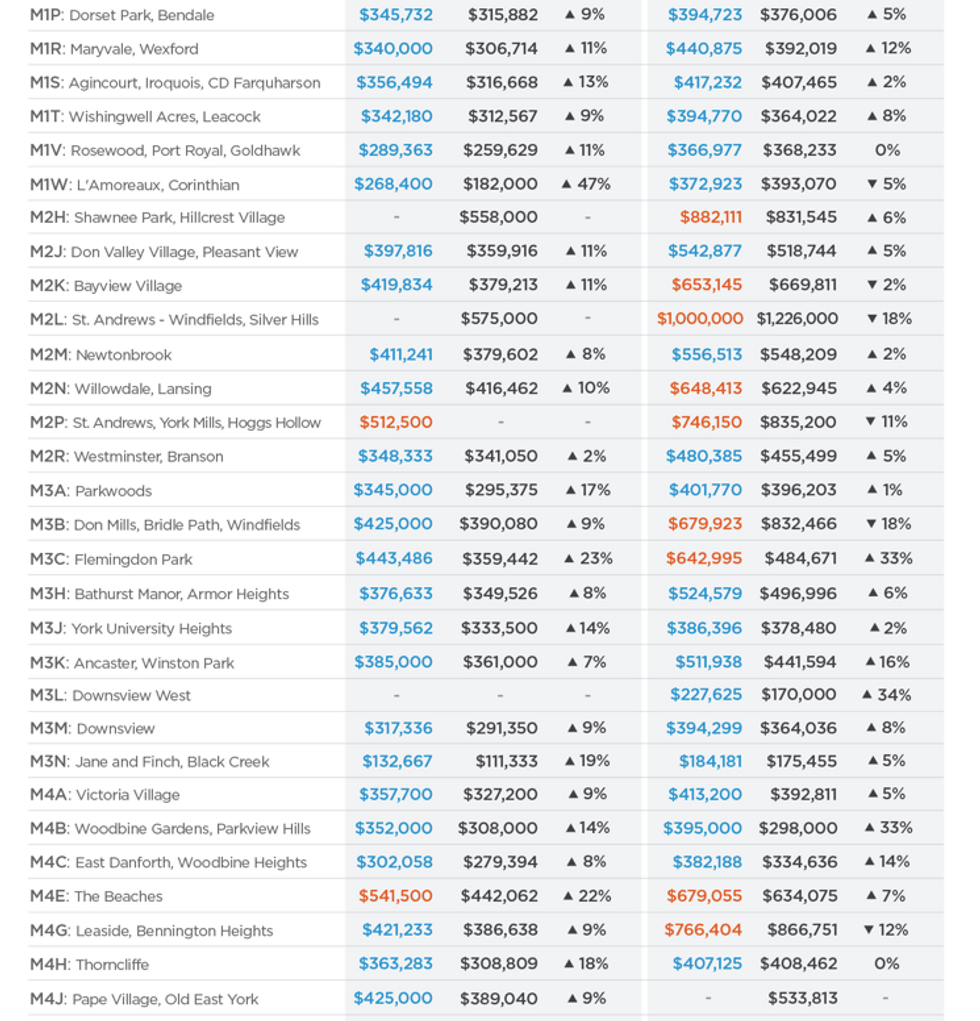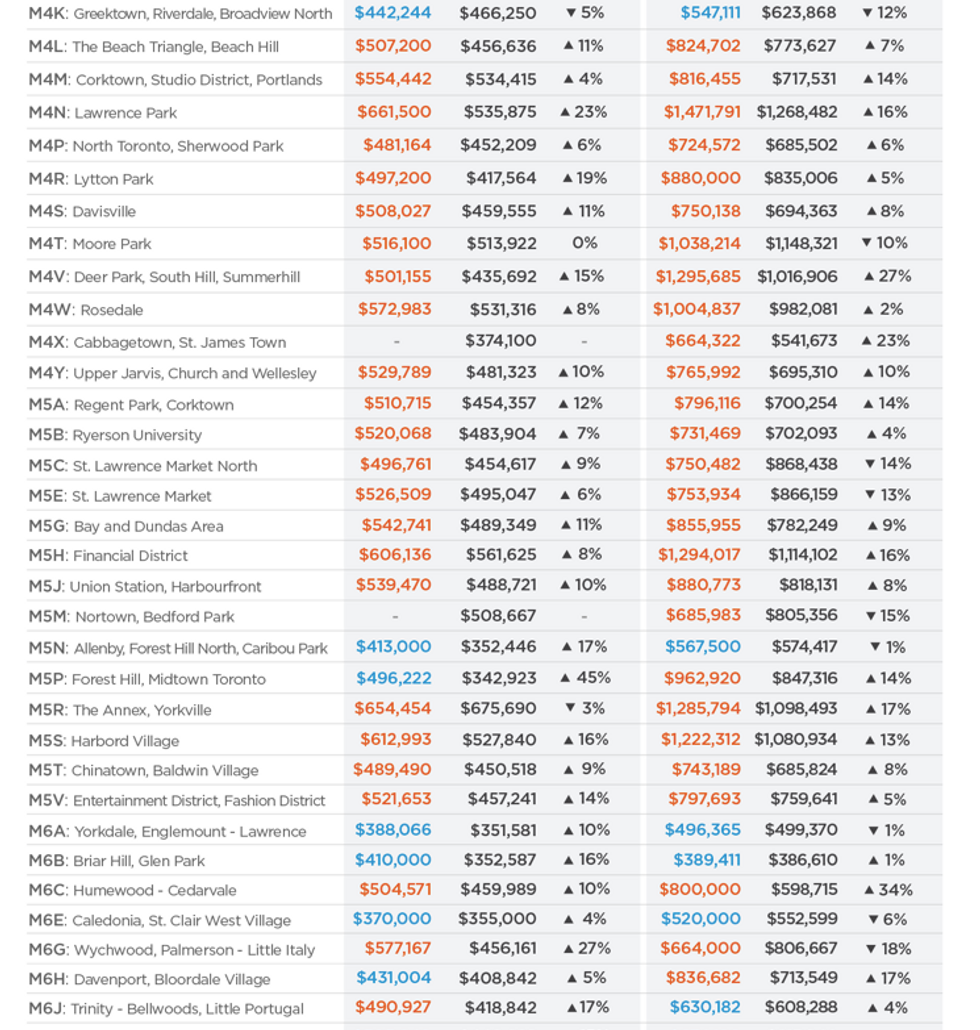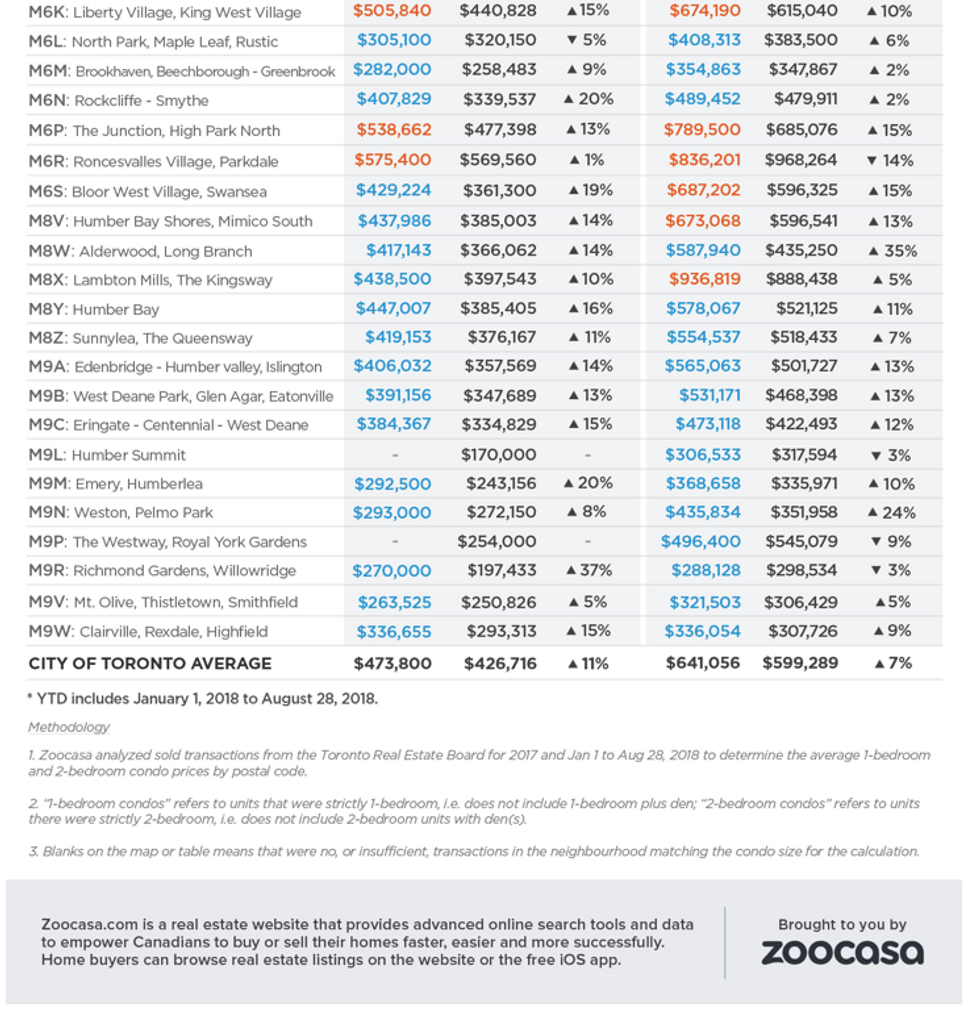 Toronto Neighbourhoods With Greatest Year-Over-Year Appreciation:One-Bedroom Condos
1 – M1W: L'Amoreaux, Corinthian
2018 Price: $268,400
2017 Price: $182,000
+47%
2 – M5P: Forest Hill, Midtown Toronto
2018 Price: $496,222
2017 Price: $342,923
+45%
3 – M9R: Richmond Gardens, Willowridge, Kingsview Village
2018 Price: $270,000
2017 Price: $197,433
+37%
4 – M6G: Wychwood, Palmerson – Little Italy
2018 Price: $577,167
2017 Price: $456,161
+27%
5 – TIE M4N: Lawrence Park
2018 Price: $661,500
2017 Price: $535,875
+23%
5- TIE M3C: Flemingdon Park
2018 Price: $443,486
2017 Price: $359.442
+23%
Toronto Neighbourhoods With Greatest Year-Over-Year Appreciation:Two-Bedroom Condos
1 – M1M: Cliffside, Cliffcrest, Scarborough Village
2018 Price: $386,265
2017 Price: $266,966
+45%
2 – M8W: Alderwood, Long Branch
2018 Price: $587,940
2017 Price: $435,250
+35%
3 – TIE M3L: Downsview West
2018 Price: $226,625
2017 Price: $170,000
+34%
3 – TIE M6C: Humewood – Cedarvale
2018 Price: $800,000
2017 Price: $598,715
+34%
4 – TIE M3C: Flemingdon Park
2018 Price: $642,995
2017 Price: $484,671
+33%
4 – TIE M4B: Woodbine Gardens, Parkview Hills, Topham Park
2018 Price: $395,000
2017 Price: $298,000
+33%
5 – M4V: Deer Park, South Hill, Summerhill, Rathnelly
2018 Price: $1,295,685
2017 Price: $1,016,906
+27%
Toronto Neighbourhoods With Least Year-Over-Year Appreciation:

One-Bedroom Condos
1 – M1N: Fallingbrook, Birchcliff, Birchcliff Heights
2018 Price: $395,250
2017 Price: $466,560
-15%
2 – M1E: Morningside, West Hill, Guildwood
2018 Price: $203.667
2017 Price: $230,100
-12%
3 – TIE M4K: Greektown, Riverdale, Broadview North
2018 Price: $442,244
2017 Price: $466.250
-5%
3 – TIE M6L: North Park, Maple Leaf, Rustic
2018 Price: $305,100
2017 Price: $320,150
-5%
4 – M5R: The Annex, Yorkville
2018 Price: $654,454
2017 Price: $675,690
-3%
5 – M4T: Moore Park
2018 Price: $516,100
2017: $513,922
0%
Toronto Neighbourhoods With Least Year-Over-Year Appreciation:Two-Bedroom Condos
 1 – TIE M2L: St. Andrews – Windfields, Silver Hills
2018 Price: $1,000,000
2017 Price: $1,226,000
-18%
1 – TIE M3B: Don Mills, Bridle Path, Windfields
2018 Price: $679,923
2017 Price: $832,466
-18%
1 – TIE M6G: Wychwood, Palmerston – Little Italy
2018 Price: $664,000
2017 Price: $806,667
-18%
2 – M5M: Nortown, Bedford Park
2018 Price: $685,983
2017 Price: $805356
-15%
3 – TIE M6R: Roncesvalles Village, Parkdale
2018 Price: $836,201
2017 Price: $968,264
-14%
3 – TIE M5C: St. Lawrence Market North
2018 Price: $750,482
2017 Price: $868438
-14%
4 – M5E: St. Lawrence Market
2018 Price: $753,934
2017 Price: $866,159
-13%
5 – TIE M4K: Greektown, Riverdale, Broadview North
2018 Price: $547,111
2017 Price: $623,868
-12%
5 – TIE M4G: Leaside, Bennington Heights
2018 Price: $766,404
2017 Price: $866,751
-12%
Community