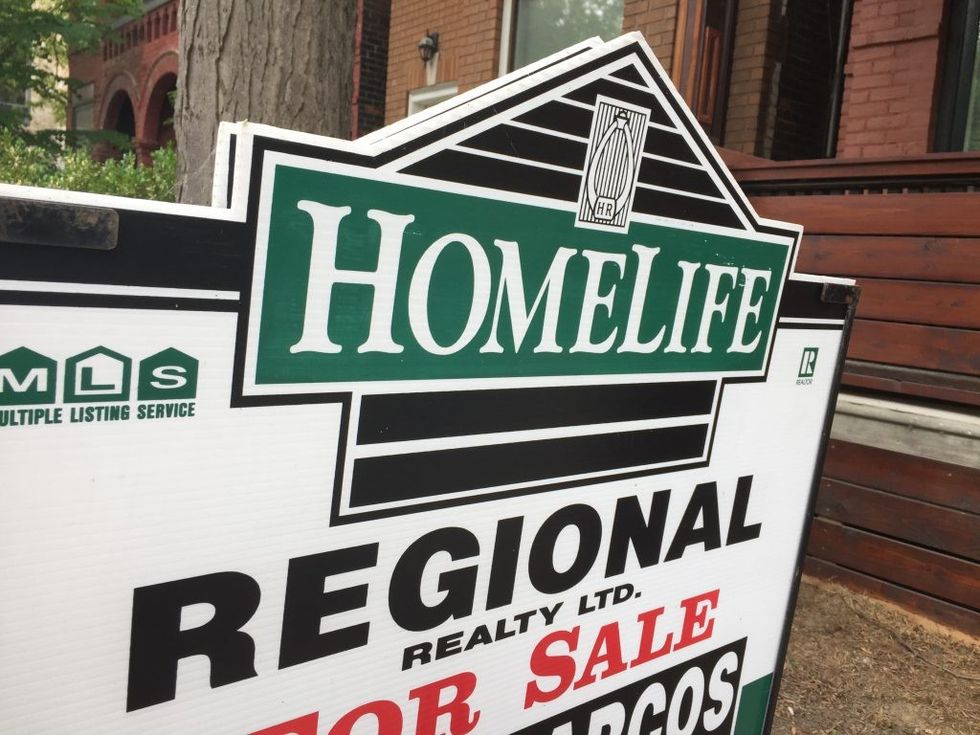 It has been a tumultuous year thus far for the real estate market.
---
But the worst appears to be behind us as the impact from new mortgage rules and the Ontario Fair Housing Plan are subsiding, says the Toronto Real Estate Board in their August report.
According to the latest market data, sales have rebounded 8.5 per cent from the same month in 2017, with 6,839 homes changing hands.
Prices are also on the rise, increasing by 4.7 per cent to an average of $765,270.
The board also notes that a greater proportion of higher-priced housing is being purchased, such as detached houses for sale in Toronto, which edged up the overall MLS Home Price Index by 1.5 per cent.
There are also fewer new MLS listings in Toronto, with 12,166 homes coming to market, a decline of 12.2 per cent. 
Buyers Regaining Their Confidence
TREB president Garry Bhaura stated in the board's release that the influx of sales reflects growing confidence among home buyers. Many of these home buyers were discouraged from entering the market after new policies were introduced by the previous Ontario Liberal government. Also discouraging were the combined impacts of rising interest rates and tougher mortgage qualification criteria.
"It is encouraging to see a continued resurgence in the demand for ownership housing," he says.
"Many home buyers who had initially moved to the sidelines due to the Ontario Fair Housing Plan and new mortgage lending guidelines have renewed their search for a home and are getting deals done much more so than last year."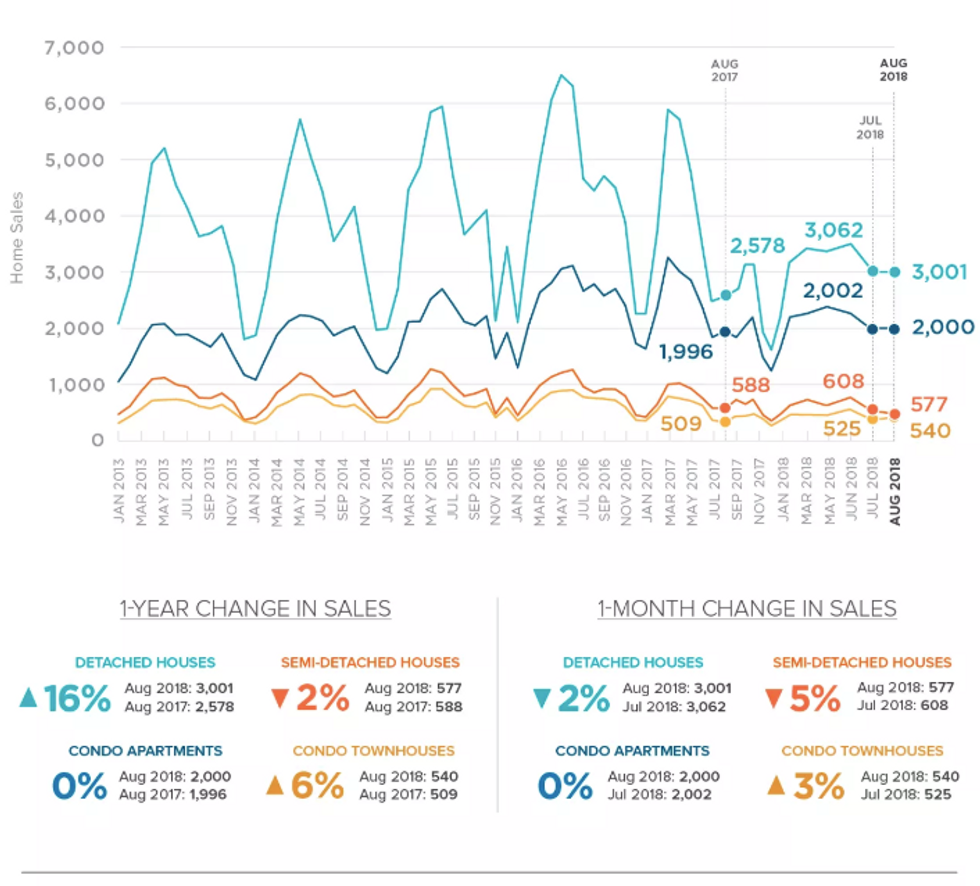 (Graphic courtesy of Zoocasa.com)
Low Inventory Risks Remain
However, that may prove to be too much of a good thing — TREB's director of market analysis, Jason Mercer, is already raising a red flag over tight levels of inventory.
As new listings have decreased from 2017, the sales-to-new-listings ratio in the TREB region as of August is 56 per cent.
That's still within balanced territory, but has edged closer to a sellers' market compared to last year's market conditions.
"In August, the annual rate of sales growth outpaced the annual rate of new listings growth," says Mercer.
"We have only slightly more than two-and-a-half months of inventory in the TREB market area as a whole and less than two months of inventory in the City of Toronto."
"The means that despite the fact that sales remain off the record highs from 2016 and 2017, many GTA neighbourhoods continue to suffer from a lack of inventory. This could present a problem if demand continues to accelerate over the next year, which is expected."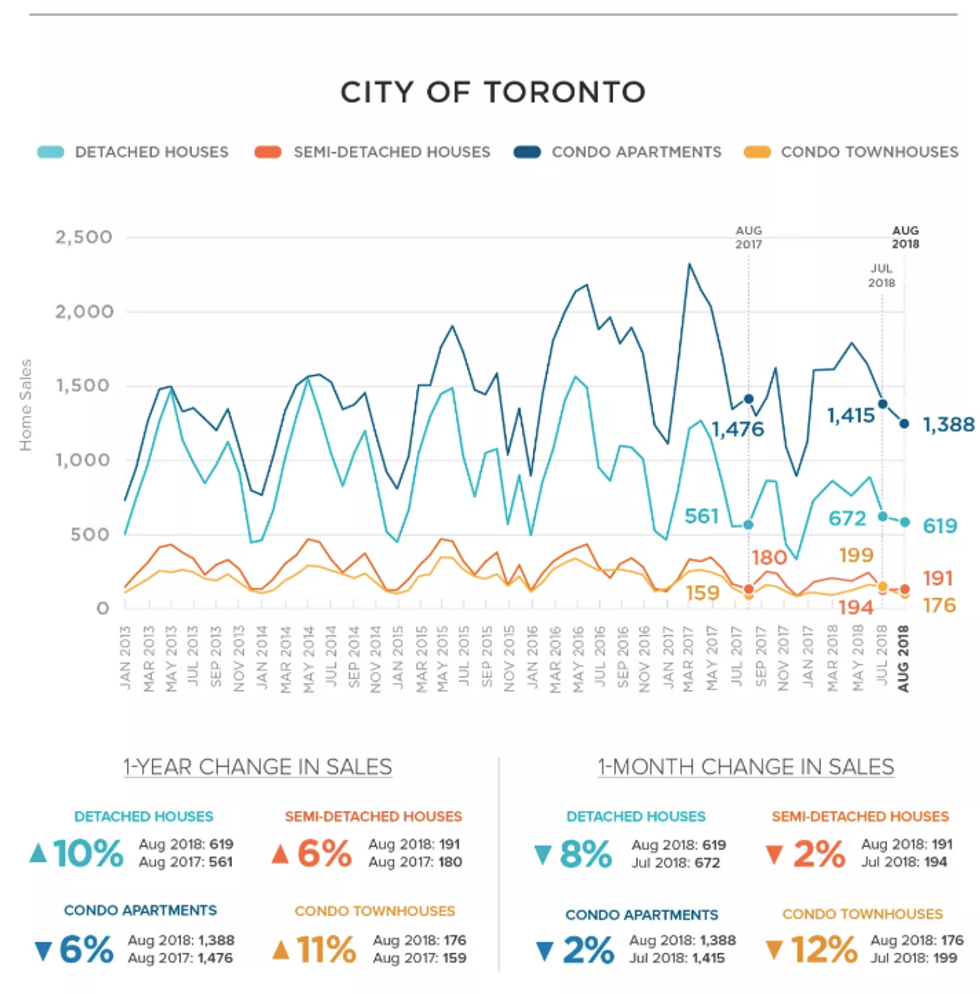 (Graphic courtesy of Zoocasa.com)
Toronto Condos & Homes