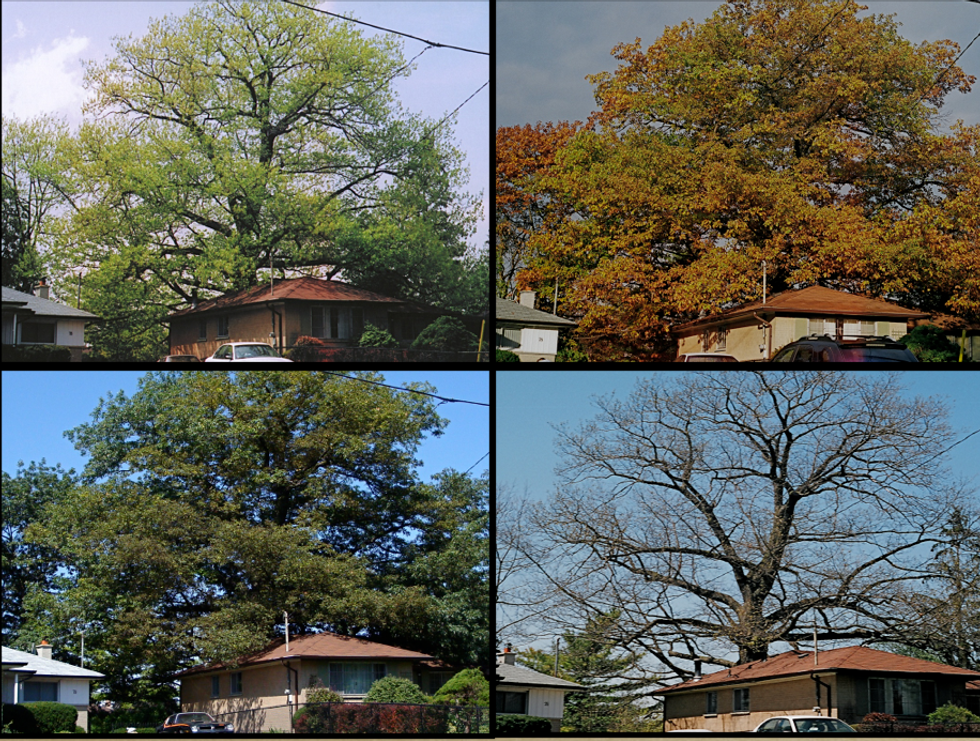 Toronto's oldest tree, a 350-year-old red oak has been saved by city council. (Photo courtesy of Deanna Sgro via gofundme.com)
It's older than Toronto. It's older than Canada. And it's believed to be the oldest tree in the city: a 350-year-old red oak tree that looms over a house on a North York property.
---
Toronto city council has now given city staff permission to negotiate the acquisition of this North York house in an effort to save the historic oak.
Last week, council approved the plan to start negotiations with the owner of 76 Coral Gable Dr.
On Wednesday, council voted to go follow recommendations from the city's government management committee to save the tree.
While it may be a part of Canada's history, the tree has also become a part of the home's foundation.
Its giant roots have been damaging and a problem to the owners since 2015. As the tree continues to grow, its roots and branches also squeeze the house and its foundation.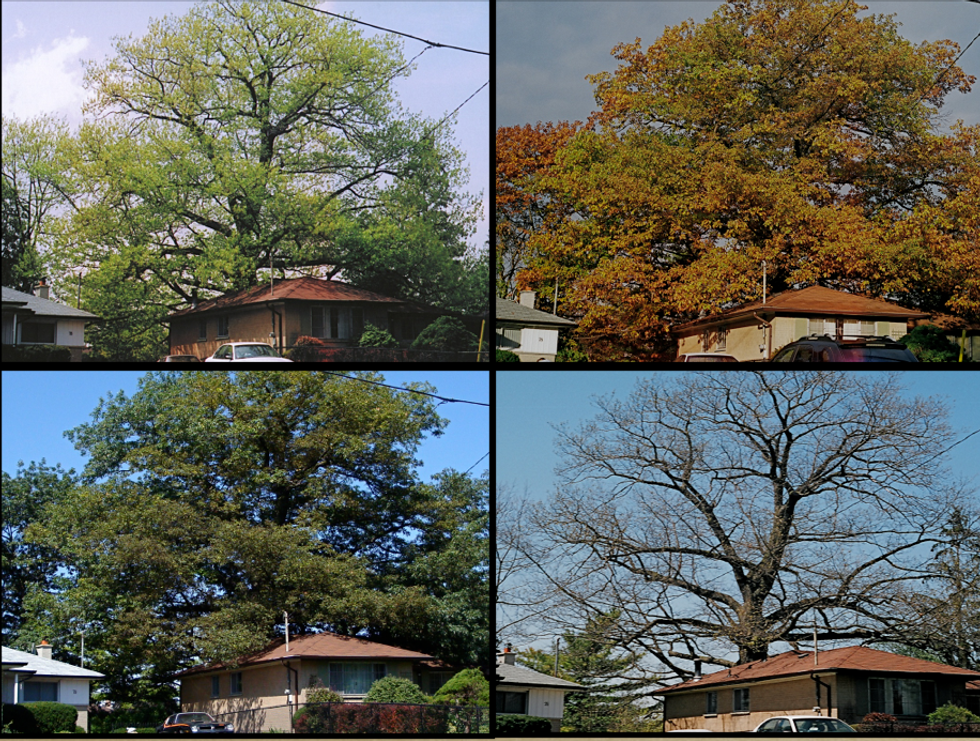 Toronto's oldest tree and its four seasons. (Photo courtesy of Edith George via gofundme.com)
The oak measures about 24 metres tall, with an enormous circumference measuring about five metres.
The Toronto Star reports that in April, realtor Waleed Khaled Elsayed, told the daily that the tree's roots threatened the structural integrity of the house's foundation, and the homeowner is in the hole thousands of dollars in "lost opportunity," estimating the property is worth about $750,000.
Since it's a heritage tree and protected under the city's municipal code, the homeowners would need council approval before chopping it down.
Neighbour Edith George, and long-time advocate for heritage trees, has led the charge in saving the oak and is behind this gofundme effort.
George told the Star the property once belonged to a man who fought on the loyalist side during the Upper Canada Rebellion of 1837.
The vote at council now allows city staff to negotiate a purchase price with the owner. Once that's agreed upon,  the city will start a campaign to fundraise half that amount.
It's possible the tree could live another 150 years or more.
Toronto Condos & Homes