Hard-working doesn't begin to describe how hard this real estate agent works. Meet Zuzana Misik.
The HomeLife/Cimerman Real Estate agent went from absolutely no social media presence whatsoever to a flourishing presence in just a year and a half, by studying social media mechanics — for seven days straight.
---
She bought her first house at 24 by tending bar, waiting tables, and doing make-up day and night, until she'd saved enough money for a down payment.
The agent who sold her that house wasn't exactly scrupulous ... So, when Misik entered the business, she vowed her clients would never have to experience what she experienced buying that first house.
In our conversation with the determined real estate professional, she reveals the one phrase keeps her going, how an 80-year-old woman helped her out of her shell, and why every Tuesday her Instagram page becomes like a Noah's Ark for pets.
How did you get started in real estate?
It started first with coming to Canada as an immigrant from Slovakia. It's the typical immigrant story ...
My family had no money and, obviously, our biggest thing was to try and build a better life ourselves. My parents brought my brother and me here. We went to school and to pay for post-secondary I ended up working in bars and restaurants, trying to save every dollar I could.
Even though I had my education as an aesthetician, it wasn't paying that well. So I asked myself, "How am I going to get ahead in my life? How am I going to help my parents out? And how am I going to establish myself in this country and have a better life?"
I knew I had to own real estate.
I worked towards a down payment. I had no health benefits. I was working day and night waitressing, doing make-up, which was my degree, but then I ended up going into home design. I really liked it because I went to art school for 10 years in Slovakia, so it incorporated what I loved about art and being creative. But again, it wasn't paying as much as I needed it to. So I ended up saving for my first house.
I bought it when I was 24-years-old.
It was a little townhouse in Ancaster, Ontario. I wasn't a real estate agent yet, so I had one of my friends sell my house and I trusted him. But I didn't think he did a great job. He under-priced the house to make a quick sale and he told me he was going to charge a certain amount of commission ...
He didn't keep his word.
And for me, keeping your word — saying what you're going to do and actually doing it means a lot.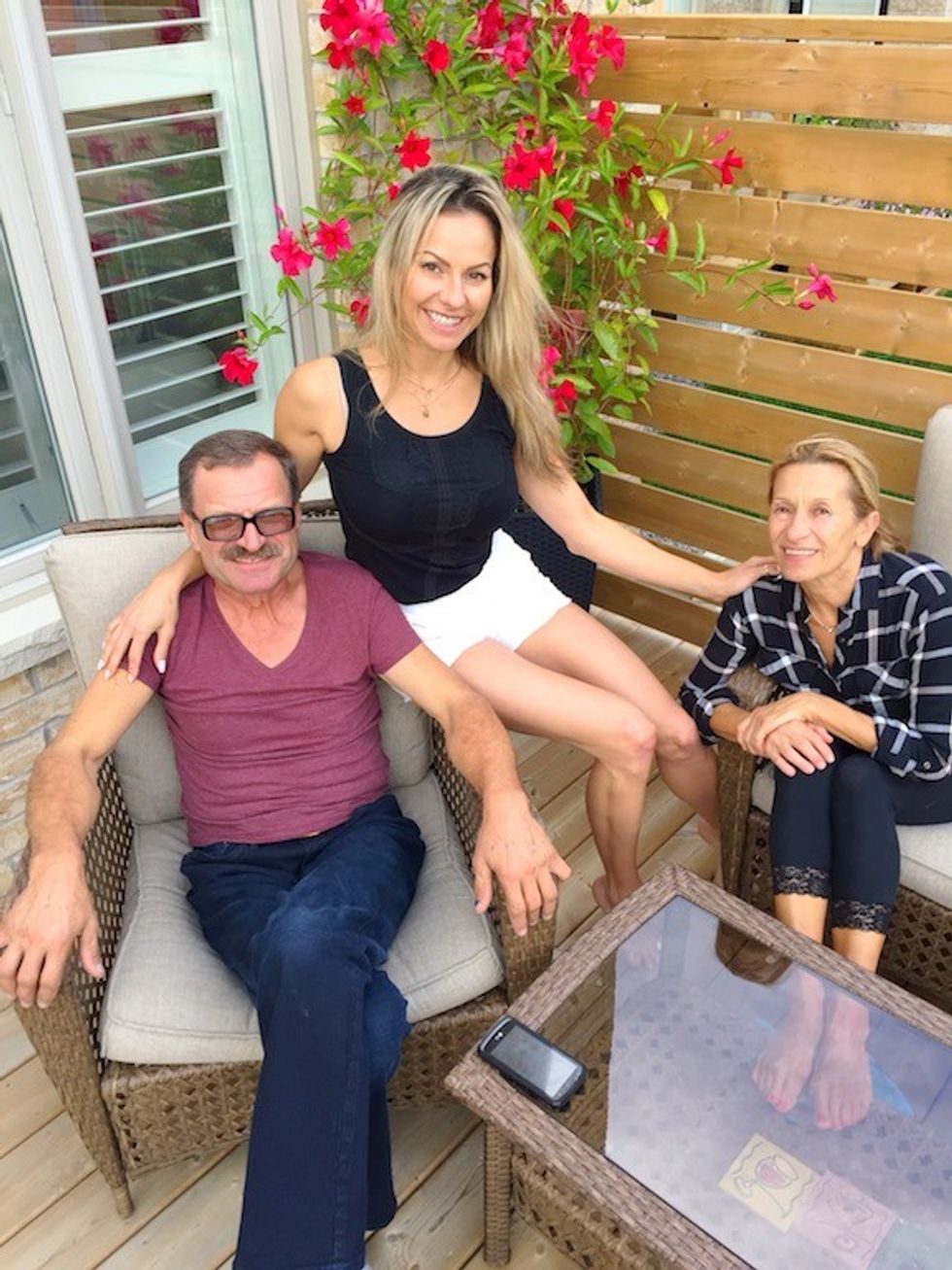 Zuzana with her parents: Anna and George Misik. They have been married for 43 years.Zuzana says she attributes her work ethic and empathy to them.
Here's how I work: When I say something, I'm going to do it.
When I found out he was doing all these things, I knew that there was an unlimited amount of money to be made in real estate. And I wanted to continue flipping houses, so I decided to get my real estate licence. It's thanks to him and his shoddy service that I decided to become a real estate agent.
Once I got my licence, I joined one of the big brokerages and it was great because it wasn't just about flipping houses and making money; it was about the service, building my brand, helping people, guiding them and the biggest thing is the growth that I find in myself.
I'm growing from each transaction because I learn so much.
What do you prioritize for your clients so the type of experience you had buying your first house doesn't happen to them?
I treat my clients special, as if their deal is my own deal.
First, the guidance: letting them know options.
If someone comes to me and says, "I want to build a house. I want to sever the land. What's the highest and best use? Should I build one house or should I sever the land and build two houses?"
The advice and guidance are what I love the most because people depend on me. I don't tell them what to do, but I give them options. And working with my clients means there's security in being with me: you're going to make the right decision.
I have pride in my research.
Research is huge, as well as guiding my clients into what's the best decision for them. Even with my marketing, I work very hard. Because that's how I grew up — working very hard.
Sometimes I work 16 hours a day just to get the job done.
It's about the research, the expertise, the marketing and getting it out there because I have such a huge social media following. My properties get exposed more than anyone else because I also work with China and other countries overseas. So I have a lot of connections.
It's clear you have an unparalleled work ethic, where did it come from?
I have one phrase: I can never be poor again.
This is my phrase because I've seen how it is to live a certain way.
I've seen how satisfying it is for me to work hard.
When I work hard and I see results, self-satisfaction is the biggest thing. 
As a child, I was a professional swimmer, I went to art school, I did all these things ... And I think it comes from my parents with the mantra, "Work hard! Work hard!"
But at the same time, there are plenty of people who work hard and see no results. That's why I say you have to have that research ability, the education, and the knowledge. And when you put that together with working hard, you're going to see results.
What did it take for your business to grow from residential real estate to land development and larger transactions like condominium, retirement residences or hotel properties?
I never thought that I would actually get into all this or that my business would shift into this. But I love land.
I don't know what it is, but I look at a piece of land and I get goosebumps. I'm like, wow there's so much potential and there are so many things to do here. I have this vision.
Maybe that's what it is. I was just guided to follow my passion, but I never really thought it would take me there. I really love it, but I never told myself I want to get into land development. It's just, over time, it kind of shifted.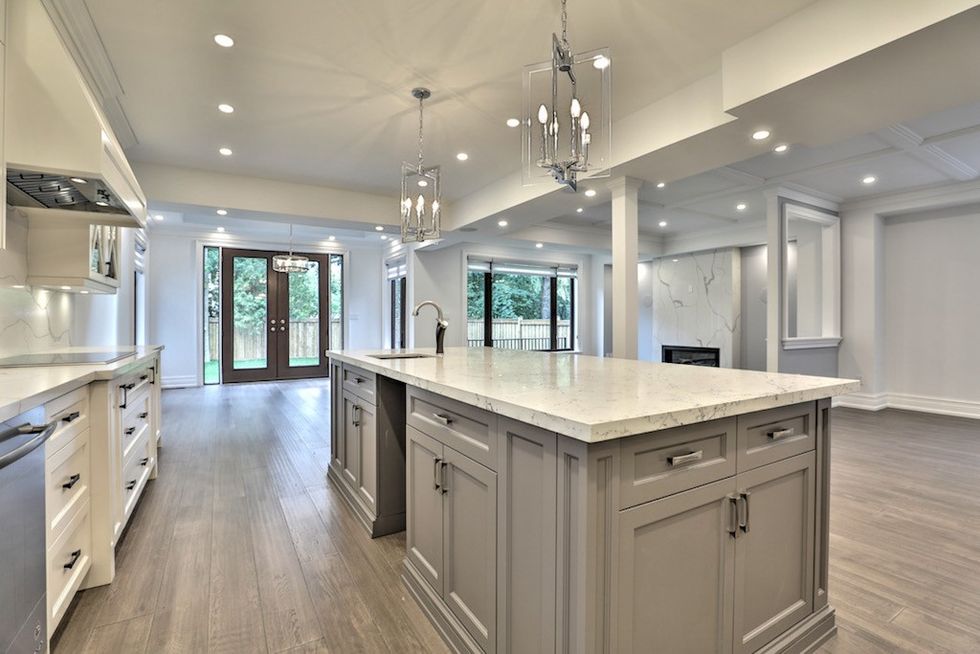 Misik says she's "in love" with this custom, white, transitional kitchen at her new listing on 1355 Applewood Rd. in Mississauga.
Whether it's working with my clients by designing, building or reading floor plans, I love coming up with ideas.
And when it comes to the finishes in the house, I'm involved through the whole process. I'm involved with the severance of the land, the approvals, the design, the floor plan — all of that. With my clients, I'm involved in the whole process and I go through it with them.
How were you able to build such a healthy social media following in only a year and a half?
My business started as all word-of-mouth and referrals. As time went on, I thought, Oh my god, I should get on social media. I have no presence at all.
I ended up going to a big company in Oakville. Basically, they told me, you suck. You have no social media. And they gave me a list of things that said, you suck at this and this and this ...  And I was like, "Oh my god, I have to do something about this."
I had to do something because everyone is on social media now looking for property and pretty much anything else.
This company wanted $12,000 to manage my social media. At the same time, I had to have my touches on it. I didn't want somebody else posting stuff for me, so I'm involved with my clients.
Even though I have a team that works for me, I'm there. You get me and you get my expertise.
So I decided I wasn't going to pay this company ... But they gave me a list of all the things I'm not and I should be. I took that and instead of being pissed off about the negative, I said, "Okay, what do I need to do to improve?"
So over the Christmas holidays, I decided to study social media and figure out how I could make money on it. I didn't want it to be like everyone else's account. I just wanted it to be strictly about making money. My first goal was to get business, get leads, and get known.
I studied it for seven days.
My eyes were bloodshot because I just kept studying, researching and doing all these things on how I can excel at this. Then I started doing it myself and all of the sudden, it just kind of grew.
And now I'm getting about four to five leads a day on social media, so it has really changed my business.
But today, there's a good mix of business and personal on your social media. Do you think one of the mistakes real estate professionals make is too much selling on social?
Yes, absolutely.
This goes back to my business view: you need to listen.
There was one lady in my old brokerage. She was like 80. She was still trading in real estate and she was on social media. She was like, "You know what my clients really want? They need to see the person behind the business. You have to put a little bit of yourself out there."
I'm private, which is why I wasn't on social media for the longest time. I didn't want people to know what I did.
So when this woman said that to me, I listened and I realized people need to see who I am. Who is this woman behind the business? This is why I started incorporating more personal things, like my recent European vacation.
I don't showcase everything, but I have a plan.
I'll do the things that inspire people because that's what I like to do.
I also want to help other people, which is why I incorporated the Humane Society and want to help the animals as well.  Two dogs got adopted because of the following on my Instagram.
It's cool, right?
I approached them and told them I would post a dog or a cat once a week who needs help. Anyone interested in adopting them can contact the Humane Society.
I'm so happy. Even if I help just one pet, at least I made a difference, right?
Industry Profiles