Personal Finance
How Long It Will Take Millennials To Save A Down Payment For A Home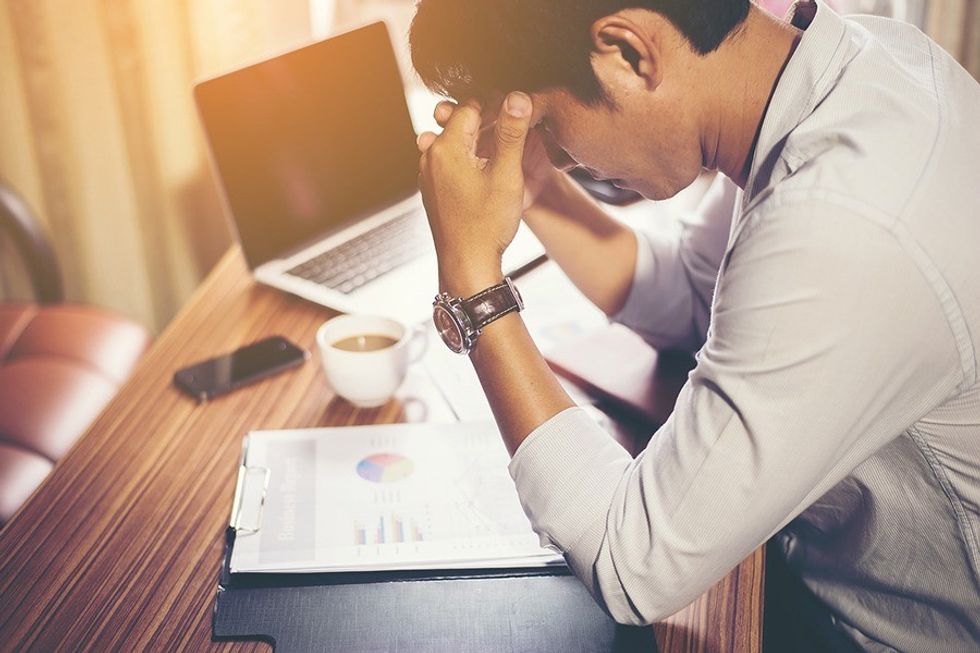 Many Millennials want to purchase a home this year, but most will have to wait many, many years before they can even afford a downpayment.
In fact, Millennials hoping to purchase property in Toronto, Mississauga, Vancouver, and Calgary tend to grossly underestimate the down payment required.
And while Vancouver is out of reach for most young people (and many people in general), Toronto, Mississauga, and Brampton may be more attainable for Millennials trying to buy a home.
These findings are part of a nationwide survey of over 9,000 prospective home buyers by Point2 Homes.
The study found that 66 per cent of the Millennials interested in purchasing a home would like to do so within one year. However, almost half of those surveyed (aged between 25 and 38 years old) have savings significantly under the national average down payment of $25,000.
Worse, 12 per cent Millennials admit that they haven't managed to set aside anything at all.
There is also a large gap between the expectations and reality of home buying.
For instance, in Toronto, the average down payment is a little over $62,000, but 70 per cent of Millennials assume they will need less than $50,000.
Even in cities like Mississauga, Calgary, and Edmonton, a significant percentage of this new generation of home seekers are expecting significantly lower down payments.
So, either Millennials are counting on their parents for help when they take the step towards homeownership …
OR …
Their unrealistic expectations will set them up for a rude awakening when reality hits.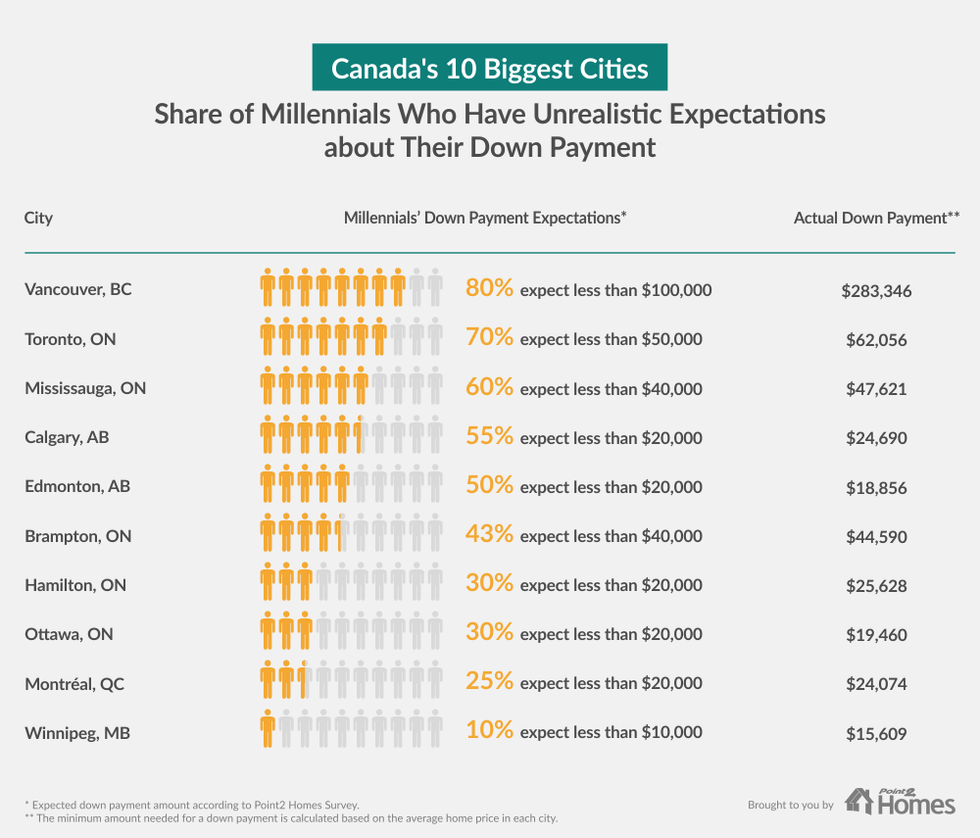 Some Highlights From The Survey
Oakville is the most unattainable city in Ontario: Millennials who wish to settle down here would need close to 16 years to save for a down payment.
In Toronto, where the average home price is a little over $870K, 70% of Millennials who participated in the survey believe they will need less than $50,000 for a down payment.
While 64 per cent of Canada's Millennials would like to buy a home within the next year, 63 per cent of them have under $40,000 in savings. Twelve per cent have no savings at all.
If they set aside 20 per cent of their income every month, Millennials in Toronto have much better prospects than their Vancouver counterpart. It would take them under five years to save enough for a down payment. For a home in Vancouver, they'd need about 20 years.
The contrast between how much money Millennials think they will need and the actual down payment amount is striking in several cities. In some of the most popular and most expensive business hubs in the nation, most Millennials are in for a big surprise.
To get an idea about how long it would take Millennials to gather the money needed to start the home-buying process, the Point2 Homes analysts started from the premise that Gen Y-ers would set aside a fixed 20 per cent of their income every month, per the often-followed 50-30-20 financial rule.
However, knowing that Canadians save, on average, only 4.4 per cent of their income, estimates based on that percentage were included as well.