Toronto
Real Estate News
Trend of Trading City Living for Suburban Space Unlikely to Last: CIBC
The tale certainly isn't as old as time, but it's one you're surely familiar with by now: COVID-19 put Canada's housing market on pause last spring, but only for a hot second.
Since its brief interruption, the market has been moving full-speed ahead, with soaring prices, activity booming, and even indications of somewhat swift recovery where the downtown condo market is concerned.
But of all the intriguing factors surrounding this past year's real estate fluctuations, the desire many have shown to get out of typically-coveted urban centres and into quieter, more suburban regions is easily one of the most captivating.
And according to a new economics report from CIBC, the trend is one that — albeit sounding like it makes sense — is unlikely to stick.
READ: Will a COVID-19 Vaccine Cause Home-Buyer's Remorse for Those Who Fled the City?
The report exposes that the "secret" behind the real estate market's ongoing success (despite an upheaval of most aspects of regular life over the last year) has been "the asymmetrical nature of the recession." While the pandemic has, of course, had severe impacts across the board, CIBC says that many Canadian households have remained financially unharmed.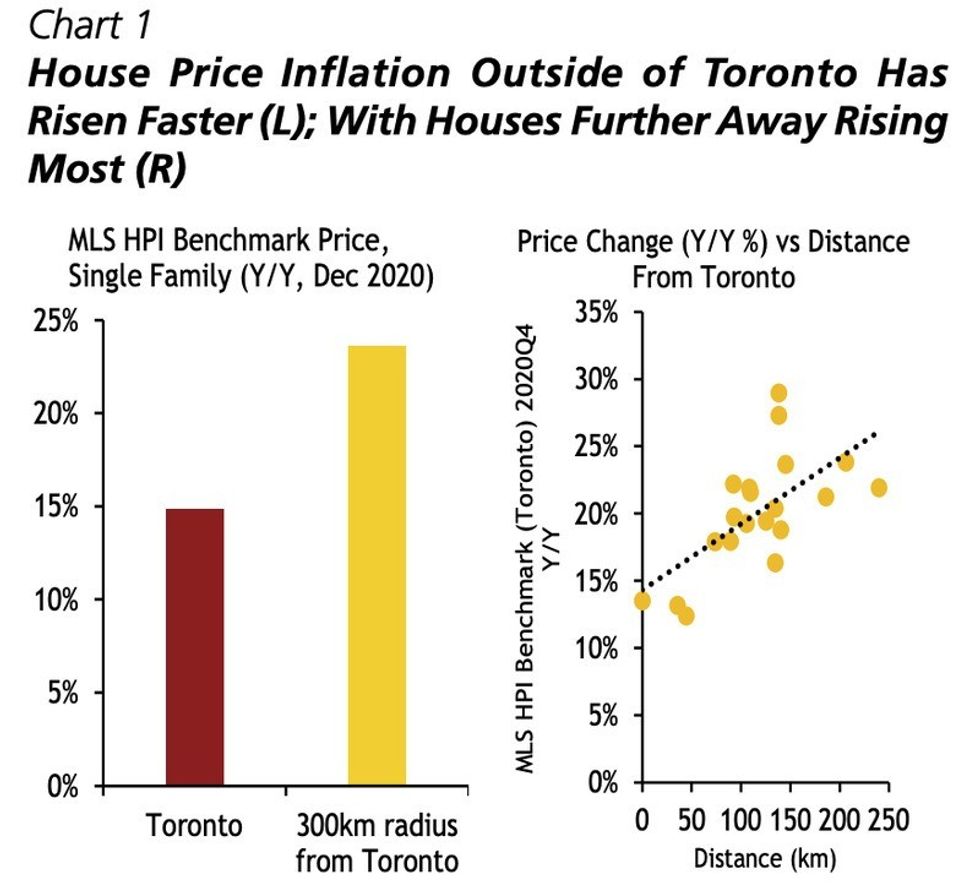 This phenomenon has meant those households which have remained comfortable economically have been able to "pass stress tests with flying colours" while taking advantage of interest rates which — also in the last year — have been sitting at historically low levels. Combined with increasing desires for more space — condo living during COVID simply hasn't been cutting it, the data shows — this occurrence has resulted in an uptick in interest for homes outside the city.
"The further you are from the city, the more house you can afford," the report states. "On average, beyond the first 50 km, every 10 km drive further away from the city will buy you an extra $25,000 of house."
While moving away from the city to be able to afford a larger abode is nothing new, CIBC states "the pace has clearly accelerated" through the pandemic.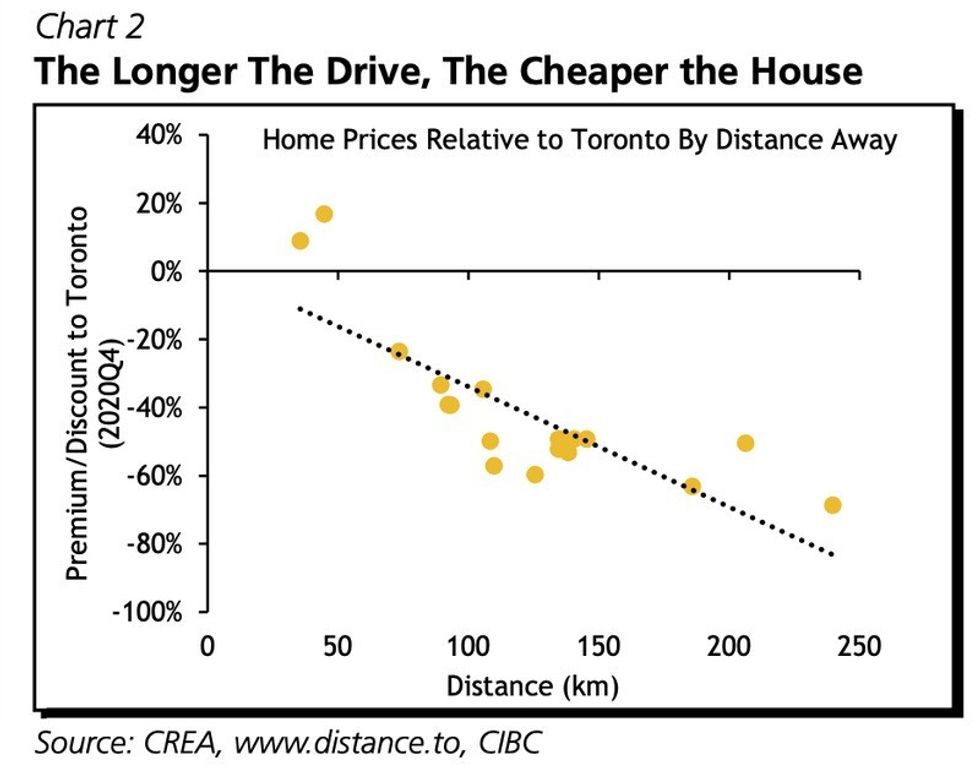 "The post financial crisis period between 2009 and 2014 saw a notable divergence in price trajectory as centres closer to the city experienced a much faster pace of price appreciation. The period between 2014 and the correction of 2017 saw more equal performance across locales of different sizes," says the report.
"But since then, we've seen the script completely flipped, with more remote centres leading the way."

Even so, sales in regions between 50 and 300 kilometres away from Toronto and its immediate suburbs account for a mere 5% of total home sales, CIBC reports. This is despite prices in these areas rising faster than those in the city, and the suburban pockets directly surrounding it.
The analysis says says it's possible that sales percentage will increase, but even so, "prices in those centres have been rising so fast already that they risk reaching a resistance level, in which the premium paid to live in a big city has narrowed enough to trigger second thoughts about moving."
Resistance levels vary for each centre, and CIBC reports that on average, this level may already be met in Greater Vancouver and its surrounding areas — a note that's important for making predictions for Toronto's future.
"The premium paid had been narrowing until 2017, but since then, home price inflation in Vancouver has outpaced that seen in more remote centres," explains the report, before predicting similar circumstances could be in Toronto's forecast. "Given that Toronto traditionally lags Vancouver when it comes to housing trends, it's not surprising to see that Toronto is now where Vancouver was pre-2017."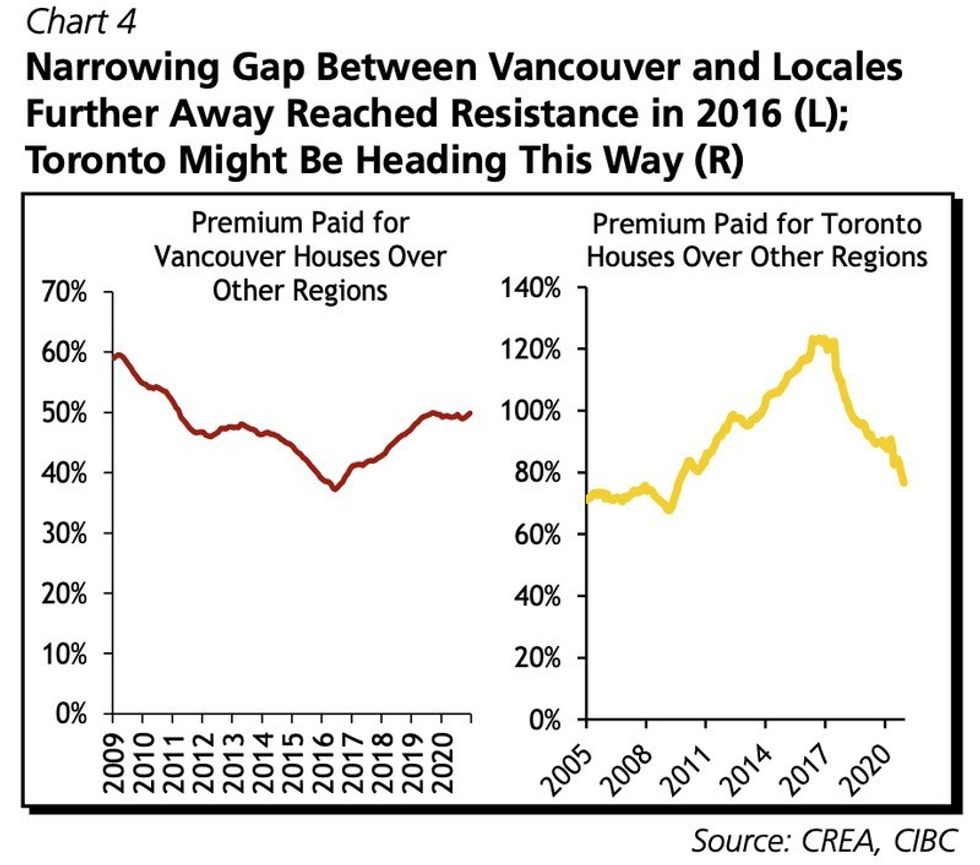 Where current events come back into play here is in questioning whether remote work can change resistance levels. The answer will influence whether Toronto's coming years play out the way Vancouver's last few have.
"The sudden shift to working from home undid the shackles that kept many living in or close to large metropolitan centres," the report says (though, even if it hadn't said so, this is a truth you're probably well tuned-into by now).
"With remote work most prevalent among those earning higher wages and having young children, there was both the ability and desire to find more space for work and play. But even for those earning higher wages, that option was only affordable for many of them outside of large metropolitan centres."
This note is unsurprising, seeing as 2020 closed with Toronto's average selling price reaching new record of $929,699 — up 13.5% compared to 2019. This included an average price of $932,222 in December — a year-over-year increase of 11.2%, with prices only expected to keep rising.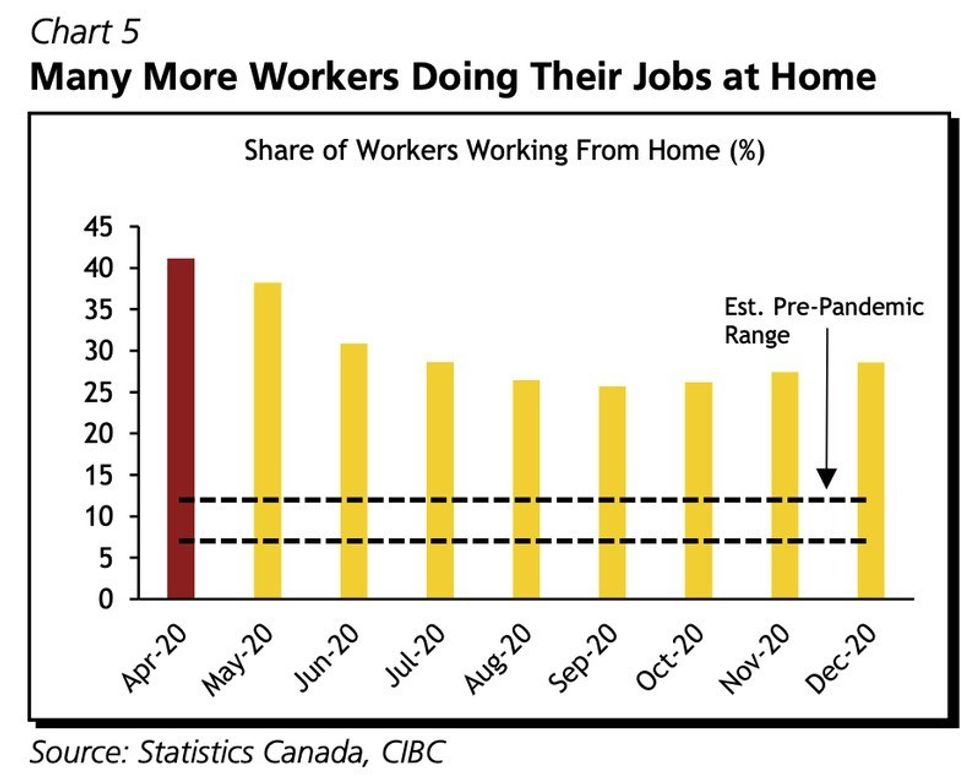 But, posing an inquiry as obvious as it is important, the report asks: "While the tradeoffs for relocating seemed obviously worthwhile during the pandemic, will they remain so after?"
Yes, COVID has made its mark — or several marks, to be more accurate — and the scars left by the pandemic's impacts won't quickly fade. But they also won't stay fresh forever, and there will be a day, perhaps not so far in the future, that some semblance of normalcy falls back into place.
Take the return to office, for example.
According to the report, a Statistics Canada survey taken in Q3 2020 suggests "many employers of workers currently doing their jobs solely from their homes expect them to go back into the office full time after the pandemic is in the rearview mirror," the report emphasizes these employers are looking ahead to a return that "[is] not two days a week. Not three days a week. Full time."
What's more, panelists at CIBC's November Future of Remote Work webinar reportedly said the question of remote work's ending was not an if, but a when. Sure, there will likely be more opportunities for remote work on select days post-pandemic than there may have been pre-COVID, but "making decisions based solely on current working arrangements could be a mistake for many," whether that's in regards to an individuals' current job, or their pool of prospective future opportunities.
For those amongst the highest earners, CIBC poses a fun solution: "purchasing a condo in the city to stay at during the workweek, as seen in other high-priced cities like London and New York, might be an option to insure against a potential return to the office or future employment mobility," the report says. "But now might be a good time to make that investment. As we explore in the next section, the demographic developments haven't been as weak as reported."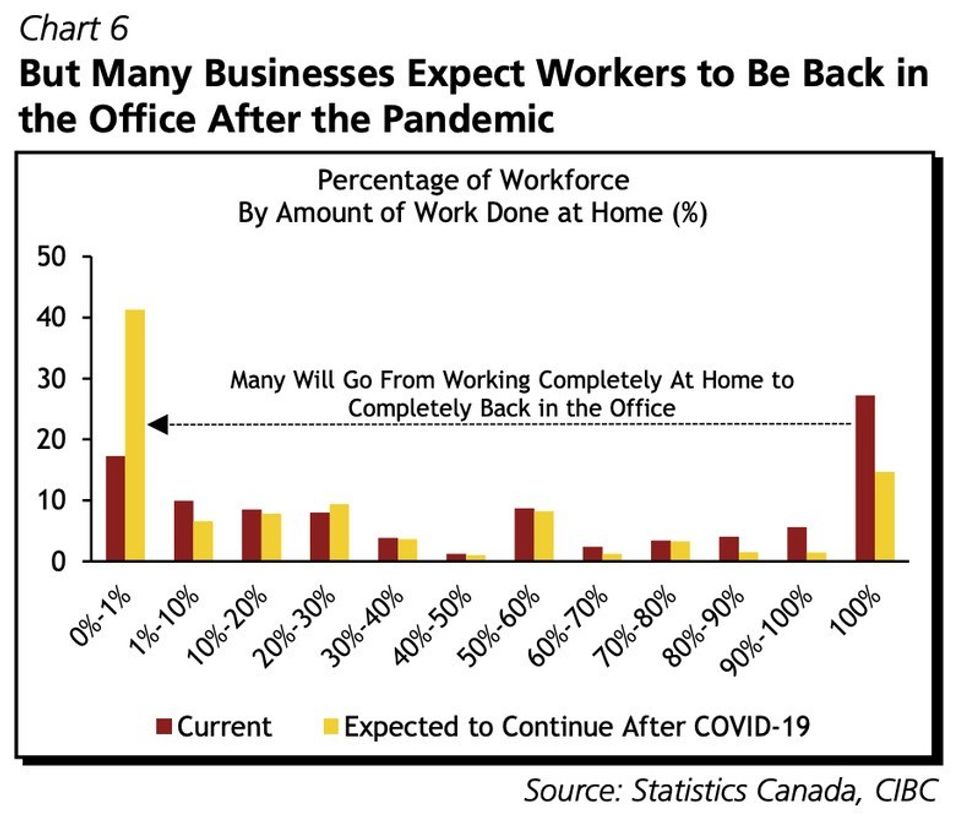 Also according to Stats Can, Toronto saw record-high population loss last year; between July 2019 and July 2020, more than 50,000 people left the city. In fact, through those 12 months, most large urban regions across Canada saw a slow-down in population growth when compared to the same period a year earlier.
To be clear, this doesn't mean a decline in growth, but a lesser increase: +1.3% in 2019 and 2020, compared to +1.7 the year prior. CIBC stresses that, as such, the city's demographics aren't struggling as much as one may initially assume.
Toronto lost 50,375 residents between both Julys — indeed, showing a record loss of people — but maintaining an overall positive population growth which, according to Stats Canada, is mostly due to international migration. What's more, when CIBC adjusted this data to account for extenuating circumstances — non-permanent residents who stayed in Canada with expired visas (a move that, given current events, is legal); returning citizens, too — population growth in 2020 was estimated to come in around 125,000 people higher than official statistics suggest.
"The better population numbers make the case that fundamental demand for city living wasn't as bad as perceived, and some of the fears surrounding downside risks for real estate tied to urban population growth might be overdone."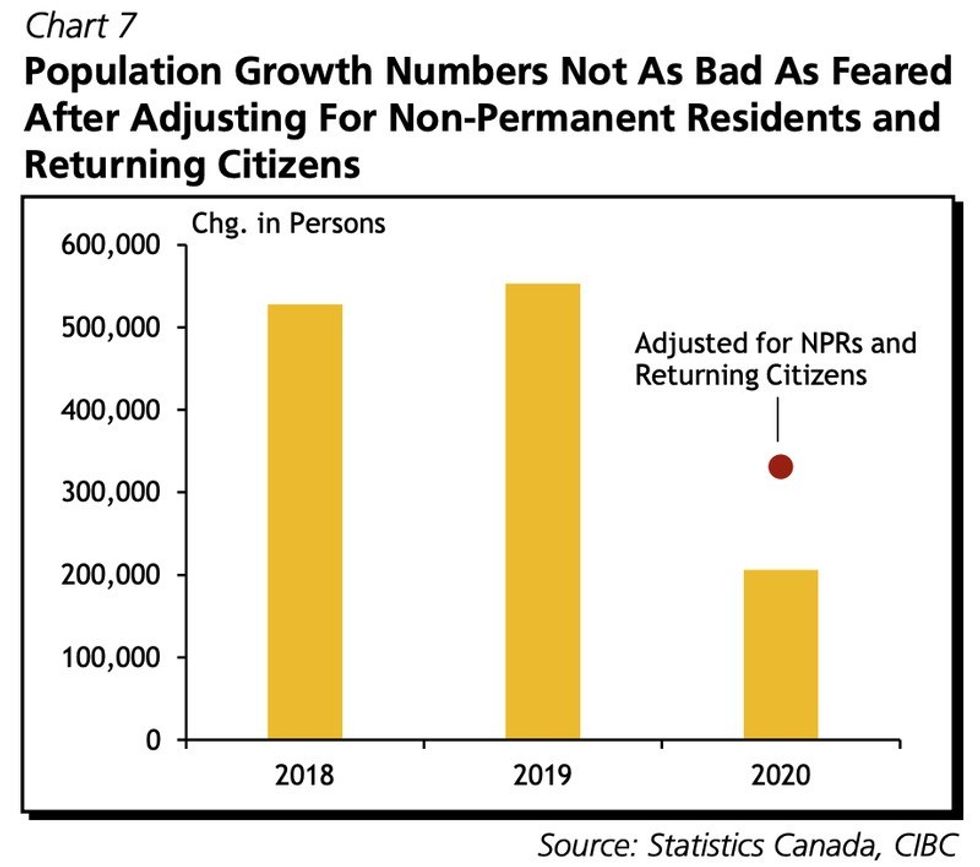 "The bottom line is that Covid seems to have accelerated some trends that were occurring prior to the pandemic. But the pendulum might have now swung too far," the report says. "The discount for moving away from cities has narrowed, some of it under false pretenses regarding expectations about the future. Should Covid fade into the background, as is expected, the vibrancy of cities will return and so will the demand for housing within them."
This CIBC report, Urbanation predictions, the stirring of the core's condo market… all signs point to the theory honest urbanites have been hoping is true: downtown isn't dead, it's merely been resting.
Of course, the suburbs are the right move for many! But if city living is in your soul, and it's merely been the absolute chaos of the last 12 months daring you to make a major decision, consider pressing pause. As is true in most emotionally-charged situations, it may be best to not make any rash movements.
Instead, take a page from the condo investors' handbook and simply watch and wait.
Patience is a virtue, city-lover. In the meantime, the data is stacking up, and it's on your side.