We already knew that last year -- as stay-at-home orders were set in place and urbanites got tired of their shoebox-size downtown condos -- Toronto lost a lot of residents to surrounding regions, where most homesteads feature more outdoor space than a 2x4-foot balcony.
Now, putting a number to that decline, Stats Canada has shared that from July 2019 to July 2020, Toronto experienced record-high population loss. In that time, more than 50,000 people left the city.
---
From July 1 2019 through to July 1 2020, most large urban regions (census metropolitan areas, or CMAs) across Canada saw a slow-down in population growth when compared to the same period a year earlier, Stats Canada says. This doesn't mean a decline in growth, but a lesser increase: +1.3% in 2019 and 2020, compared to +1.7 the year prior.
This trend maintains itself when the CMA of Toronto is in focus. The city lost 50,375 residents from July 2019 to July 2020, showing a record loss of people, but maintaining an overall positive population growth which, according to Stats Canada, is mostly due to international migration. This element remains prominent, despite lower international migration due to travel restrictions related to COVID-19. In fact, international migration accounted for 90.3% of the growth in CMAs, compared to accounting for just over one third of the population growth in other Canadian regions.
READ: Canadian Home Sales Soar to New Heights in December to Cap off Record Year
Where the city's depletion is concerned, Stats Canada says the net loss was mainly driven by people moving to surrounding CMAs. Using the CMA of Oshawa as an example, the data shows that region posted the fastest growth, with a population increase of 2.1% that was due, in-part, to migration flows from Toronto.
Meanwhile, the lives lost as a result of the pandemic have not played as large a role in the slowed growth of urban regions. Stats Canada says, "excess mortality attributable to COVID-19 has had a limited impact on the slowing population growth in urban centres, despite urban centres being the epicentres of the pandemic."
What's more, urban sprawl continued within the country's three largest CMAs -- of which Toronto is one, alongside Montreal and Vancouver -- as the fastest-growing municipalities were more often found to be the suburban ones. Within the Toronto CMA, for example, the municipalities of Milton and Brampton grew by 4.0% and 3.4% respectively, representing the fastest paces of growth among the Toronto CMA as a whole.
"The desire to live outside the largest urban centres was also reflected in the rapidly increasing housing costs in neighbouring real estate markets, a trend that has continued in spite of the pandemic," Stats Canada says. "Personal health, the ability to work remotely, and higher housing costs are among the most important factors contributing to the decision of many Canadians to continue (or to no longer continue) living in large urban centres hardest hit by the pandemic."
The appeal of markets near Toronto, but not within it, didn't take long to become clear after COVID-19 reached the city. By June, the 905-region, encompassing Hamilton, St. Catherines, and the like, was outperforming the 416 in regional housing activity.
"Whatever the exact reasons, urban sprawl is an important trend to monitor," Stats Canada says.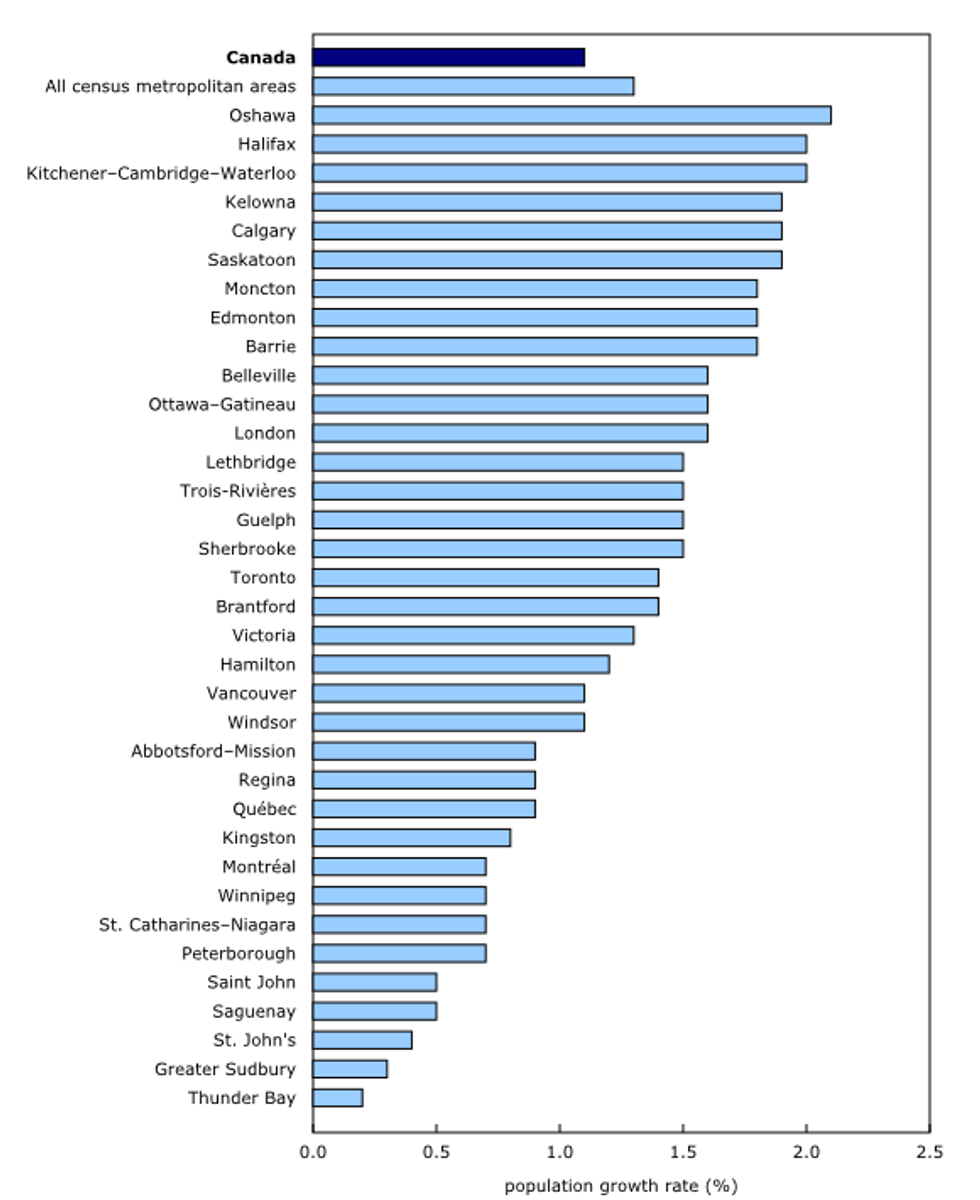 As mentioned, the CMA of Oshawa recorded the fastest growing population, with an increase of 2.1%, followed by the CMAs of Halifax and Kitchener–Cambridge–Waterloo, which were both up 2.0%. A three-way tie for third place comes from the west, where Kelowna, Calgary and Saskatoon all saw increases of 1.9%.
According to Stats Canada, 27.3 million people -- or 71.8% of Canadians -- lived in a census metropolitan area on July 1, 2020.
Toronto