Real Estate News
The '905' is Now Outperforming Toronto-Area Housing Activity: Report
While the latest data from the Toronto Regional Real Estate Board (TRREB) shows that activity in the housing market is returning to pre-COVID levels, a new report also reveals there's a shift in consumer behaviour as a result of the pandemic.
[adrotate banner="40″]
The
report
, which was released Friday from researchers at Ryerson University's Centre for Urban Research (CUR), agrees that the recent data from TRREB shows that the GTA housing market is "snapping back" from COVID-19 restrictions, with MLS home sales nearly back to pre-COVID levels and the average sales price reaching a new record $909,000, a 11.9% year-over-year rise.
But importantly, it also notes that the suburban markets, specifically those in the 905-area, surrounding Toronto are now outperforming the 416-area, and a "dichotomy" is being set up between the two markets.
READ: Average 1-Bedroom Rent in Toronto Has Dropped Over $250 Since January
As per the report, much of the strength in the 905 can be attributed to the demand for single-detached homes and townhomes, where total GTA sales were up 13% and 12% year-over-year, respectively, surpassing pre-COVID levels, according to CUR researchers Diana Petramala and Victoria Colantonio.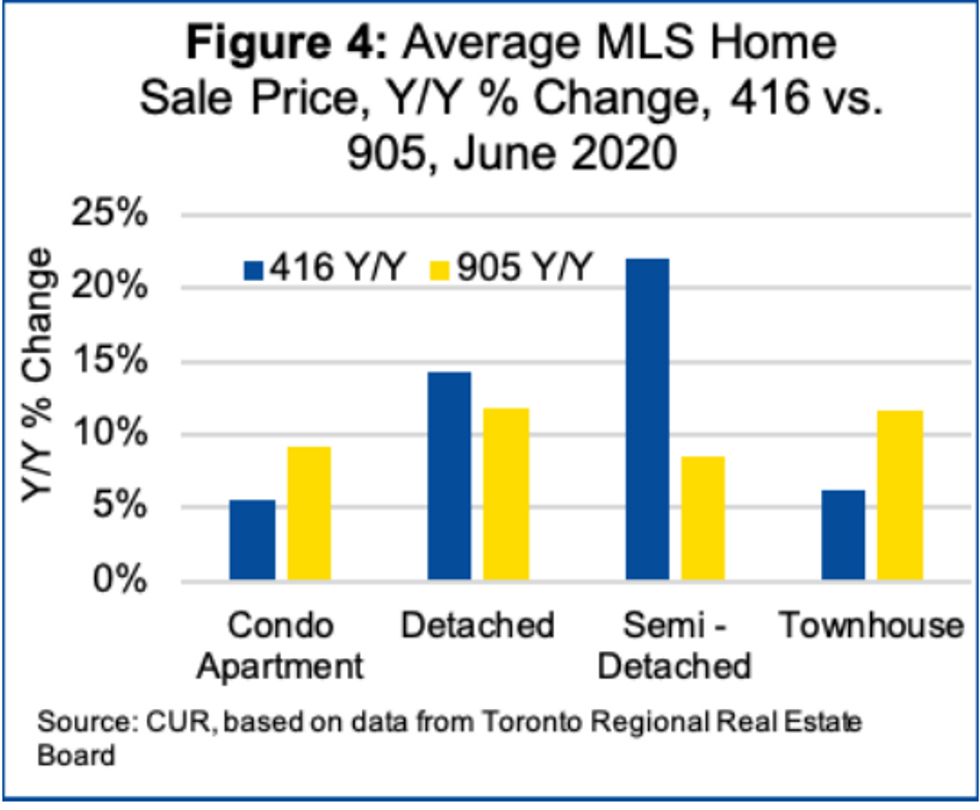 According to the report, average sale prices were up by double-digit levels on an annual basis for ground-related housing across the region. What's more, existing-home sales in the 905 market, which are up 10% year-over-year, outperformed the 416 market, which is down 11% year-over-year, as buyers continue to look for more ground-related housing.
Petramala and Colantonio also found that the total number of home sales that occurred in the 905 region in June were on track to reach 67% of all GTA sales in 2020, after holding steady near 60% for the last two decades. This further demonstrates that buyers are turning their attention more and more toward the suburbs.
As for what's weakening the 416 market, the report suggests condo apartment sales are the main culprit, as they fell 21% in June compared to the same time last year.
"The overall condo market is still holding in what is considered a seller's market, which is supporting positive gains in average sale prices. But, changes in months of inventory show that the condo market is loosening very quickly, while all other markets are tightening," reads the report.
The report also notes that the supply of condos is rising the fastest in the 416 market, where active listings were up 20% year-over-year.
Looking ahead, the report says that while millennials will continue to create a demand for ground-related housing, the condo market in the 416-region will remain a growing area of weakness for the housing market well into next year. This is partially due to immigration being halted as a result of the pandemic.